What My Tattoos Mean to Me
Daisy
The flower one is a representation of the women in my life who I admire. For instance, the rose is for my mother, that is her favorite, the orchid is for my sister, and the daisy is for myself.
Ubuntu is a daily reminder that along your journey through life your community is there to support and for me everything I've accomplished has been because of those who have helped me along the way.
Frances
I have my run crews logo tatted on my forearm. I am a self taught runner who was determined to live a healthier & longer life. a lone runner for 7 years, running every morning, same routes, rain or shine; I lived to run, I run to live. I was in search of something more but I just didn't know what. I felt something missing so I began a quest of filling this void. Fast forward to now; I am one of the Captains of the Pioneers Run Crew. I was able finally fill that void but also able to change & better myself. They've taught me to create my own spaces, go against what people think & just go for it. I've gained new friends, reached personal goals & have the privilege to inspire others to do so. Being part of this crew has open doors that I didn't know even existed. So the tattoo is big, it's loud & covers my forearm. This crew has changed my life completely in a way I never thought possible.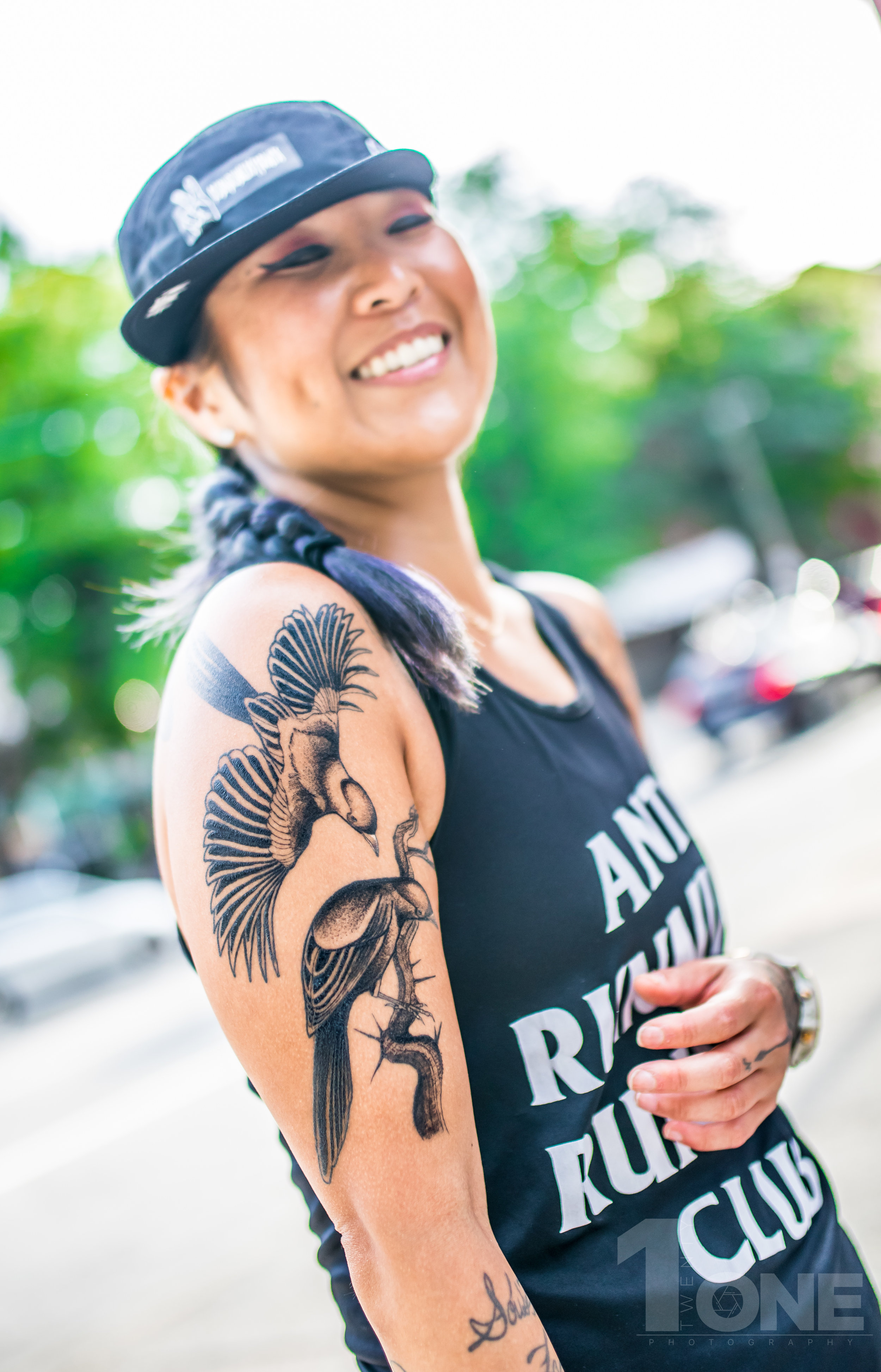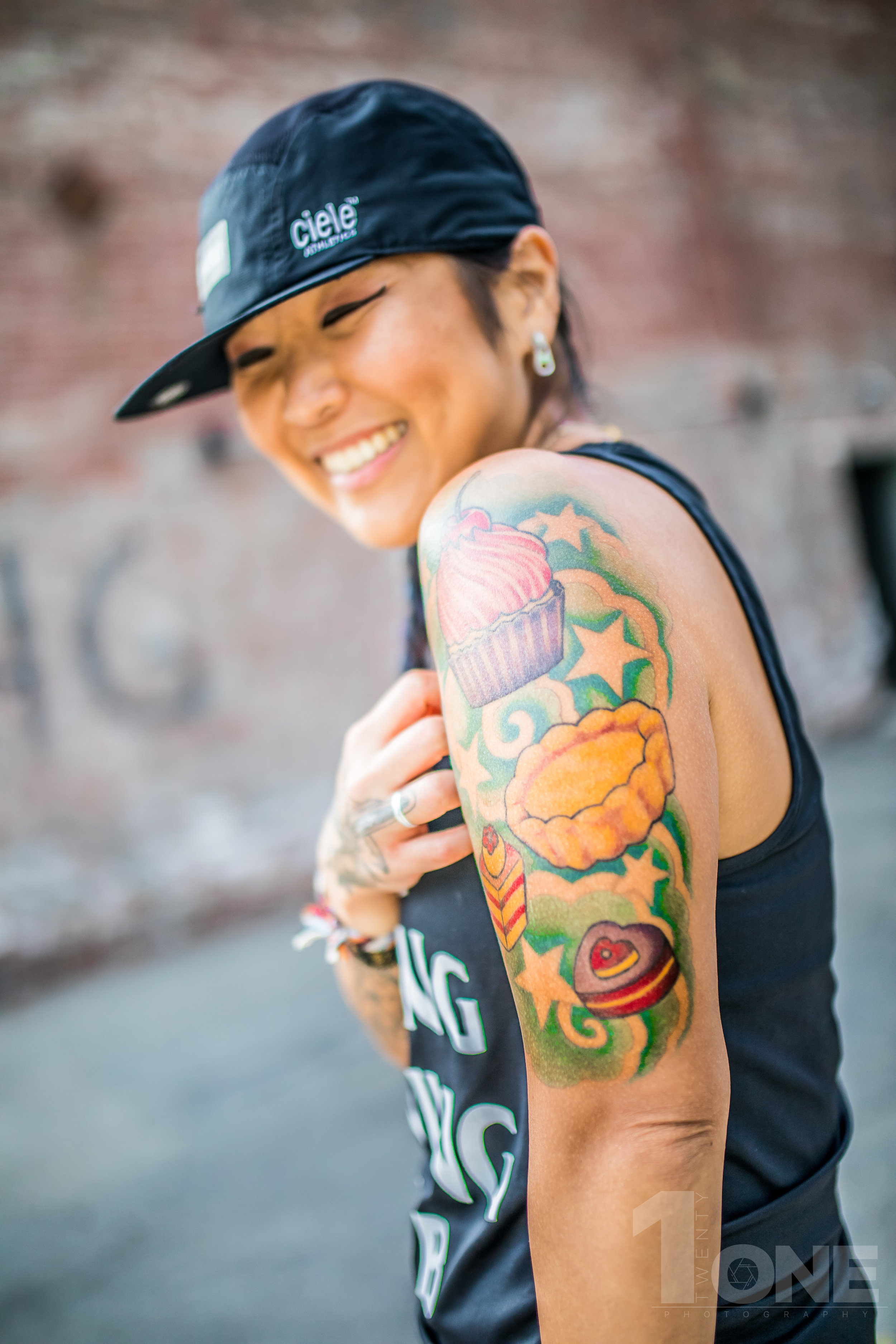 Victoria
Everyone calls me Vics 💕 I have a tortoise and a hare tattoo'd on my left and right calves as a nod to both my running life as well as Aesop's fables. Personally, I've never been the fastest or fittest runner, but what I lack in speed I make up for in fortitude and an iron-clad determination to always see a task through. For this reason, I rely on the hare on my left (dominant) leg to get the momentum going, and the tortoise on my right (weaker) leg to run with heart and finish strong. My other quarter sleeve tattoo on my left arm is a tribute to being raised in a family involved in the restaurant industry and being the dessert baker of my family, but the colourful composition is also a reminder for me to enjoy life and not take things (myself included) too seriously. My newest tattoo of magpies on my right arm is there to bring good luck and love to my loved ones, as magpies are carriers of good fortune in Chinese culture.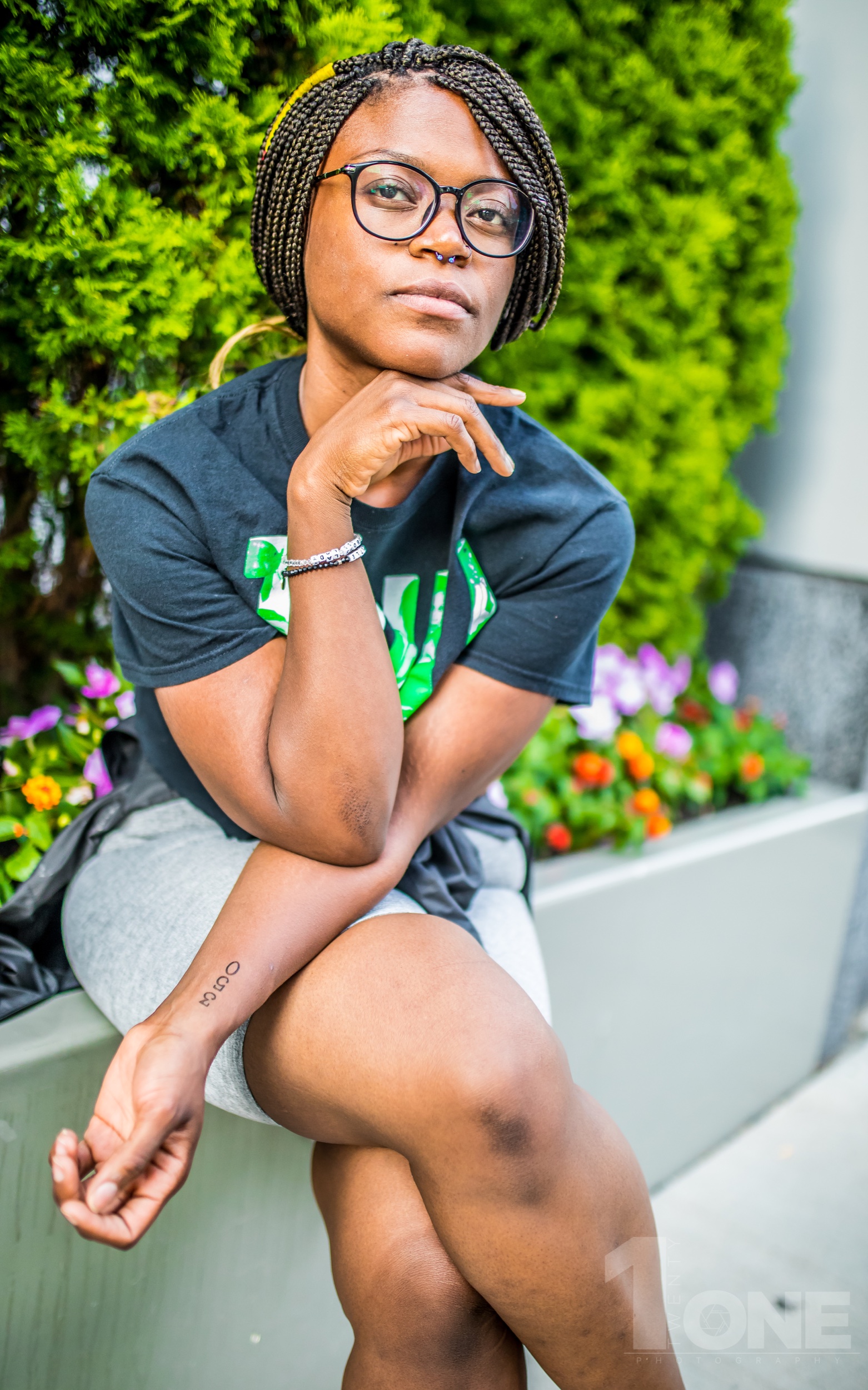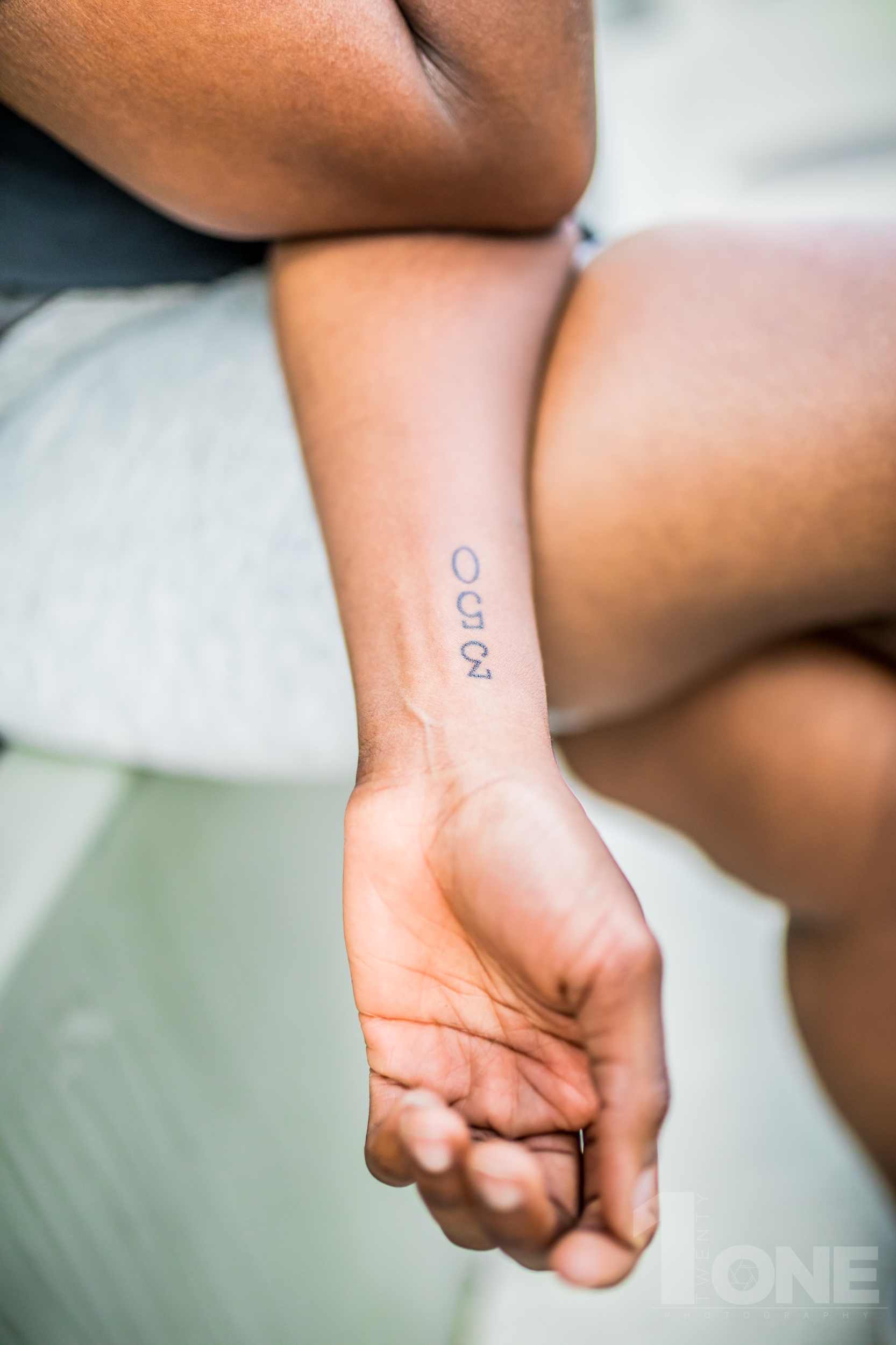 Elizabeth
The number 350 represents how much I use to weigh.
350 represents an old life that I never want to revisit!
It's also a daily reminder of how strong and resilient of a person I am.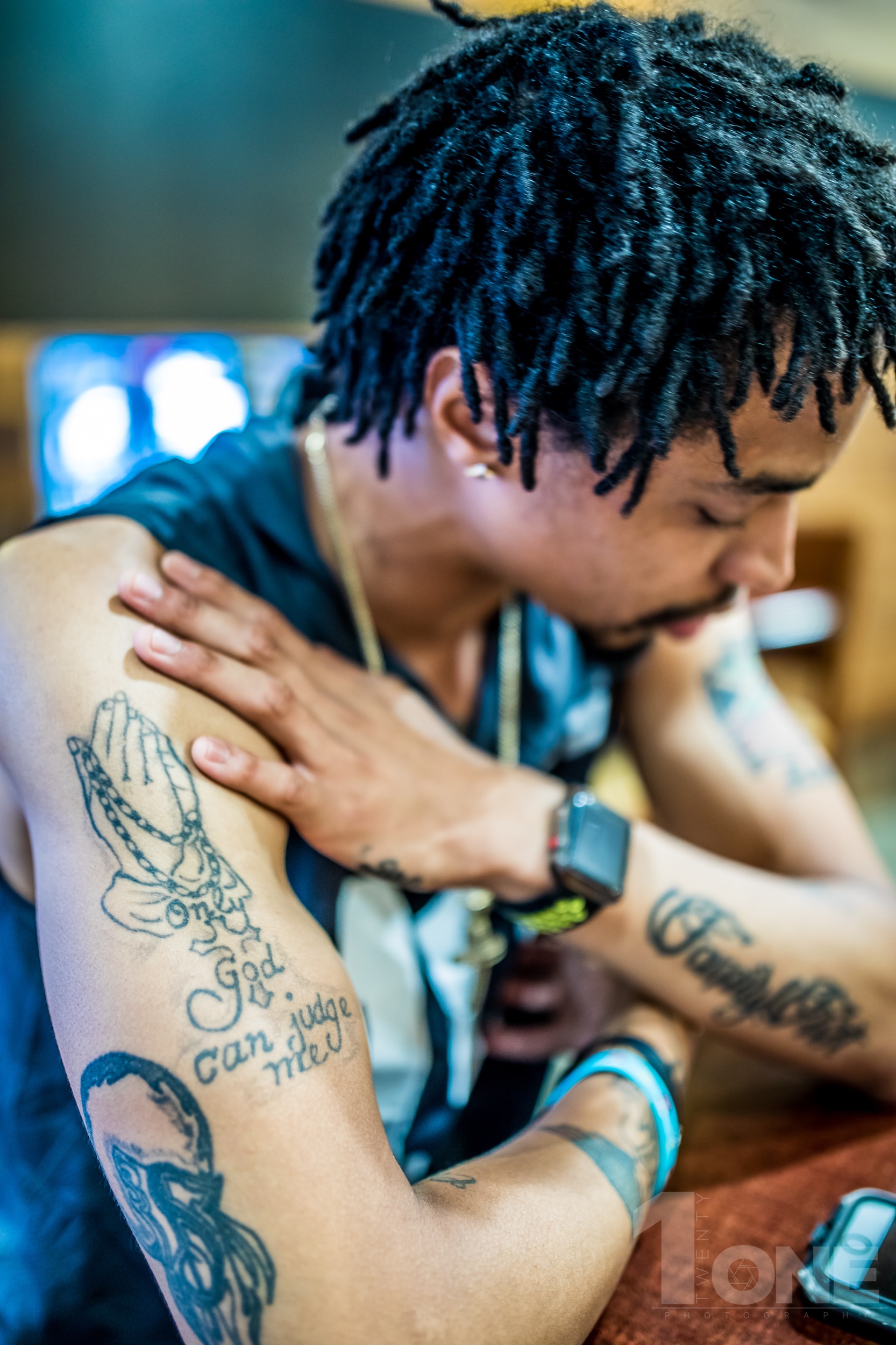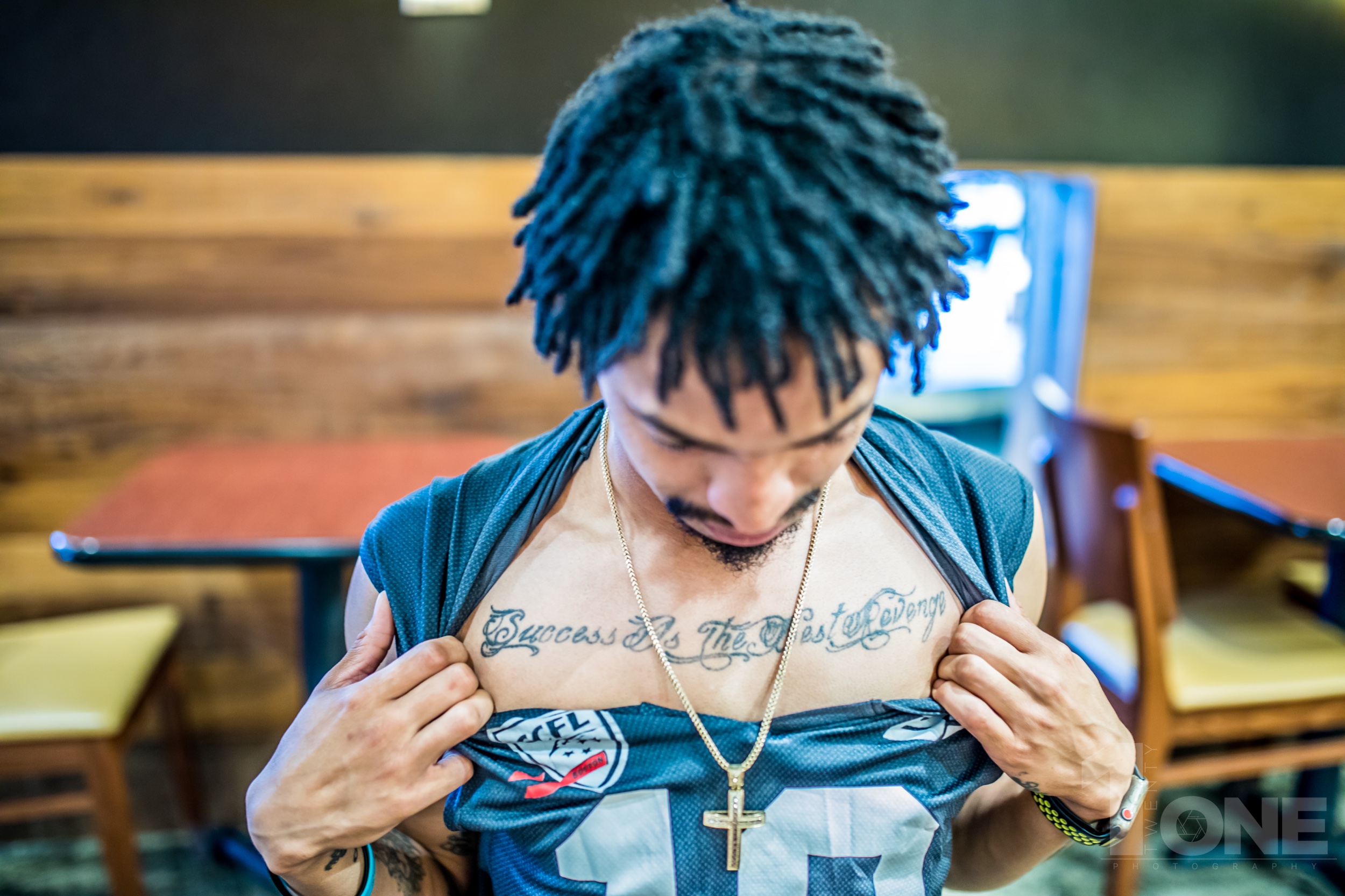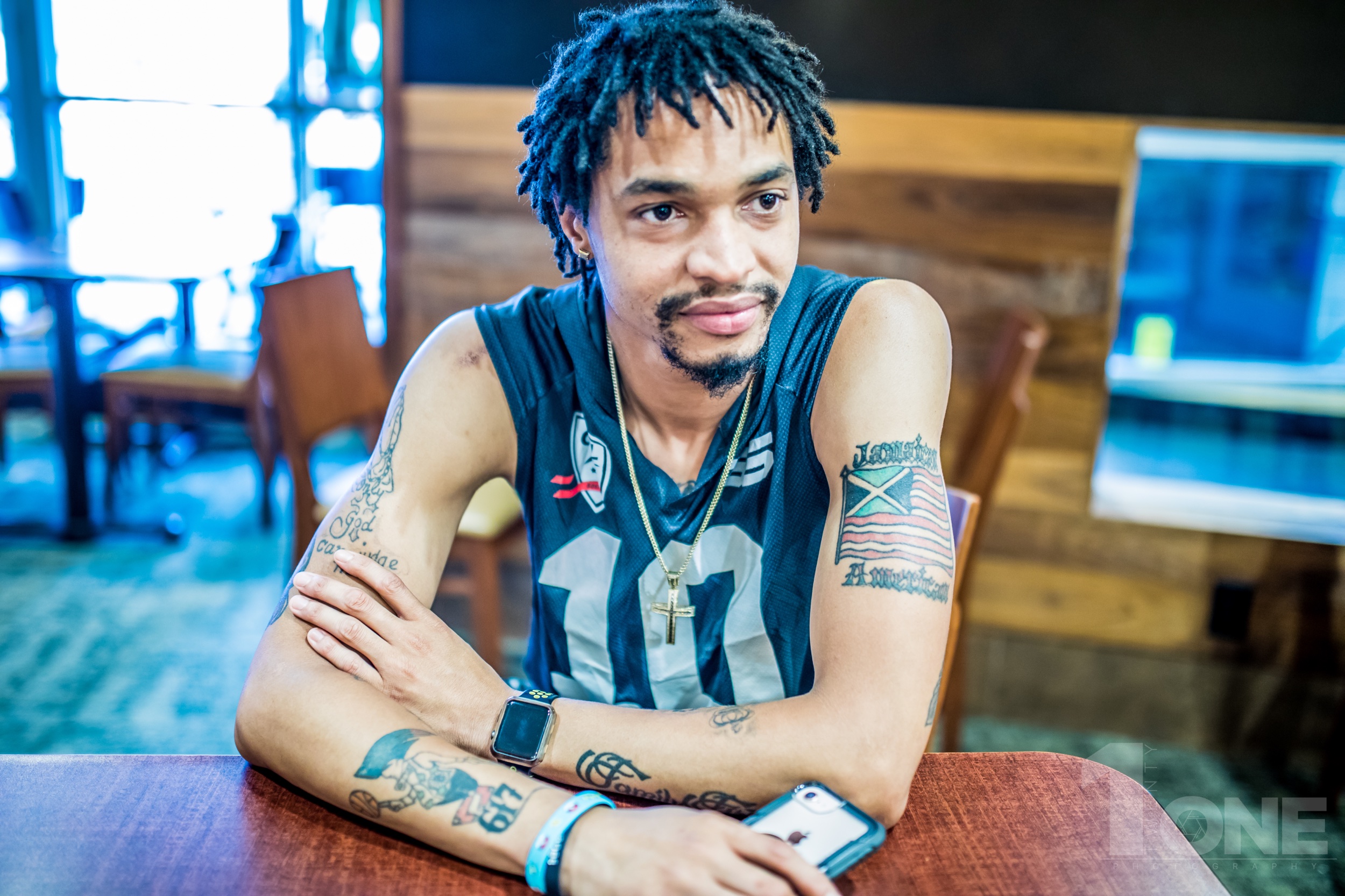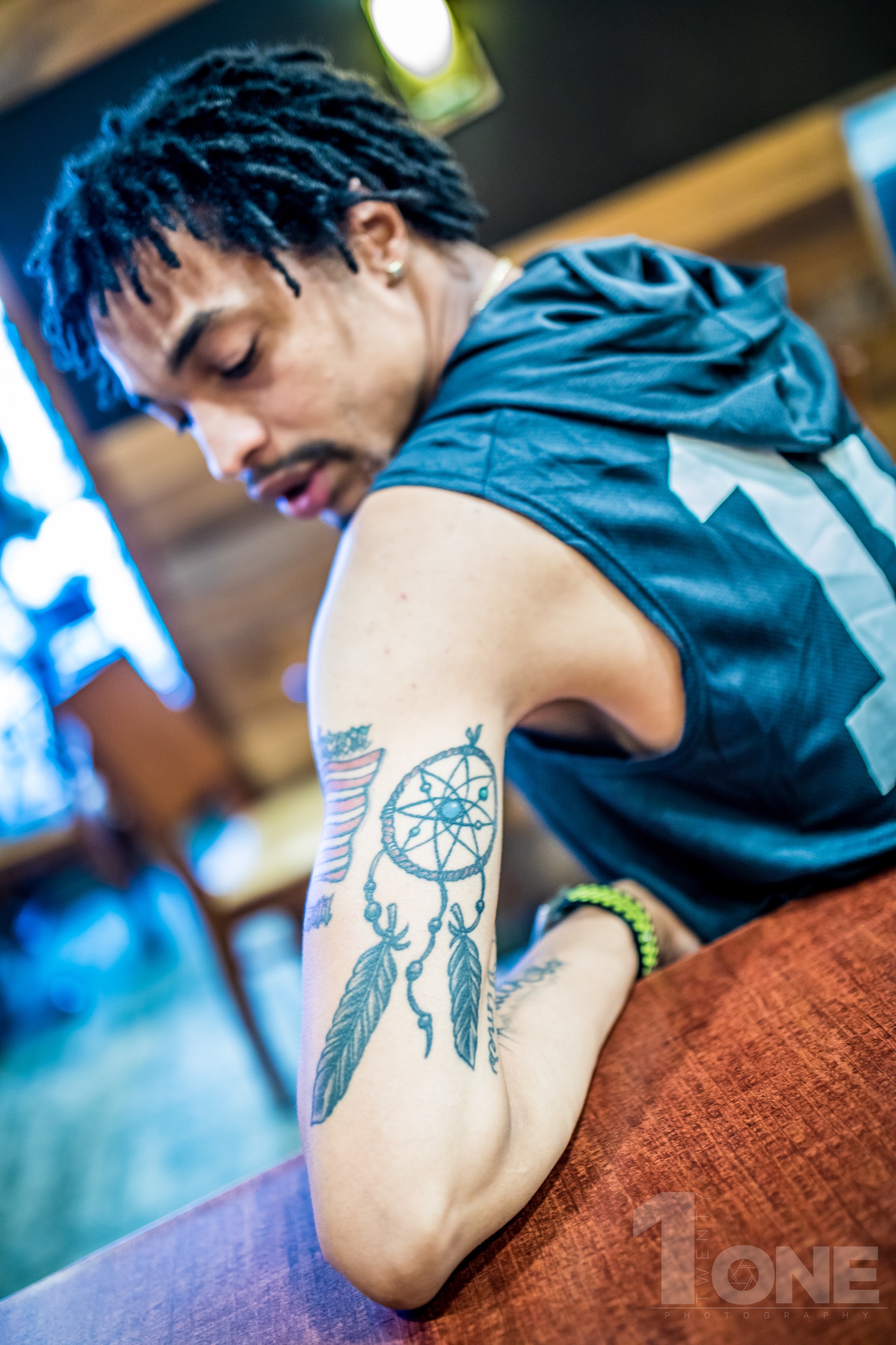 Lionell
Family and friends call me Mista. I have 14 tattoos, but I'll talk about the four that mean a lot to me. Praying hands with quote "Only God can judge me" in life I learned there will always be someone that's has something to say about you. I keep this tattoo as a reminder, no matter what people say about you only the man above has the last say. My chest reads "Success is the best revenge". In life I learned that things aren't always going to go your way, in that process people are goin to do you wrong but the goal is to NOT stoop down to their level. Prove them wrong and show them how your growth is better then stooping to their level. Lastly other two tattoos are from my heritage.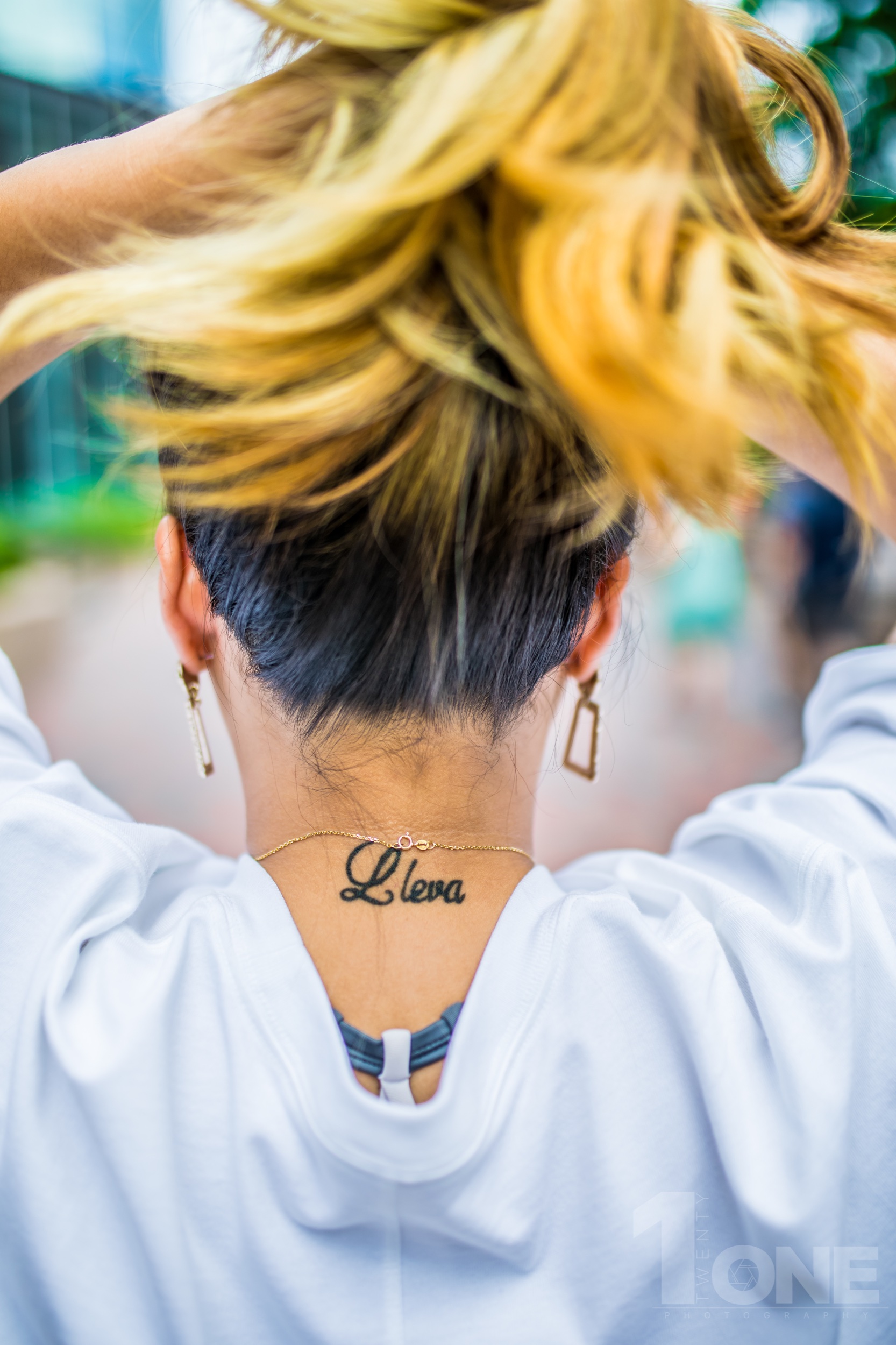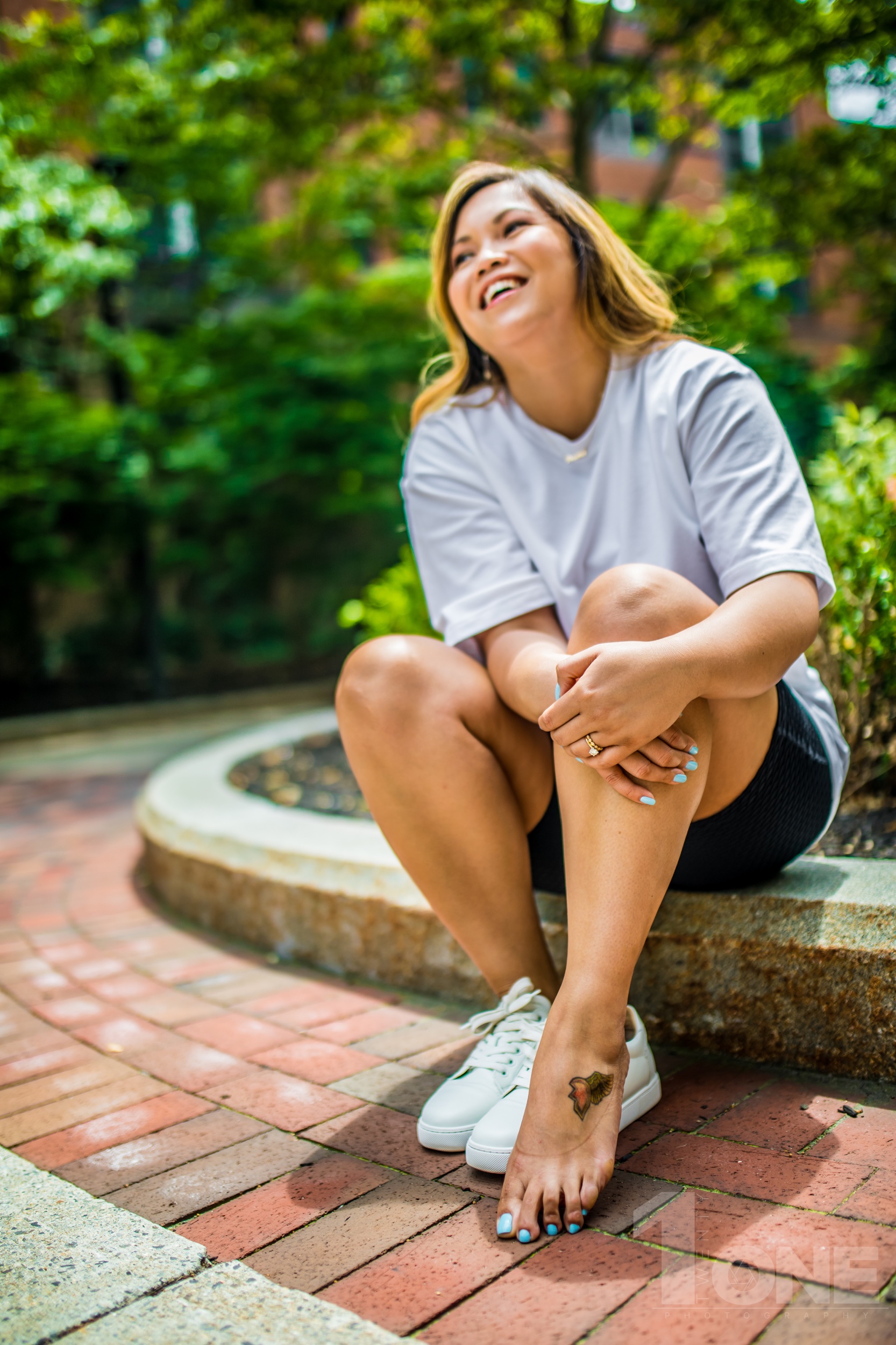 Daena
Ok, so I have 3 tattoos. a lightning bolt on my right wrist, a half a heart with an angel wing on my left foot and my maiden name on the back of my neck. I value my maiden name because it's my dad's last name. although I don't have his last name any longer, it's still stamped on me, literally. The other two were dumb decisions when i turned 18 lmao
Chris
My oldest son "Michael" is tattooed to my arm.
It means showing off the love I have for my son and how proud I am to be a dad.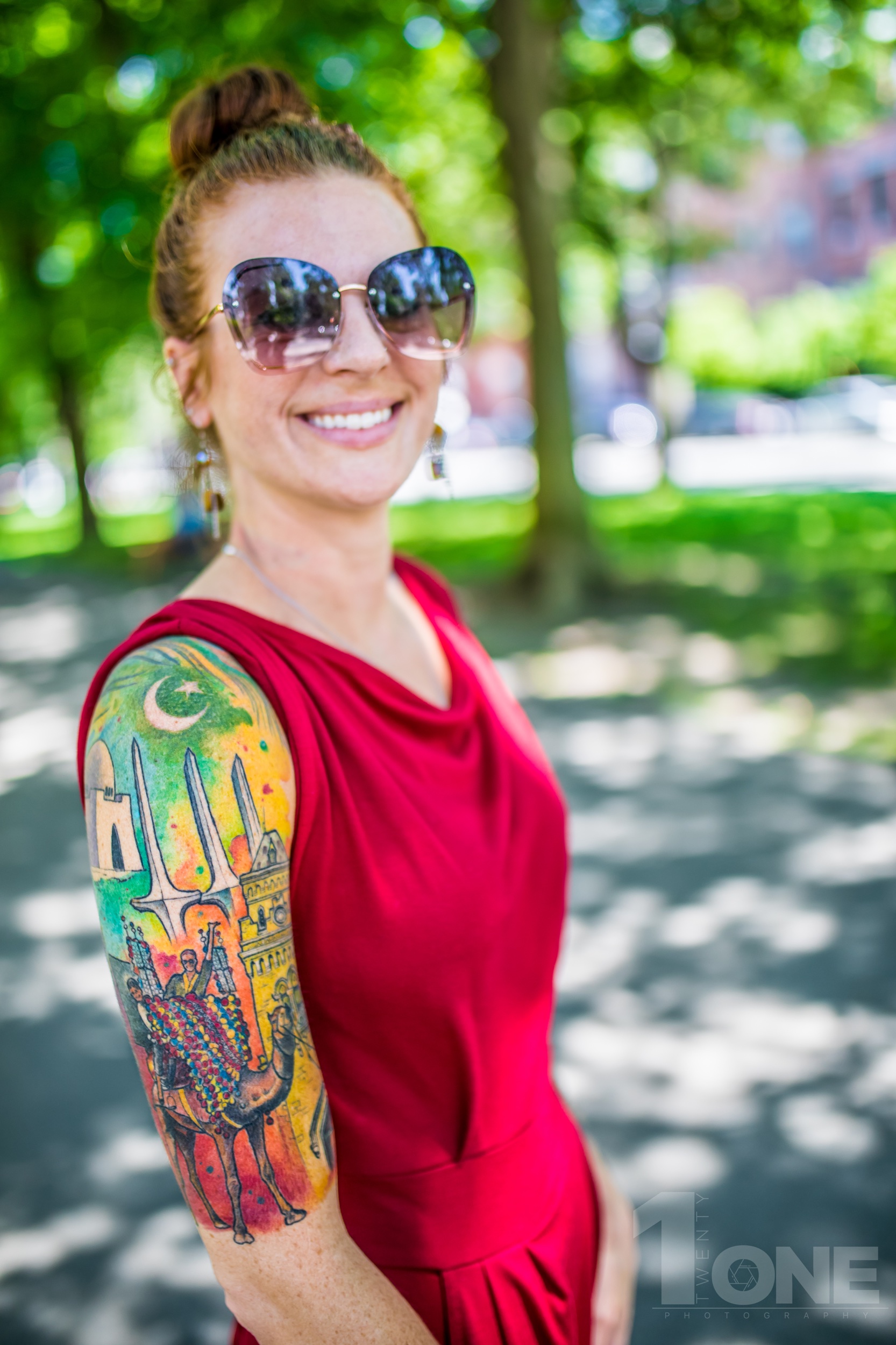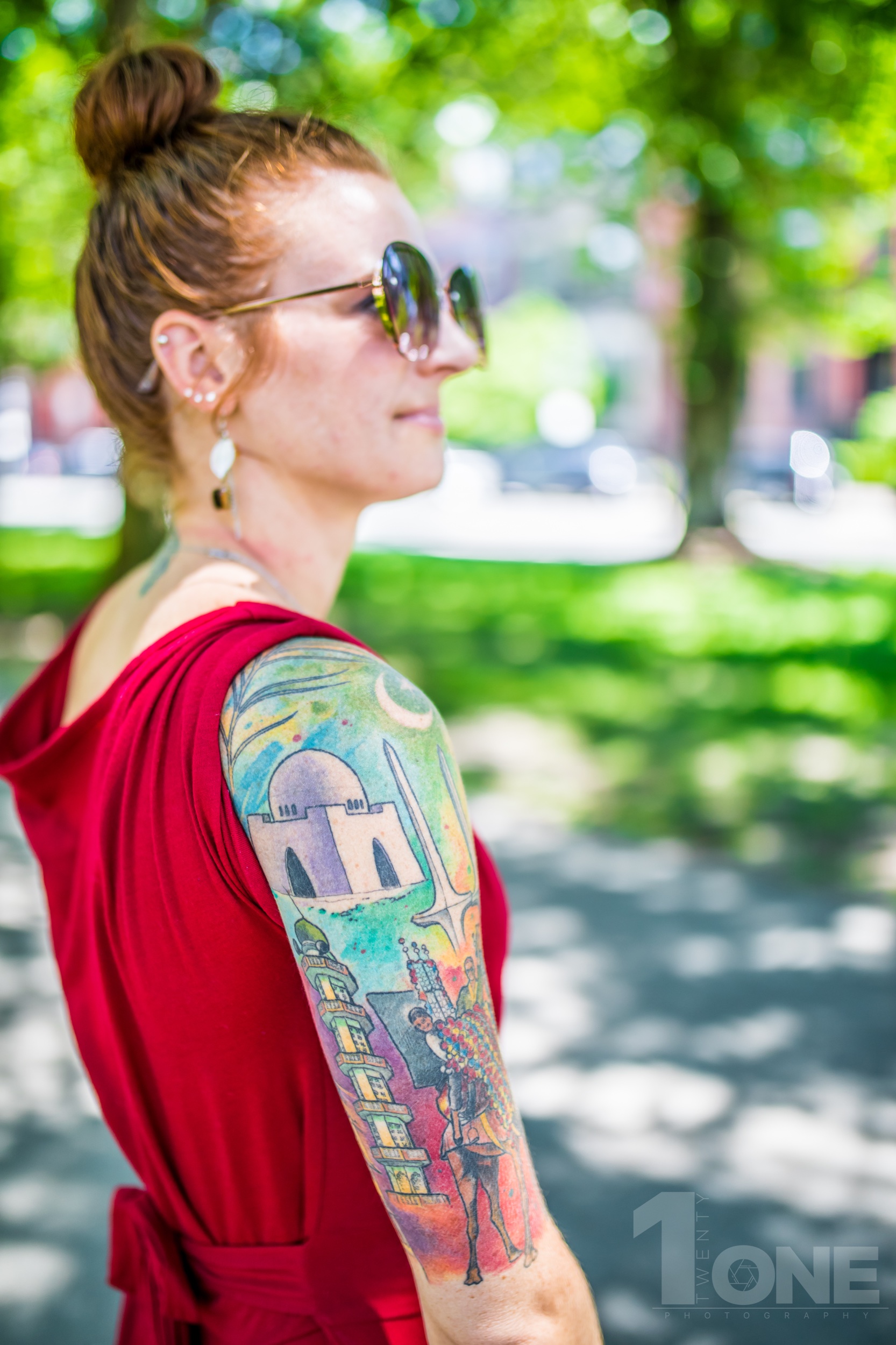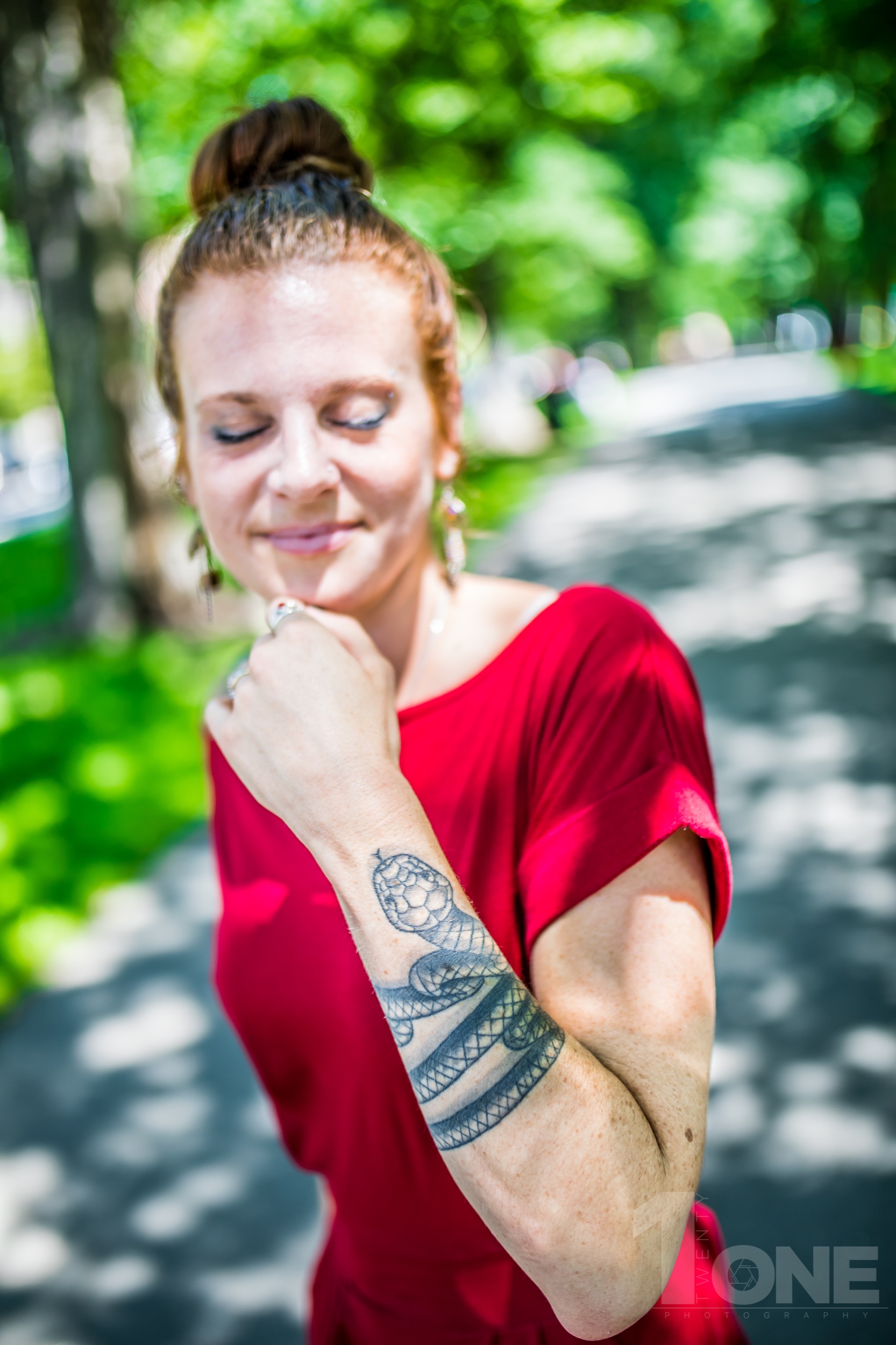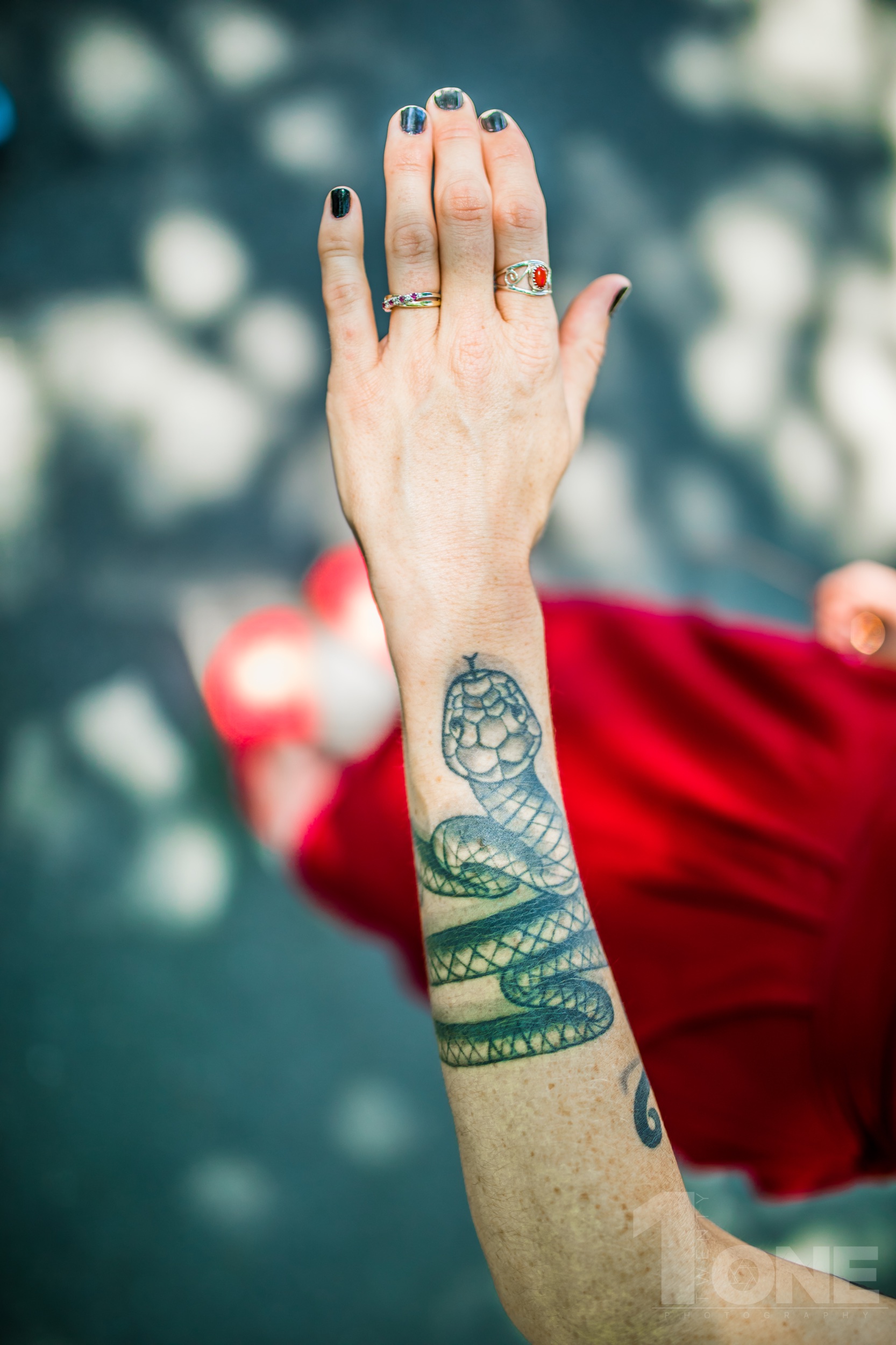 Heather
Pakistan or Bust:
This is my newest and most cherished tattoo. This tattoo is a collage of some of the monuments I traveled to while visiting the country of Pakistan: Mohatta Palace, Empress Market, the National Mausoleum, the flag of Pakistan, a minaret, and Teen Talwar. The centerpiece of the tattoo is taken directly from a photograph. It is of myself and my friend atop a camel riding on Clifton beach which borders the Arabian Sea. The inspiration for this tattoo stems from many places. Before visiting I spent two years studying the country's history. My interest turned into obsession and I desired to go no where else but Pakistan. After visiting, my heart only grew fonder. The world greatly lacks an understanding of this beautiful place and its people. And so, I decided to immortalize my experience in ink for the country, the people, and for the love of a place so beautiful my heart aches for others to see it.
The Asp:
Cleopatra rescued herself from enslavement to the Roman Empire by allowing the bite of an Asp to poison her. She wasn't going to let anyone control her future and I commend her decision with the same type of snake wrapped around my left forearm.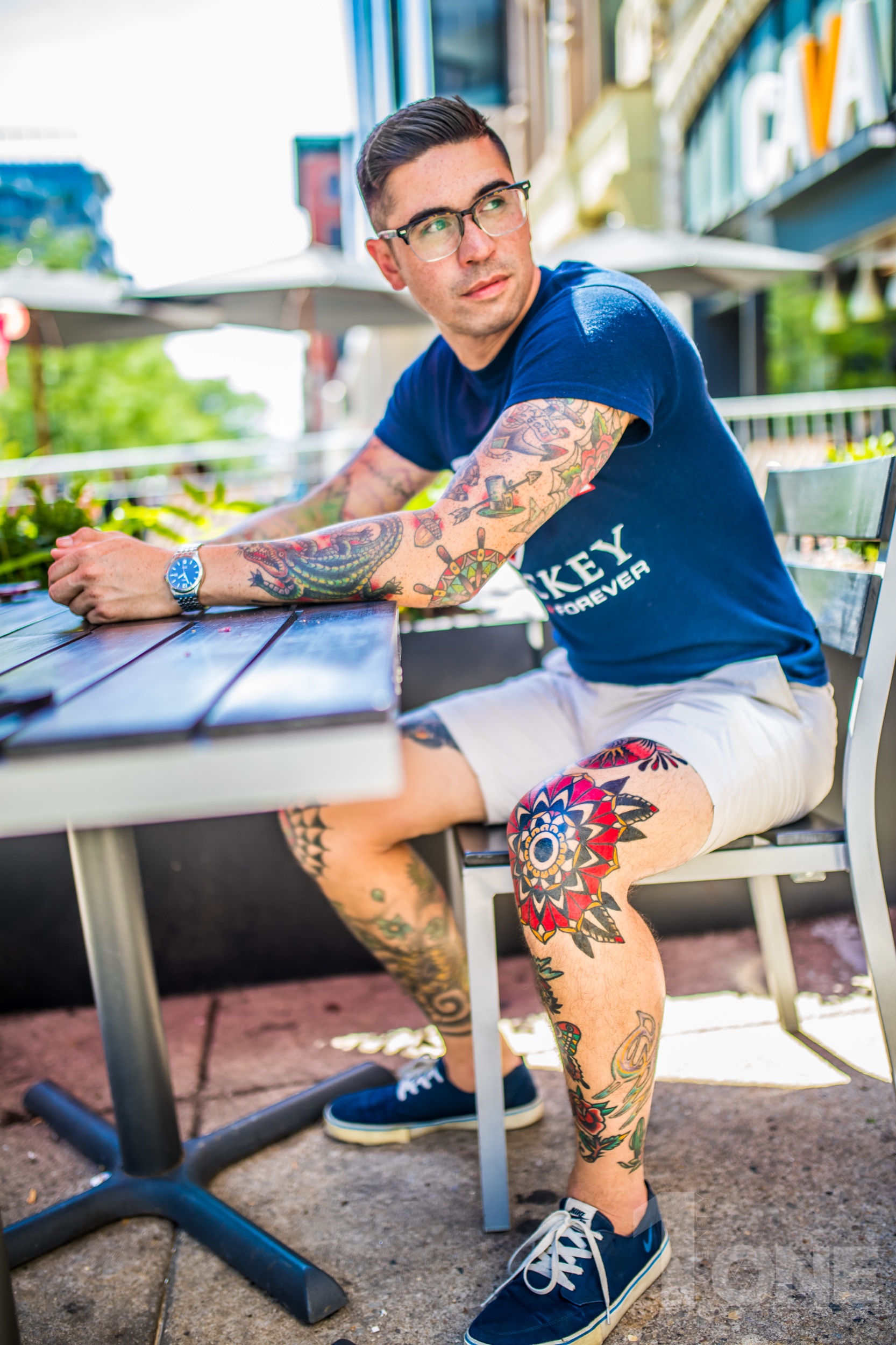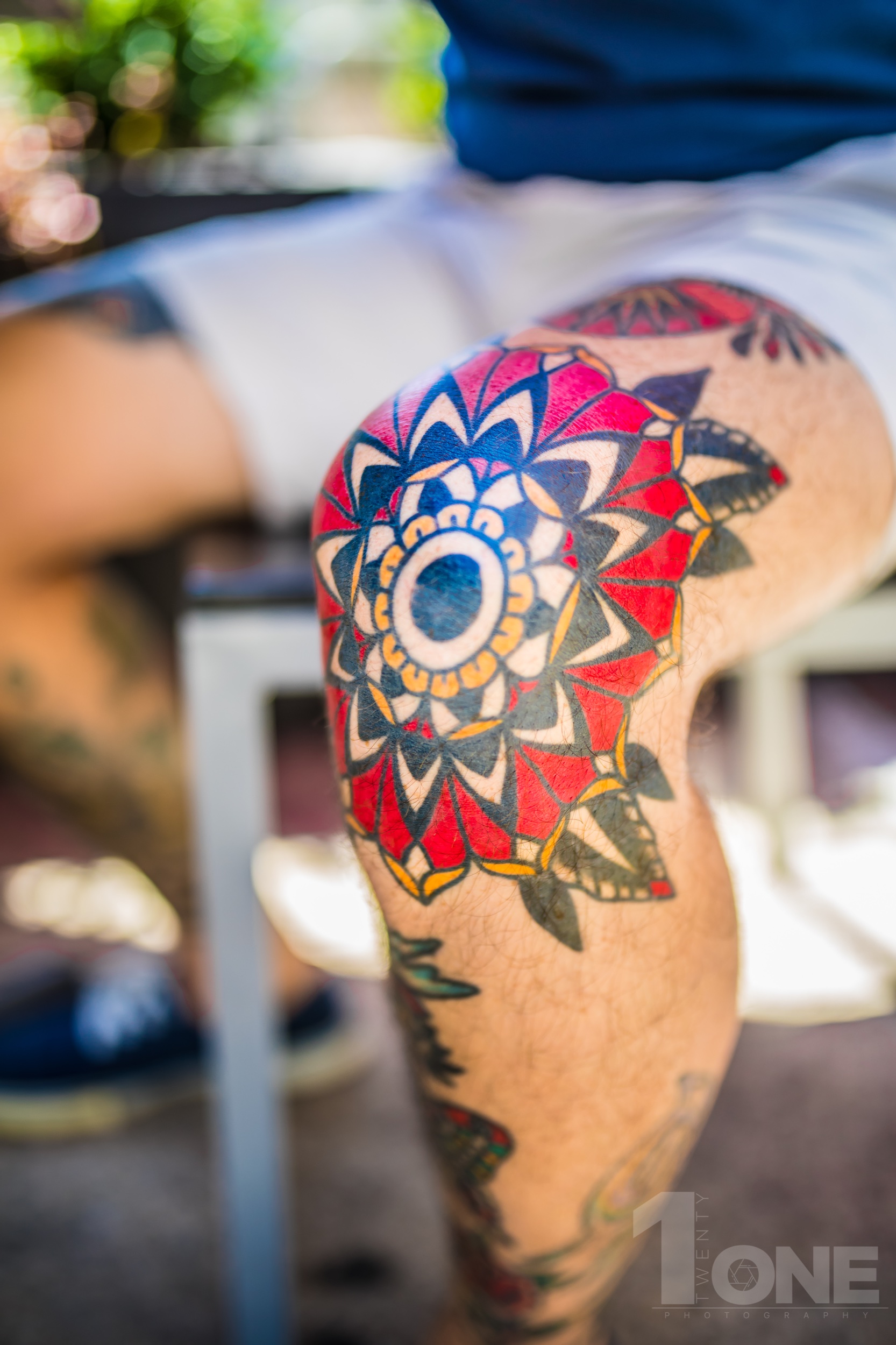 Chris
A little about my tattoos:
While I've always appreciated the way people utilize their tattoos to convey a deeper sentiment or tell their story - mine simply don't. I enjoy the aesthetics and they make me feel confident and happy. I've met people who were perplexed by that notion, but to me, a flower tattoo is just a flower tattoo and you can get tattooed solely because you like them.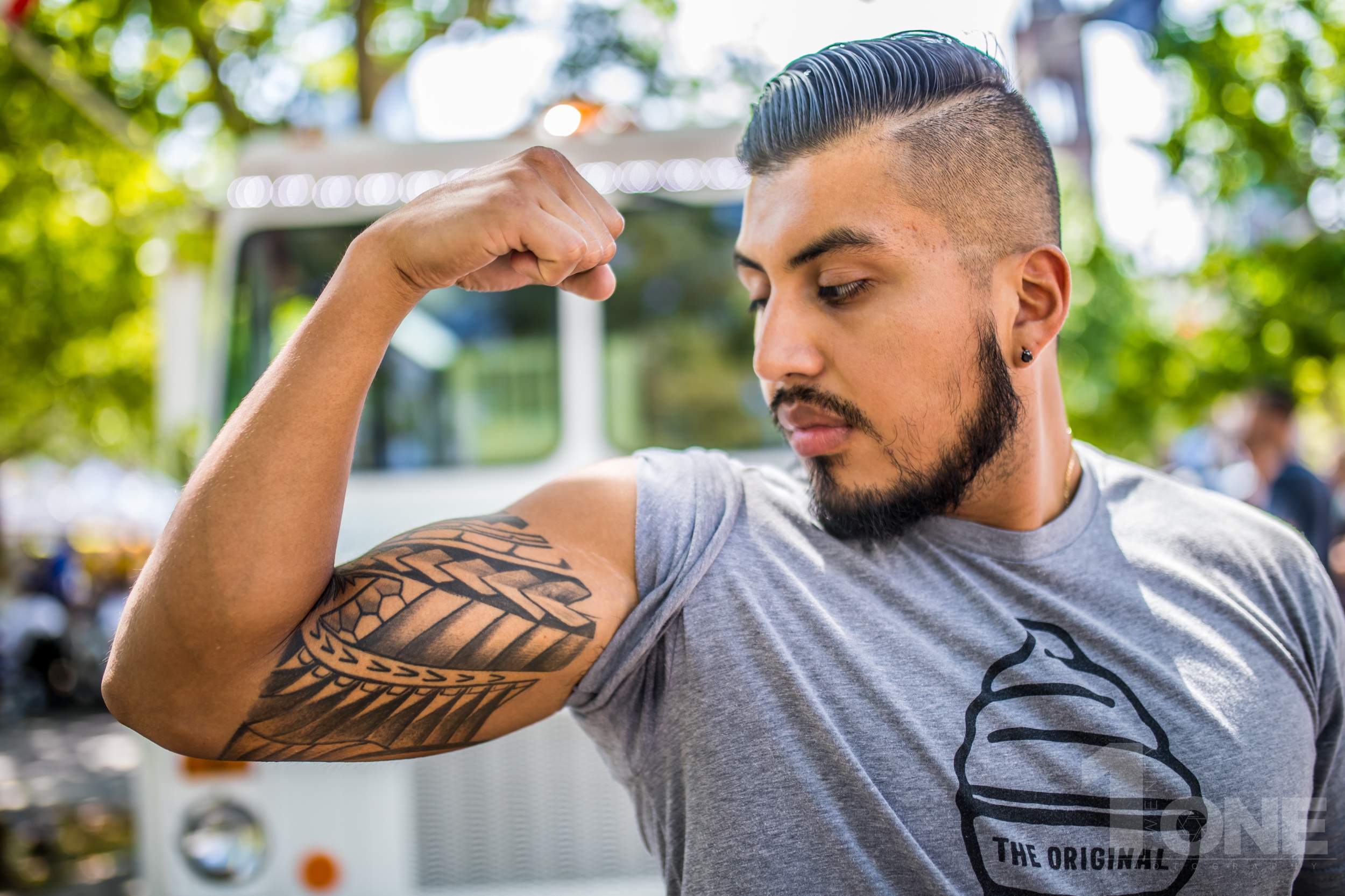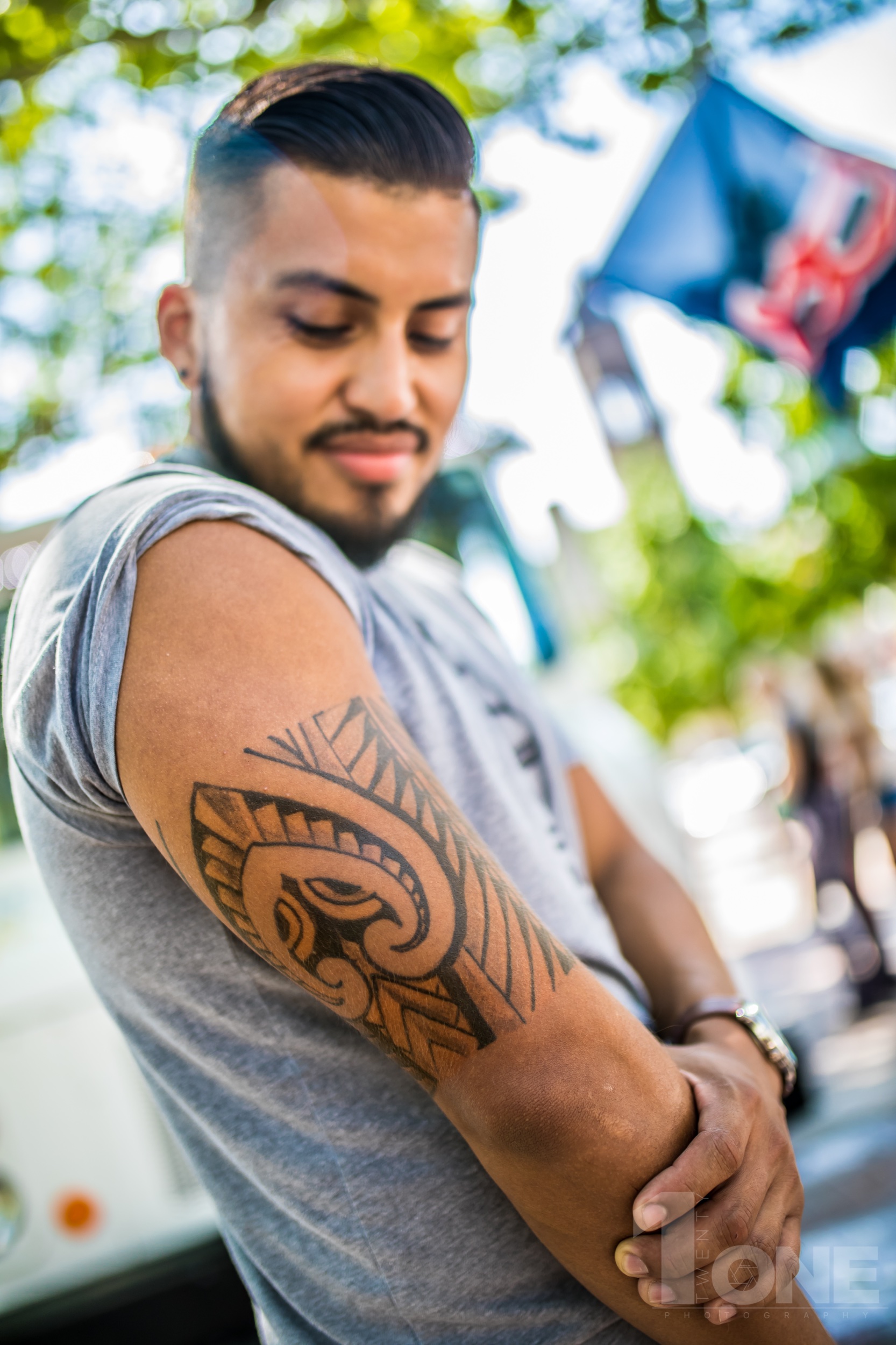 Orlando
As a kid, I always wanted to be tatted. I have an uncle I grew up with that had the old school barbed wired tribal around his bicep. I use to think it was so cool. From that point, I always wanted a tribal tattoo. As I got older, and that tattoo got outdated, I decided to research more on tribal tattoos. I came across Polynesian tattoos, immediately I became fascinated with the artwork. Now the only problem was, what did I want to get?! Polynesian tattoo is very unique. It is its own language within itself. I researched for some time and always pushed it away because my parents did not agree with tattoos. I desperately wanted it, that I went to a well-known tattoo artist that many of my friends have gone to. Not knowing what I was going to do, I just asked him to wing it, so he did and this is the final product! I absolutely loved it, and still do. In the end, my father did not speak to me for about a week and my mother loved it. Was it well worth it? Fuck yeah!!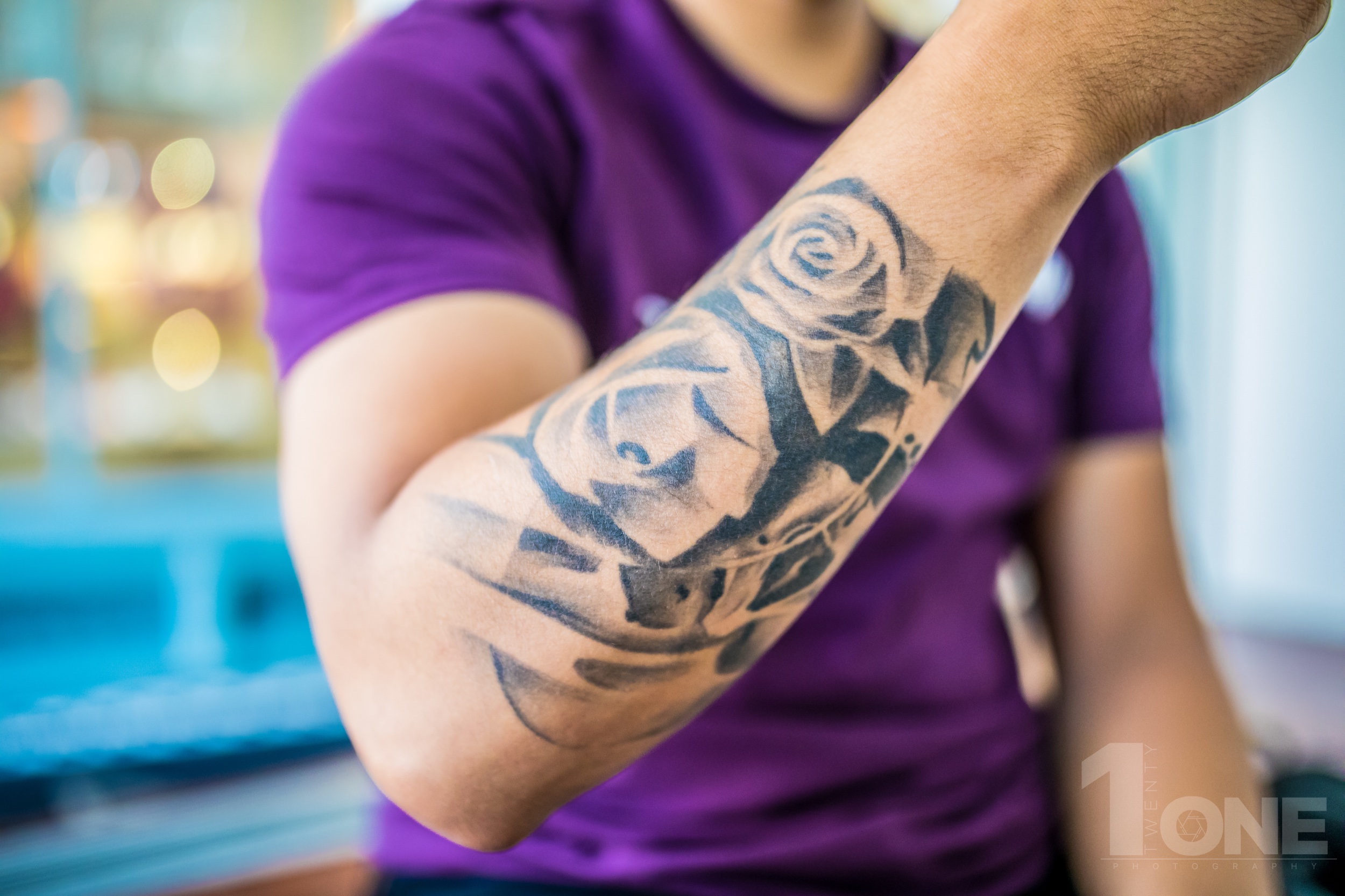 Jefferson
This was a way of staying close to my grandmother.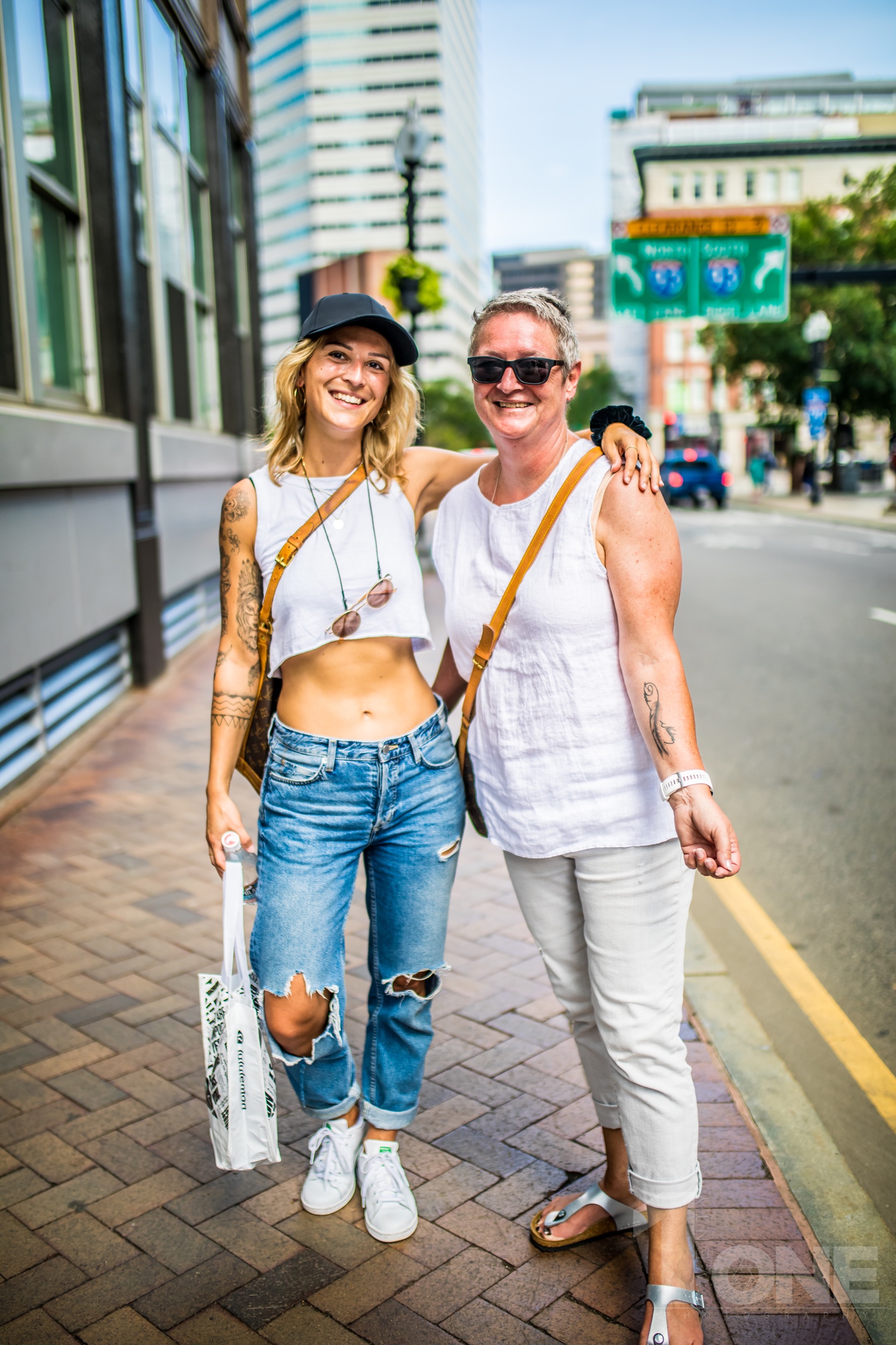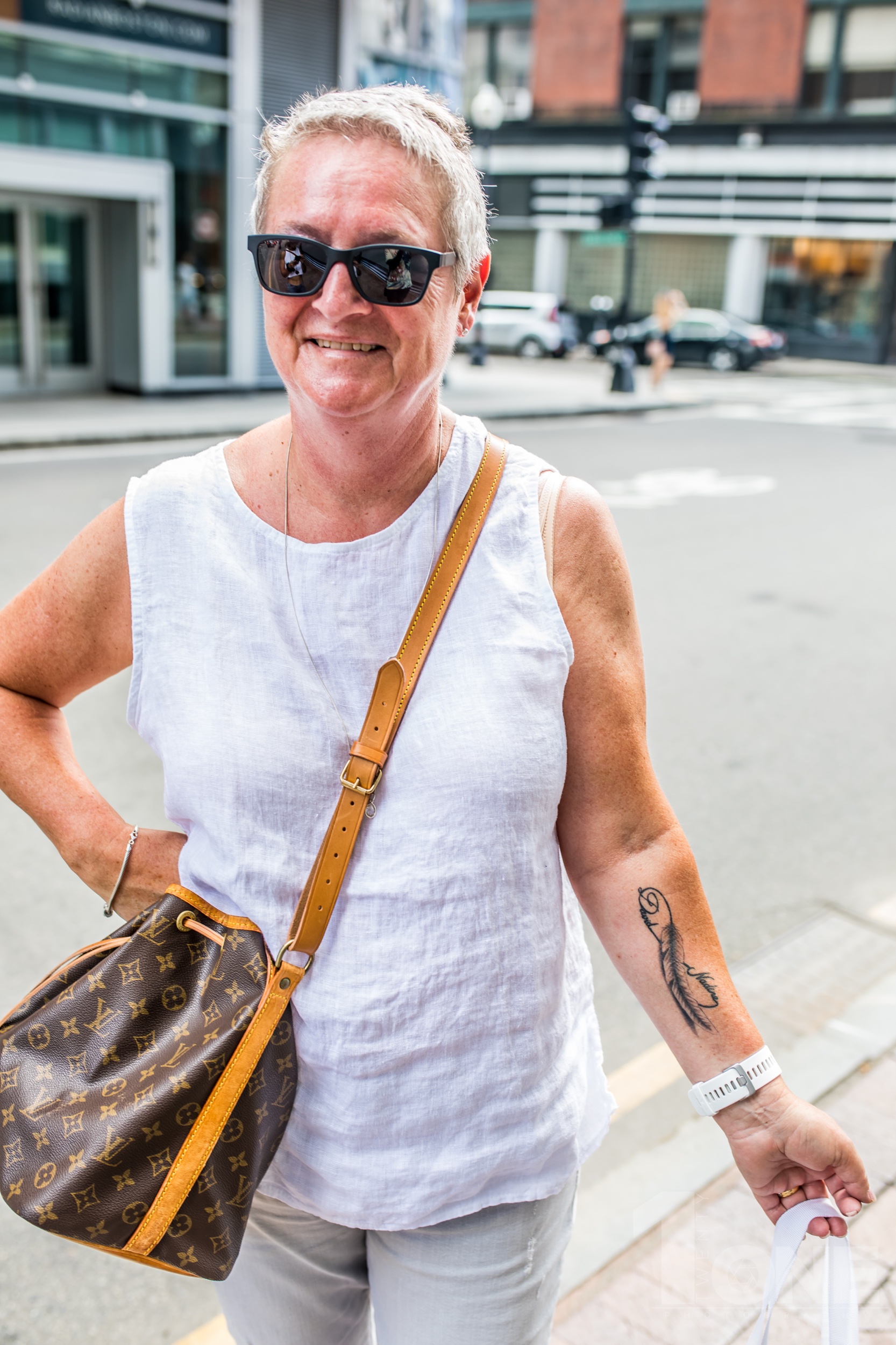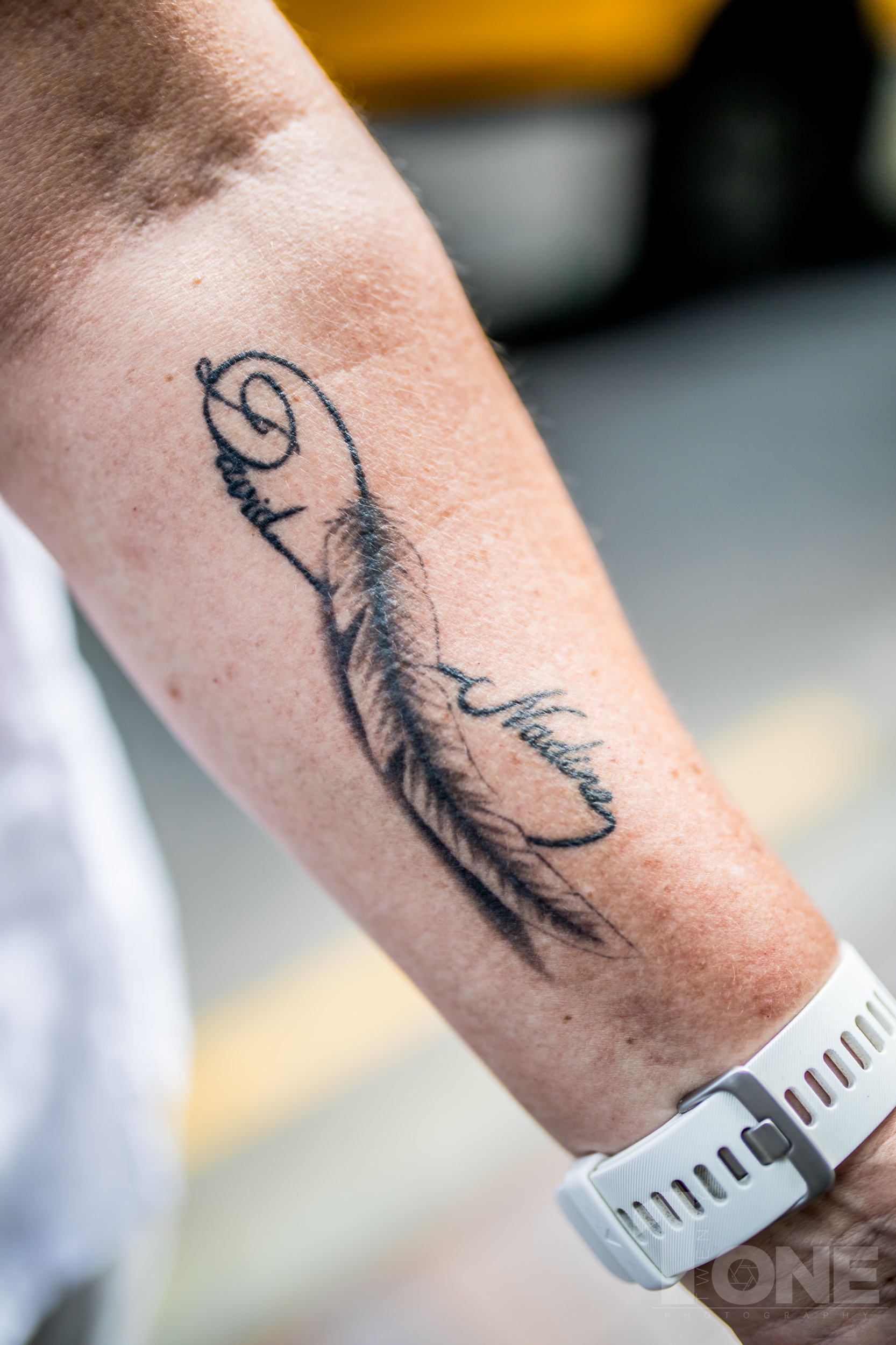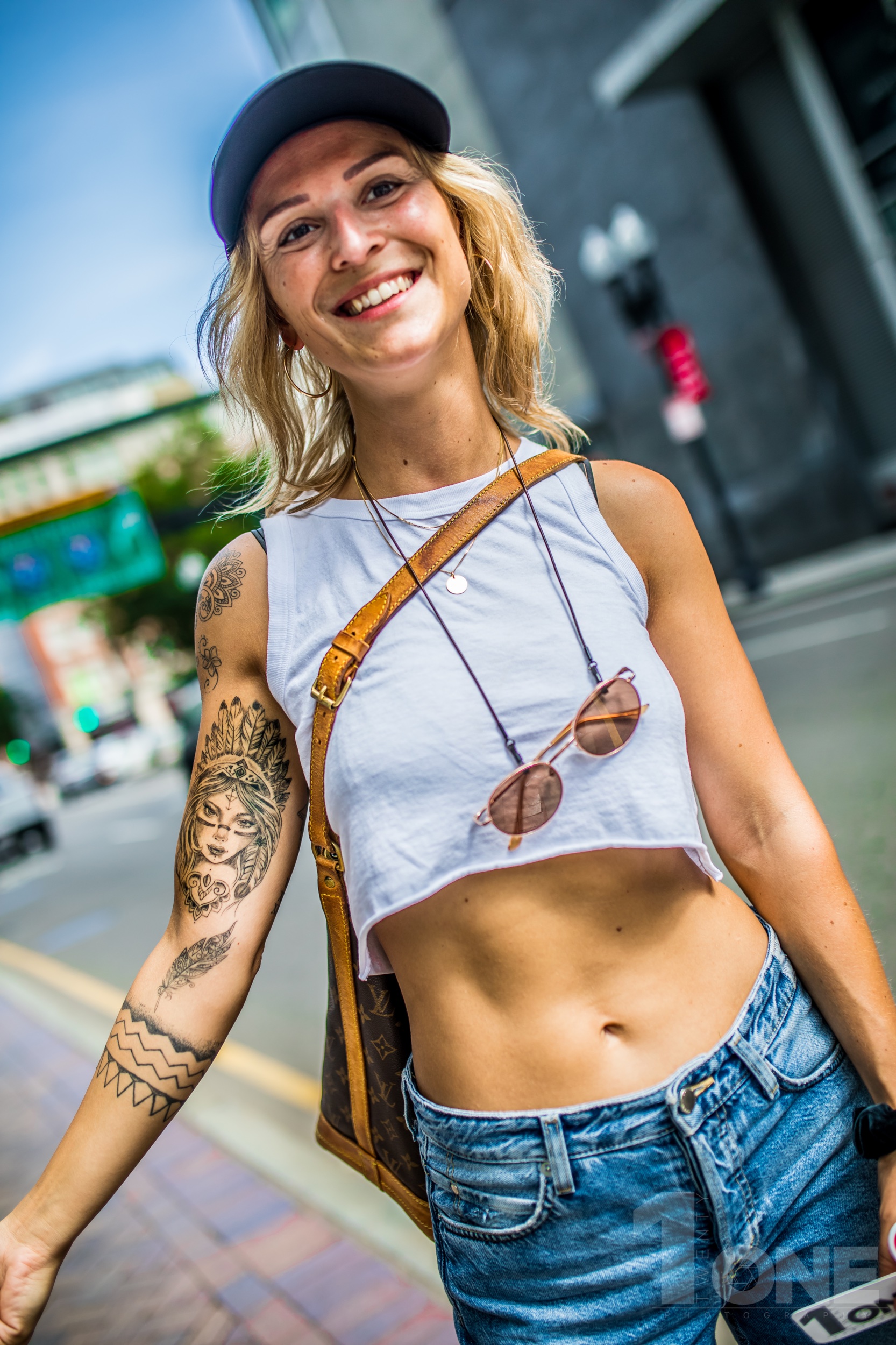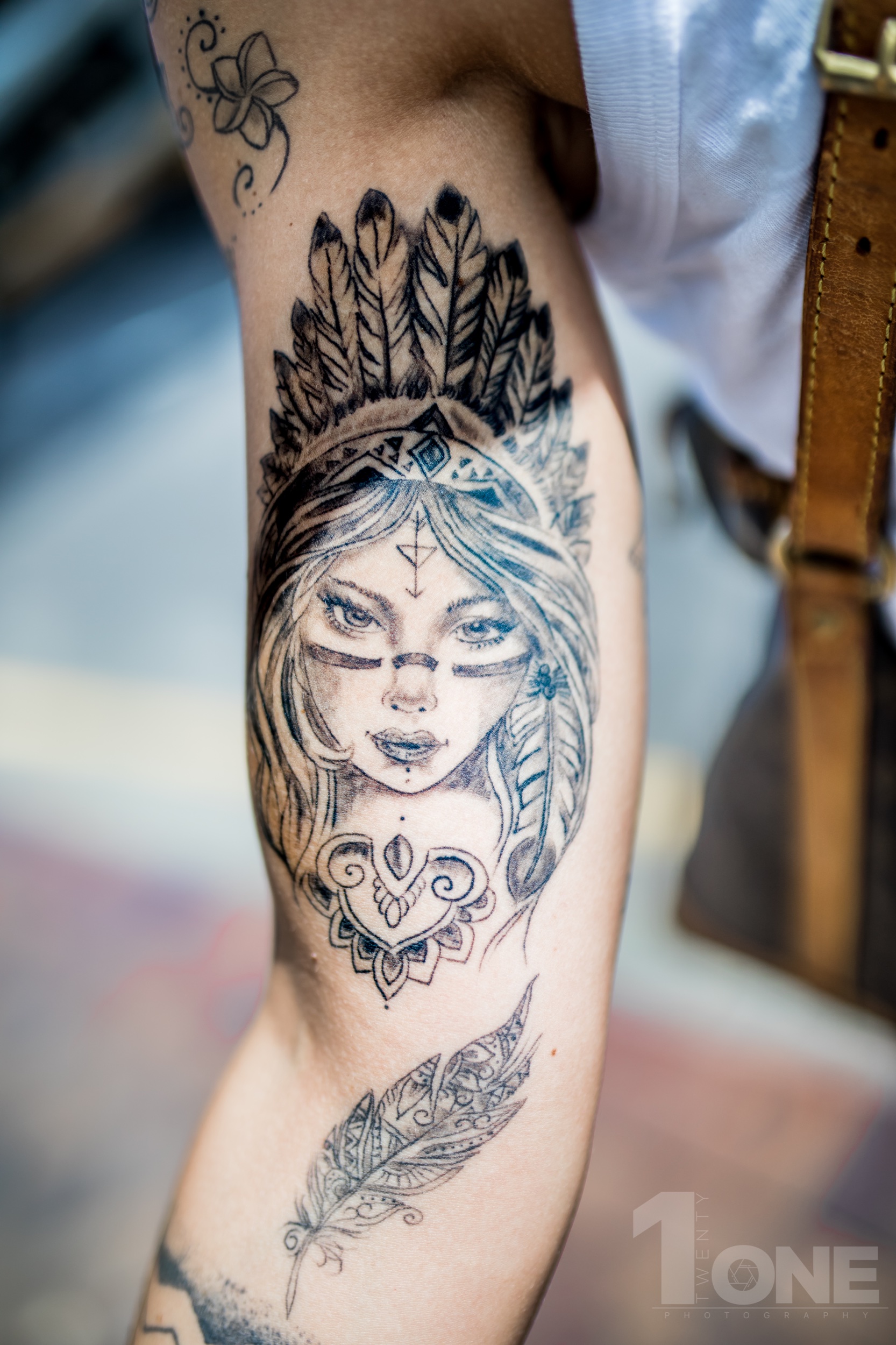 Nadine & Maria : )
So, Maria (mother) got her tattoo (the names of her two children) because family is very important to her and she wanted to have 'us' with her at all times.
I (Nadine, daugther) got the lady portrait because to me, she symbolizes a strong, secure, independent and thriving woman - but at the same time she's also very unique, loving, caring and vulnerable. All of those are attributes I consider to be quite important and I try to live by all of the above : )
ps: the feather underneath the portrait is a homage to my mom because she's got the feather in our names too

Devon
I have a mix of meaningful tattoos and ones I got cause we're here for a good time, not a long time.
The one reads, "Keep me in your heart, I'll stay there forever." Each word is written in one of my six siblings' and my parents' handwriting. I'm a big traveler so keeping a reminder of my loved ones everywhere I go is most important to me.
"Half blade & half silk" is a quote from the poet Rupi Kaur. The particular poem is about women being told to stay quiet and complacent and sit pretty, but we were made to be strong and vibrant and full all on our owns. So this is my homage to women and my feminist beliefs.
The upside triangle represents my spiritual and religious sides. It shows both my asotrological symbol, Scorpio which is a water sign, and then the three points of the triangle represent the Father, Son, and the Holy Spirit.
If you can see it in the picture, the little slice of lemon is one of those "here for a good time" tattoos.
Anonymous
My tattoo represents Faith , Hope & Royal Love .. before the cross , it's a small flatline (meaning I was dead , then after the heart there's life).
My heart will always be open because life teaches you lessons all the time.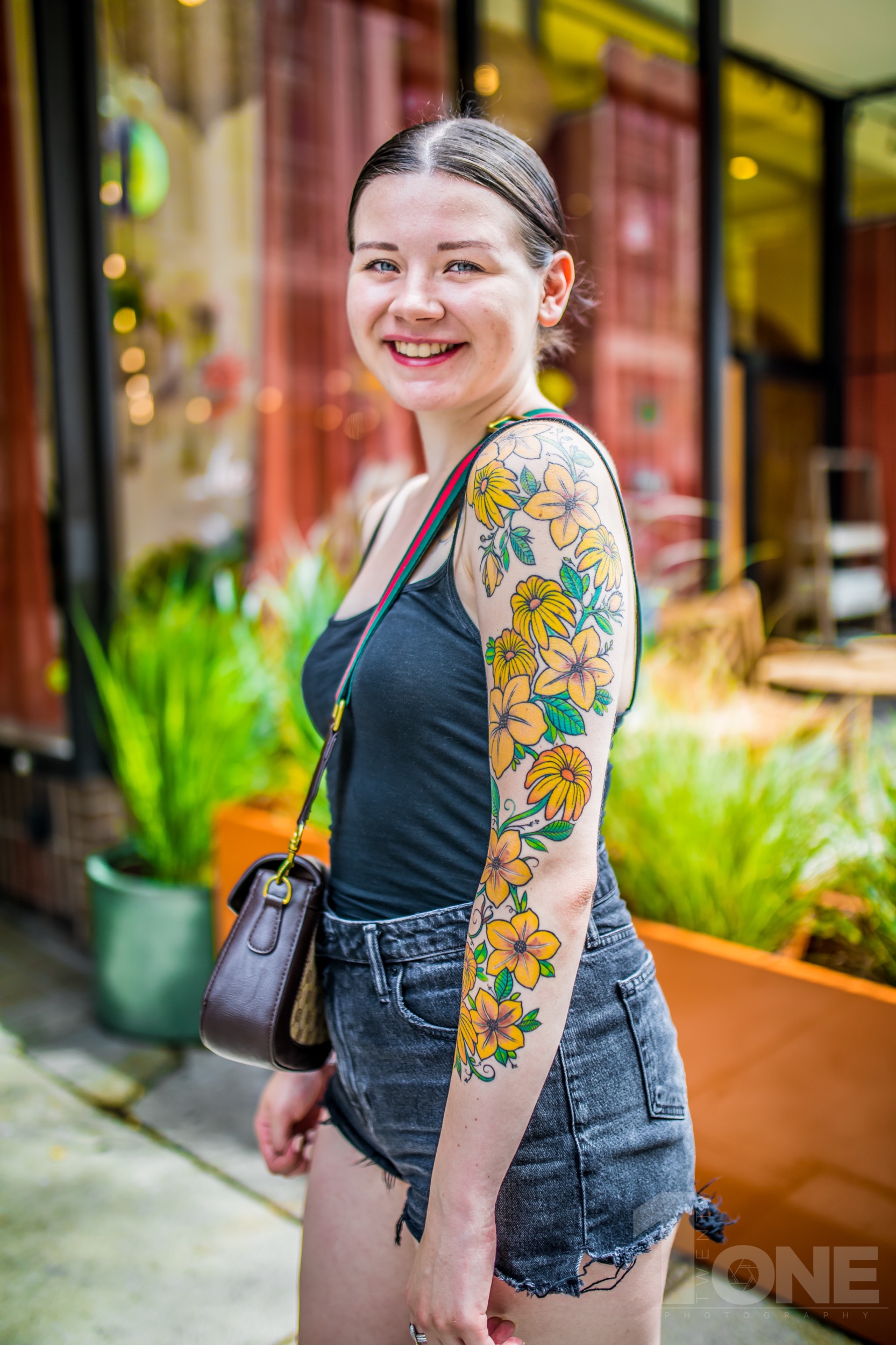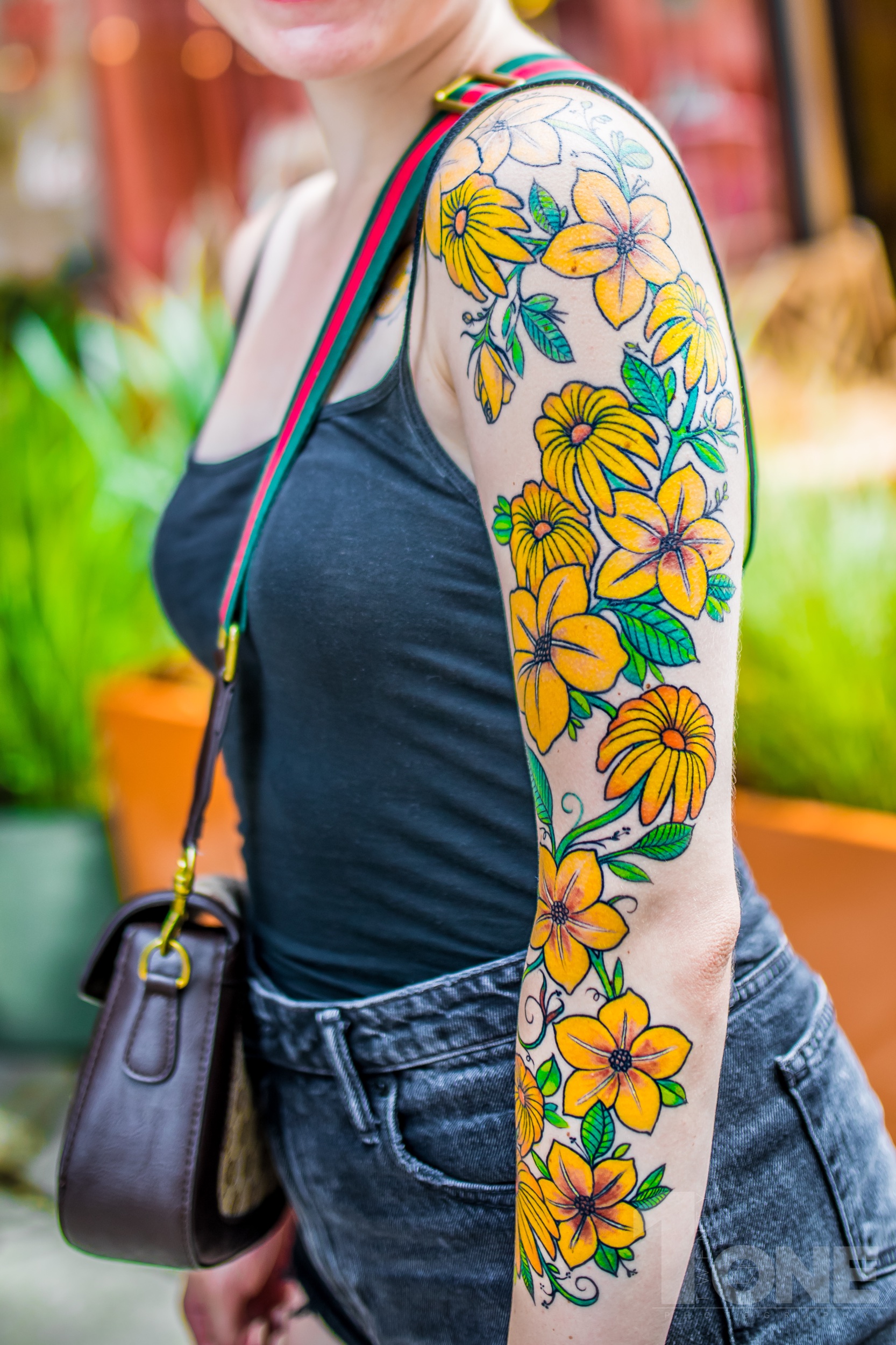 Sarah
For my largest and favorite tattoo I chose a sleeve of yellow flowers that to me symbolize freshness, happiness, clarity, energy, optimism, and enlightenment. Personally, I love this tattoo so much because it is a piece of art I get to keep on my body for the rest of my life, no matter where it takes me. I wanted to do something bright and fun which is also why I chose yellow because is the brightest color of the visible spectrum making it the most noticeable color to the human eye.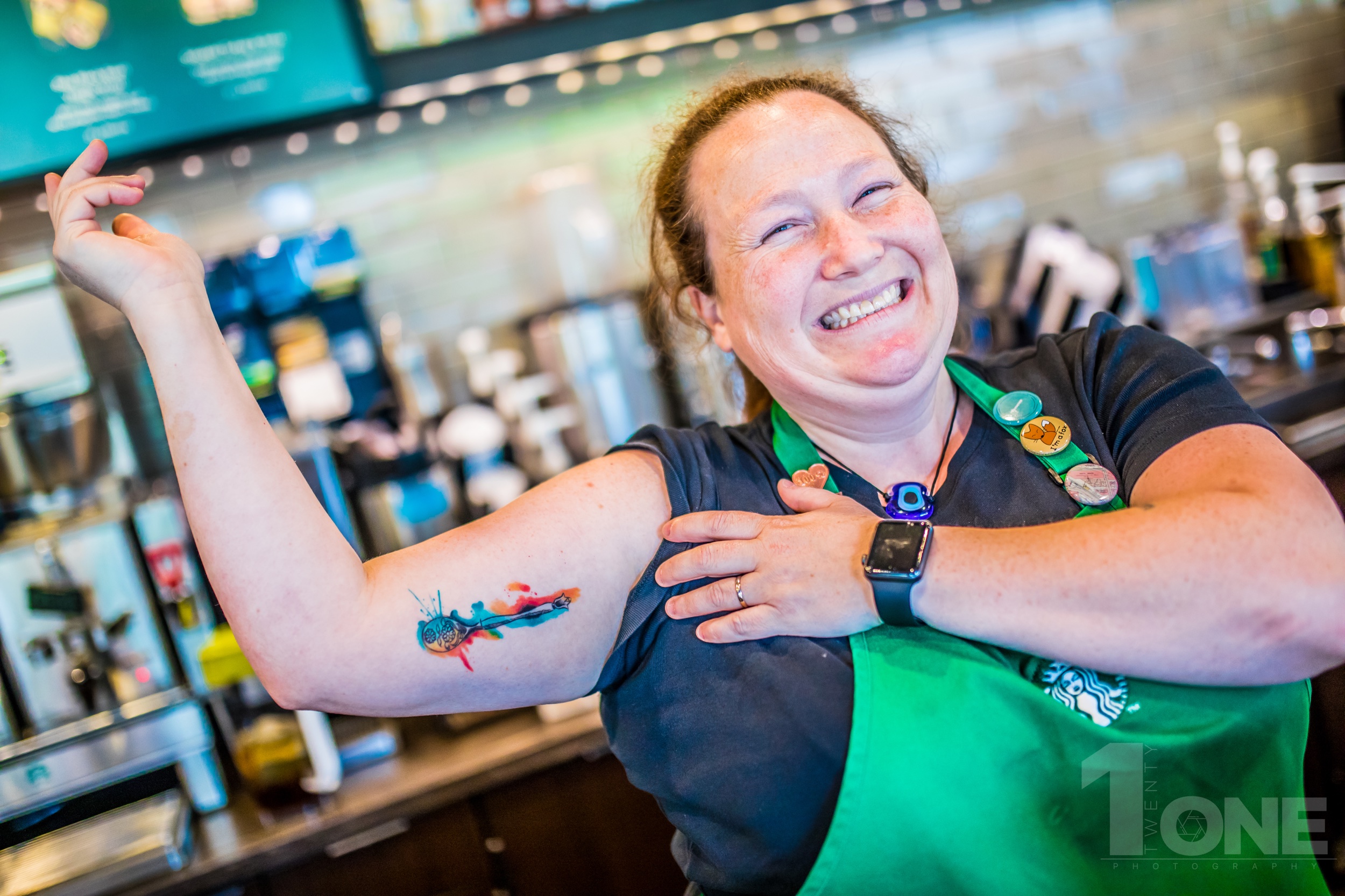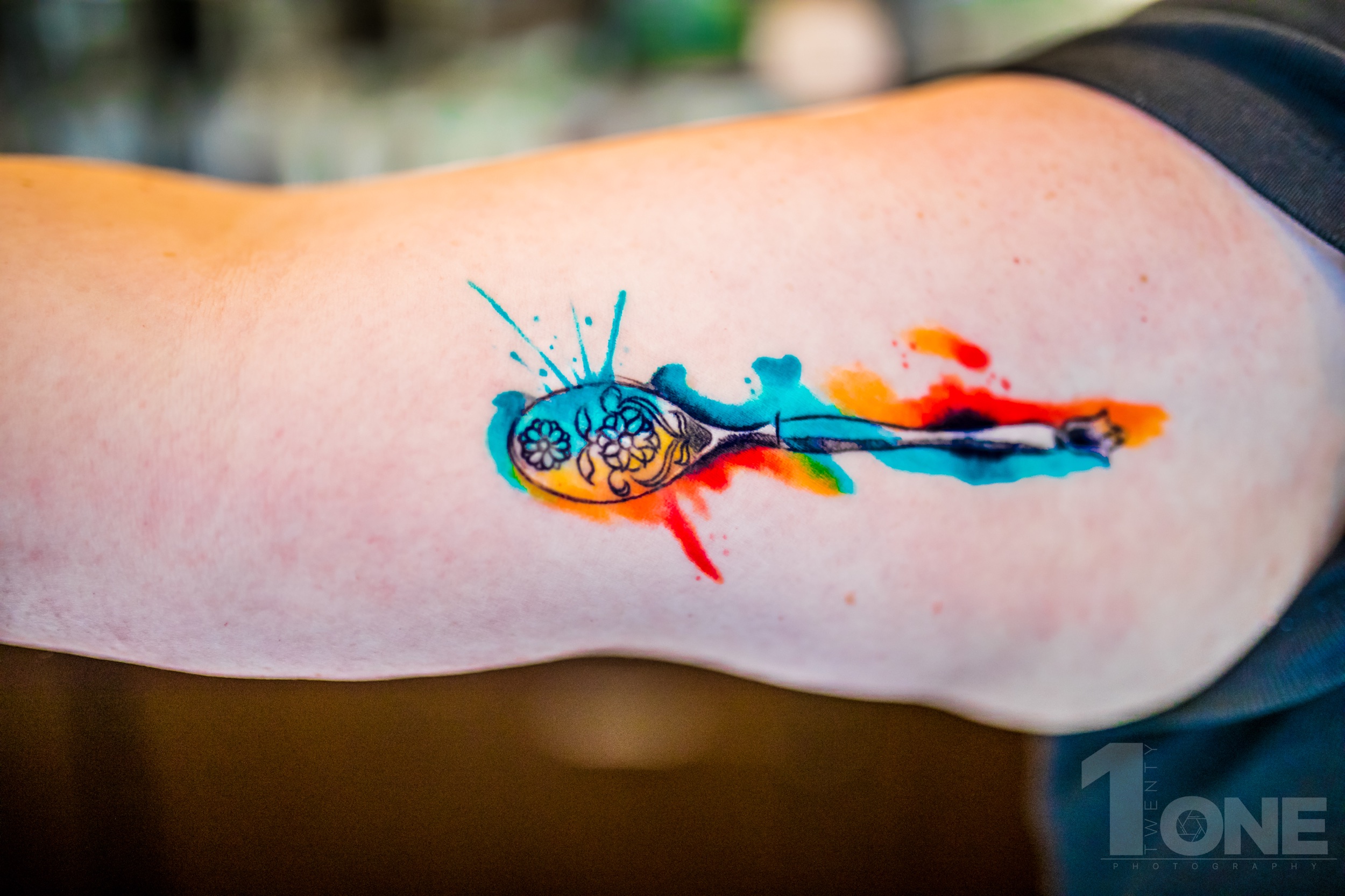 Kristene
My spoon means a couple things to me. First I love tea. I drink far too much but, everything is better, easier to deal with, with tea. So I also love the accessories of tea, pretty cups and saucers, tea kettles, and obviously spoons, etc. So that's the base. Next is my love for Istanbul, Turkey. It is my favorite city in the world. I maintain that it's magic. The Turks take tea very seriously. They use these delicate tulip shaped cups and small spoons. So I felt like a tea spoon with Turkish elements (the hamsa hand and the floral motif) would be a good stand in for Istanbul and the place it holds in my heart. So those are the most important meanings to me. The fact that my husband's nickname is spoon is the cherry on top.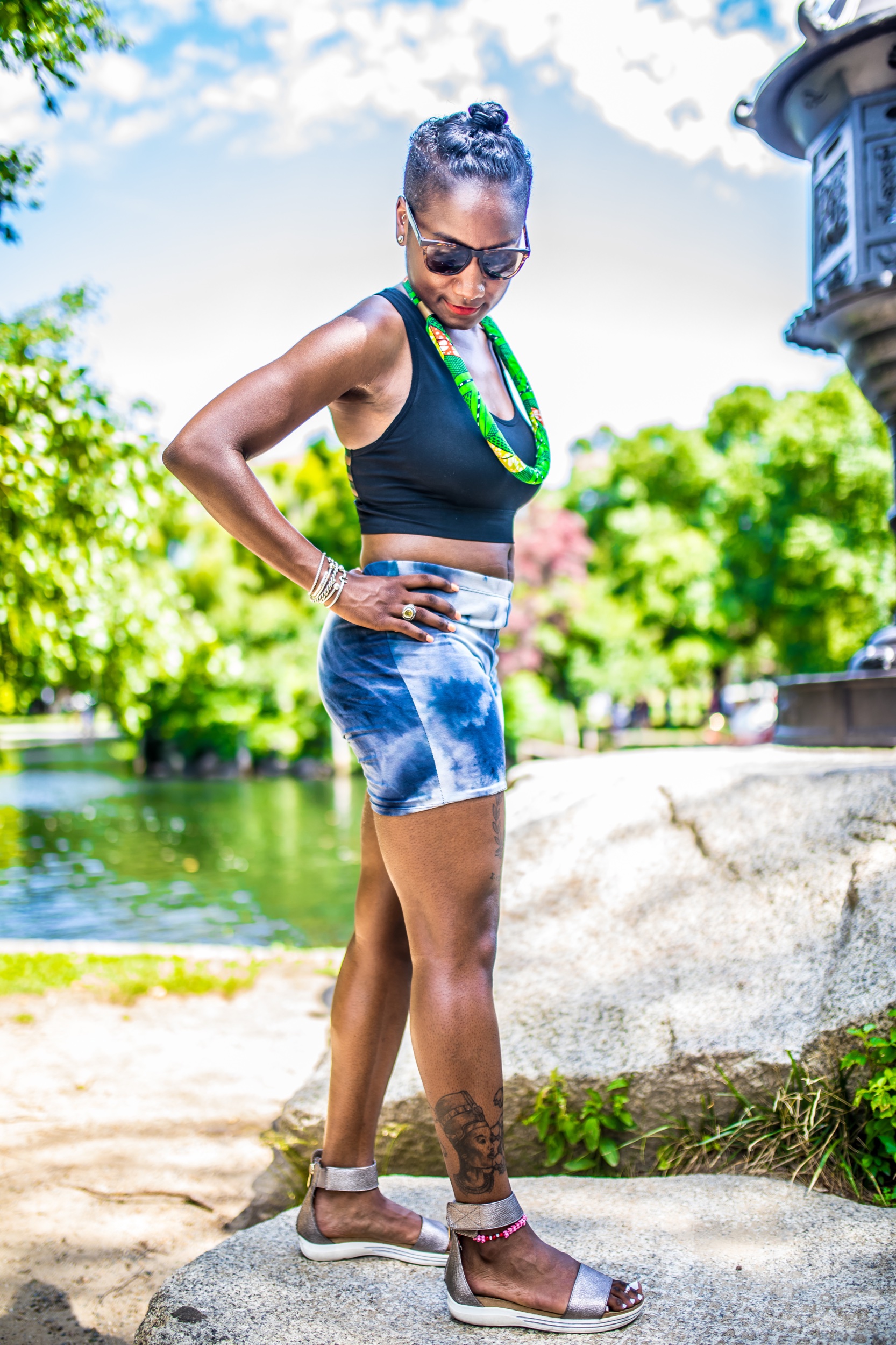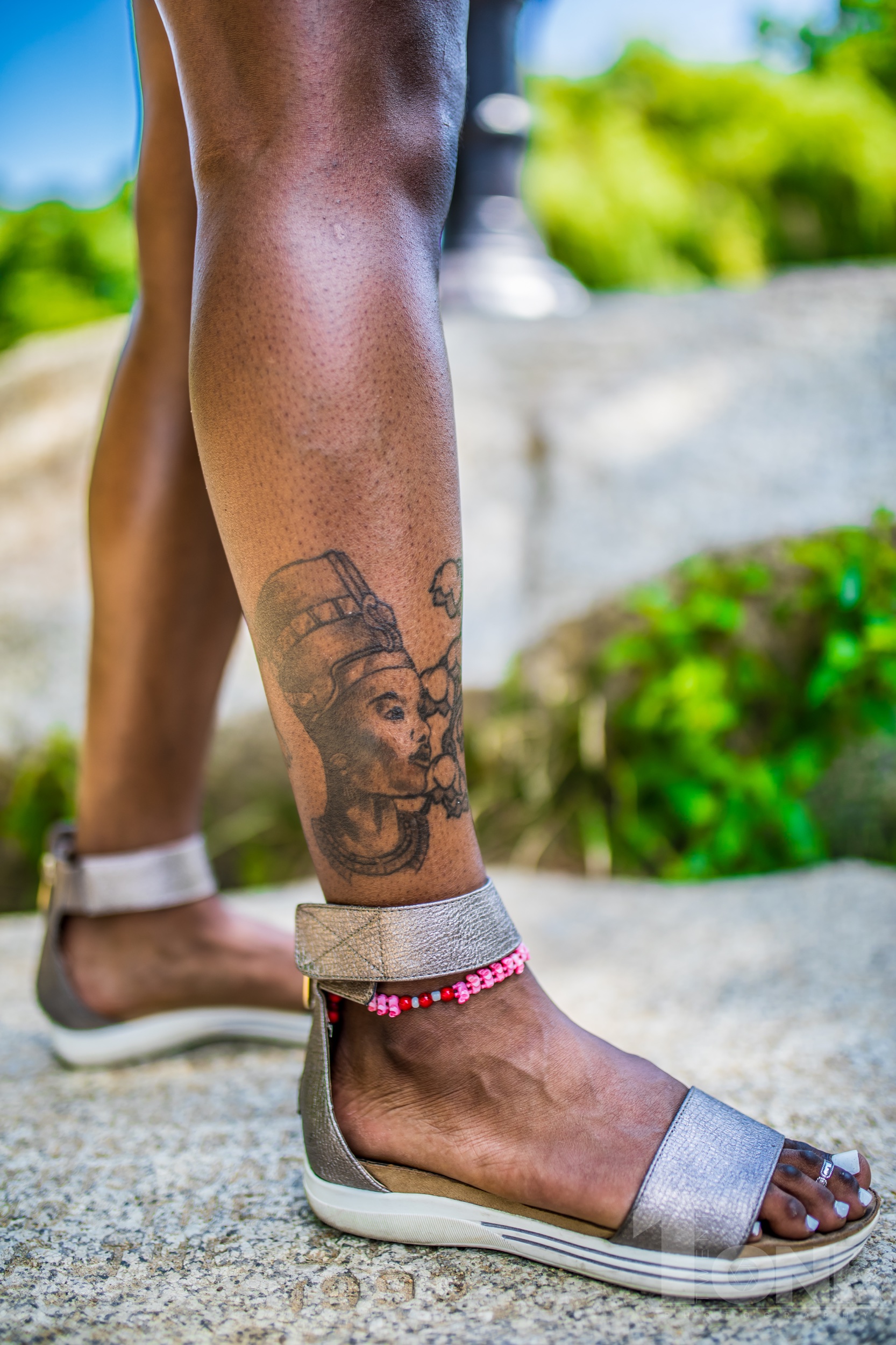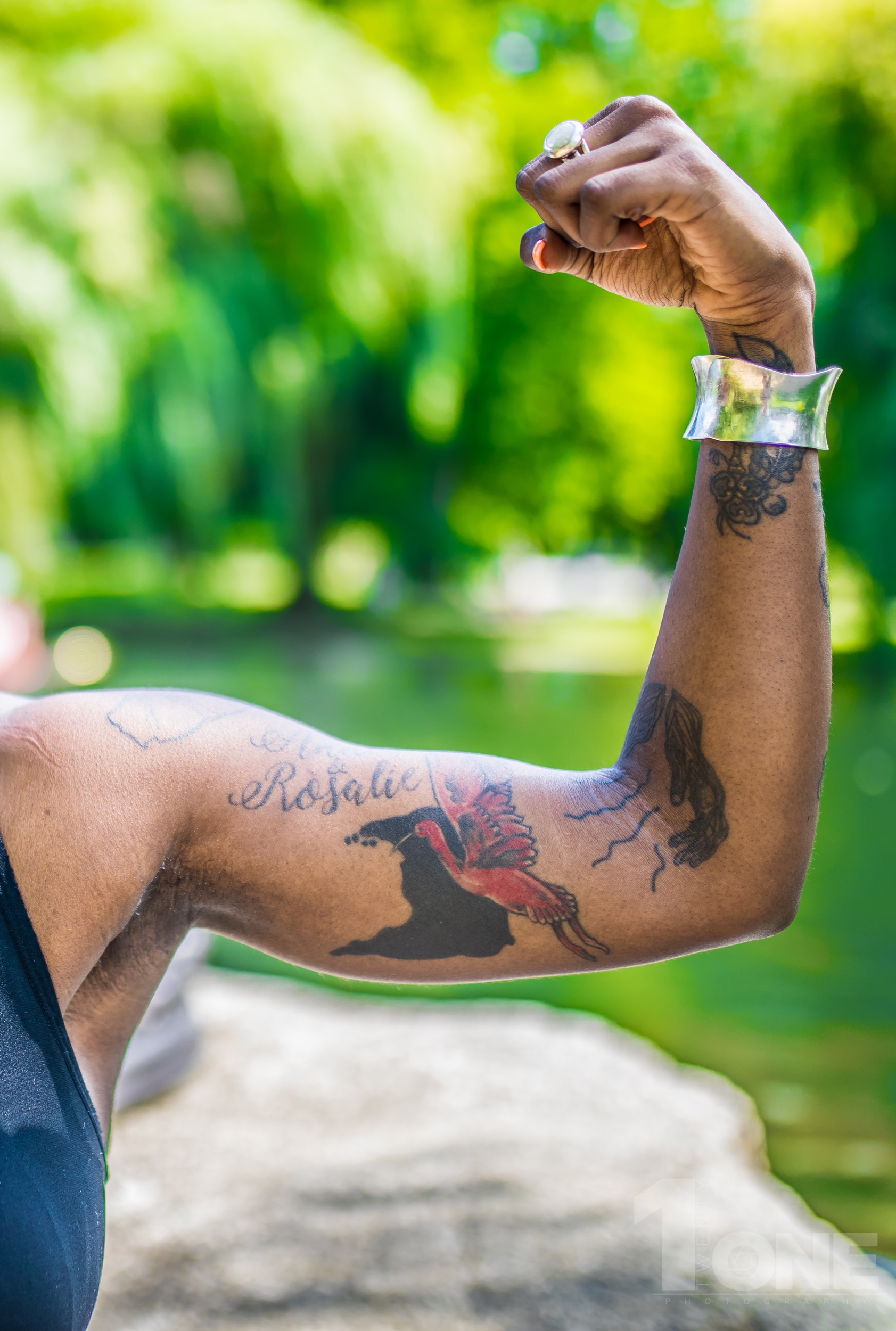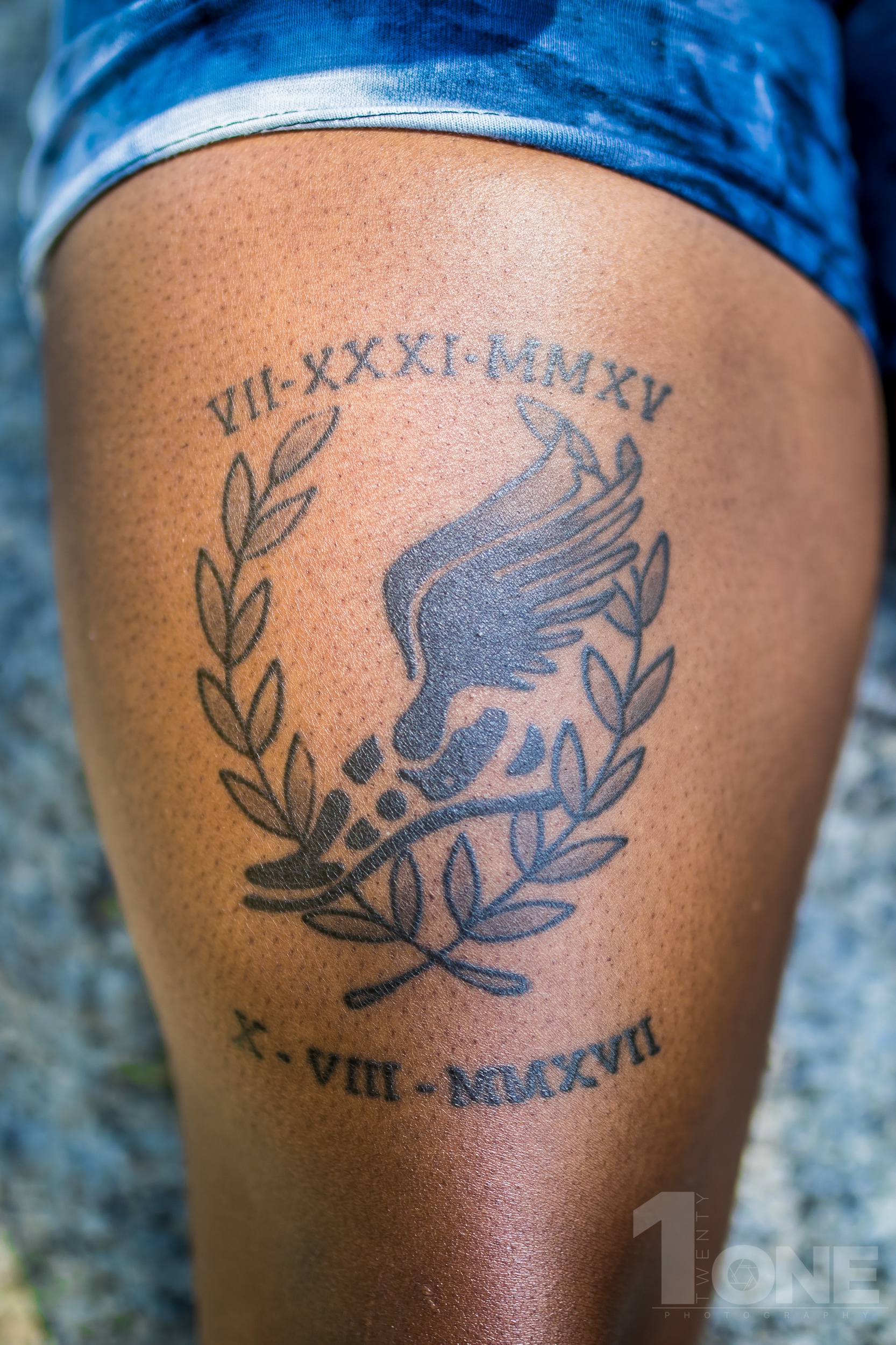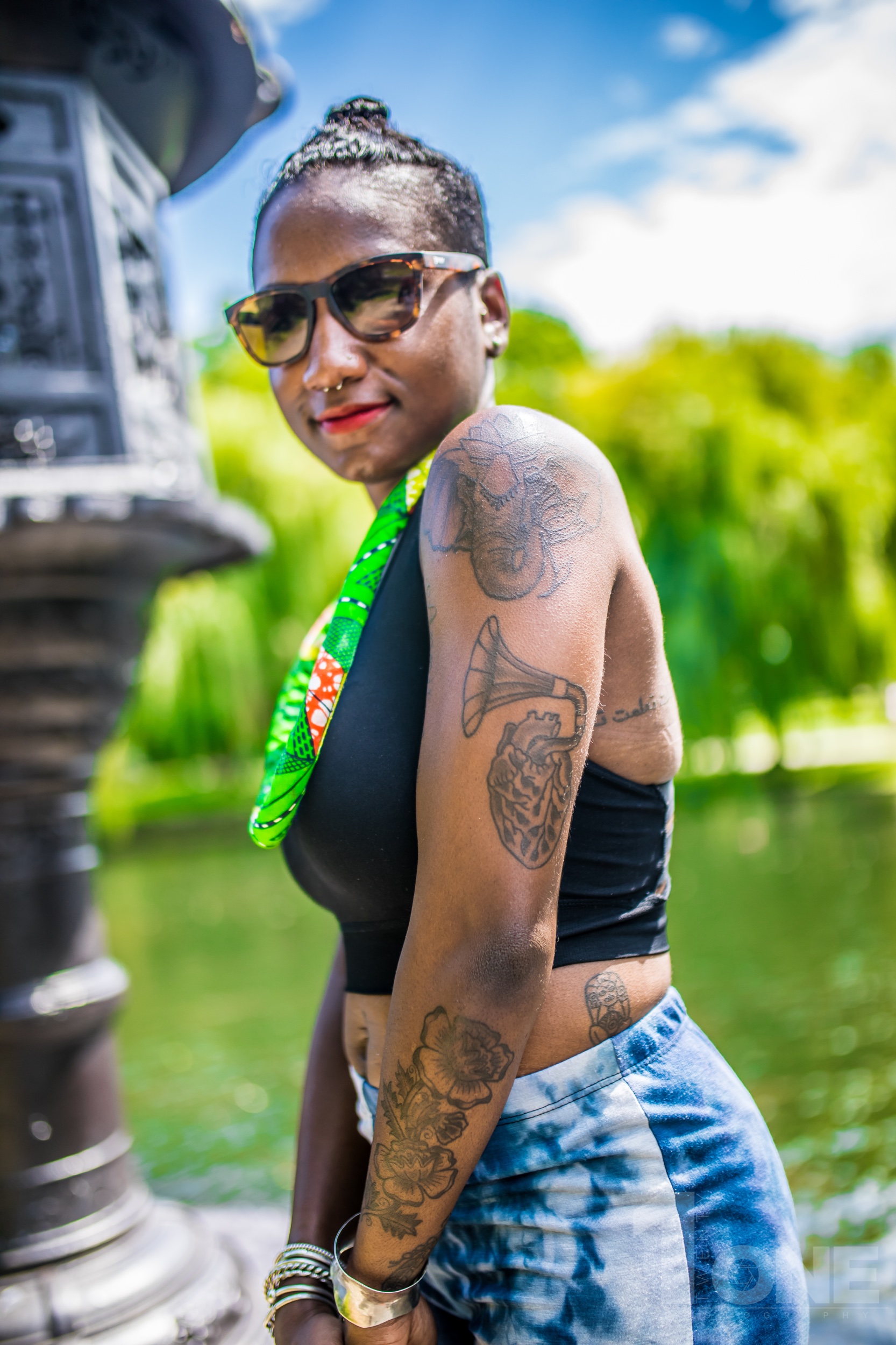 Abeo
Many of my tattoos represent strength, whether it's 🇹🇹 along with my grandmothers' names strategically placed on my arm, a reminder in Arabic, a majestic 🐘 or artwork featured in Rupi Kaur's 'Milk & Honey'.
||Marathon Continues|| 2015, I had a life changing surgery that encouraged me to view fears and challenges through a different lens. It led me to taking on a challenge I never envisioned for myself, the marathon. In 2017 I ran the Chicago Marathon against many odds that day. I included the date of my surgery (7/31/2015) and the marathon (10/8/2017) to honor this journey. I found my strength in Chicago and I've applied it in all areas of my life. This past April in Boston, I learned what I can do with that strength.
||Queen Supreme|| Atabey is the supreme Taino goddess representing earth and fertility. My tat guy, who's Puerto Rican, donated all of his earnings from Taino and Puerto Rican inspired tattoos to help with hurricane relief. Shoutout to him for using his craft to show love back home. Ironically, I got this tattoo on the side where my remaining ovary lies. It's a reminder to remain hopeful of my dreams of motherhood someday.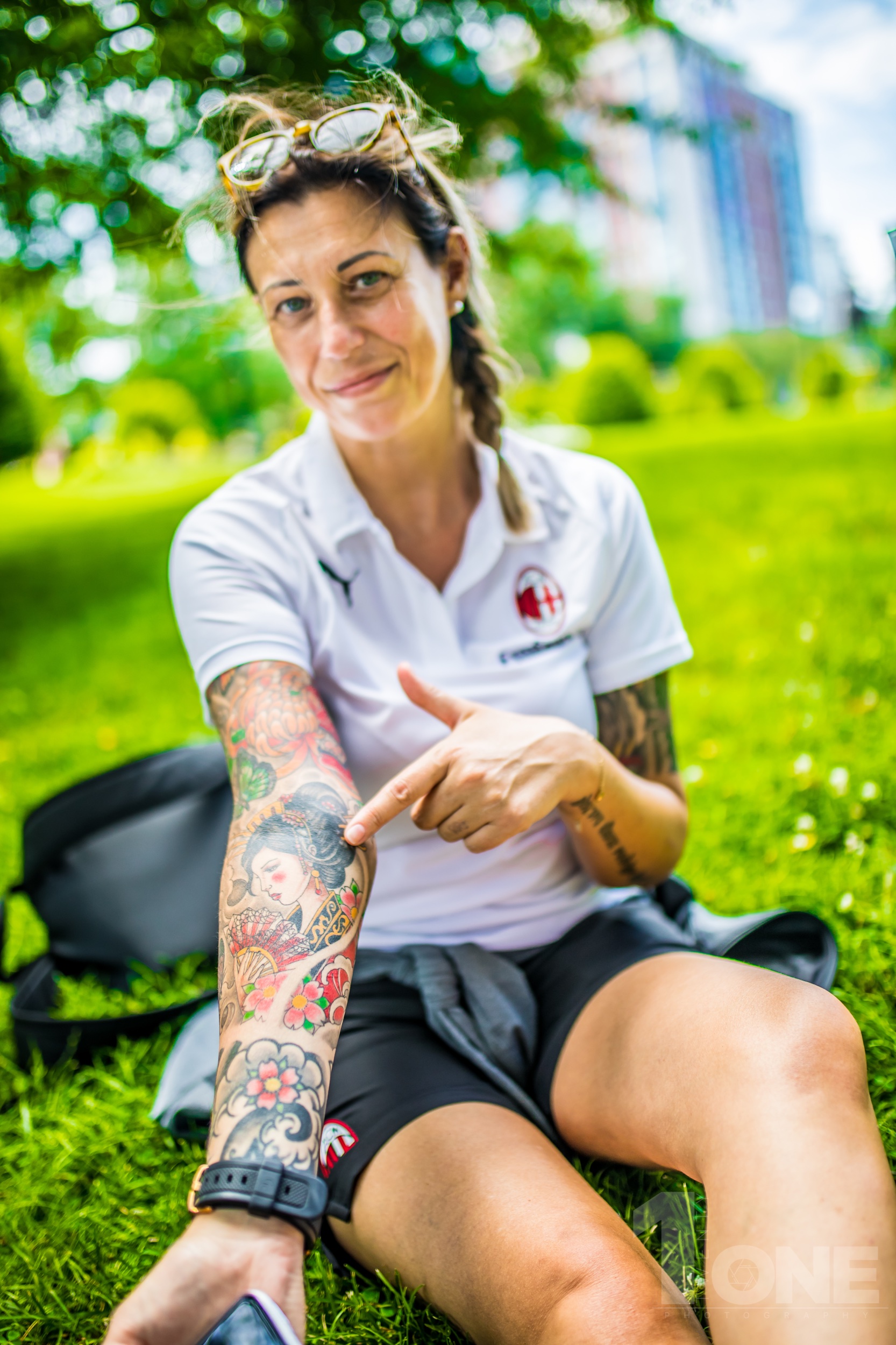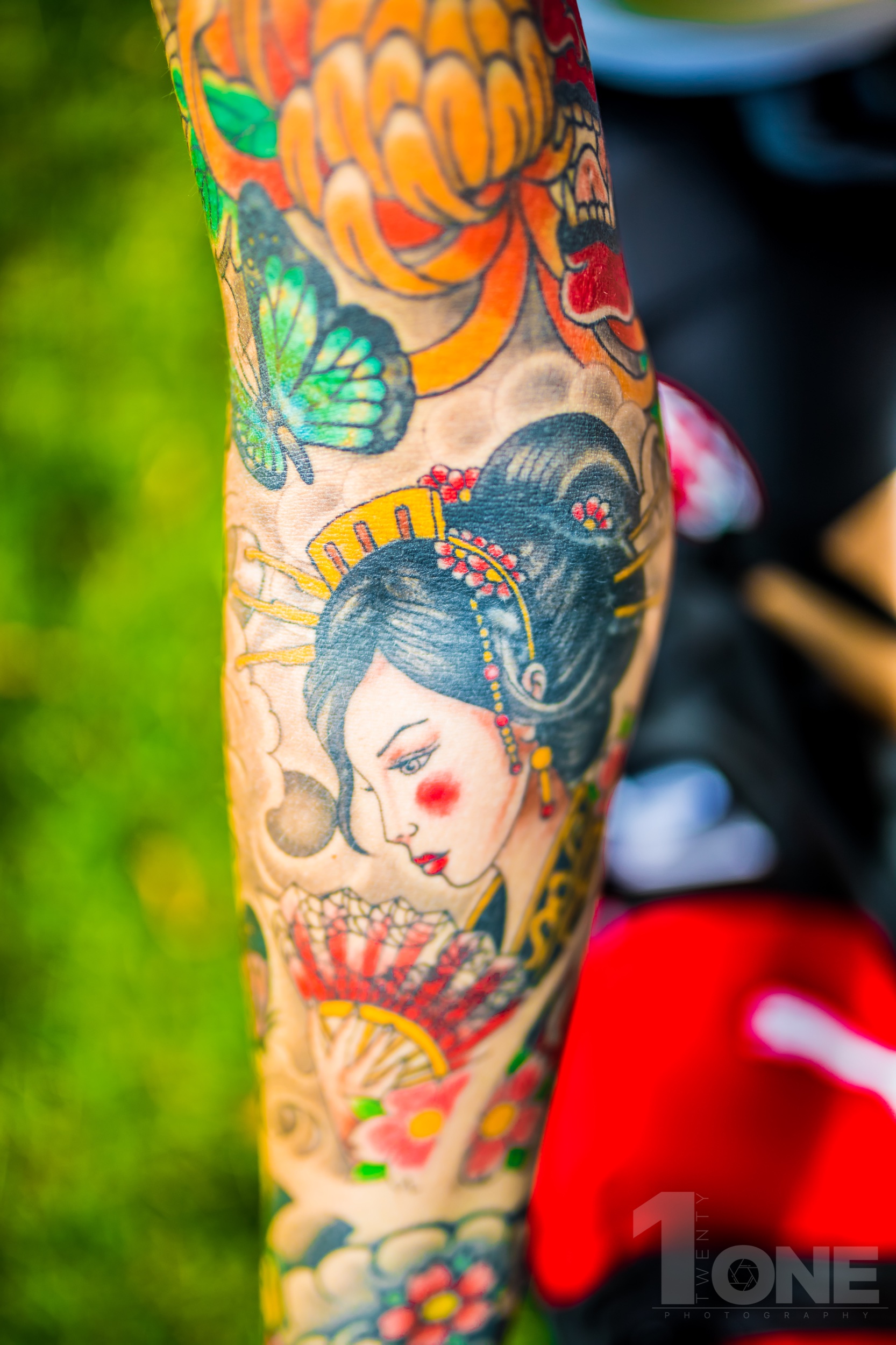 Giorgia
I started tattooing myself at the age of 18. I got my very first tattoo in the USA during a school trip in the summer of 1992: it was a Pegasus on my left shoulder. That tattoo is now covered and surrounded by many others I have on my back. I decided to have my sleeve done last winter and I wanted to have a Geisha whose face reminds me of my second and fourth daughter. I completed my arm with the Hannya demon mask (in honor of my first born daughter) and a chrysanthemum which symbolizes strength and positivity (like my son). This last sleeve tattoo I have was added to the butterflies and peach blossoms that were done years ago. An unusual element I have in the same composition (just above my elbow) is the Bon Jovi "have a nice day". The meaning here goes without saying... 😊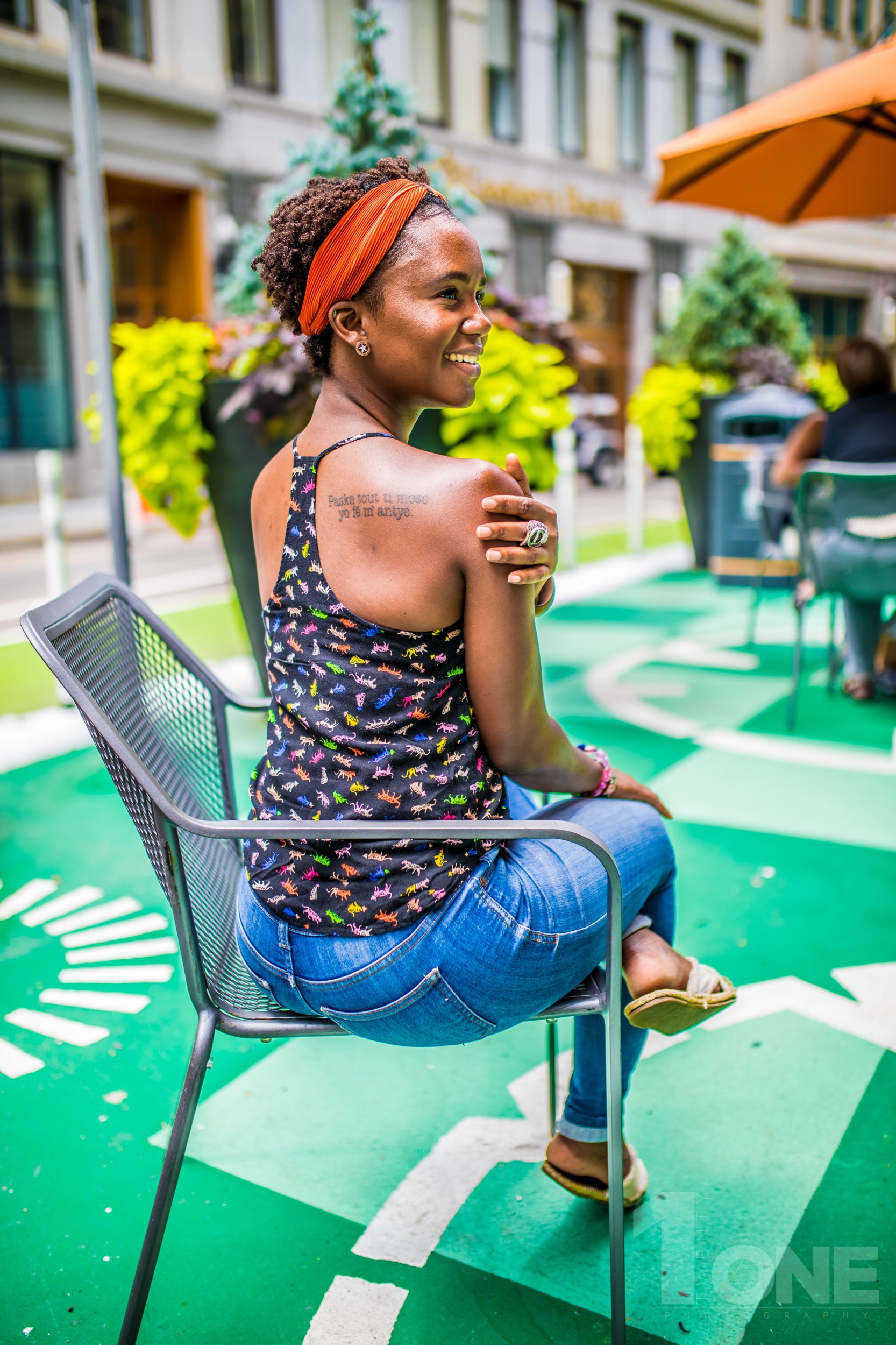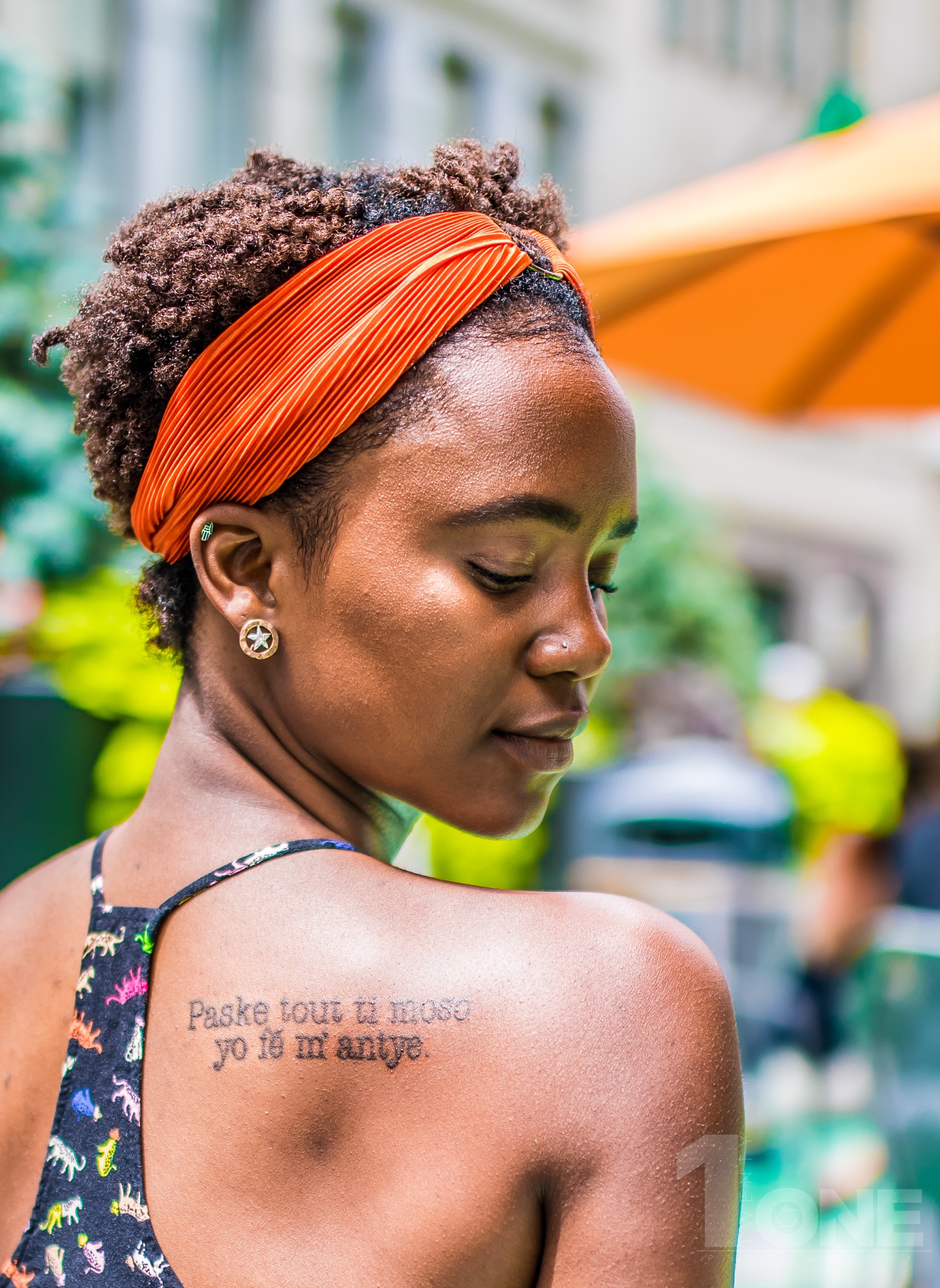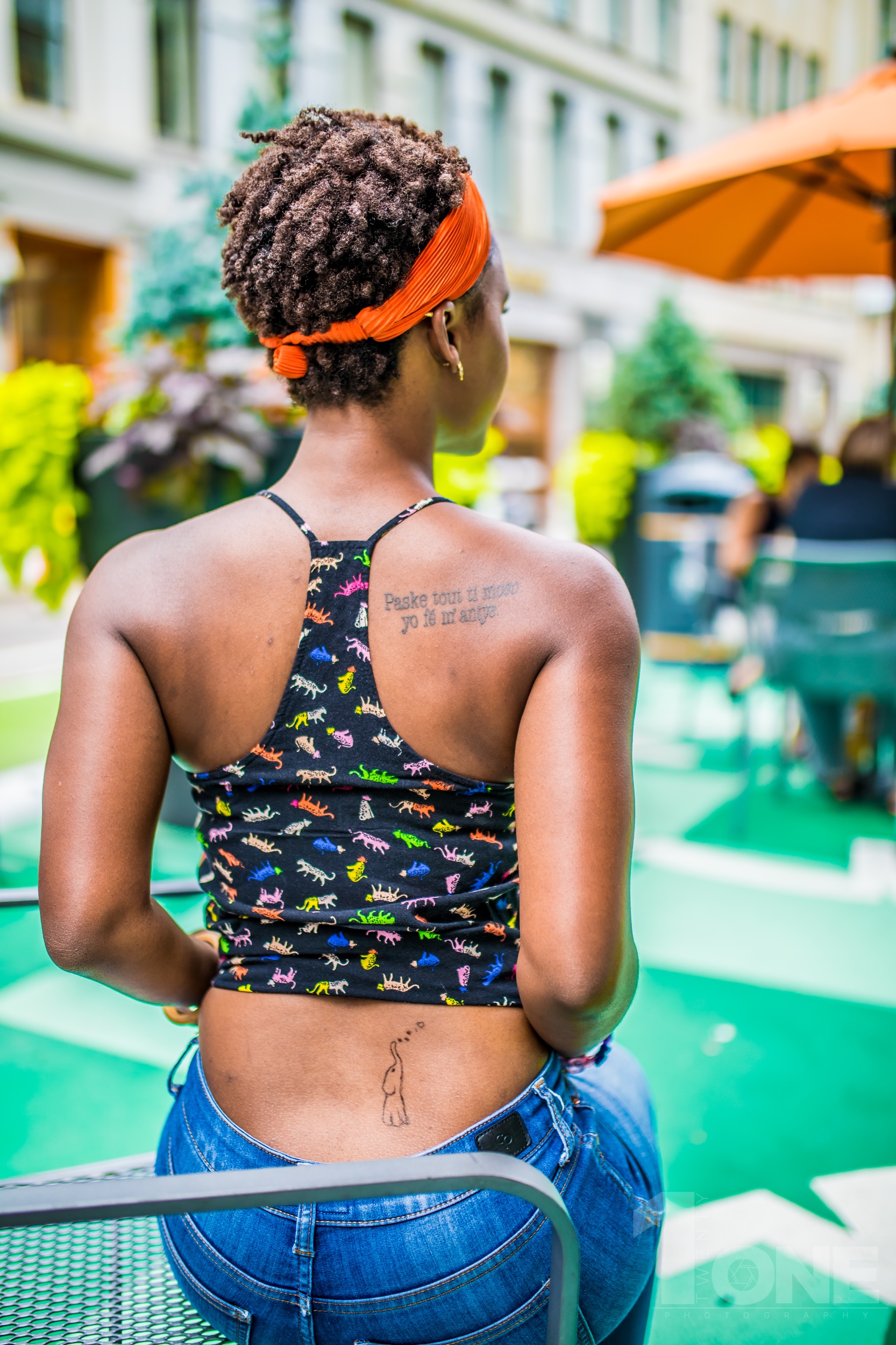 Milourdes
My tattoo's literal translation is "All the little pieces make me whole". It is written in my native language, Haitian Creole. I got this tattoo during a really challenging time in my life and I wanted to remind myself that though things may seem dark and falling to pieces, I can always pick-up those pieces and but them back together. Being broken is not the end, almost anything can be mended, including me. This was 4 years ago and I've since then learned how to properly read and write in my native language and realized that there's a spelling error and slight grammatical error (maybe more than one lol) but this has made me love my tattoo even more. My journey has been painful, joyful, messy and funny and this tattoo is a direct reflection of a particular moment.
My baby elephant is a reminder of the importance matriarchy. Elephants are one of the most intelligent creatures on earth and their families are led by the famales who show strength, courage and unity to protect their young. I chose a baby one blowing up kisses to represent my son. A reminder for the moments I feel like my strength is being tested, a kiss of encouragement is all it takes for me to dig deeper.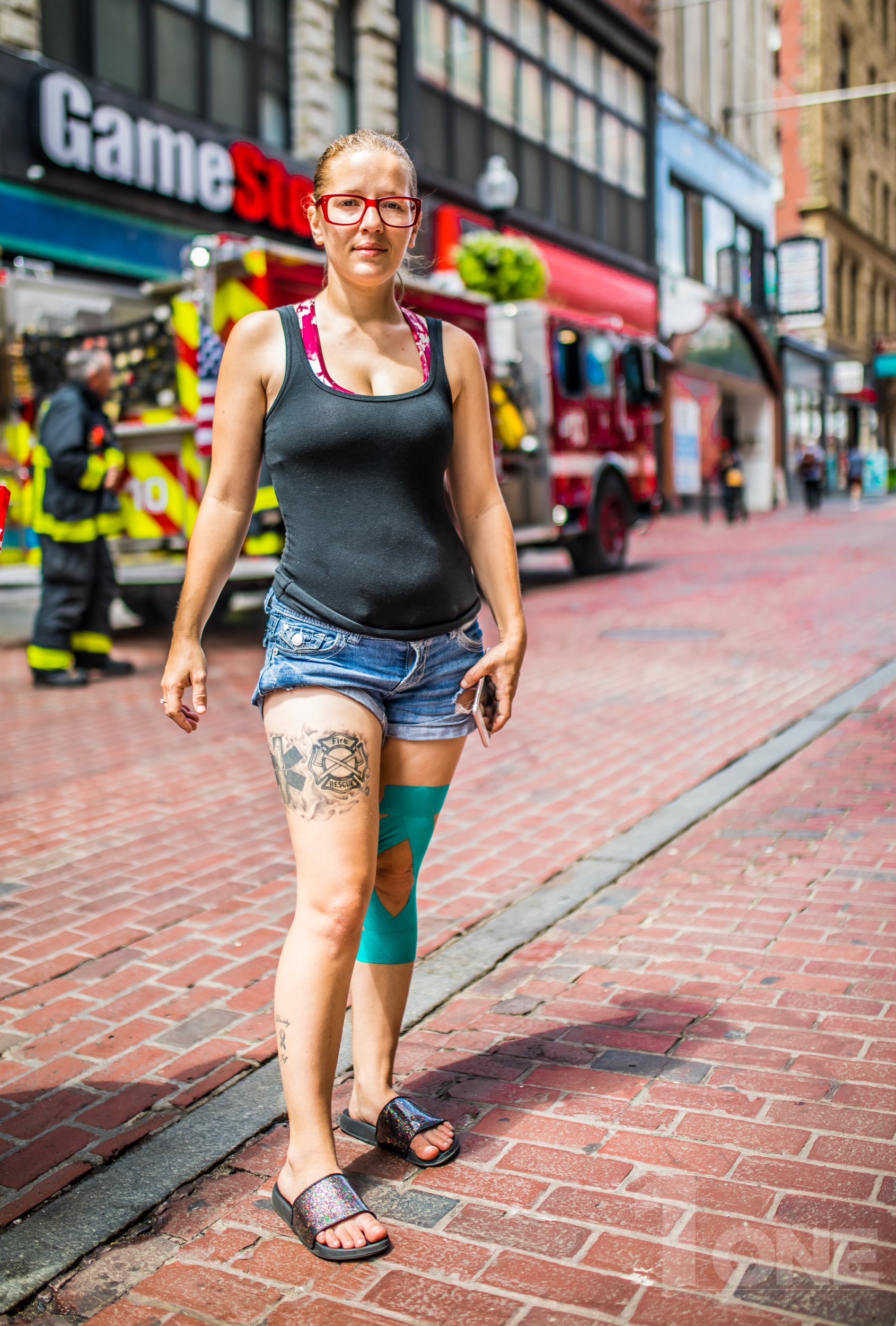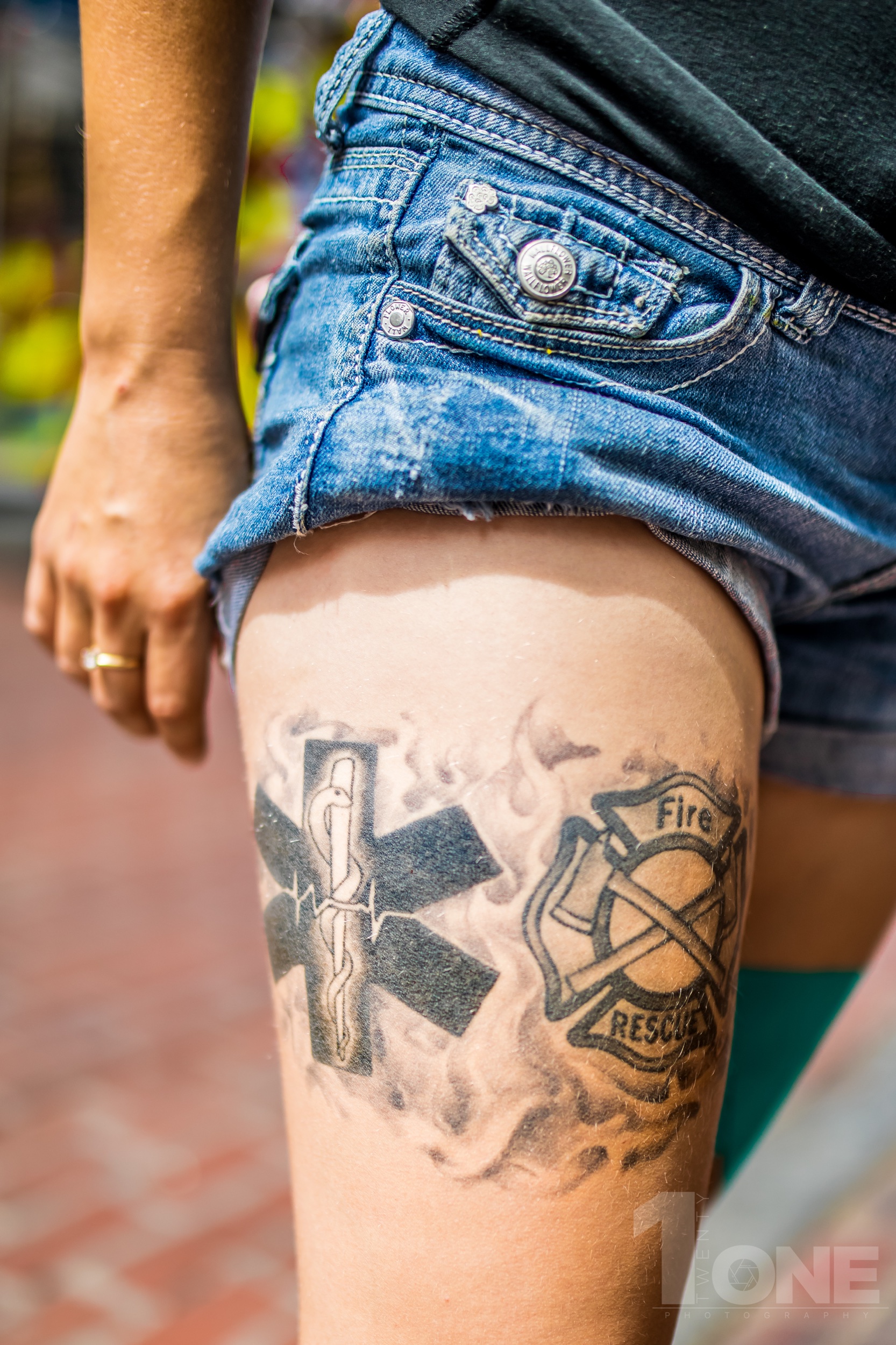 Leah
My tattoo means to me that no matter what any one thinks about me that if I put my mind to something I can do anything I want to do.
Hailey
I got my 1/2 sleeve after I became a mother. I saw a similar tattoo on a woman years ago.
I think tattoos can be empowering - mine is empowering for me.
I hope my daughter finds many ways throughout her life to feel the same way.
Tiffany
Cancer ribbon, purple / lavender standing for all different cancers.
My grandfather passed away from lung cancer.
F. M. were his initials and 40-04 (1940-2004) was the year he was born and the year he passed away.
Teresa
My tattoo represents Natural Beauty, Freedom, Faith, Love and Luck 🦋
Rebecca
My tattoo is of Marshmello, an EDM artist. I got it done on my first trip to Vegas for the Electric Daisy Carnival (EDC). It was a split decision but one I'll never regret. This tattoo represents not just an artist that I love, but a time in my life I'll never forget. Music is an important part my of life and my tattoo is a daily reminder that all I need is a good song to brighten my day and relieve my stress.
Sophie
Trust Women is about trusting women when it comes to their body and reproductive choice. It stems from Dr. George Tiller, who was a physician and performed abortions in Kansas. He sadly was murdered by anti-choice extremists in 2009, and is remembered by the pin he wore each day that said "Trust Women". Now, more than ever, women and others who are able to get pregnant face extreme scrutiny and are barred from making decisions when it comes to their own body. I think it's extremely important that everyone have 100% bodily autonomy.
Ian
A tribute piece for my mother, who lost an 8 month fight with cancer two years ago. The four roses represent my three siblings and myself. I'm not sure if my backpack strap is covering it in the pictures you took, but there is a bumble bee hovering next to the roses that is meant to represent my mother's selfless devotion to seeing each of her four children flourish. She was our mama bee.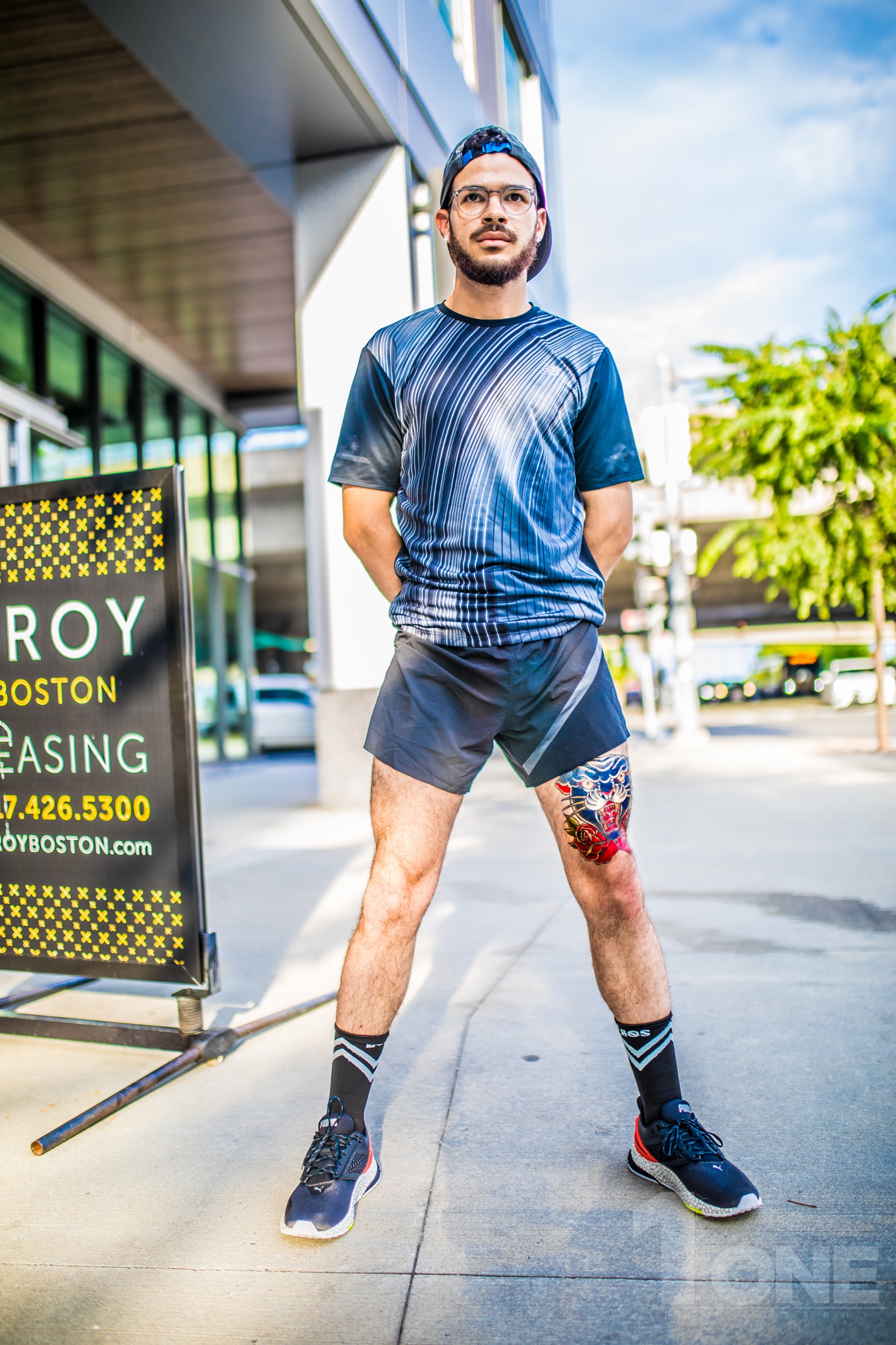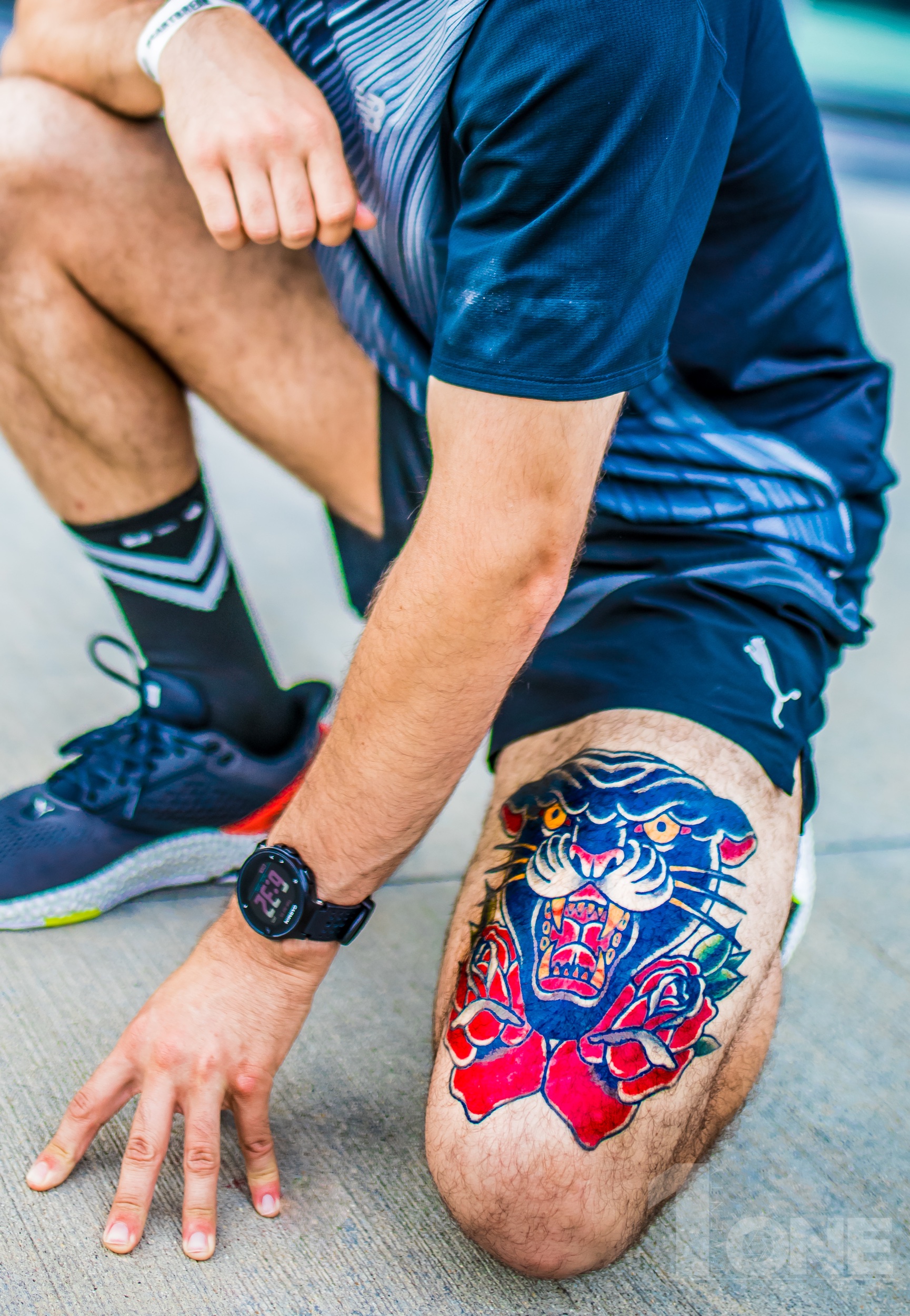 Alex
My Tattoo is actually a coverup. So this time at art school....my friend bought a tattoo gun and wanted real time practice. So my close friends and I all agreed to let him test it out on us, and we all ended up getting tattooed on my neighbors couch. It was a red skull and cross bones, that I thought was sick until it blew out a week later. It didn't bother me as much, because I got it on my thigh, so it was likely that nobody would see it. Fast forward some years, to when I started running and wearing skanky shorts. I had to fix it. I took the opportunity to cover up the the scar tissue with a traditional black panther(favorite animal). Now I can wear even more scandalous running shorts.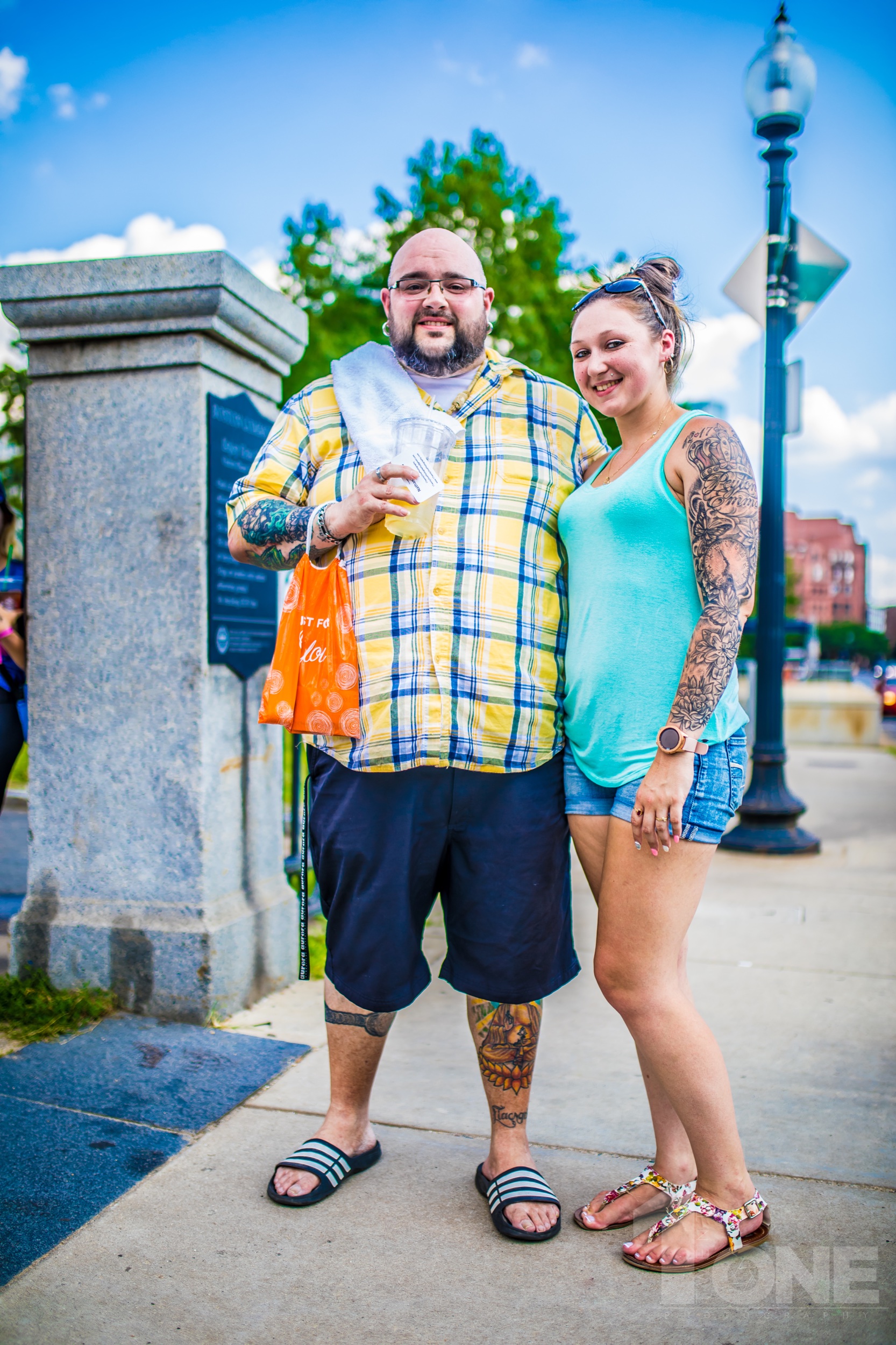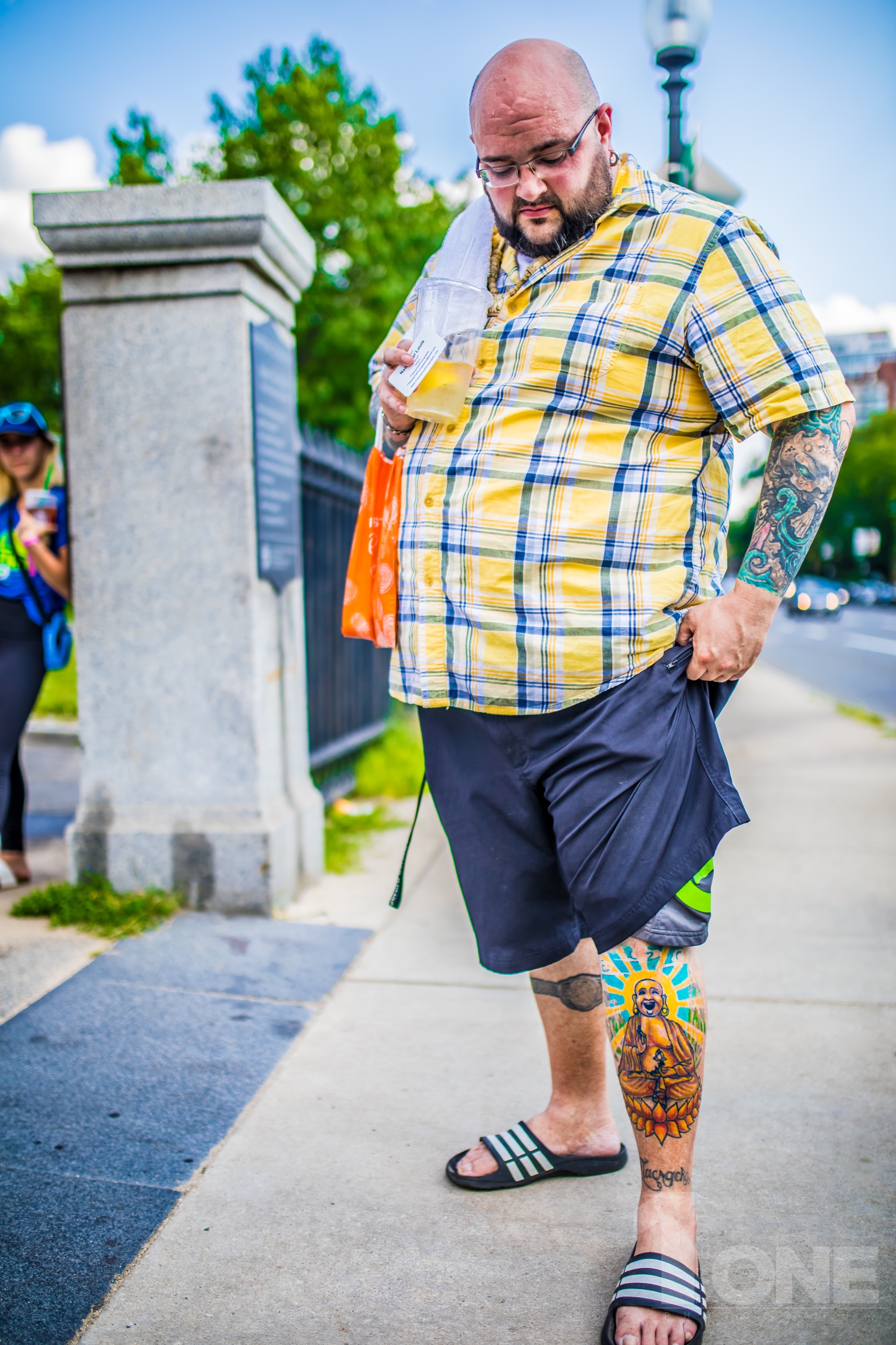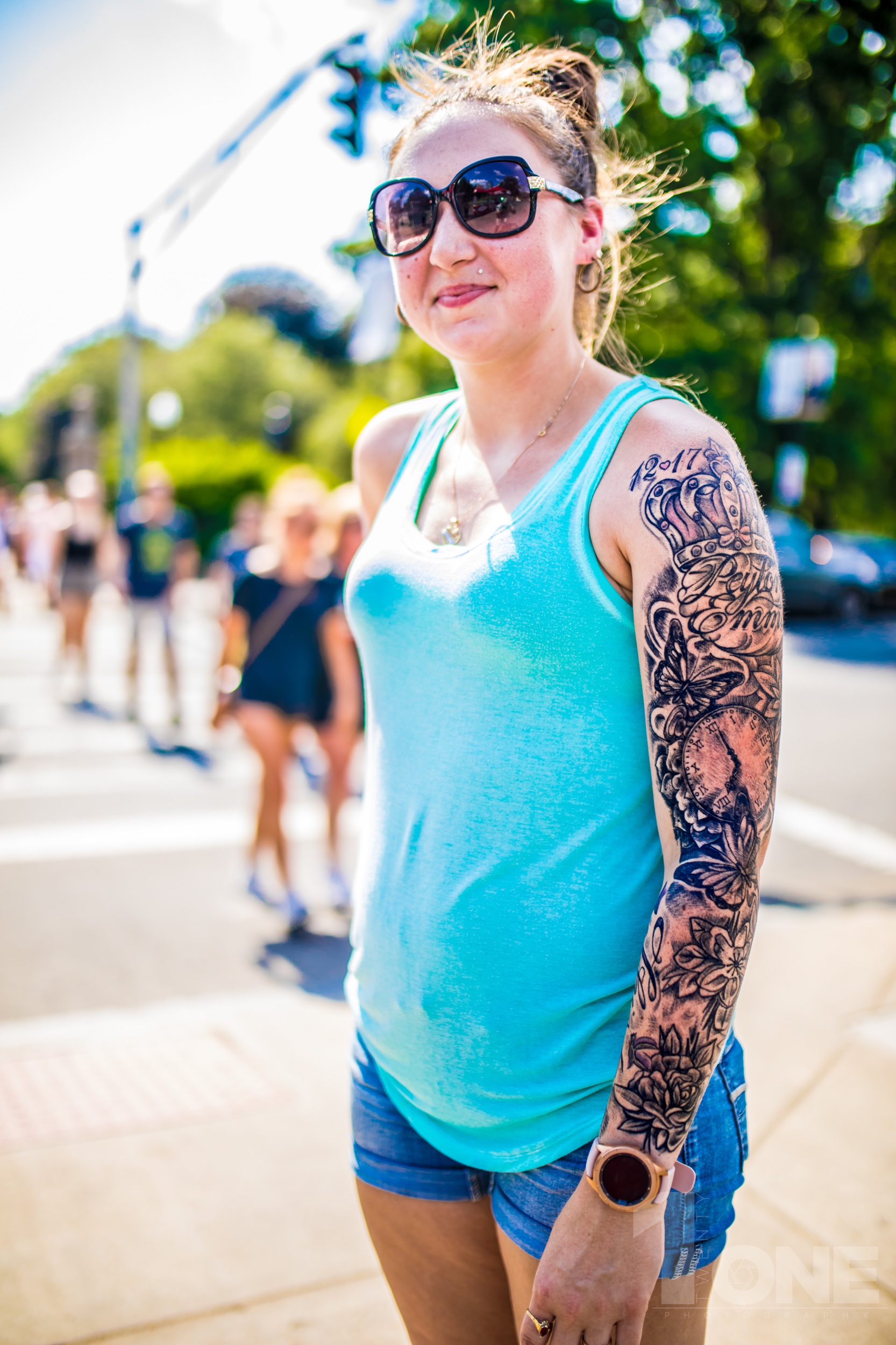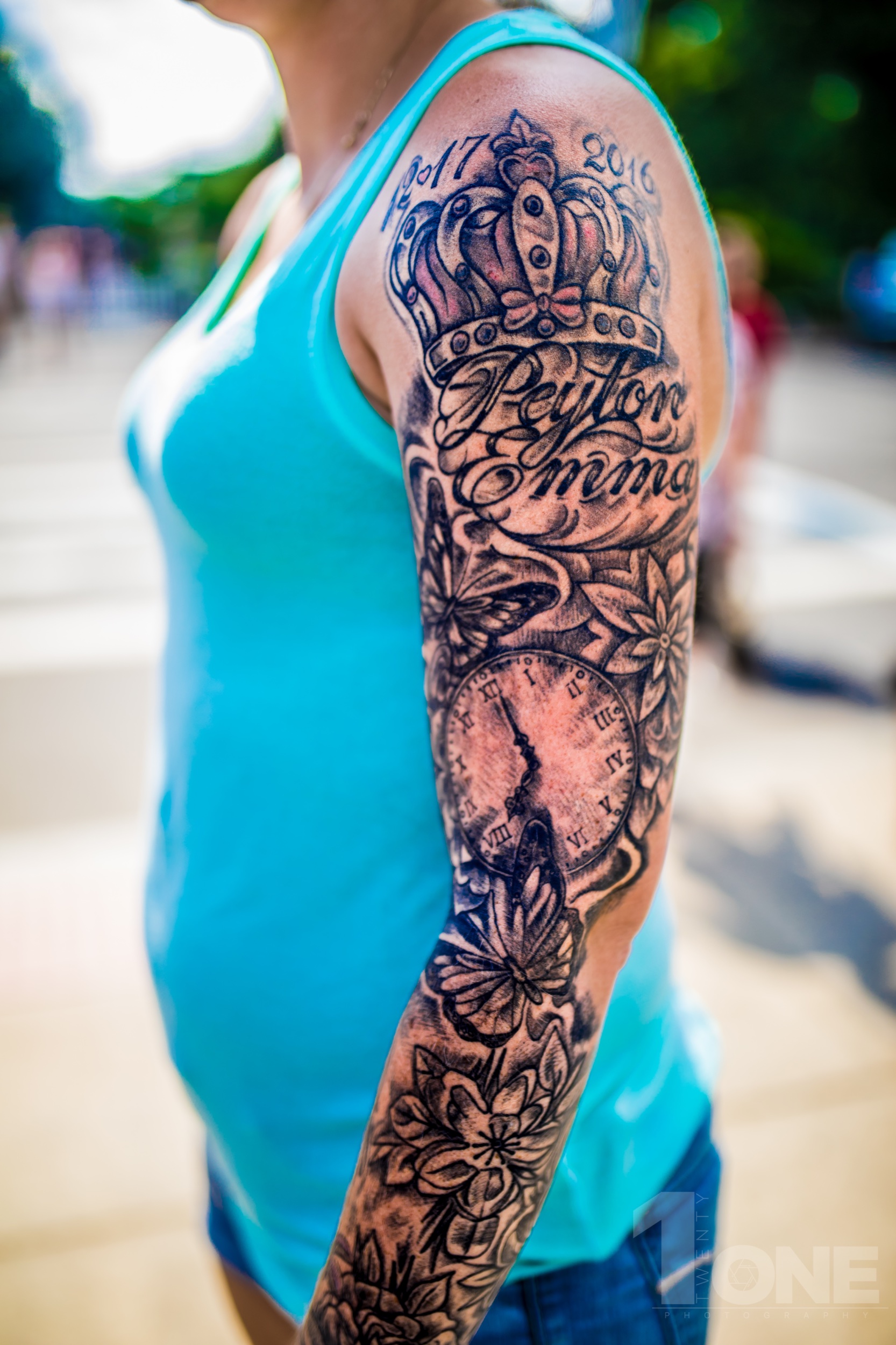 Jim
My Buddha tattoo on my shin reminds me to stay humble and to be at peace with myself. My right sleeve is dedicated to Luck and the protectors of such fortune. Left sleeve is all about asian culture i love the concept of finding peace within ourselves.
Becca
My sleeve is all about recovery, hence the clock pointing to 801 meaning August 1st my clean date So that's the meaning with the "This too shall pass" and my daughters name with a crown at the top of my arm.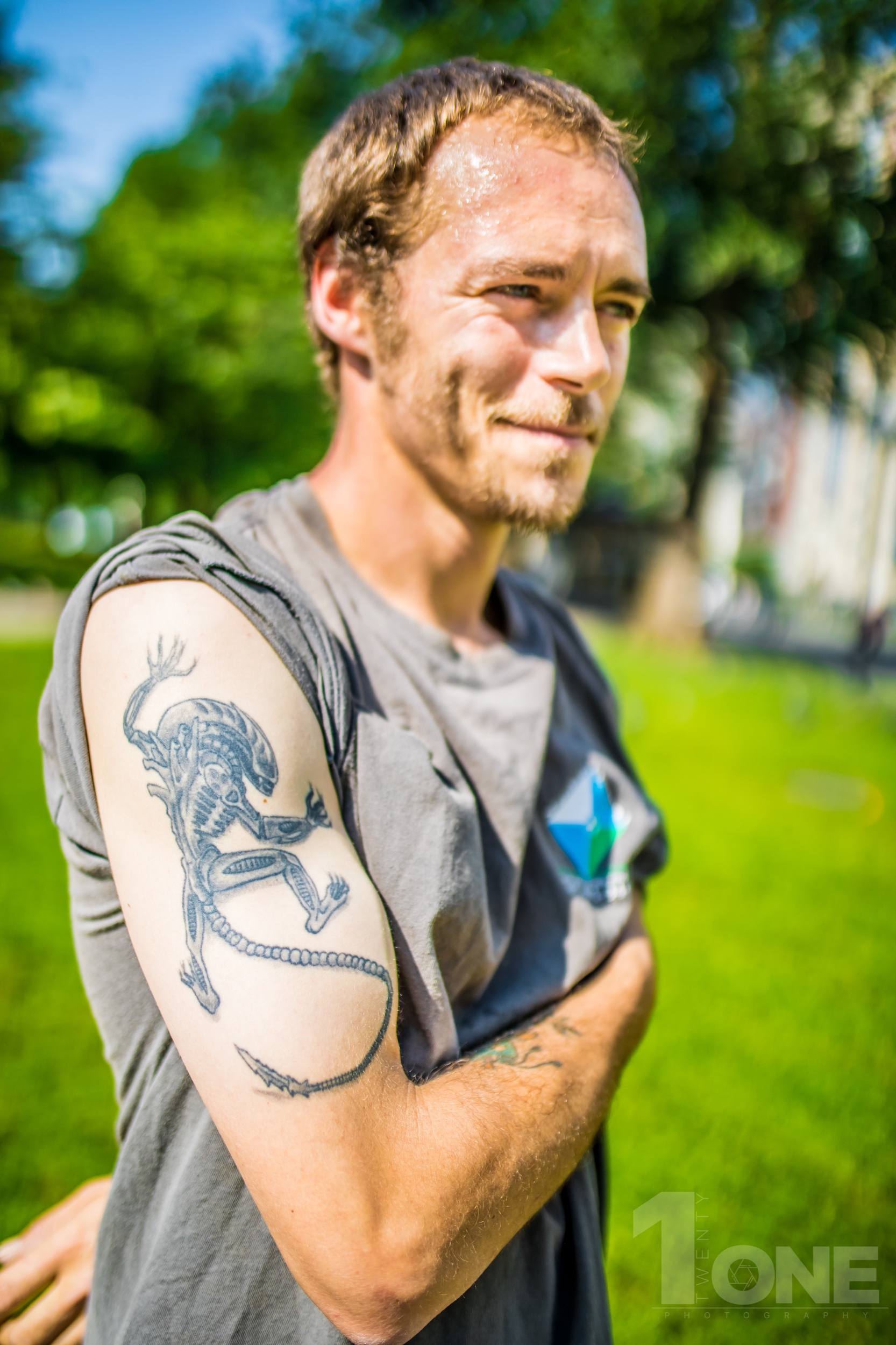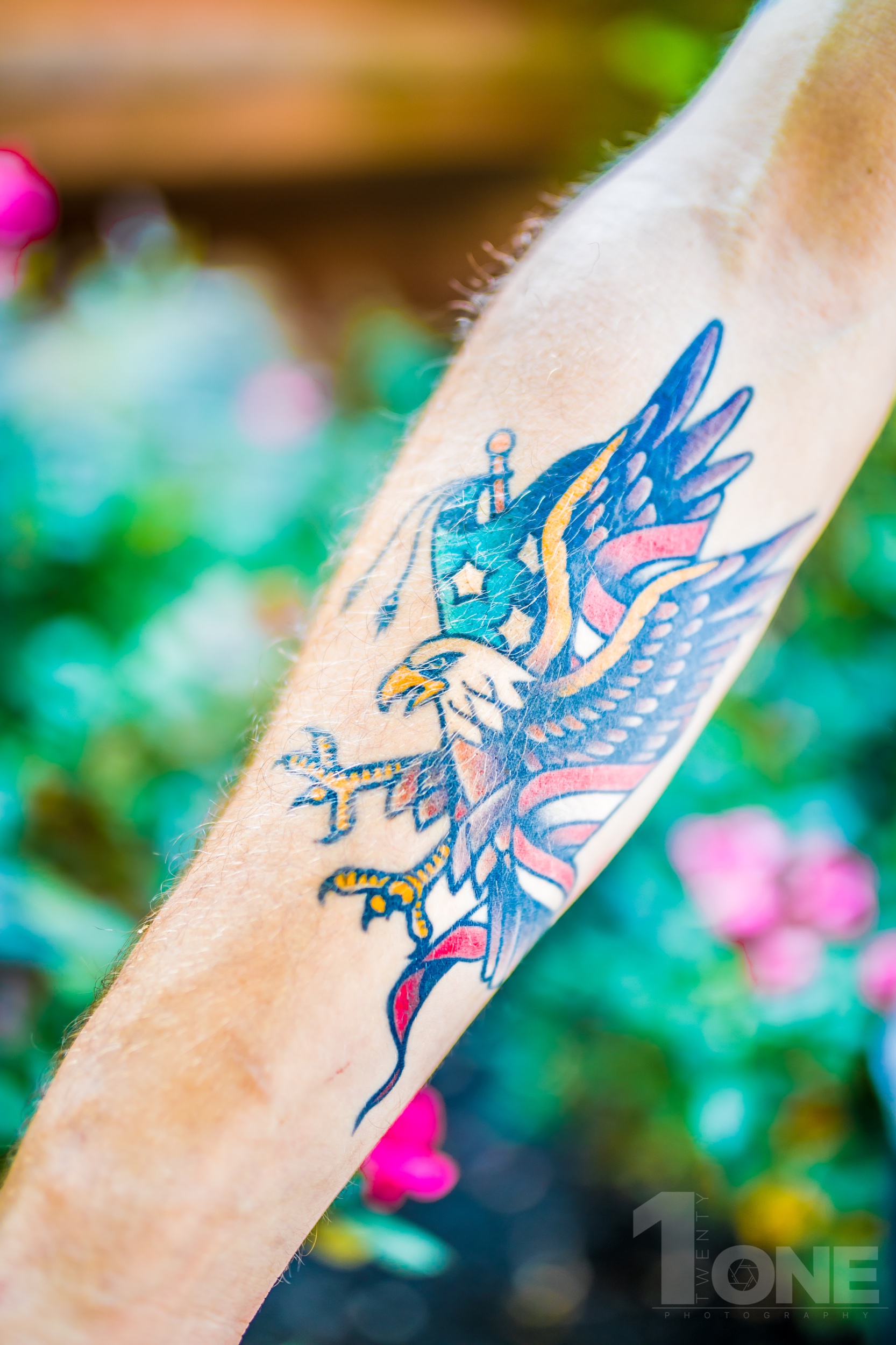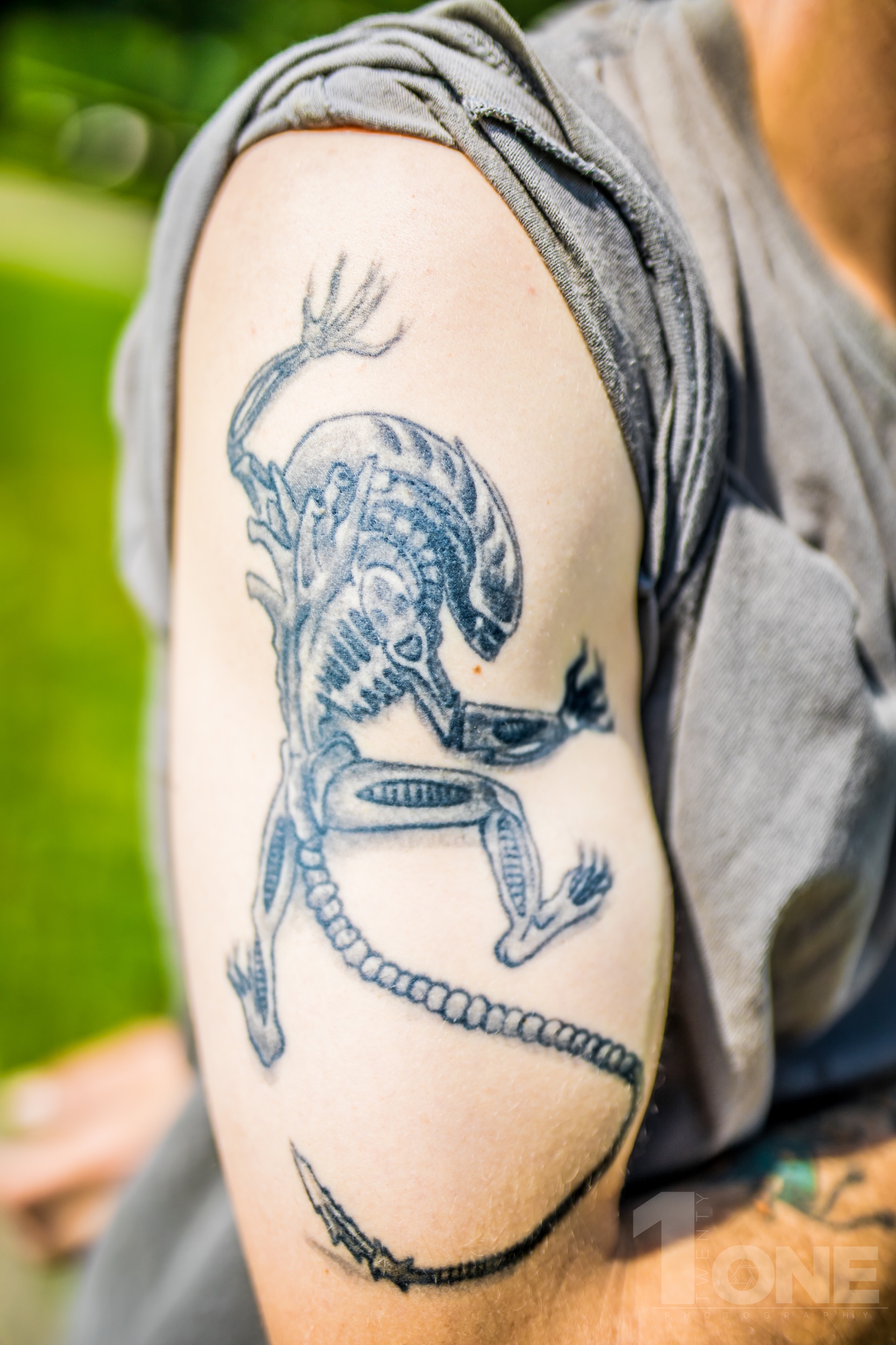 Nelson
The alien tattoo I got was because I had been in the U.S. for so long as an Illegal alien. When I got My citizenship, I then went and got the American Eagle as my personal stamp.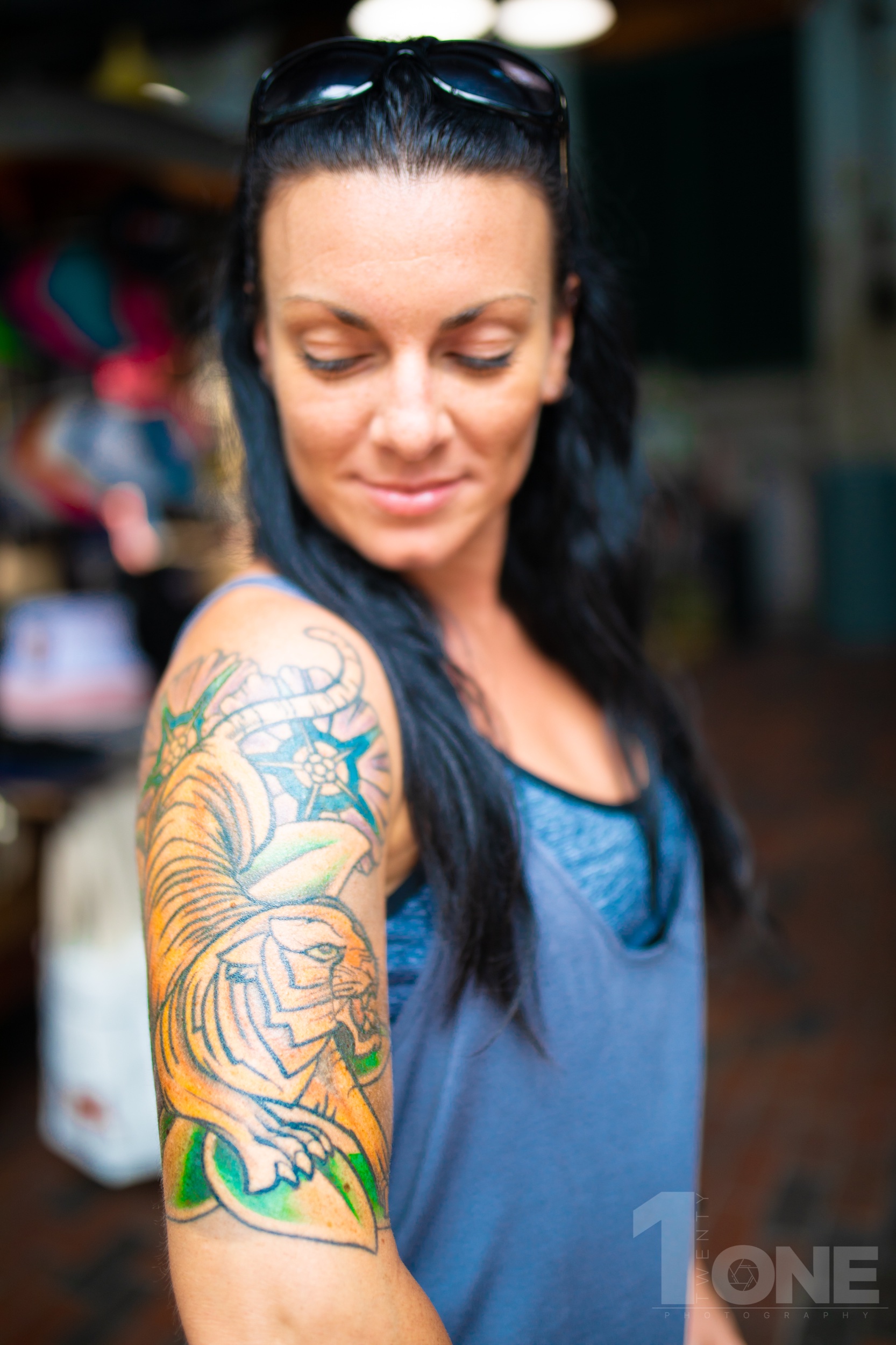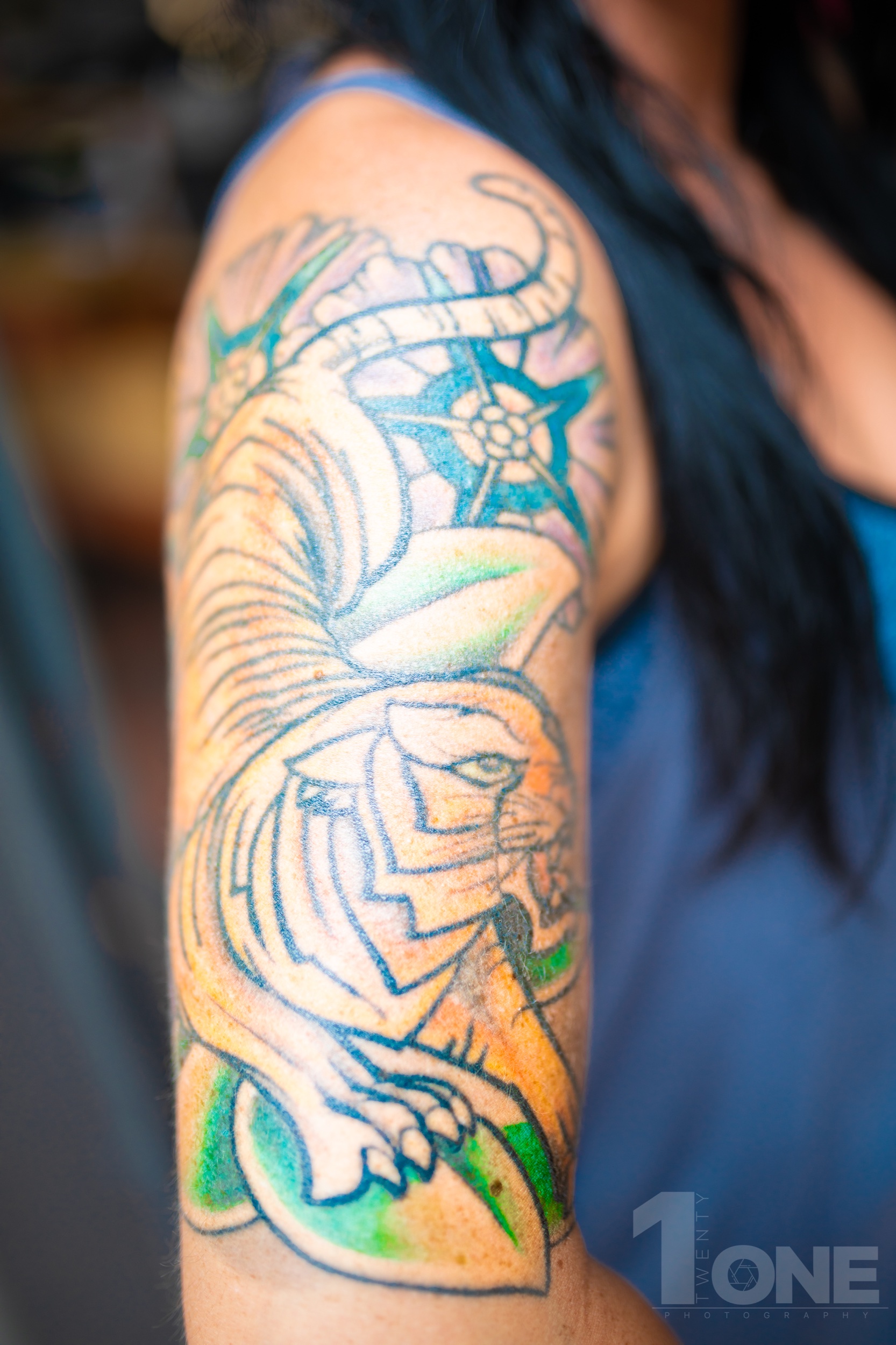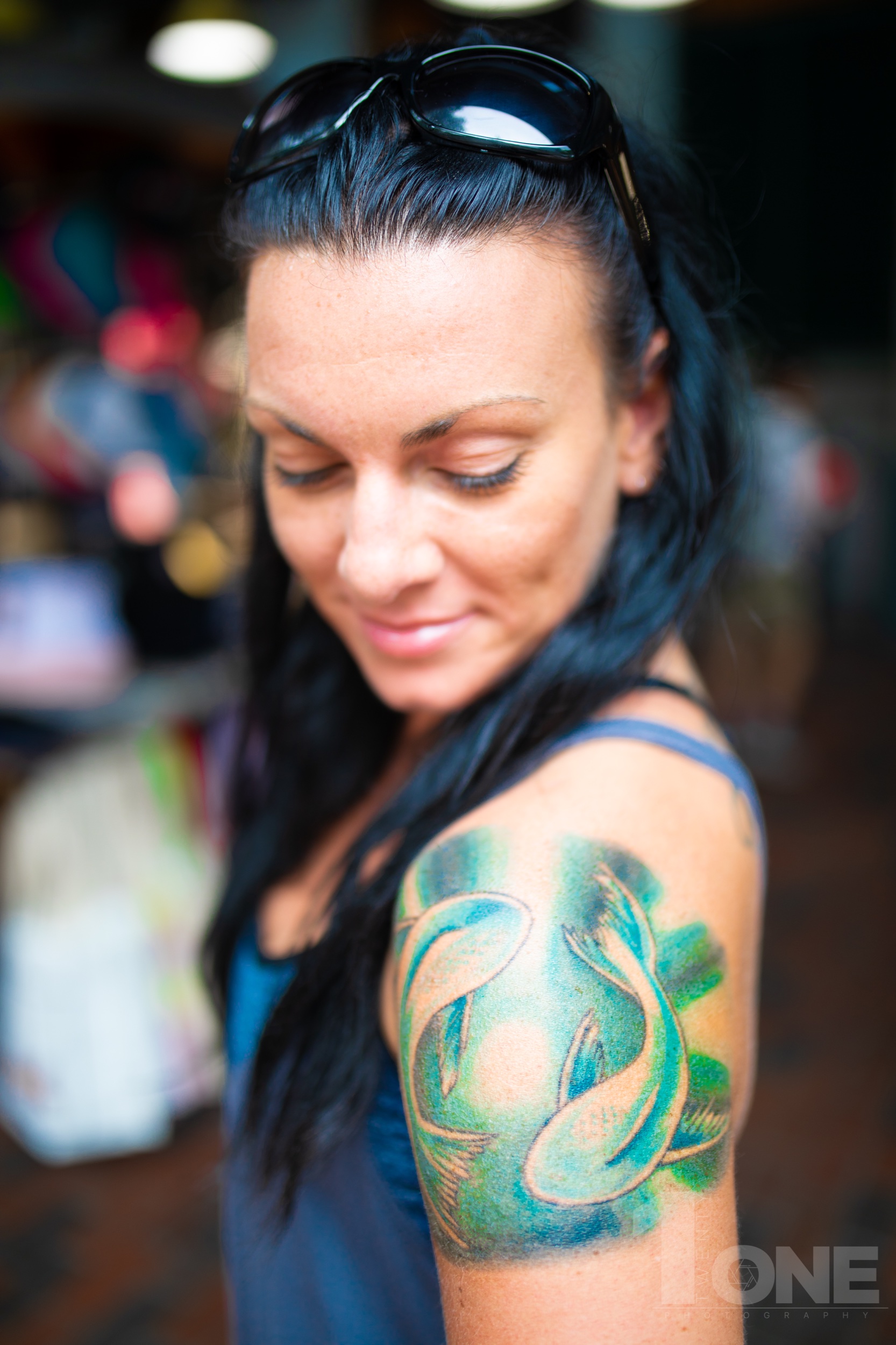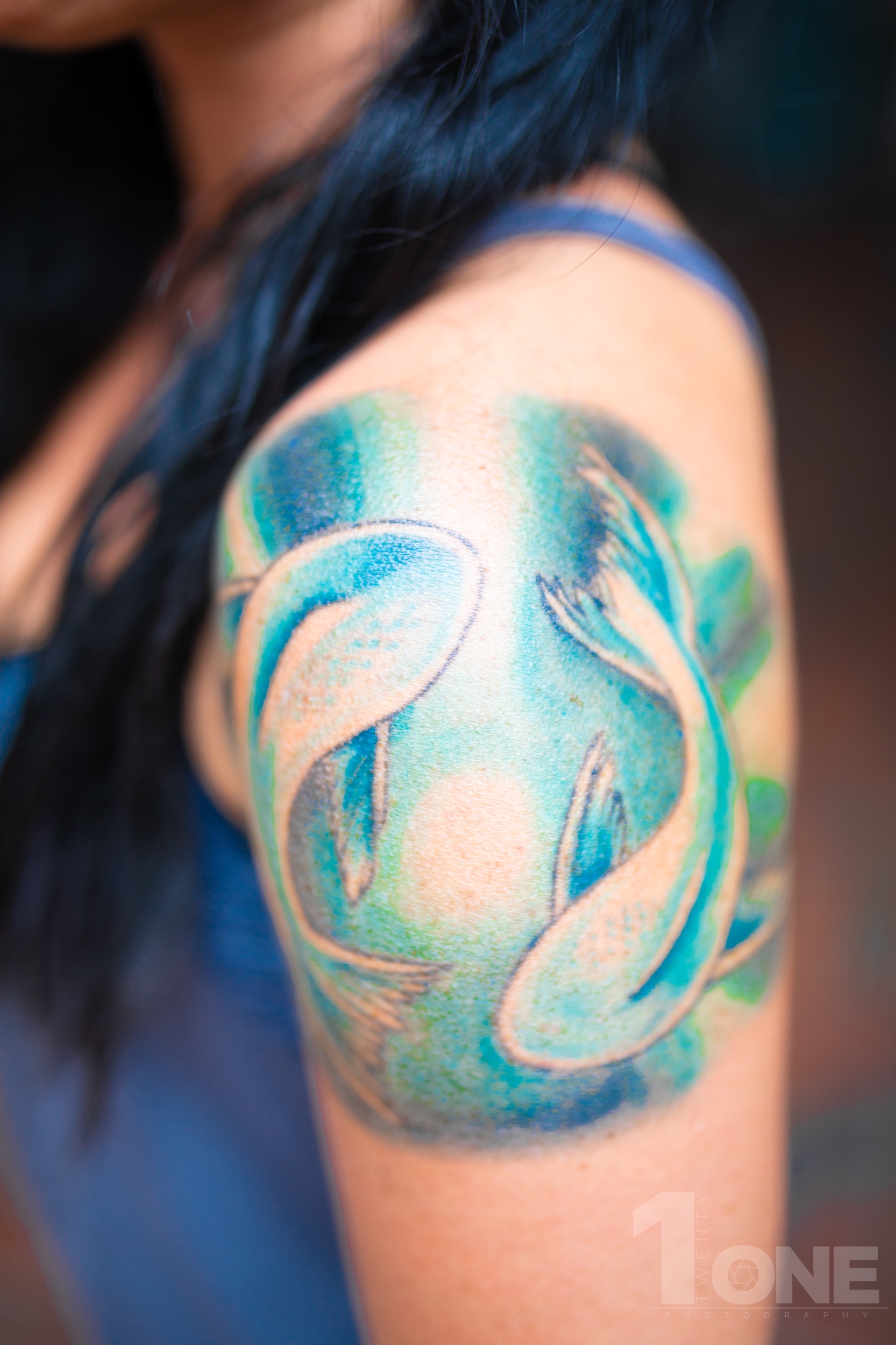 Leah
All of my tattoos represent something about myself. While I want them to showcase a work of art, at the same time it's important for them to also hold meaning of what it means to truly be "me." Here are two of them: Tigers have always been my favorite animal. They are amazing creatures. They embody the traits that I admire the most and strive to always hold: beauty, passion, strength and power. I just always knew that the piece I wanted to be most visible and most striking would include just that. The second piece shown is my Pisces tattoo, which is pretty self explanatory. I wanted to include the beautiful colors of the water to truly represent my water sign. I try not to buy too much into astrology and the zodiac, but I do believe it holds some truth. This was a simple way to represent my birthday, my inherent qualities, and myself.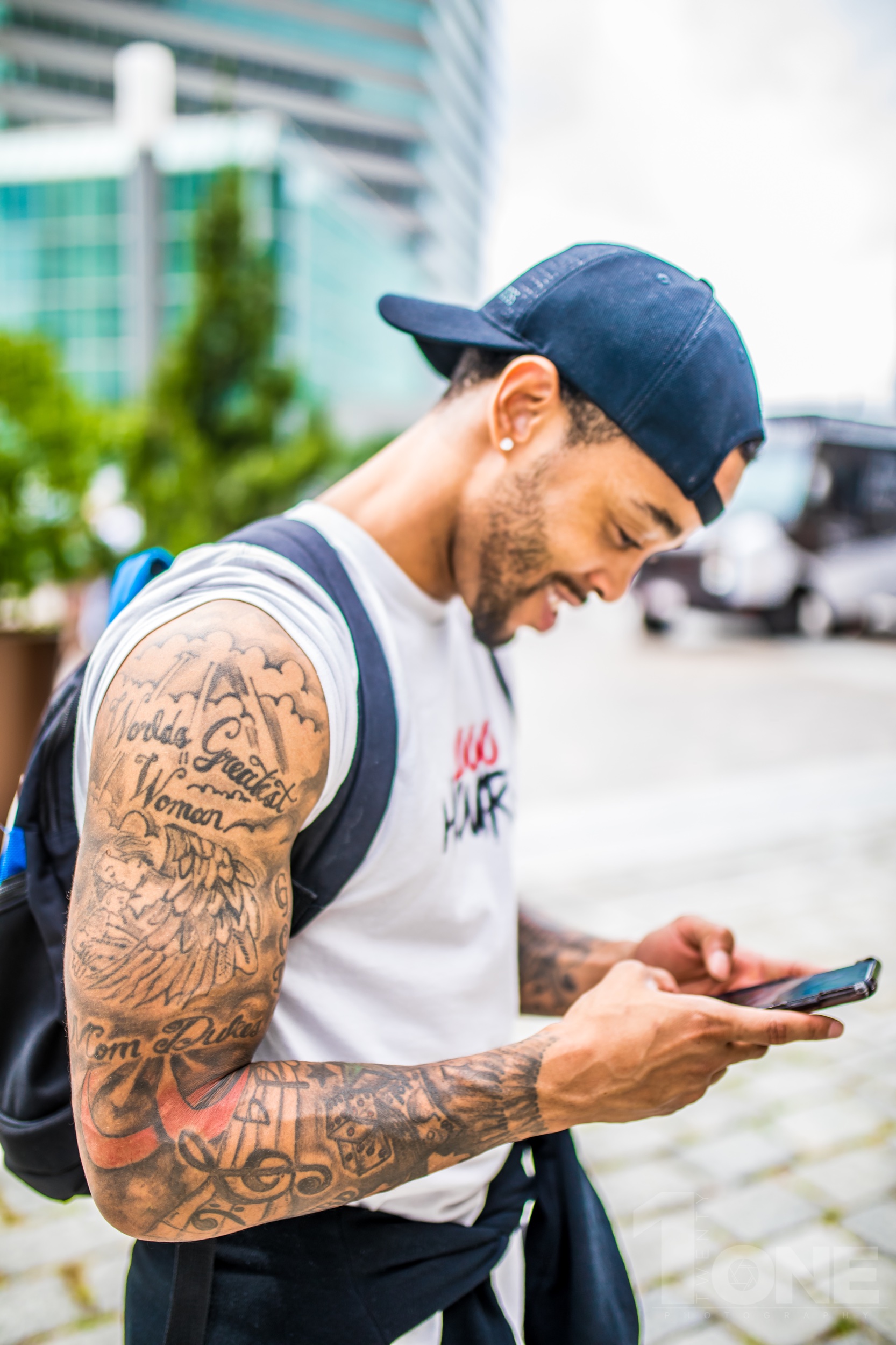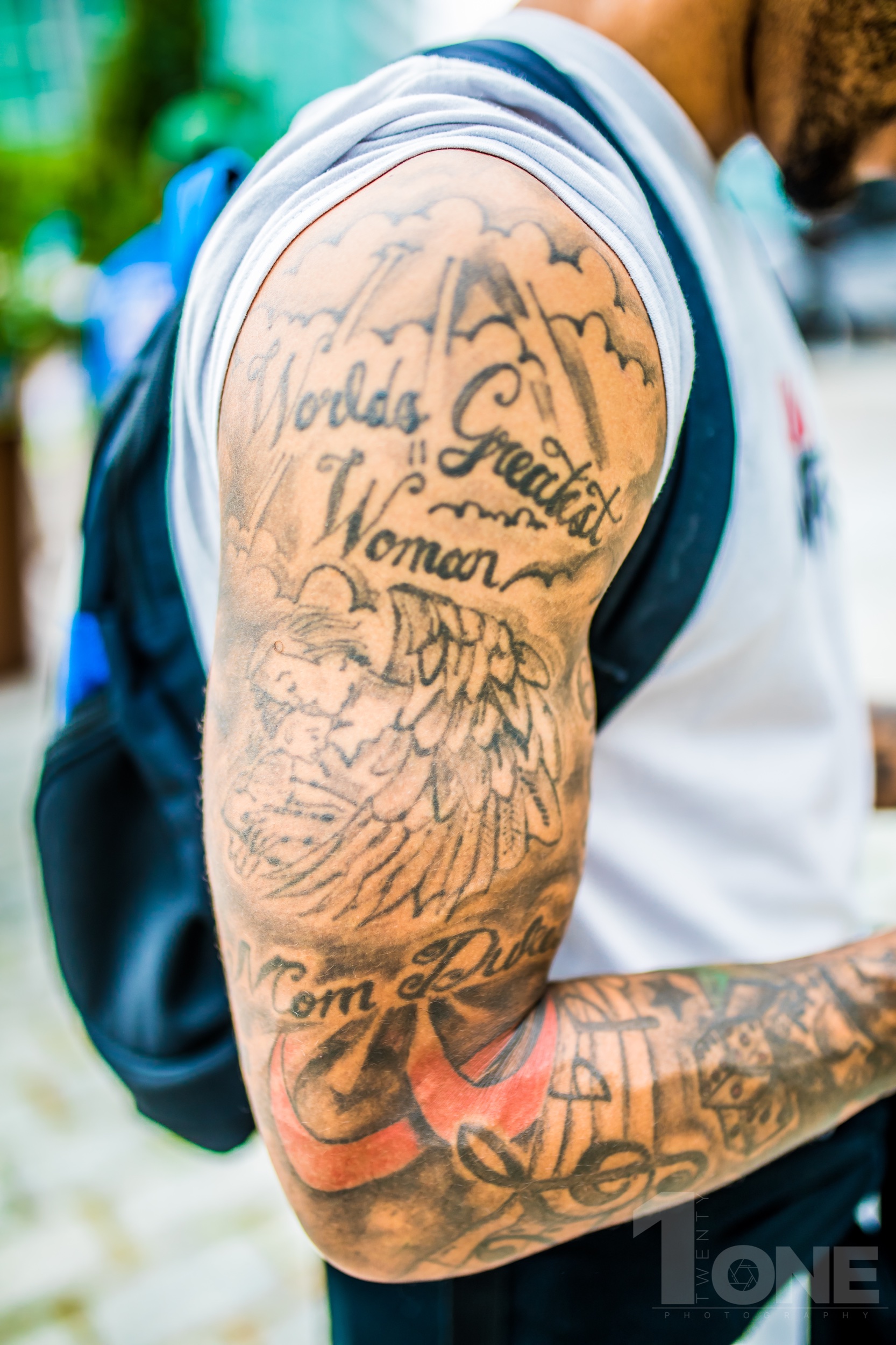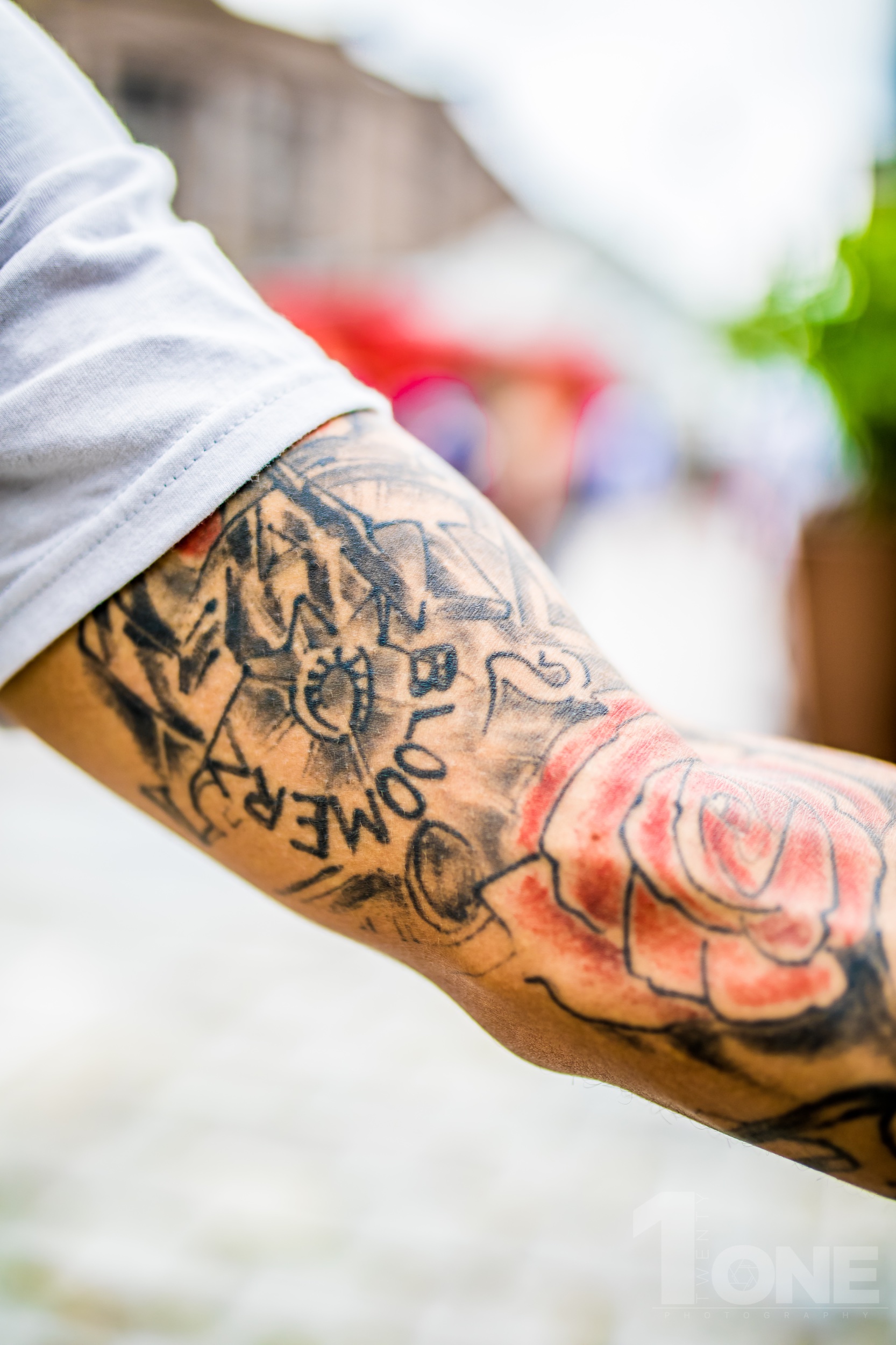 Cole
Worlds greatest woman .......Lisa Storr my mother who's the strongest person i know best cancer poverty moving to this country being a single mother just a tribute to her which isn't finished yet.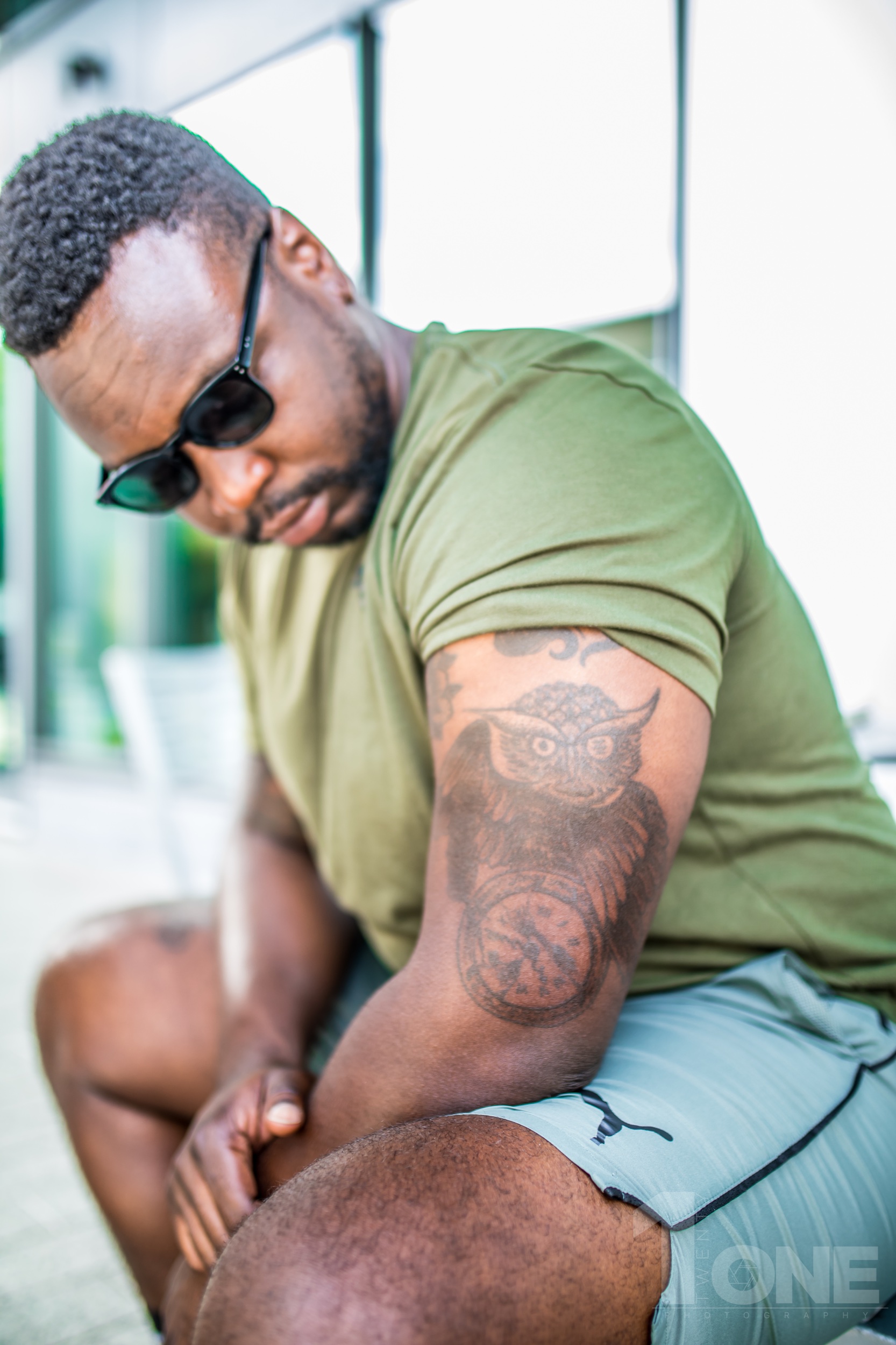 Leandrew
I got this owl as an ode to my mother. All knowing, wiser than any one I know. Growing up, I felt like she always had her head on a swivel or radar because anytime I got into trouble, she would magically appear.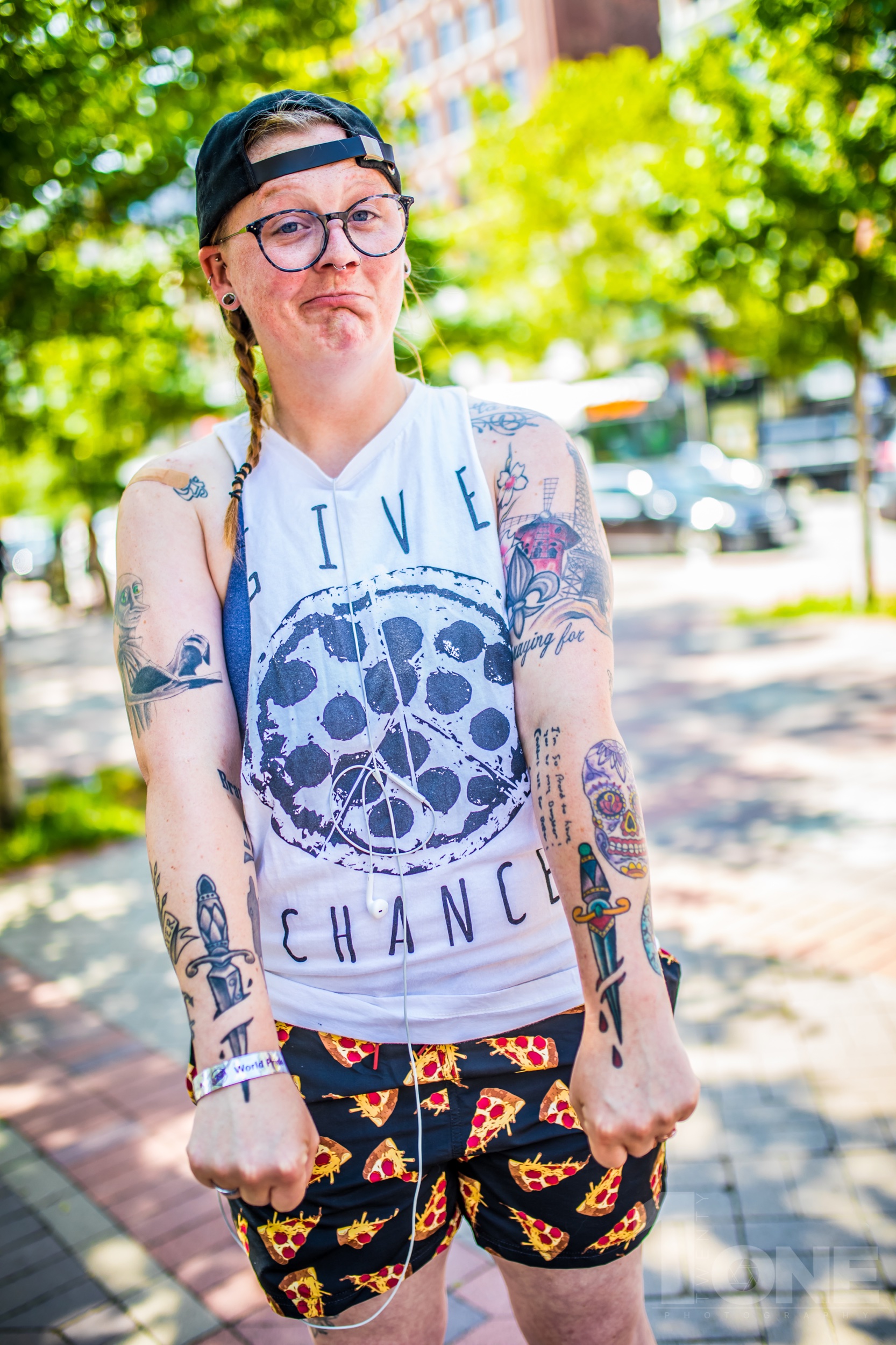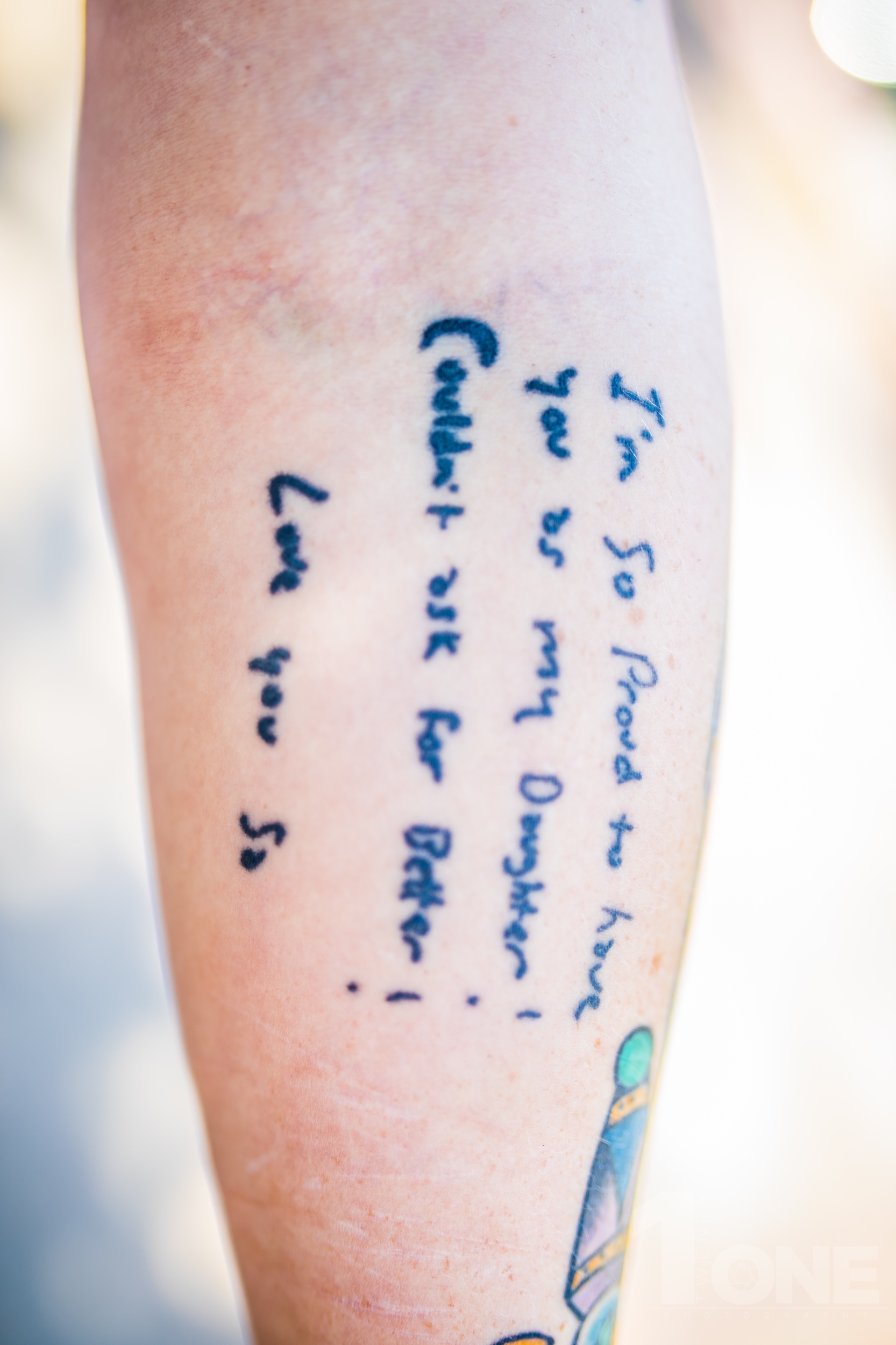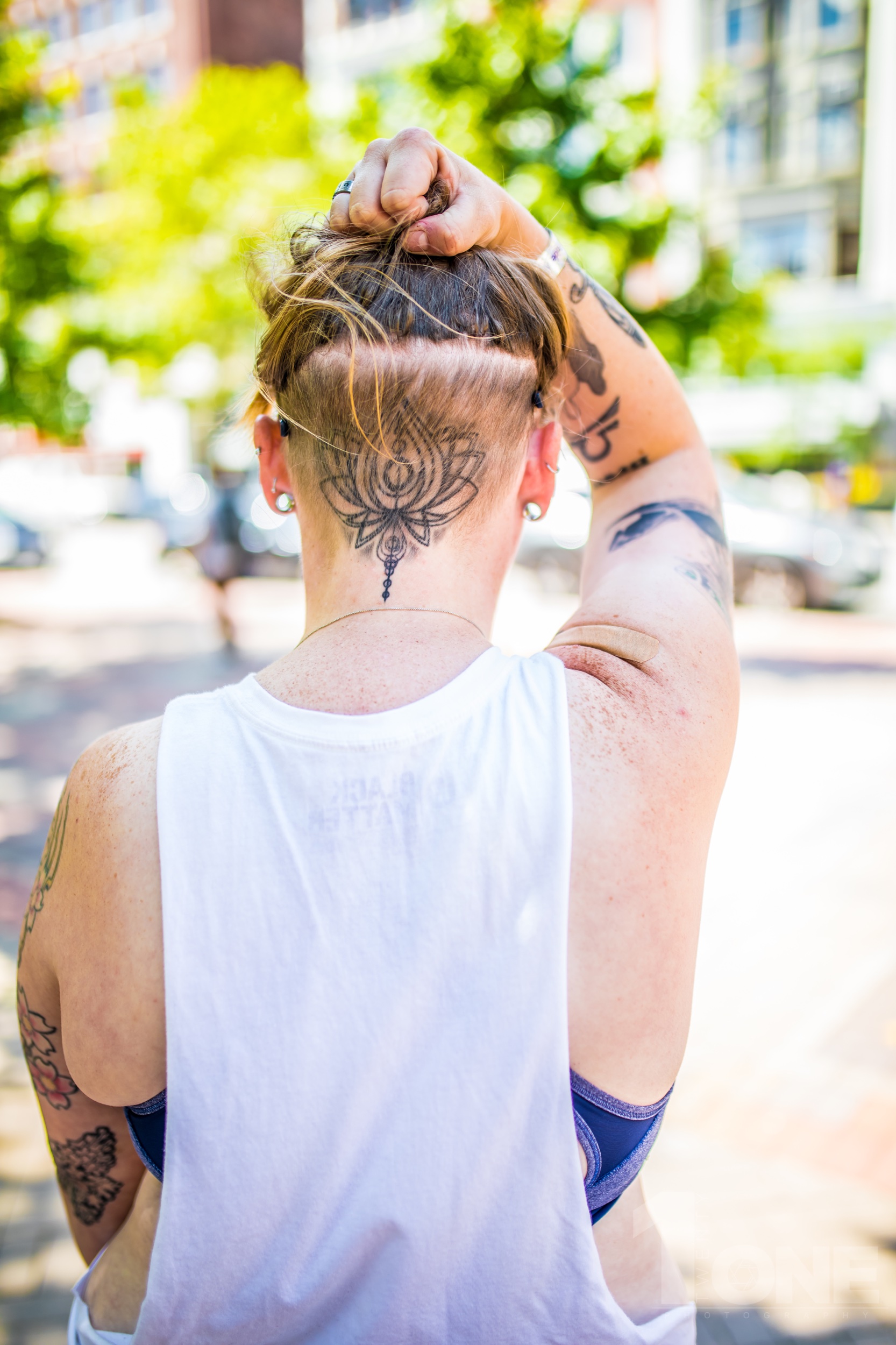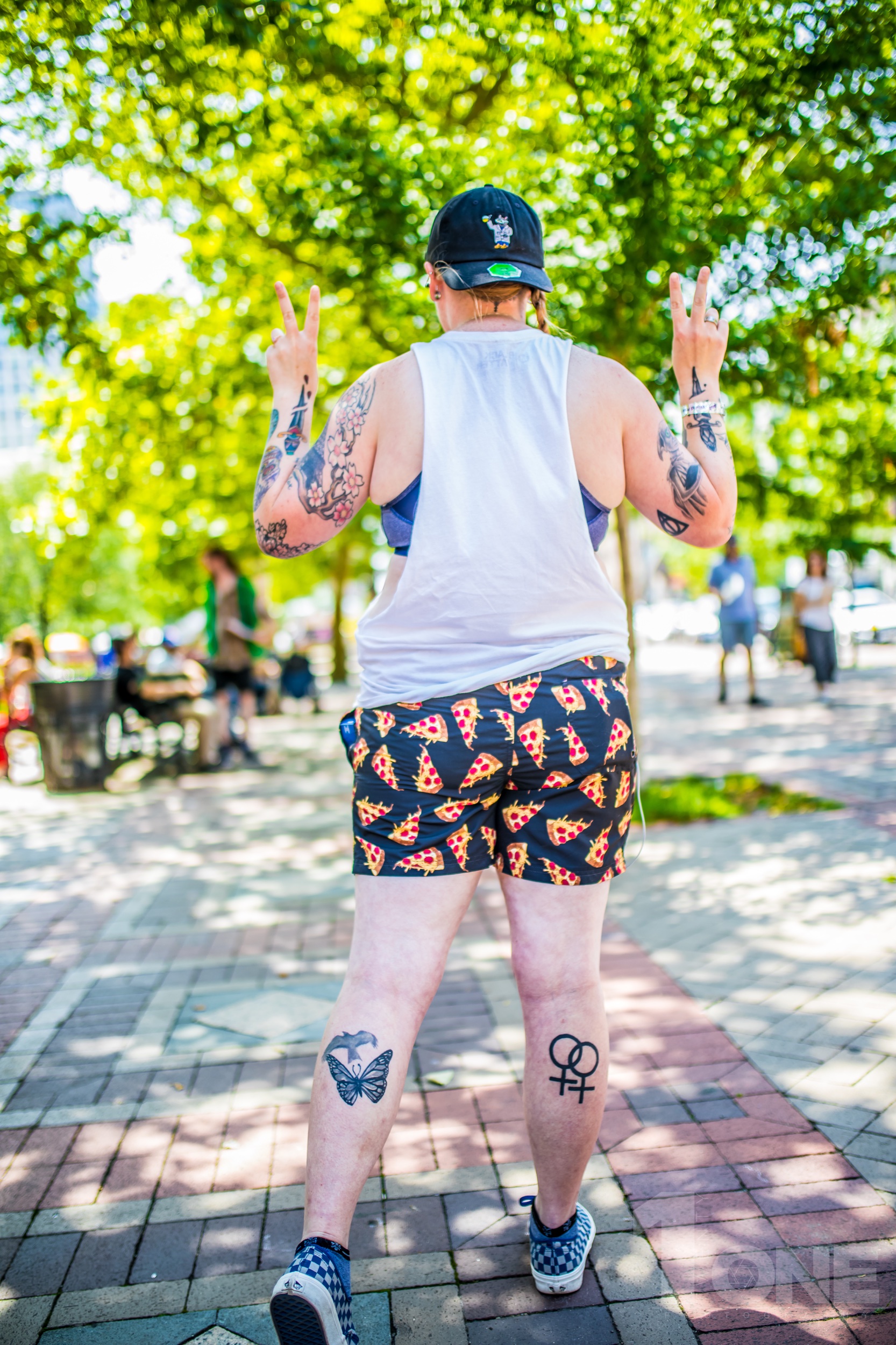 sarah
The first tattoo is from my 18th birthday card. My dad passed away in 2015, so i got it in his handwriting in his memory. My arm pieces don't necessarily have a specific meaning, i just thought they looked dope. The same sentiment goes for my head piece. The one on my calf came to me in a dream in memory of my father. His favorite bird was a hawk and butterflies signify passed loved ones and in the summer of 2015 i was seeing a lot of hawks and butterflies so i got a butterfly with a shadow of a hawk to commemorate my dad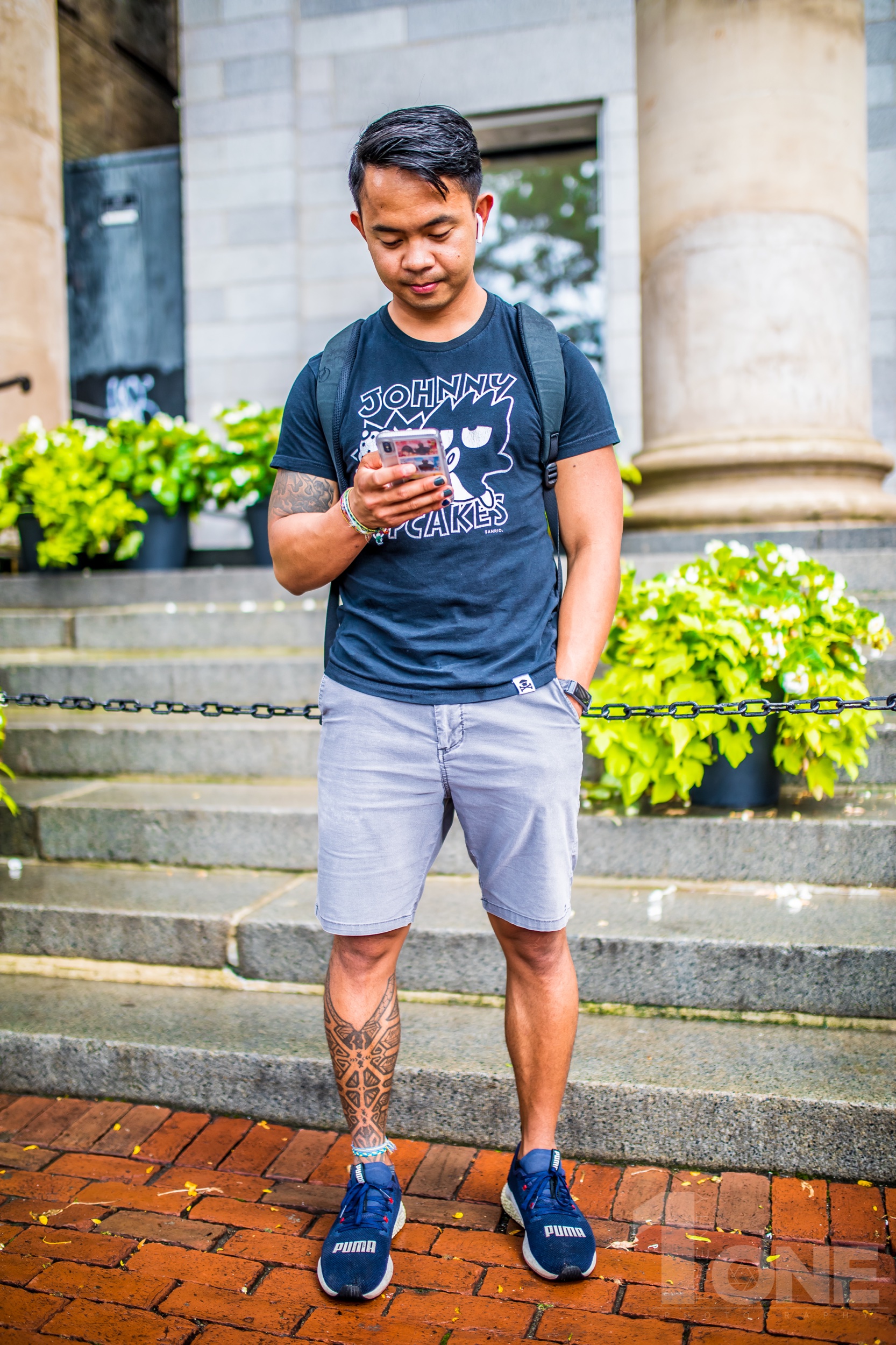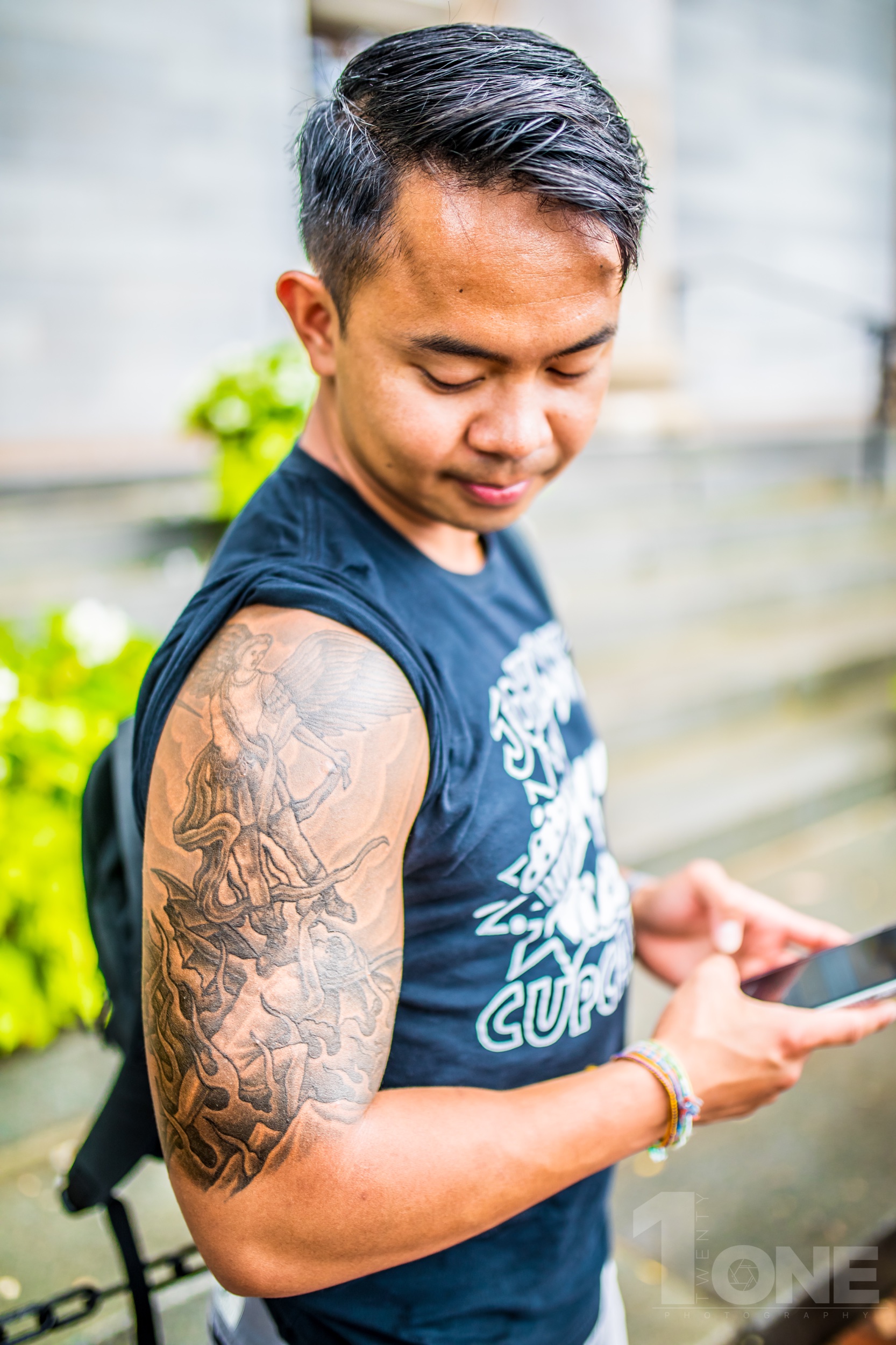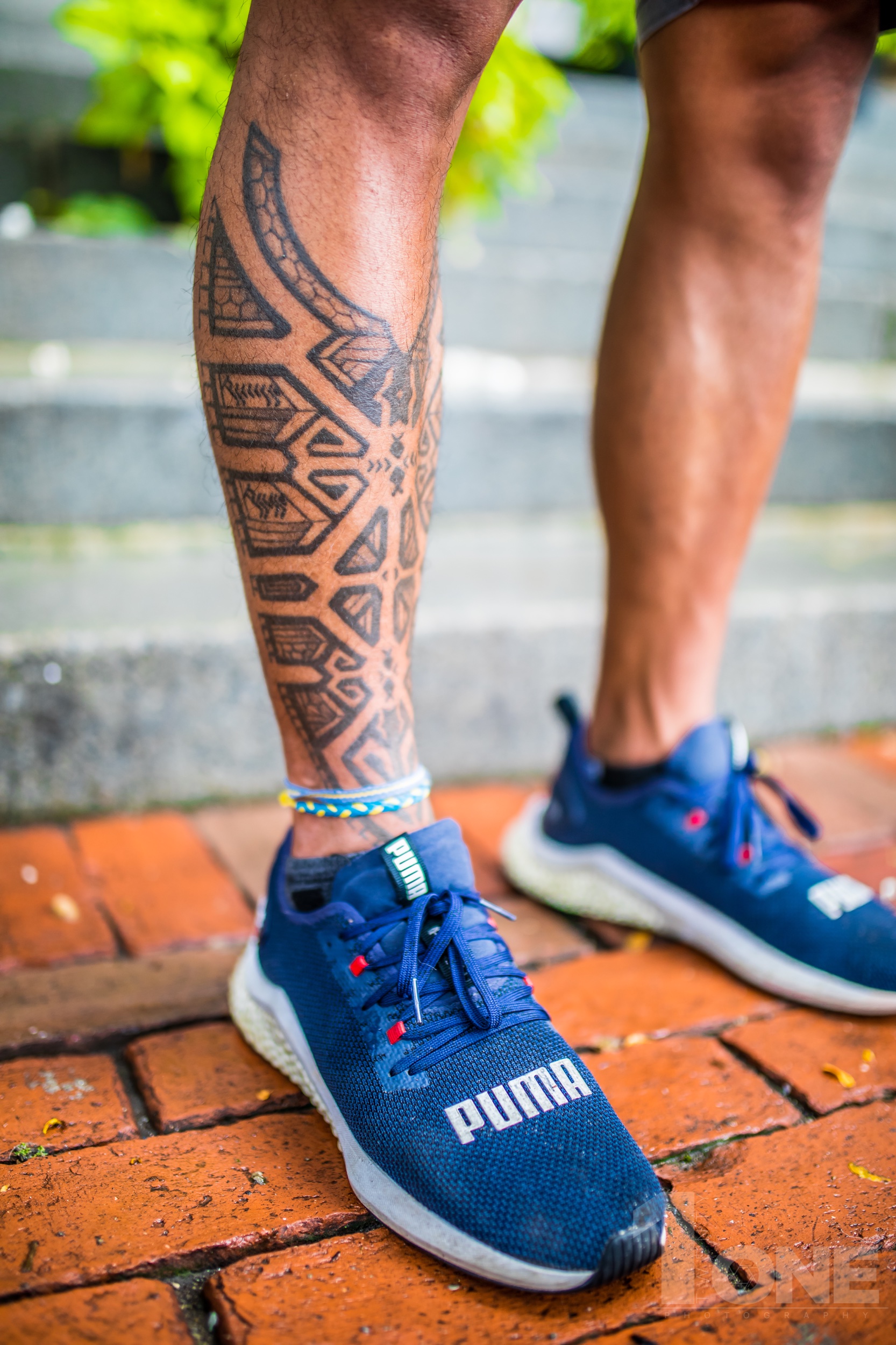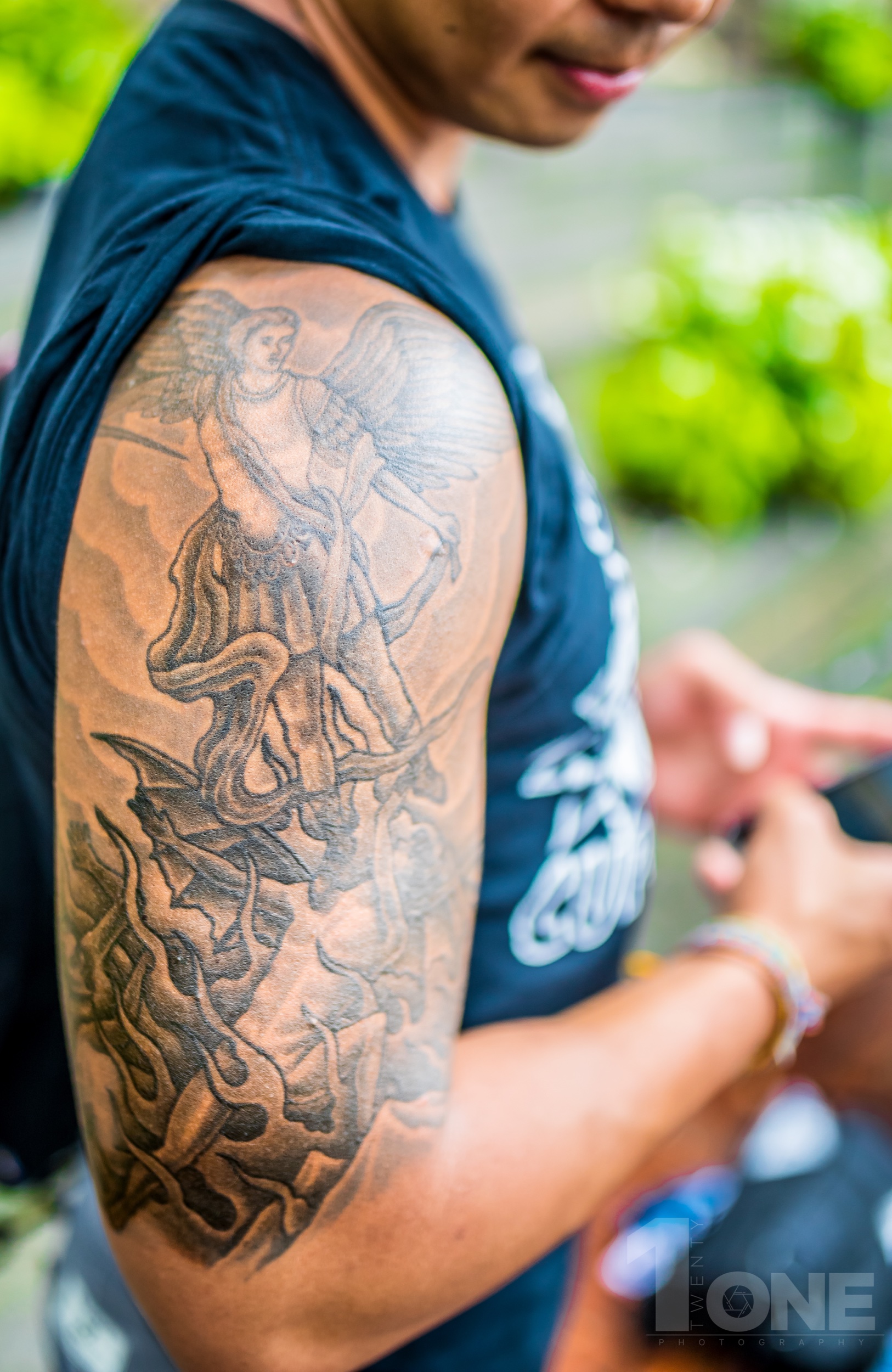 Jel
Leg tattoo: got it because of my Pacific Islander culture, had it traditionally done in a form of an armor, for strength and protection. Right arm tattoo: got it because of my catholic up bringing. st Michael the Archangel is known as a warrior angel, and defender against evil. Got both tattoos during my time in the armed forces (served 13 years). Seems fitting to get.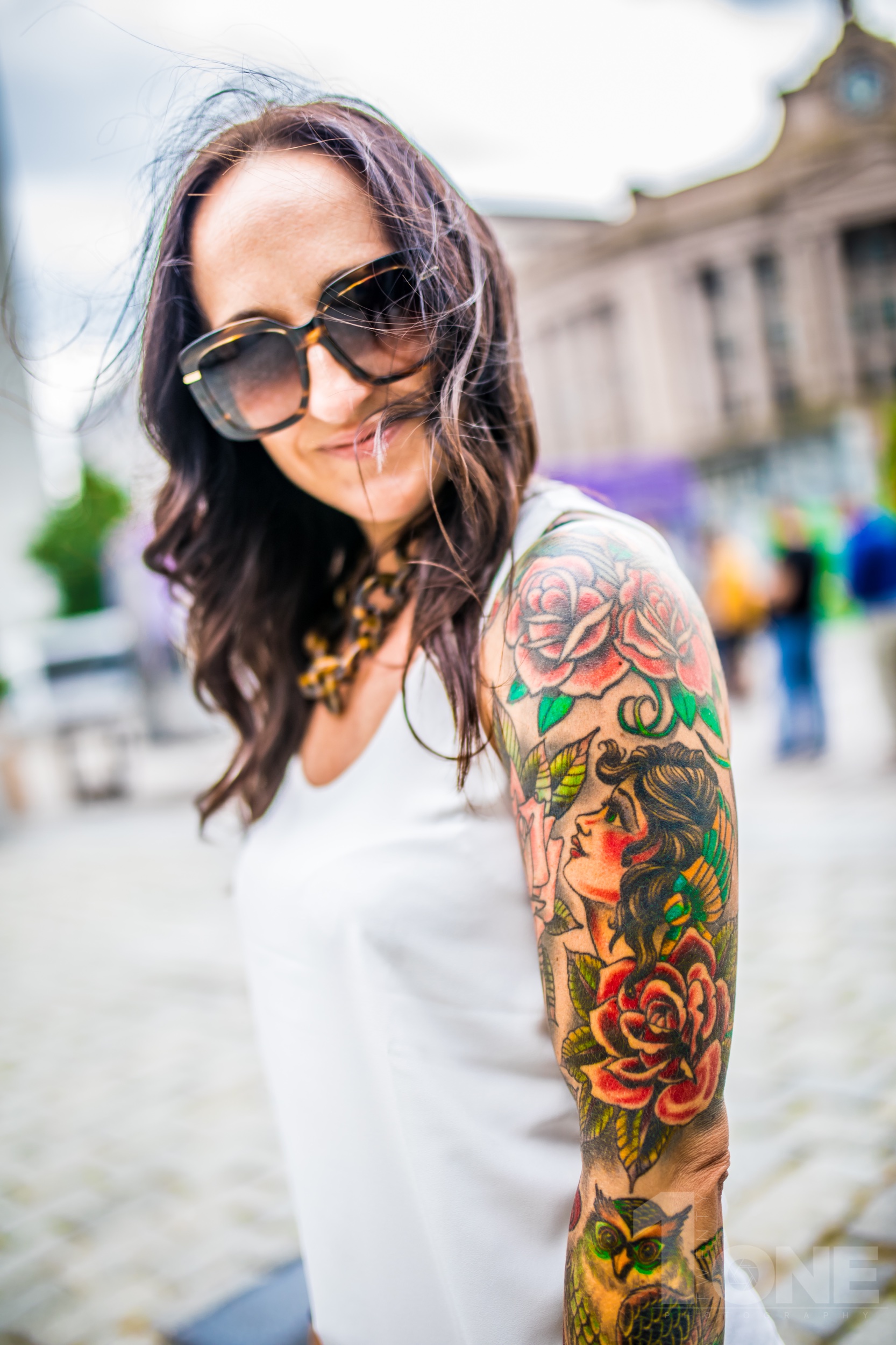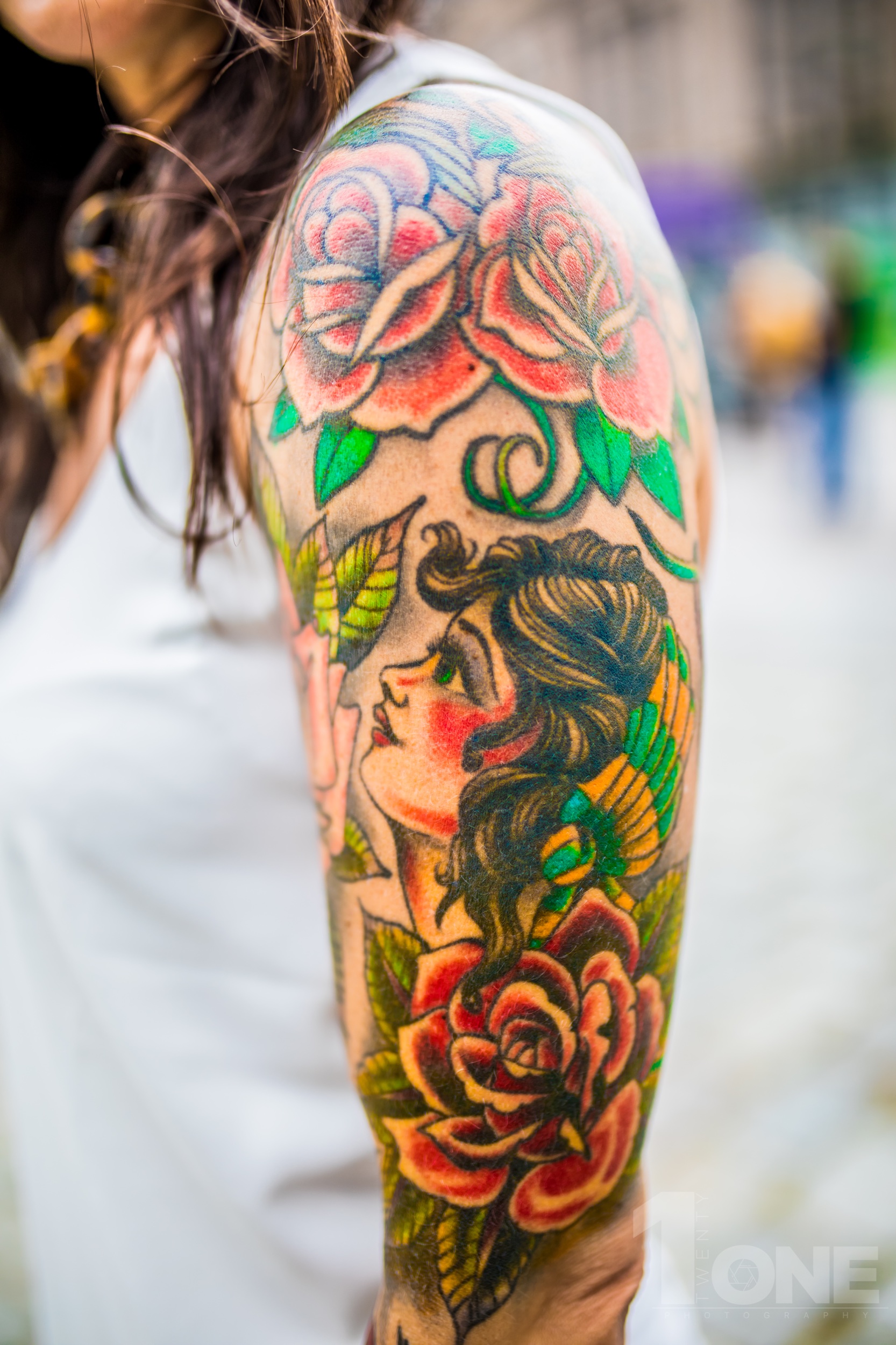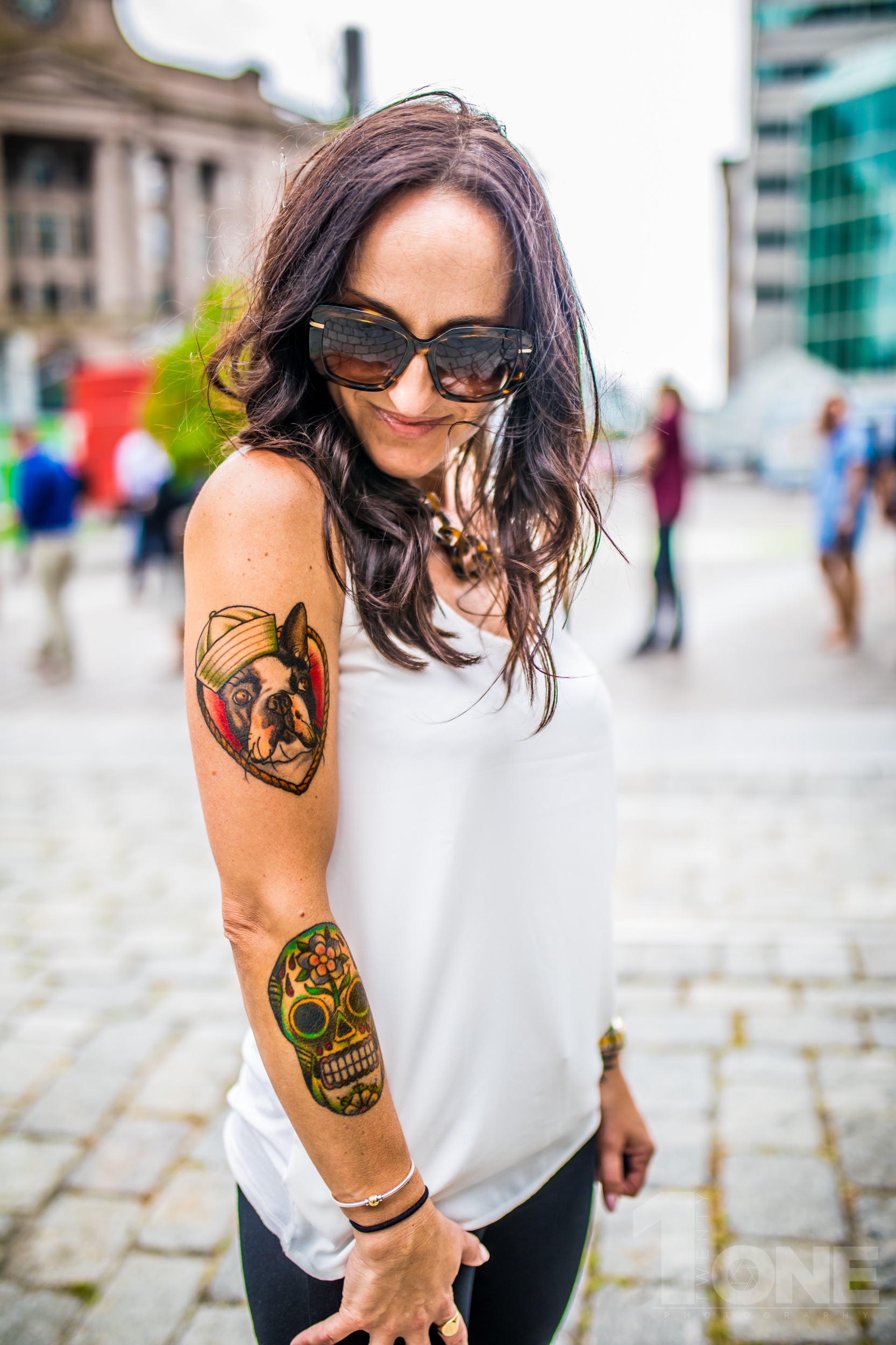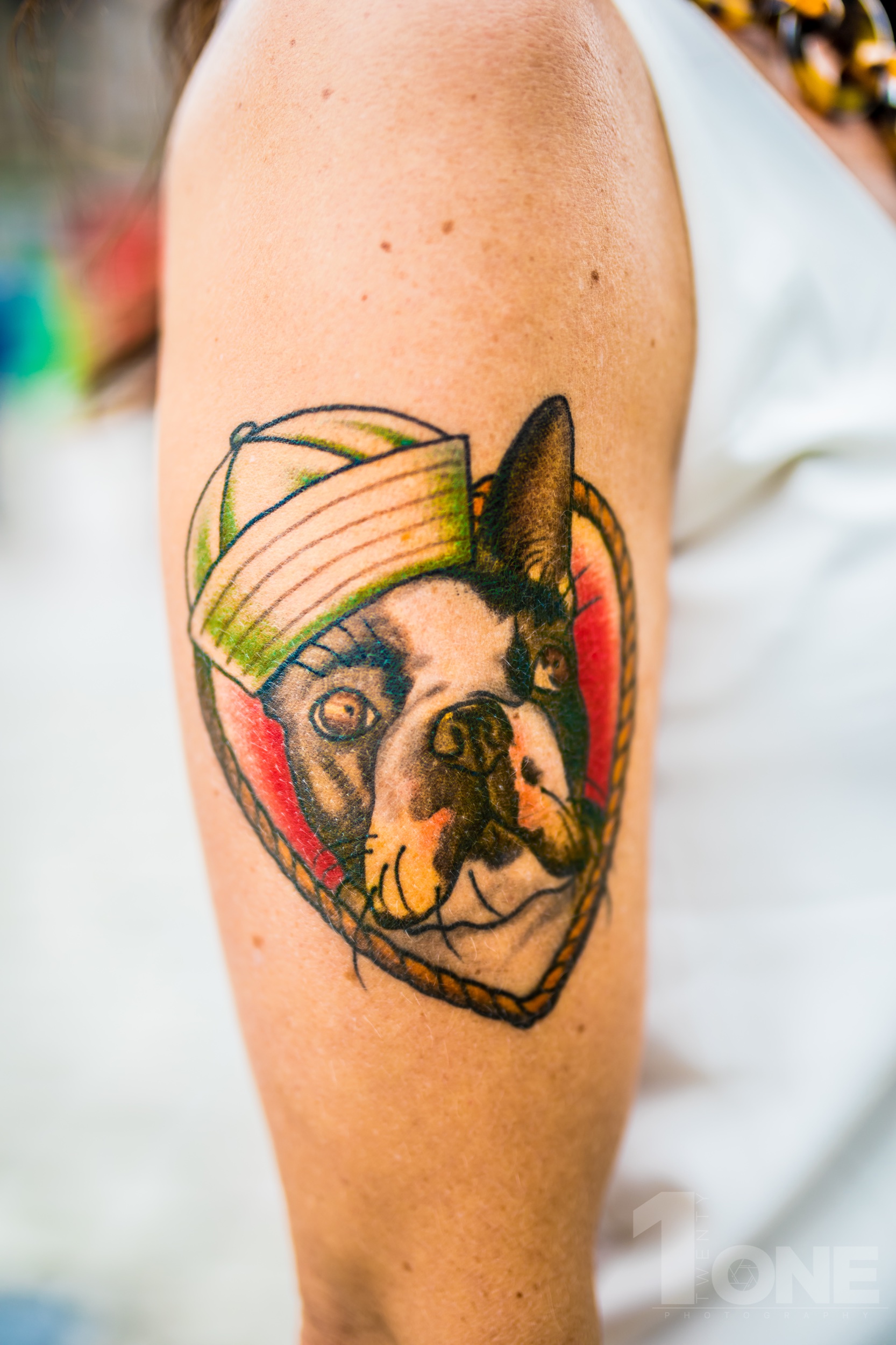 Lauren
First I gotta give credit where its due...I've been going to the same guy for over 10 years now: Jebb Riley at Redemption Tattoo in Cambridge is the absolute BEST. I met Jebb at a shop called Lightwave Tattoo in Saugus and that's where he did this gorgeous gypsy tattoo for me- the first of what became a full sleeve, followed by several others scattered across my other arm, back, leg and a MASSIVE 14 hour cover up masterpiece across my stomach, hip and ribcage, and finally ending with the Boston Terrier sailor on my right bicep. So, I'll be honest, the days of needing a reason or meaning to get a tattoo are long gone for me. Being somewhat of a contrarian, tattoos have always appealed to me simply because I thought they looked cool and they checked the anti establishment box. Now, of course, I've come to appreciate them as the works of art they truly are. That being said, sometimes I just want to enhance my aesthetic by getting a new tattoo in a certain place on my body and will start looking for ideas and inspiration then consult with Jebb to come up with something that I love, as I did with my gypsy. Then there are other times where I feel compelled to get a tattoo of something because it means so much to me, as I did with the tattoo of my dog, Floyd, who I consider my shipmate on this crazy journey of life, hence the sailor hat.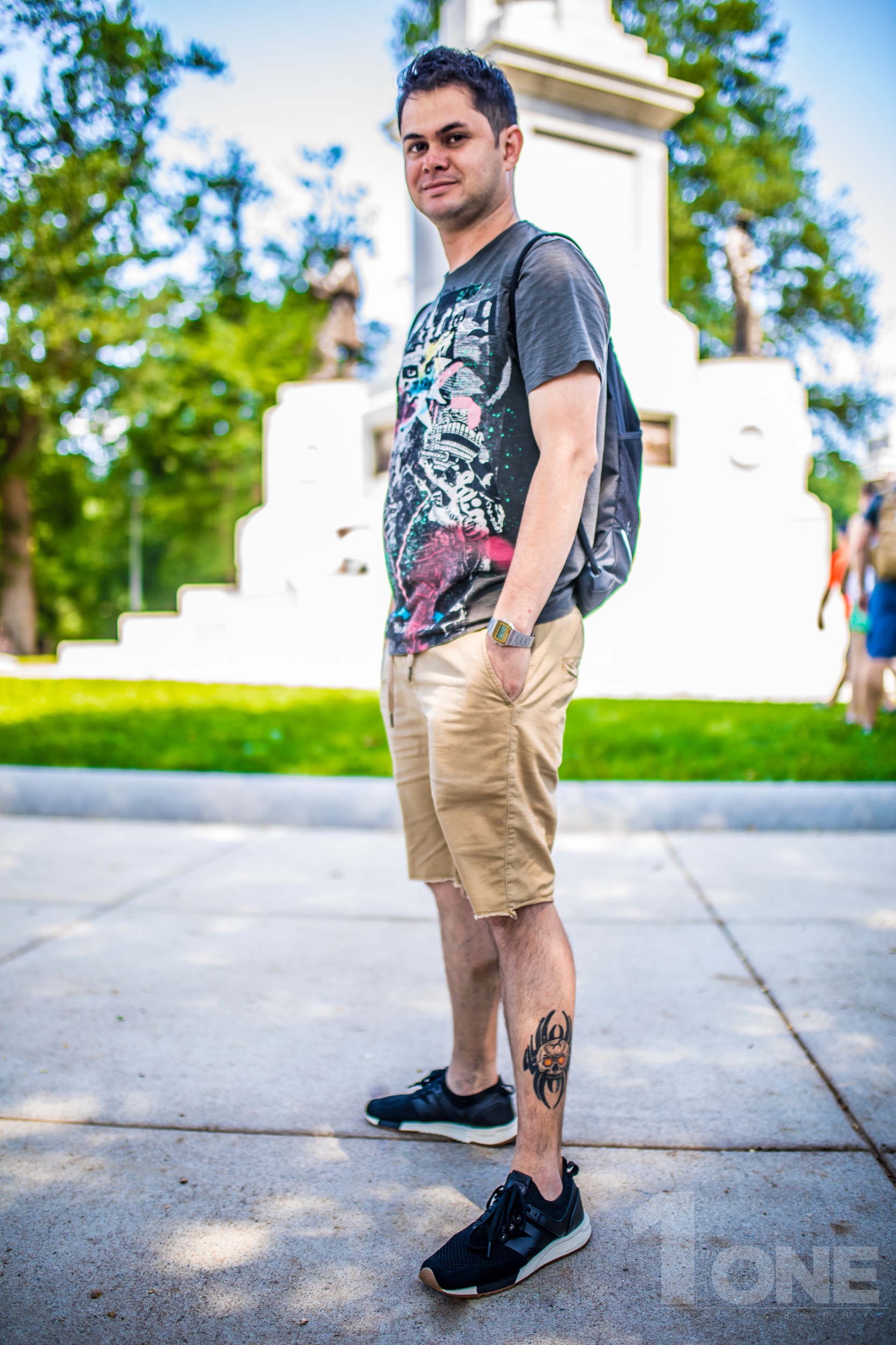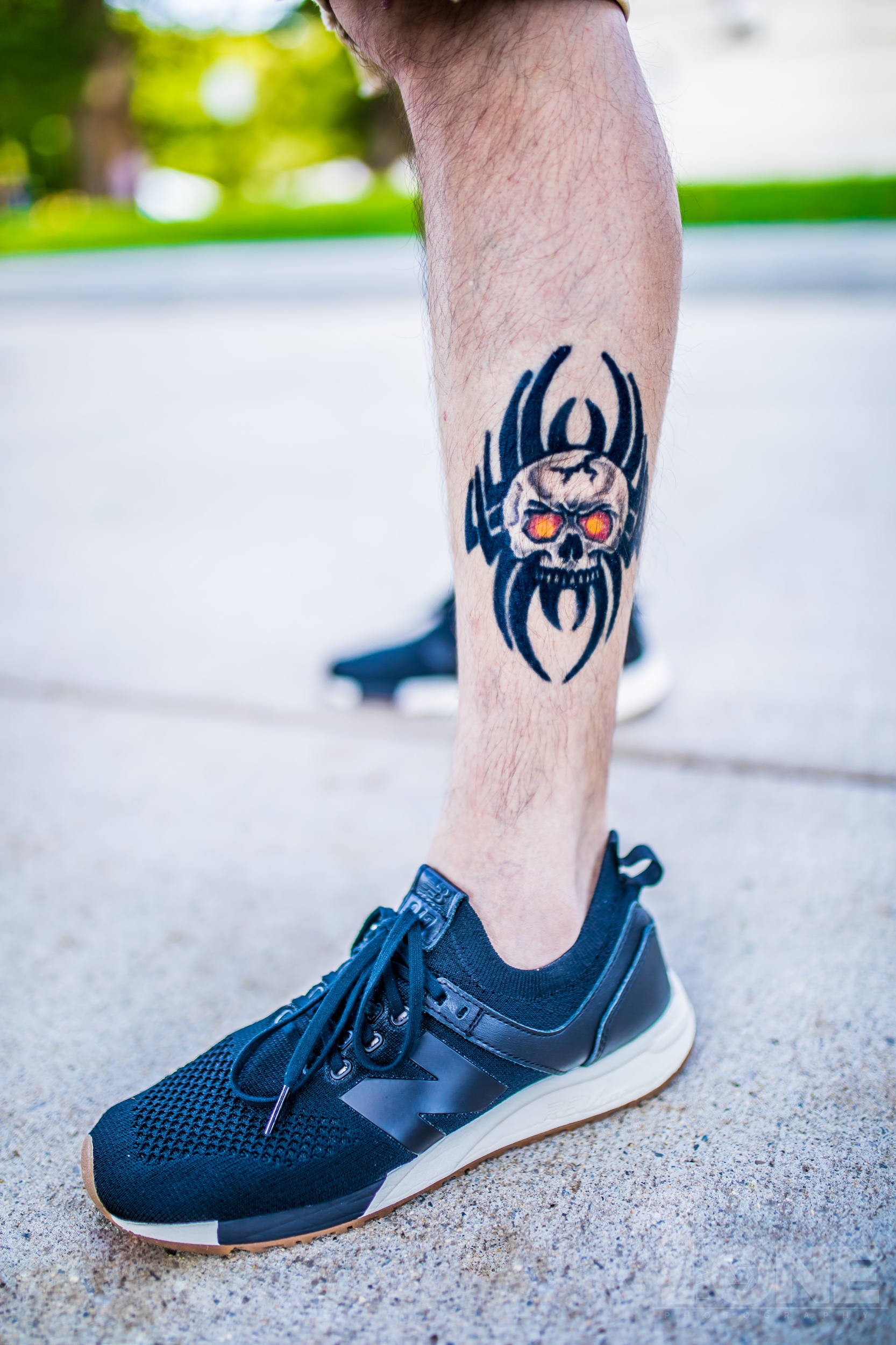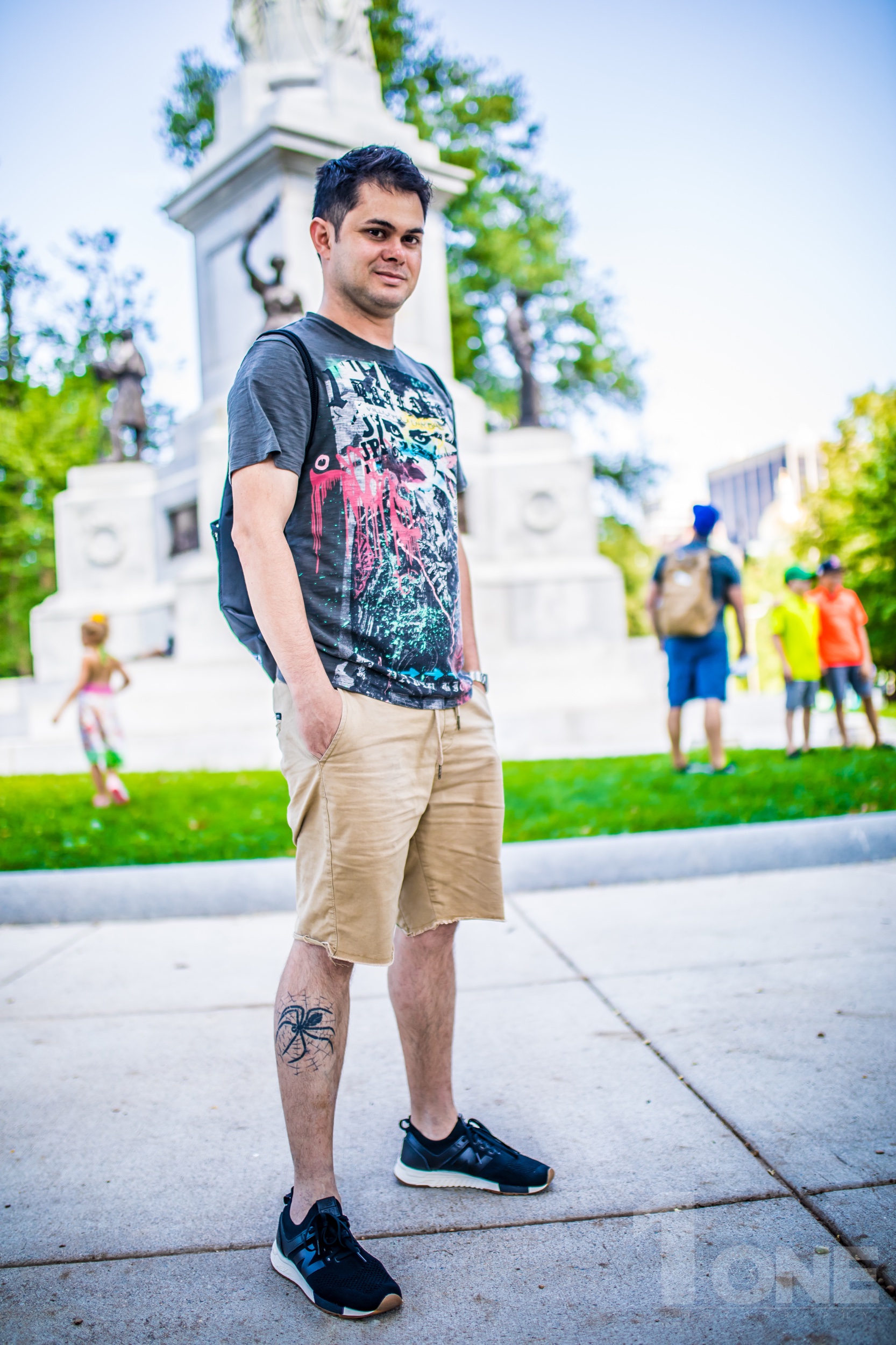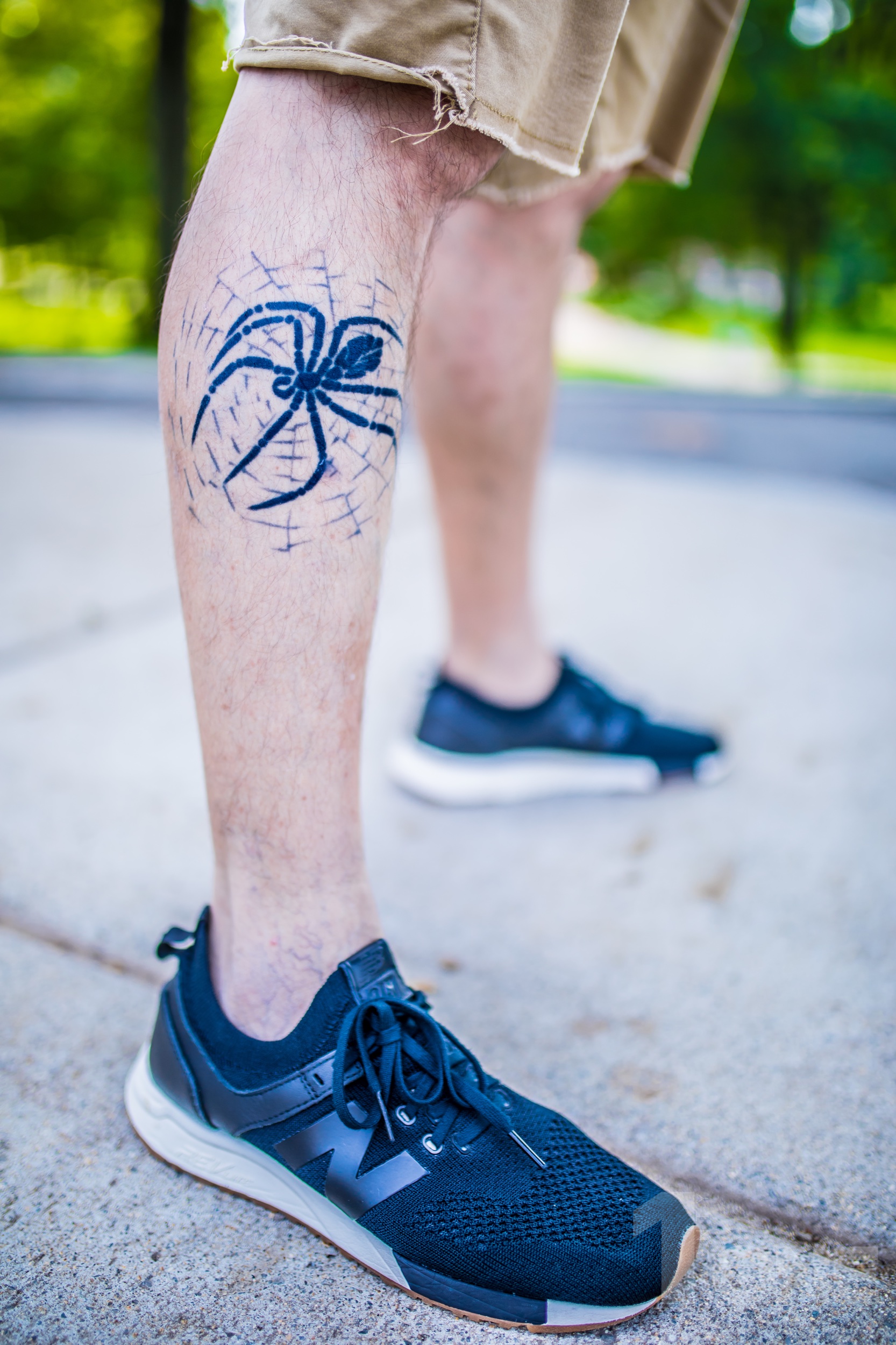 Jeffrey
I always liked tattoos and when I got my first job those were one of those things I did, I was 22 at the time I'm 35 now and never got new tattoos hahaha.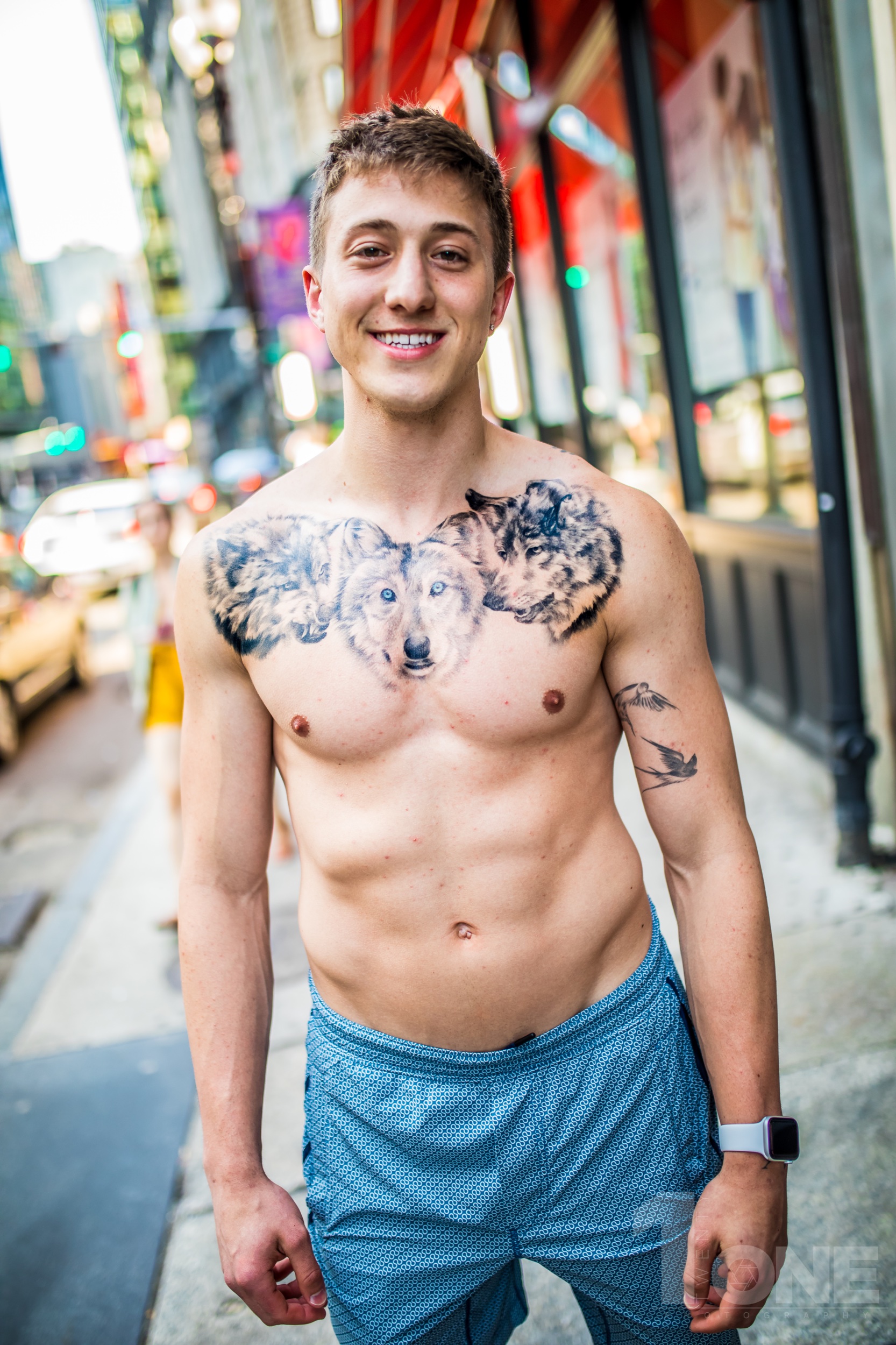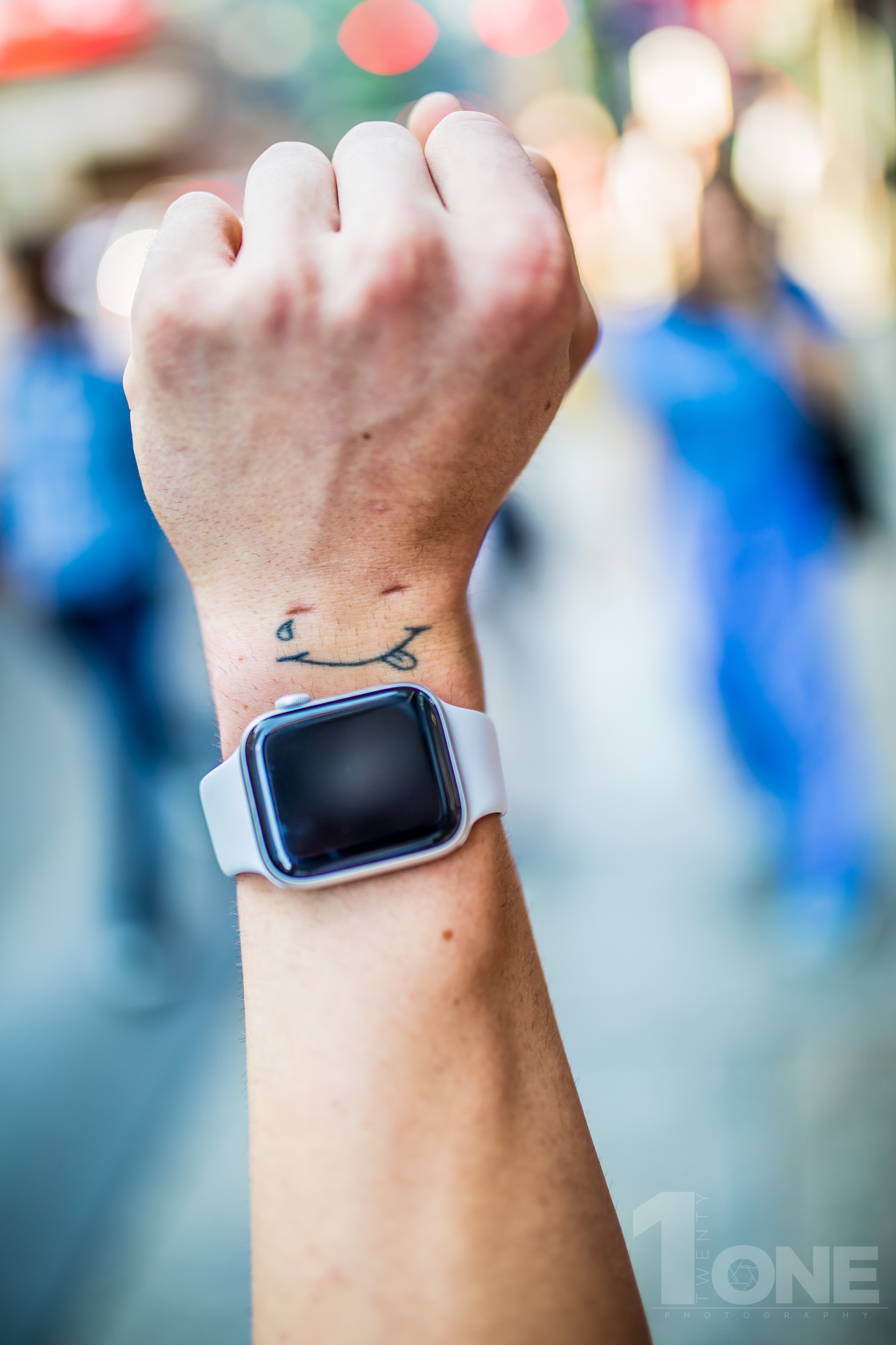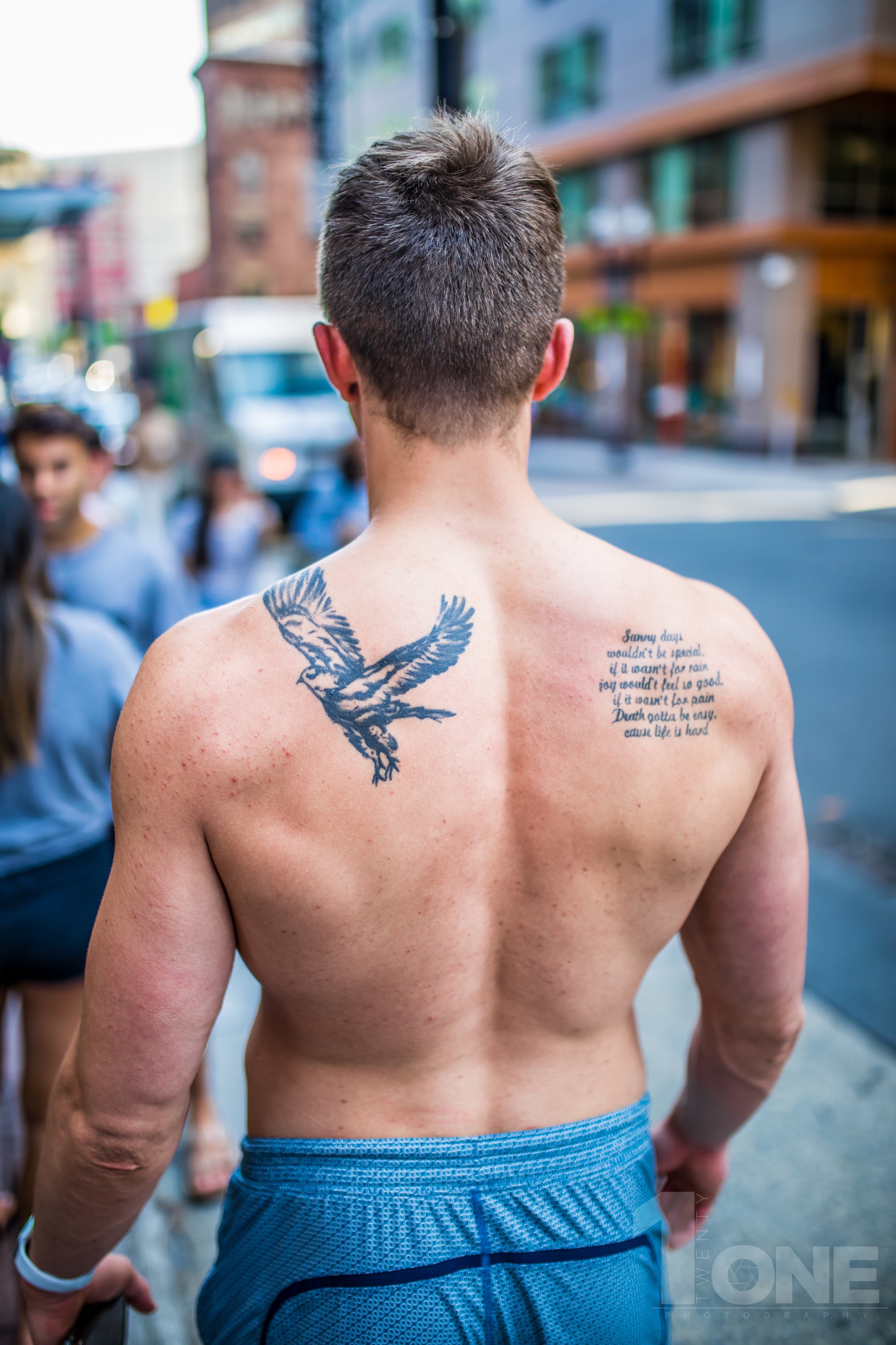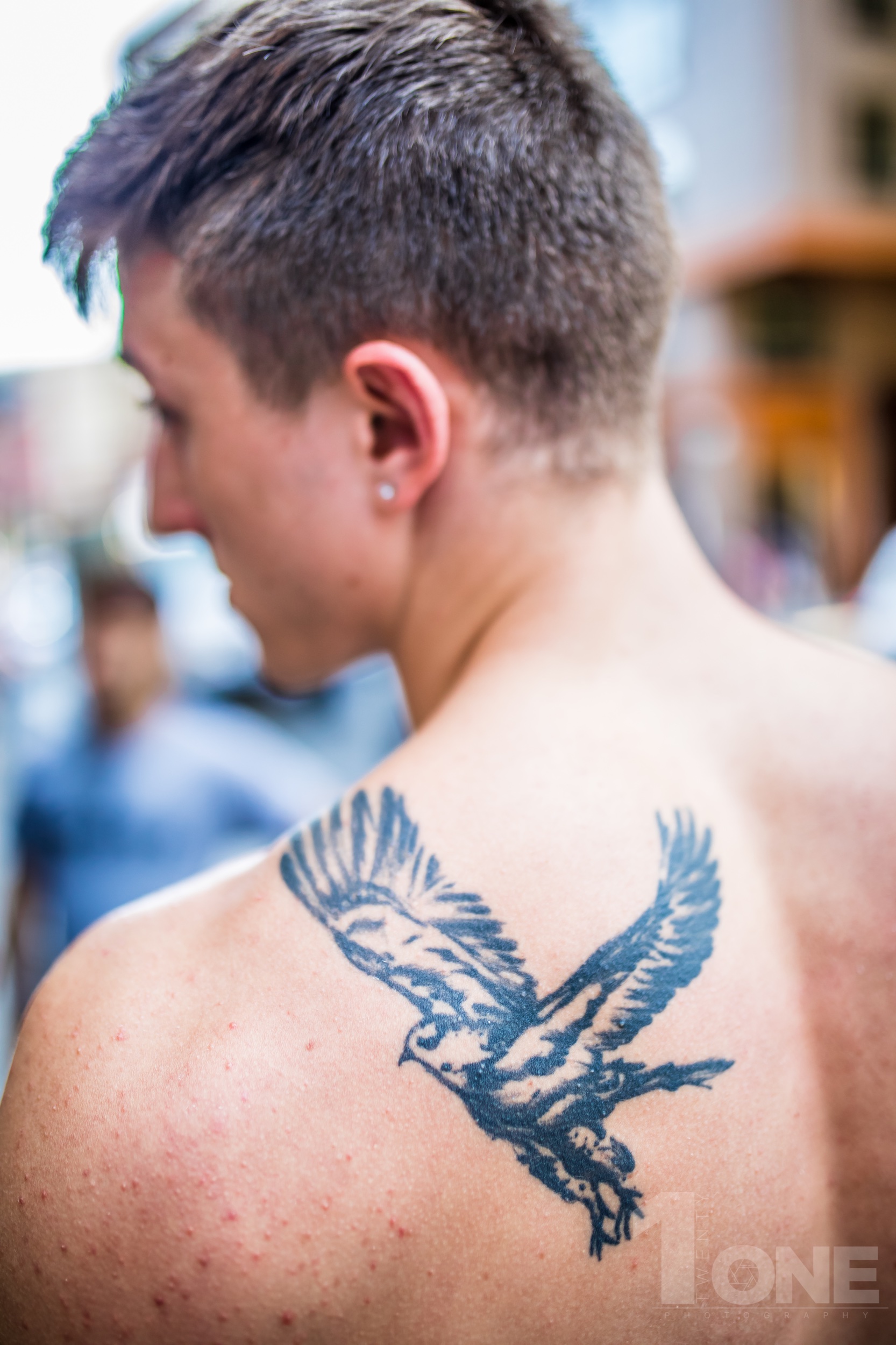 Peter
I got these wolves on my chest for a couple reasons. I wanted this middle one to always be staring out front making eye contact with whoever is in front of me, and the two on the sides create a focal point, so it's like they're bearing down on whoever or whatever is in front of me. I guess the wolves are kind of how I feel about life in general - whatever or whoever is in front of me - I'm coming and I'm not stopping until I disembowel you like a pack of wolves on a moose. I got the smiley face because this girl I was seeing drew it on my wrist, the eyes are two small scars I had from surgery, so then I got it tatted because it looked sick.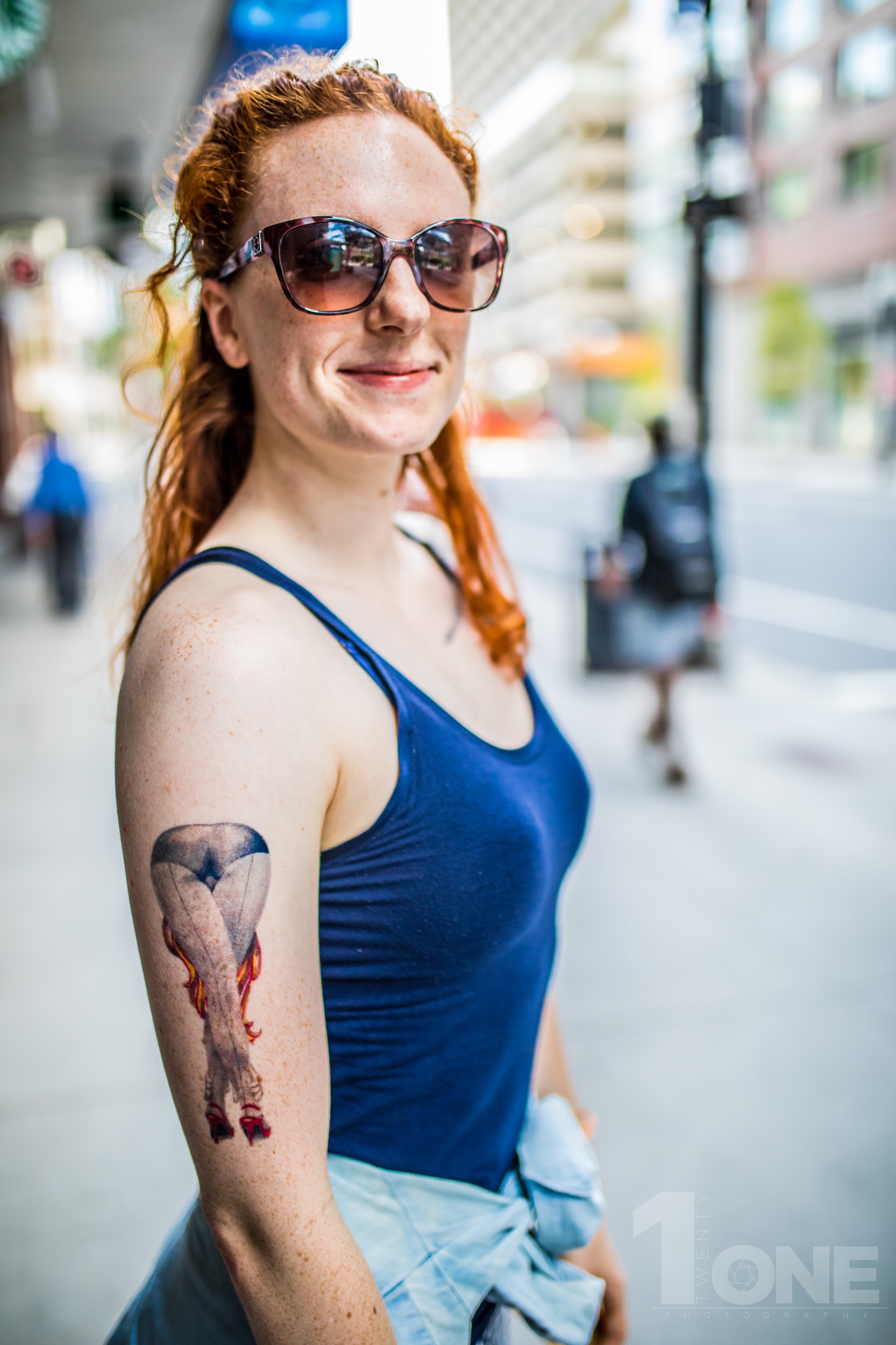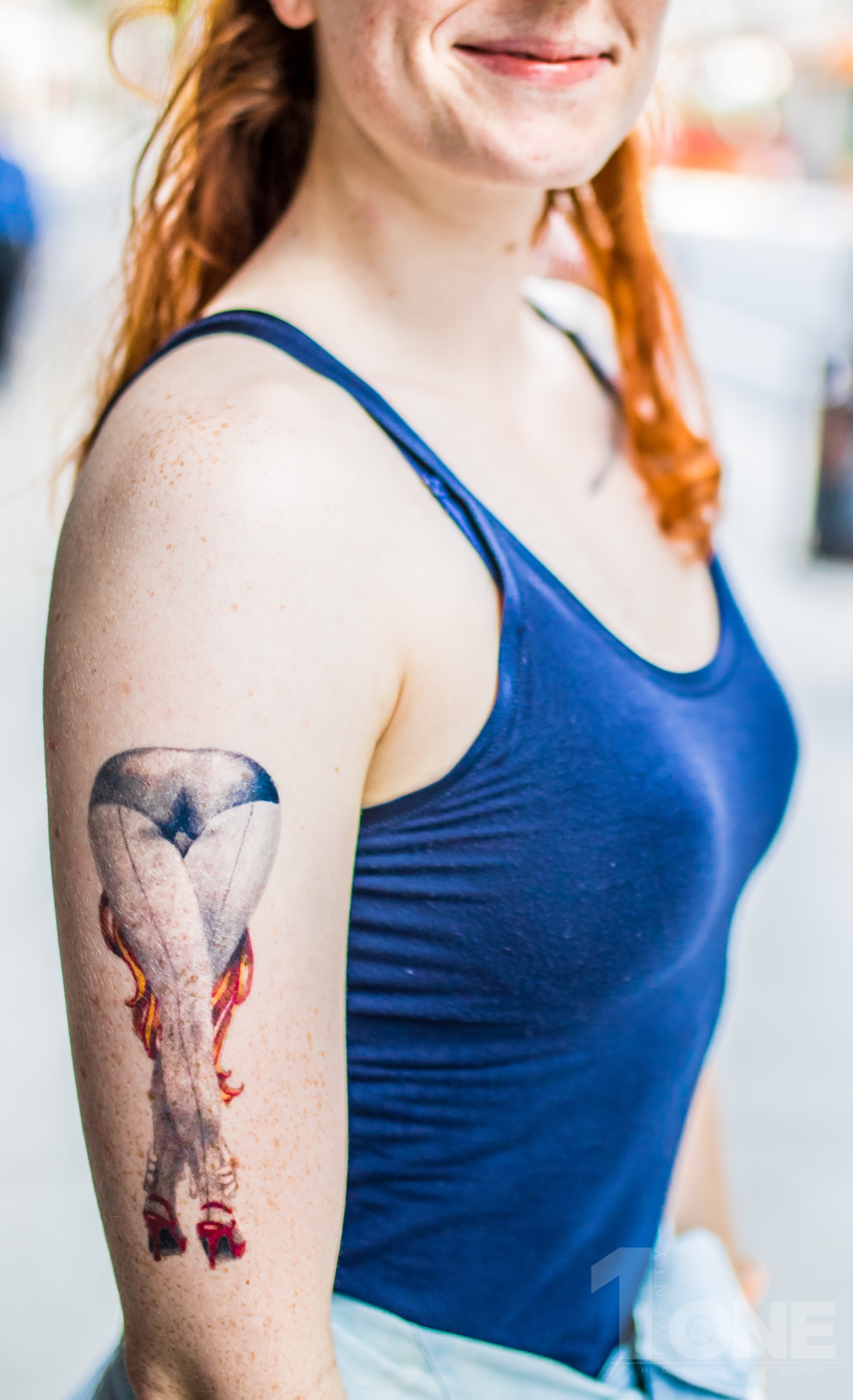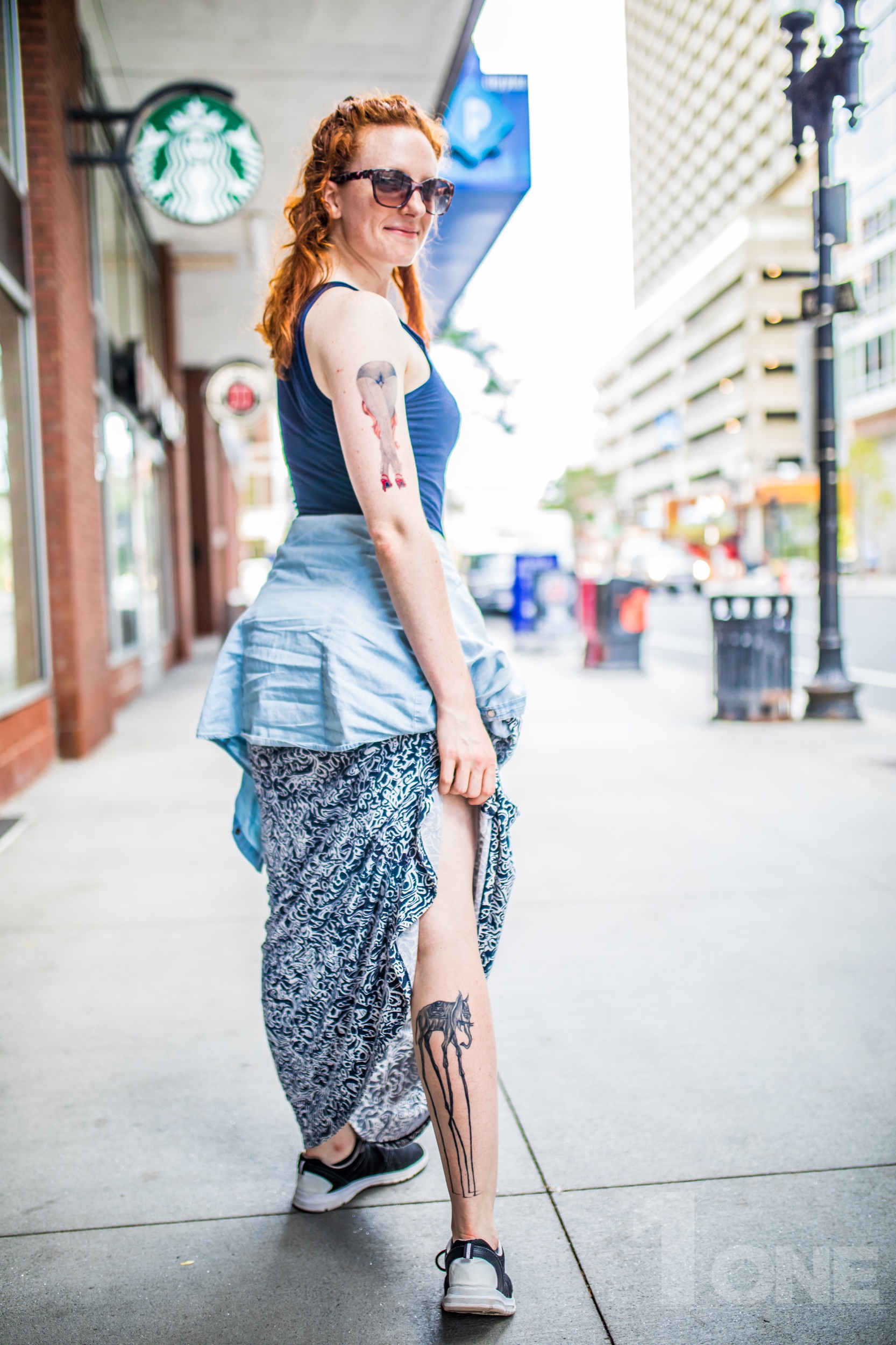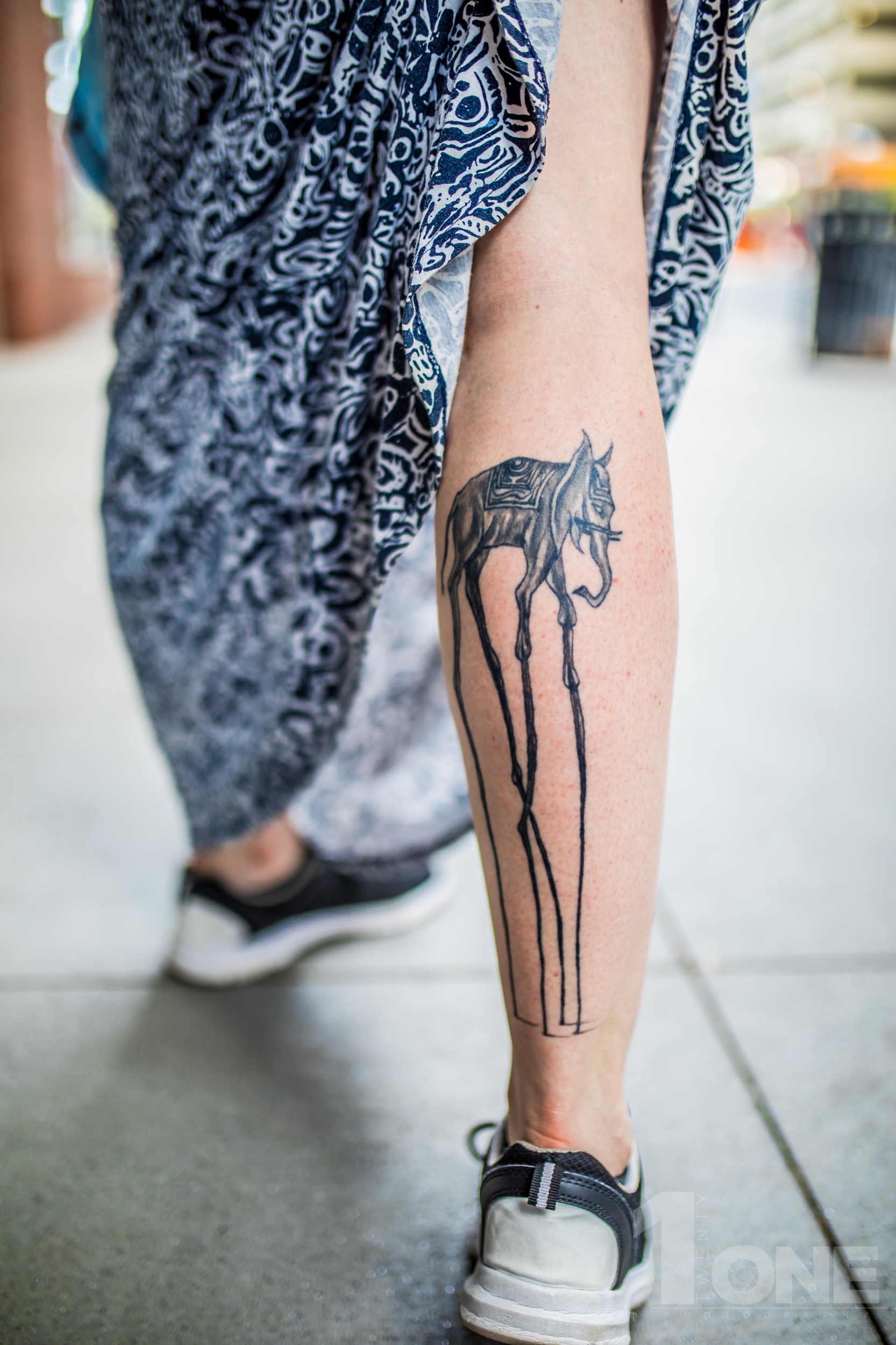 Rachel
The pinup on my arm is modeled after the Secretary with Maggie Gylenhal. I love the character she played in that movie, this woman who isn't embarrassed to claim her own sexuality. Women should be able to claim their sexuality without judgement. It's a bold statement. The elephant on my leg is designed by the Spanish surrealist painter Salvador Dali. The symbolism is that, no matter how weak we feel, our baggage is never too heavy for us to keep moving forward. I admire that symbolism, but I also just love elephants and the unique aesthetic Dali created.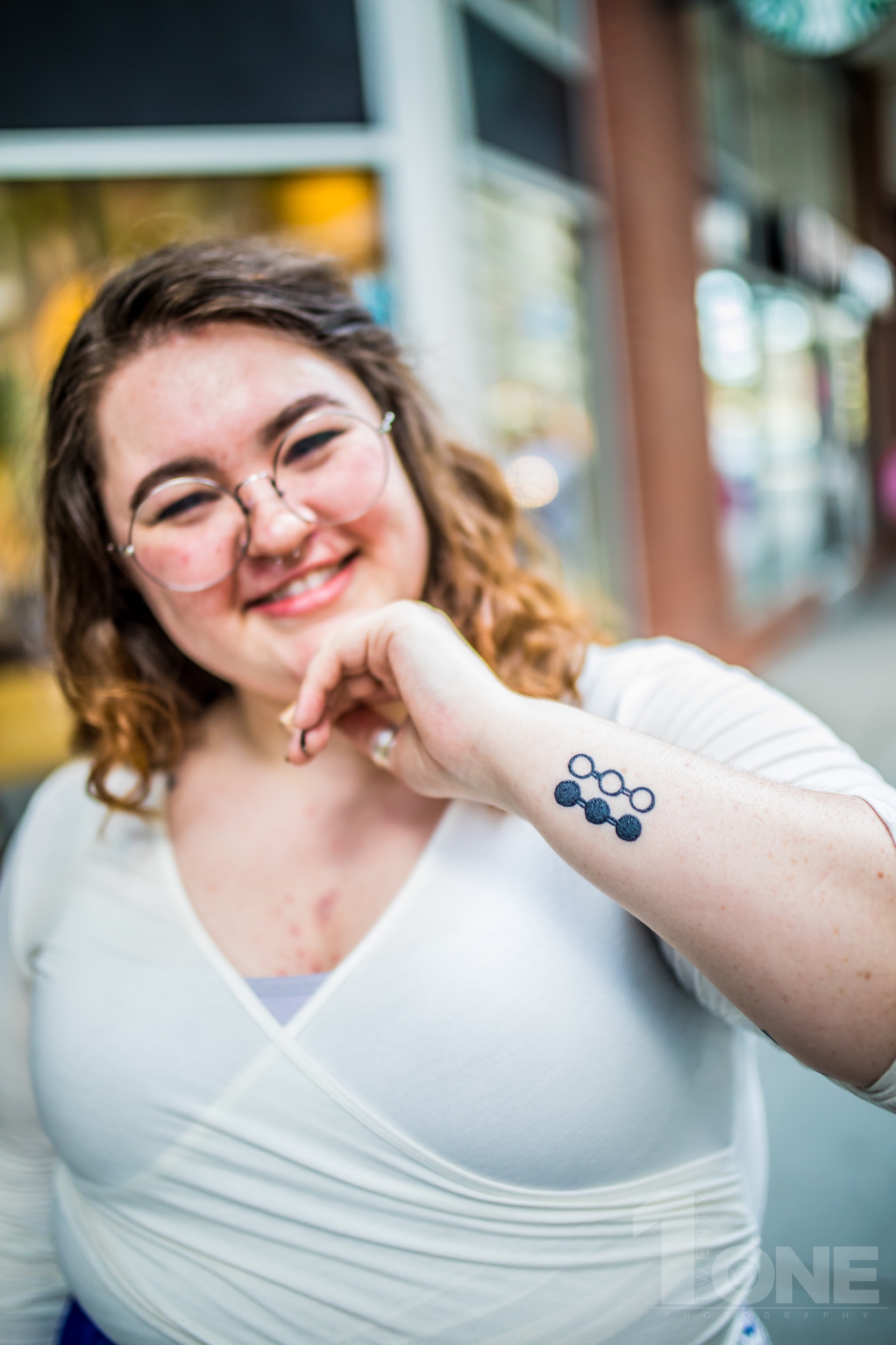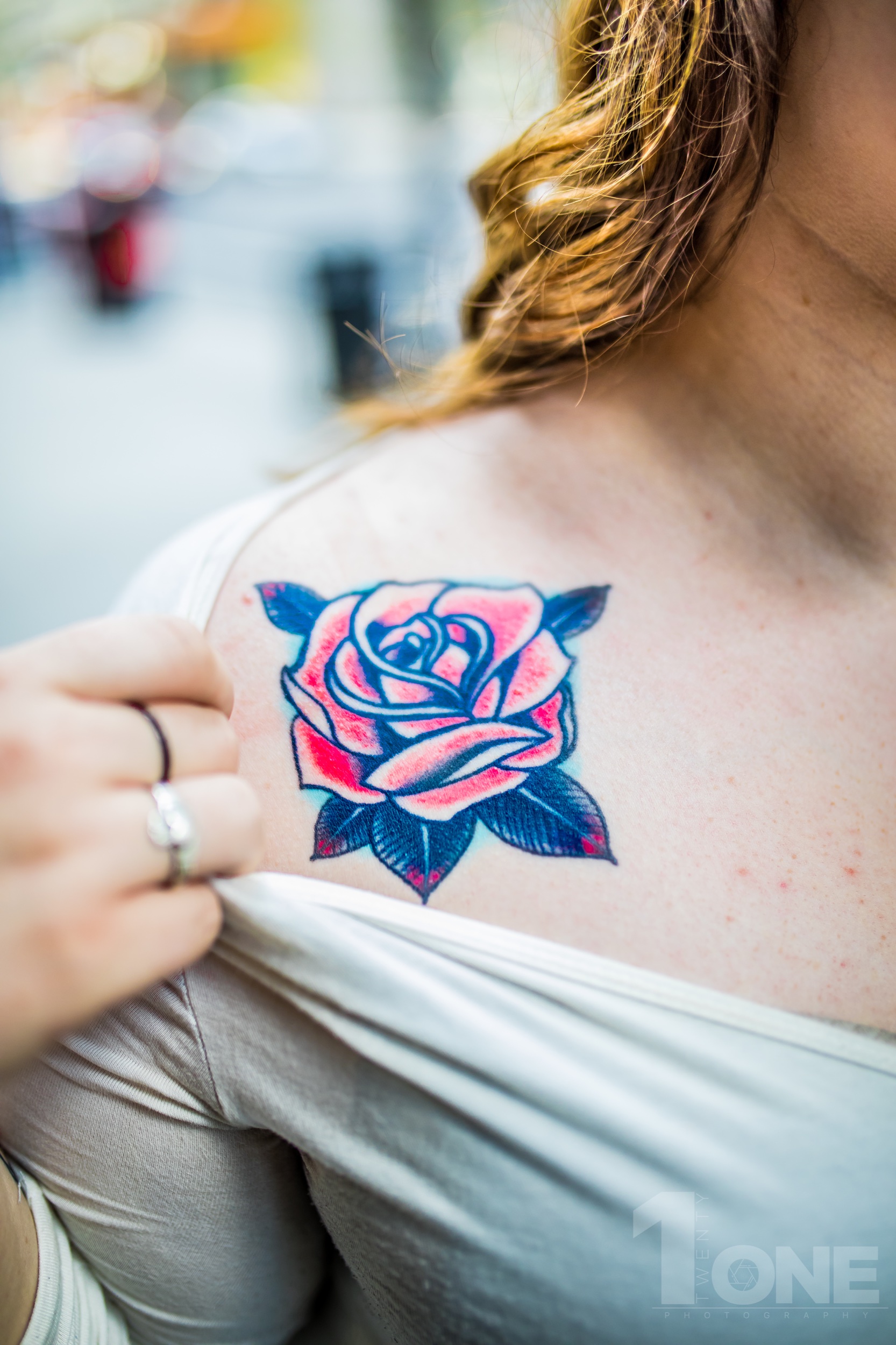 Christine
Rose: my Nanas name was Rose. She died when I was a sophomore in college her favorite color was pink and she always put her head on that shoulder when we hugged. Circles and lines: I'm a huge nerd and I love dungeons and dragons. In dungeons and dragons you make life and death saving throws when you fall to 0 HP. You don't die. You have 3 more chances.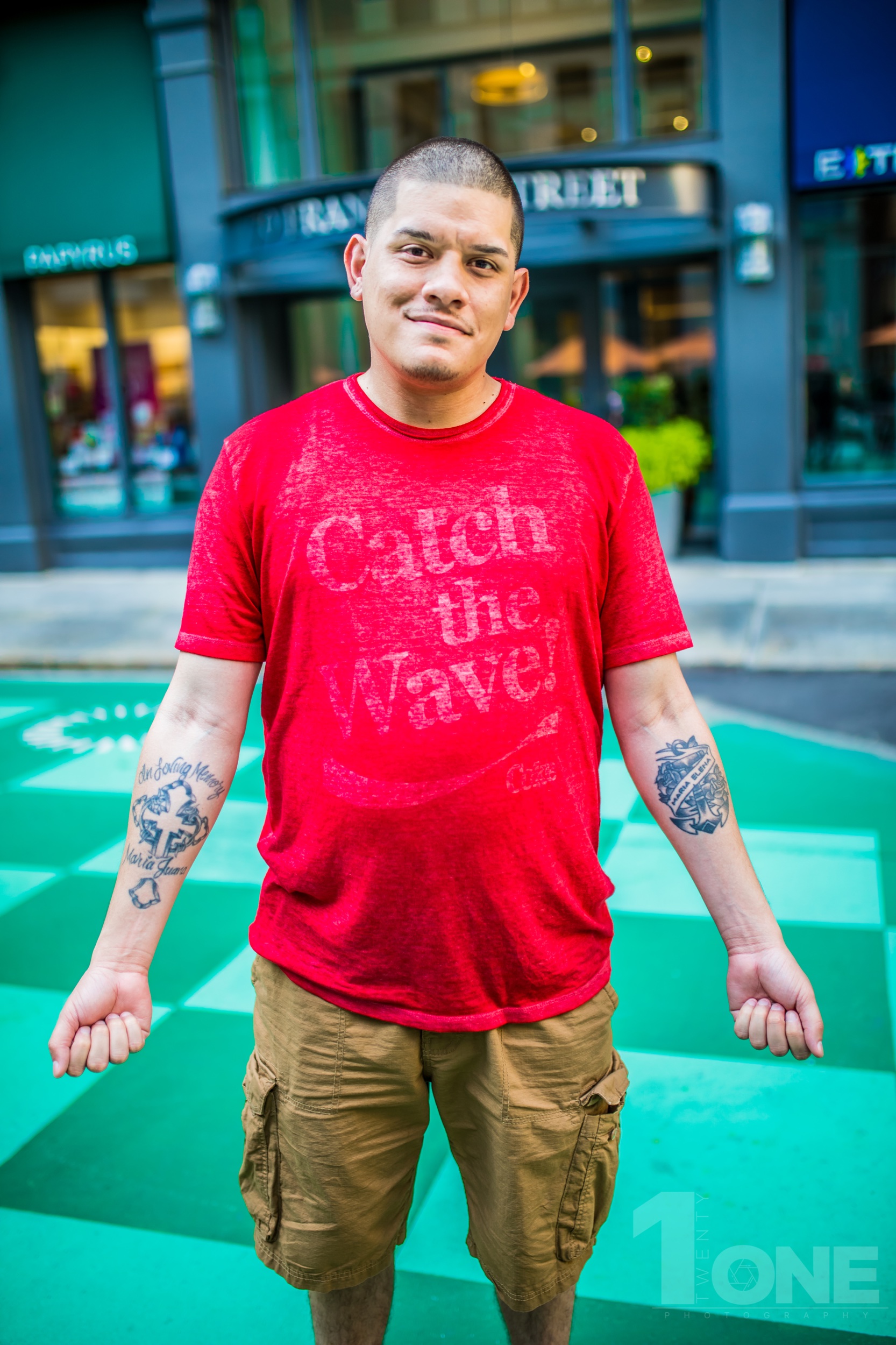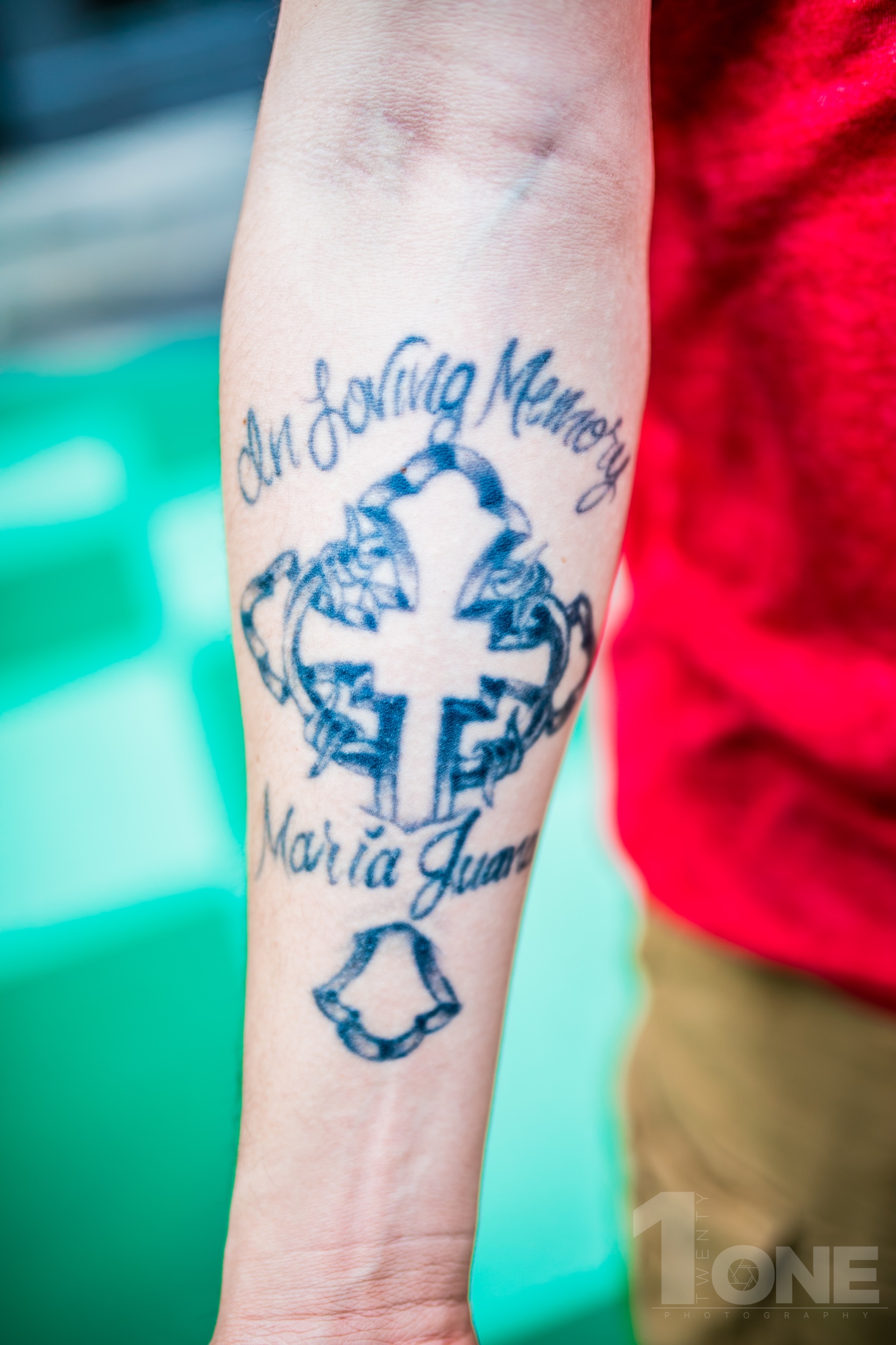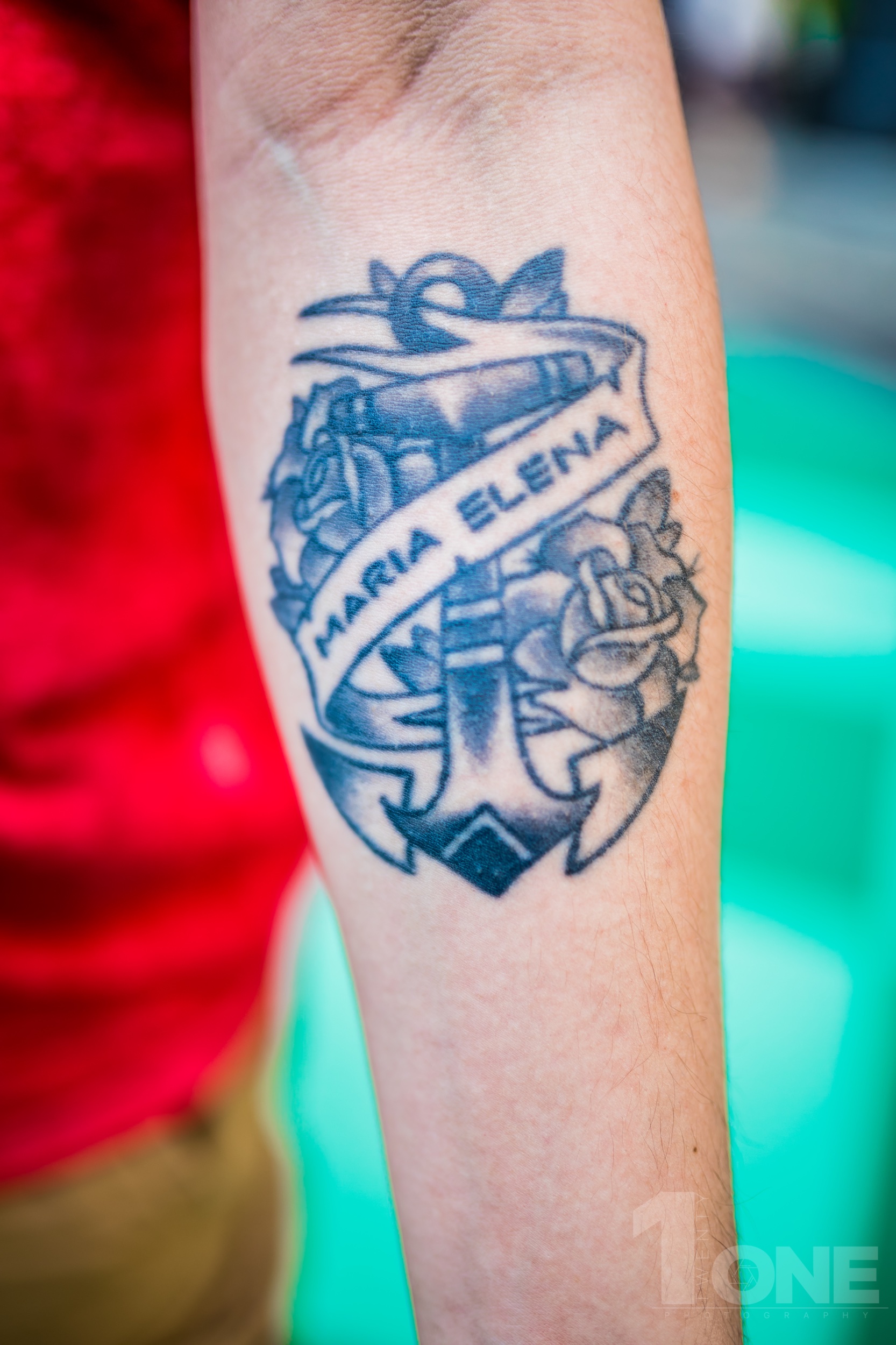 Carmelo
On my left forearm I have a anchor with my mothers name on it like a anchor my mother always held me down she was always there for me through my ups and downs on my right forearm I have a cross piercing my arm with in loving memory and my grandmothers name on it.The cross piercing my arm just symbolizes the pain I felt when we loss her.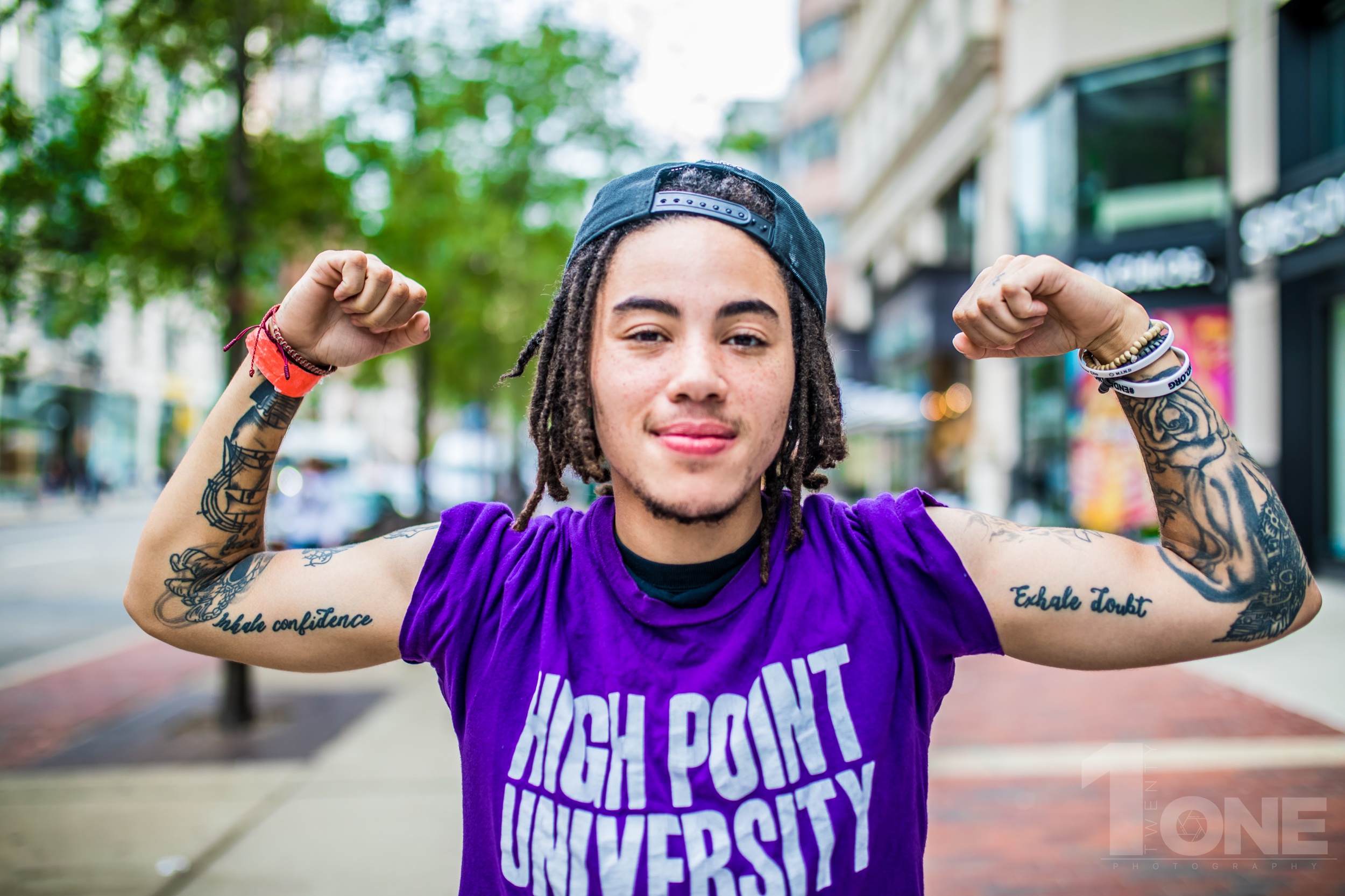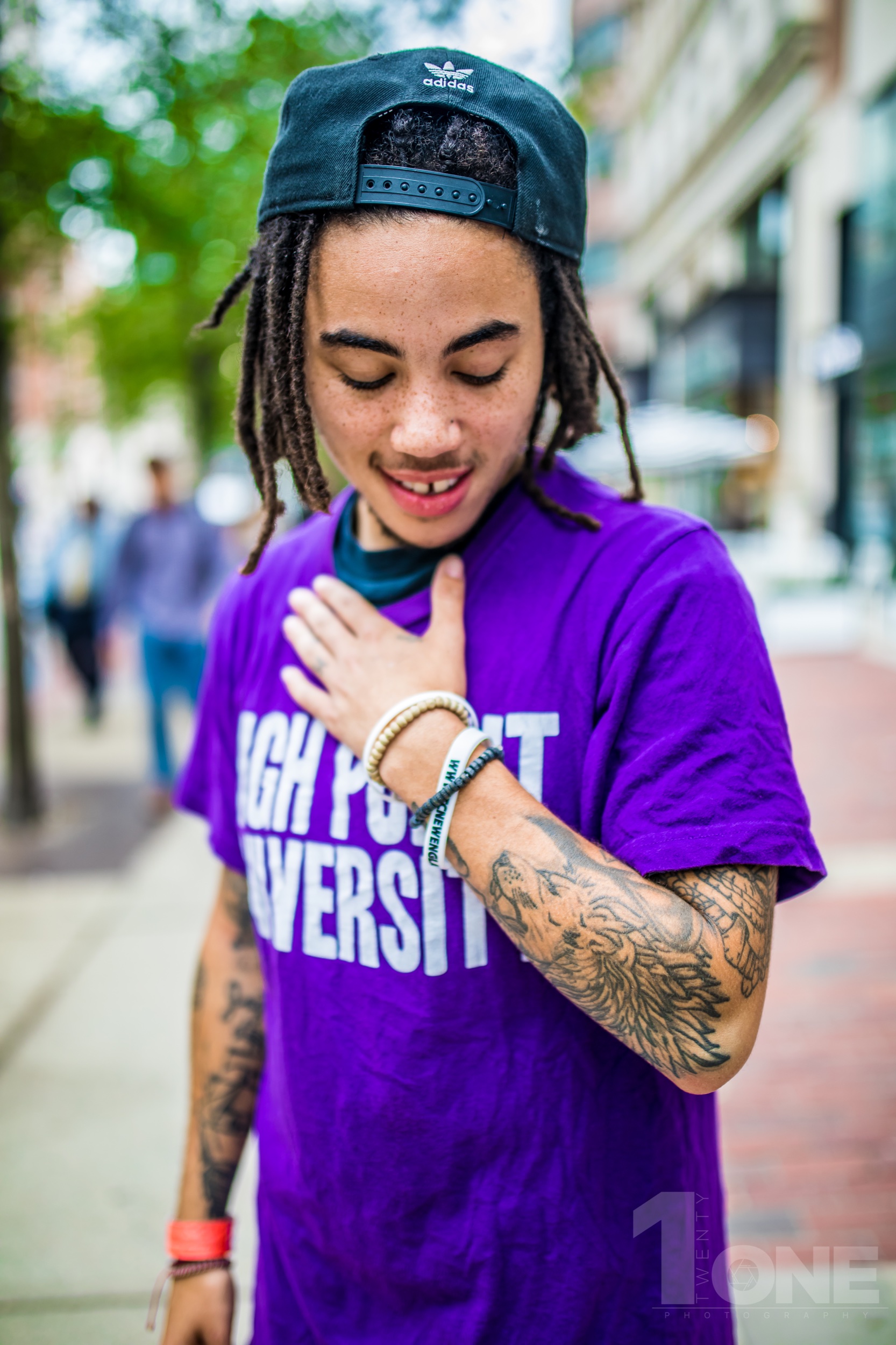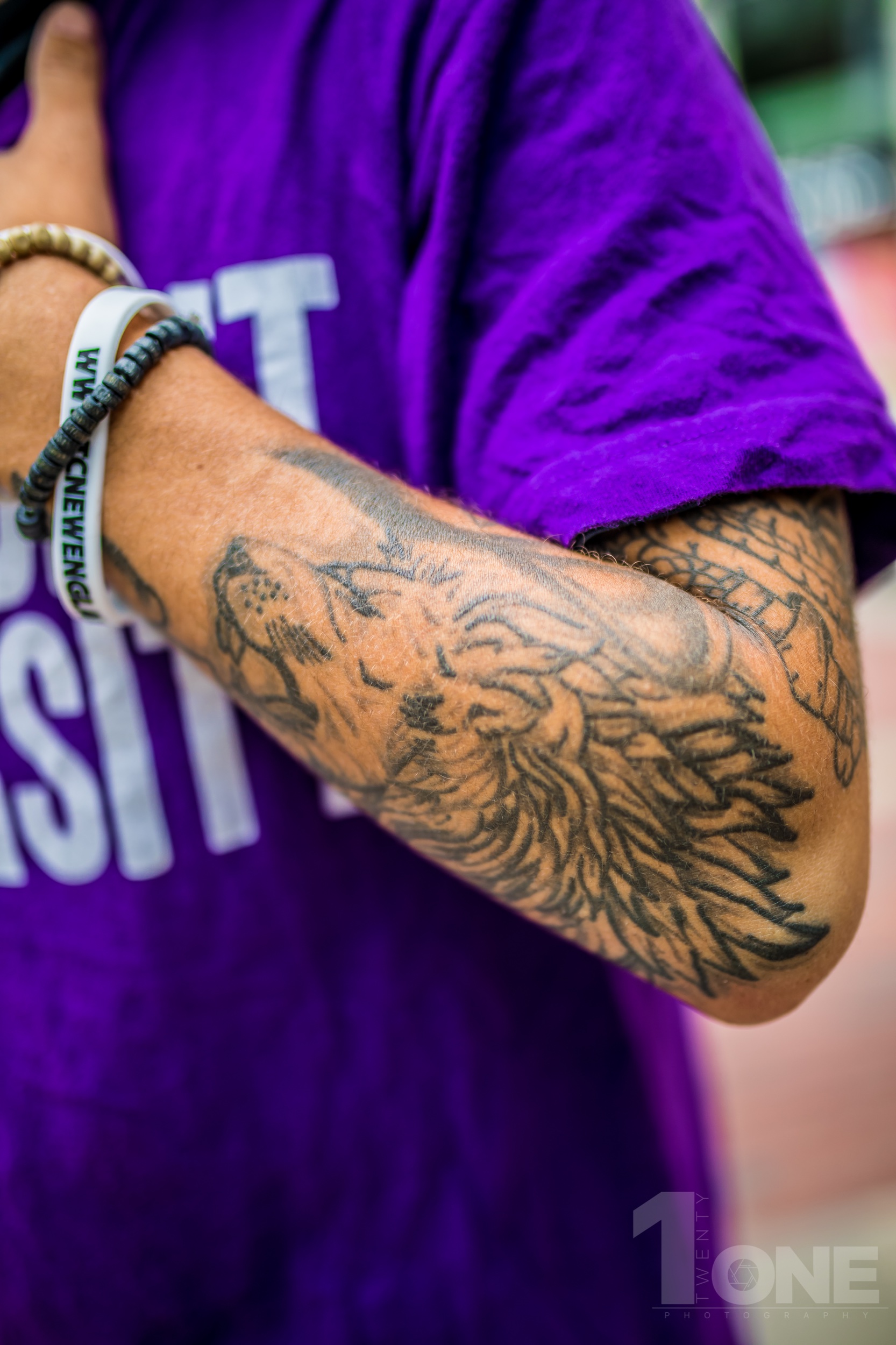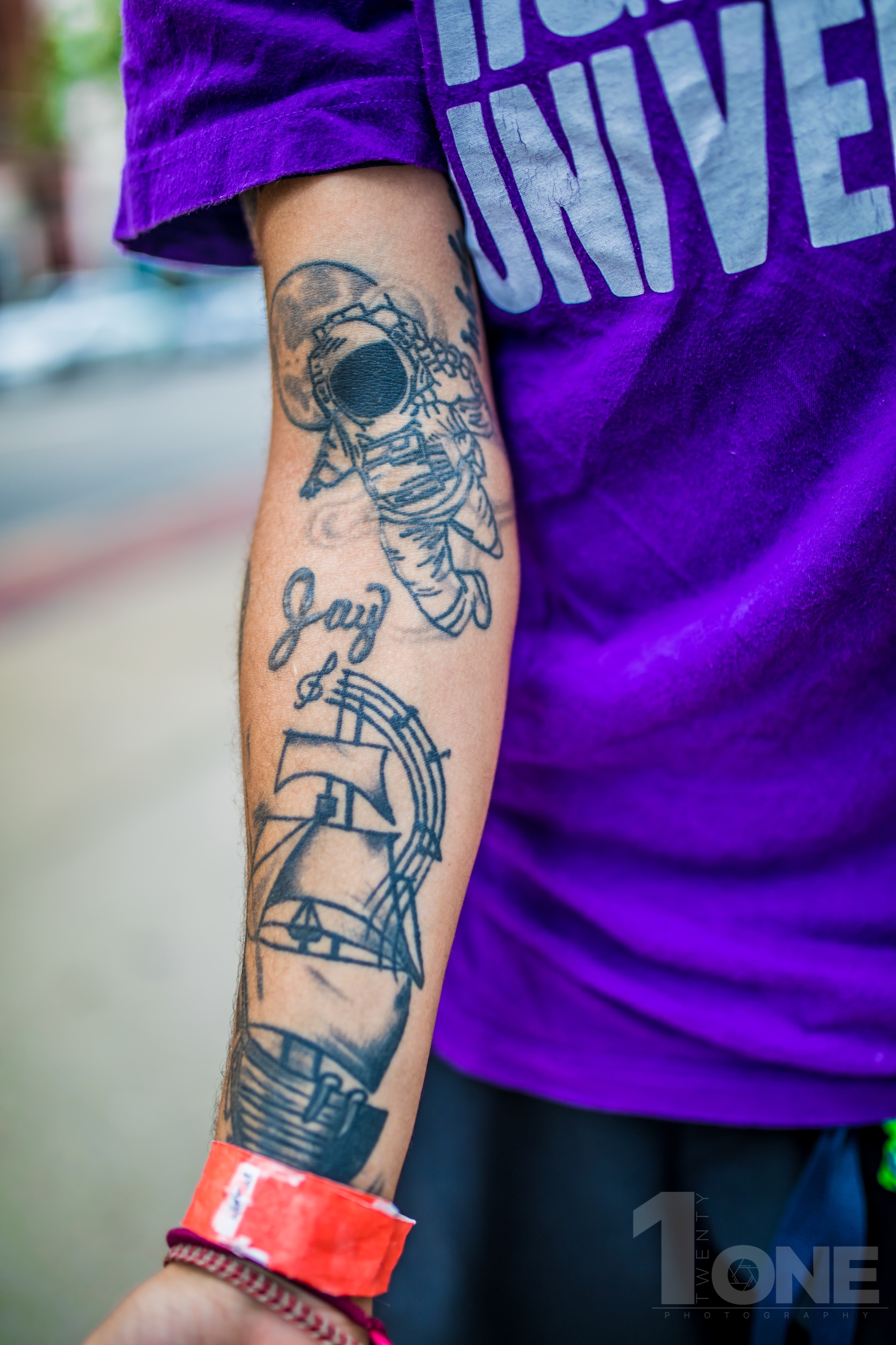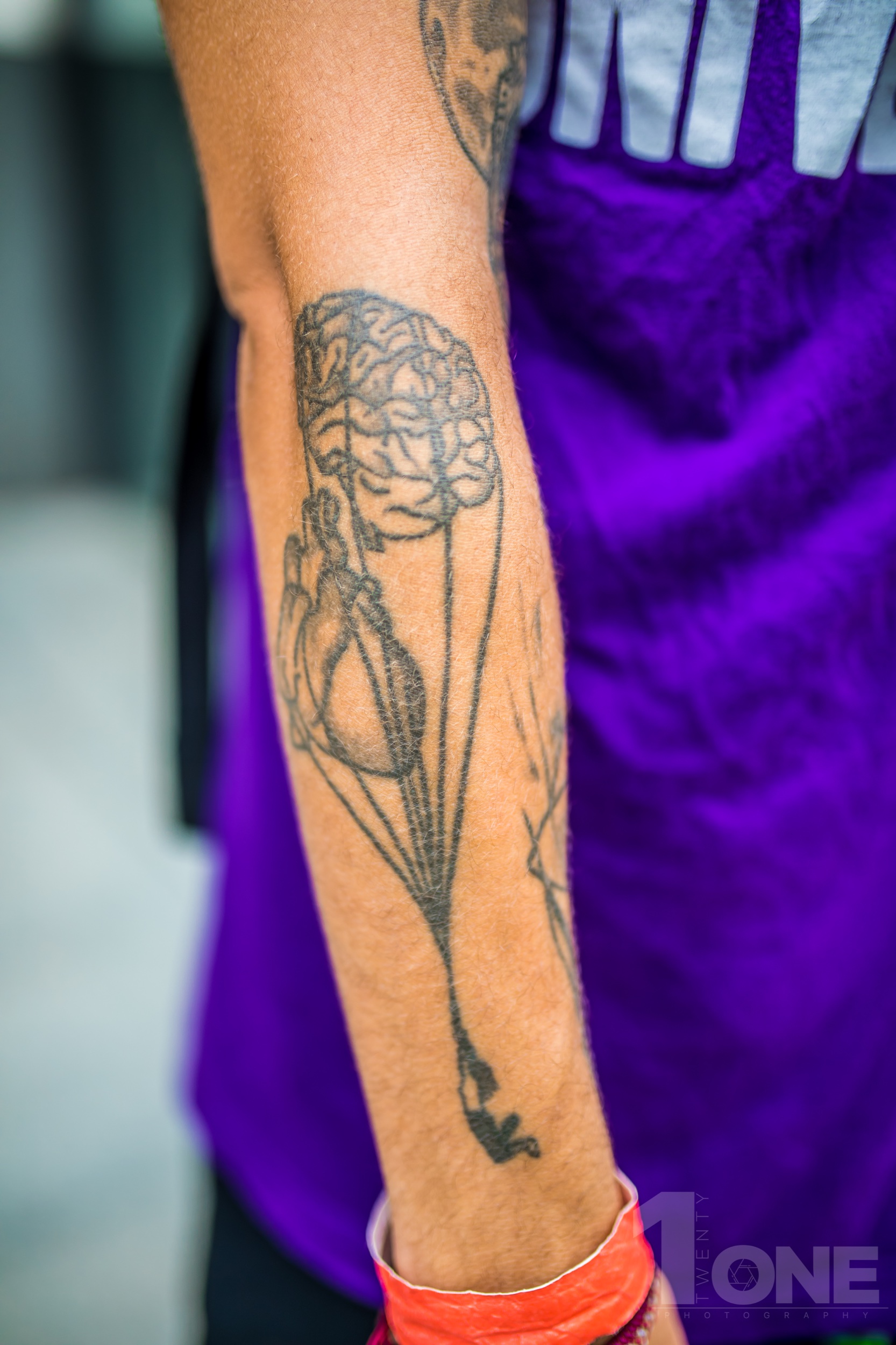 Christian
The lion one represents being courageous and strong even in the toughest battles and challenges from life.
The other is to always be confident and not let doubt cloud your perception.
And my astronauts is when music takes me out of this world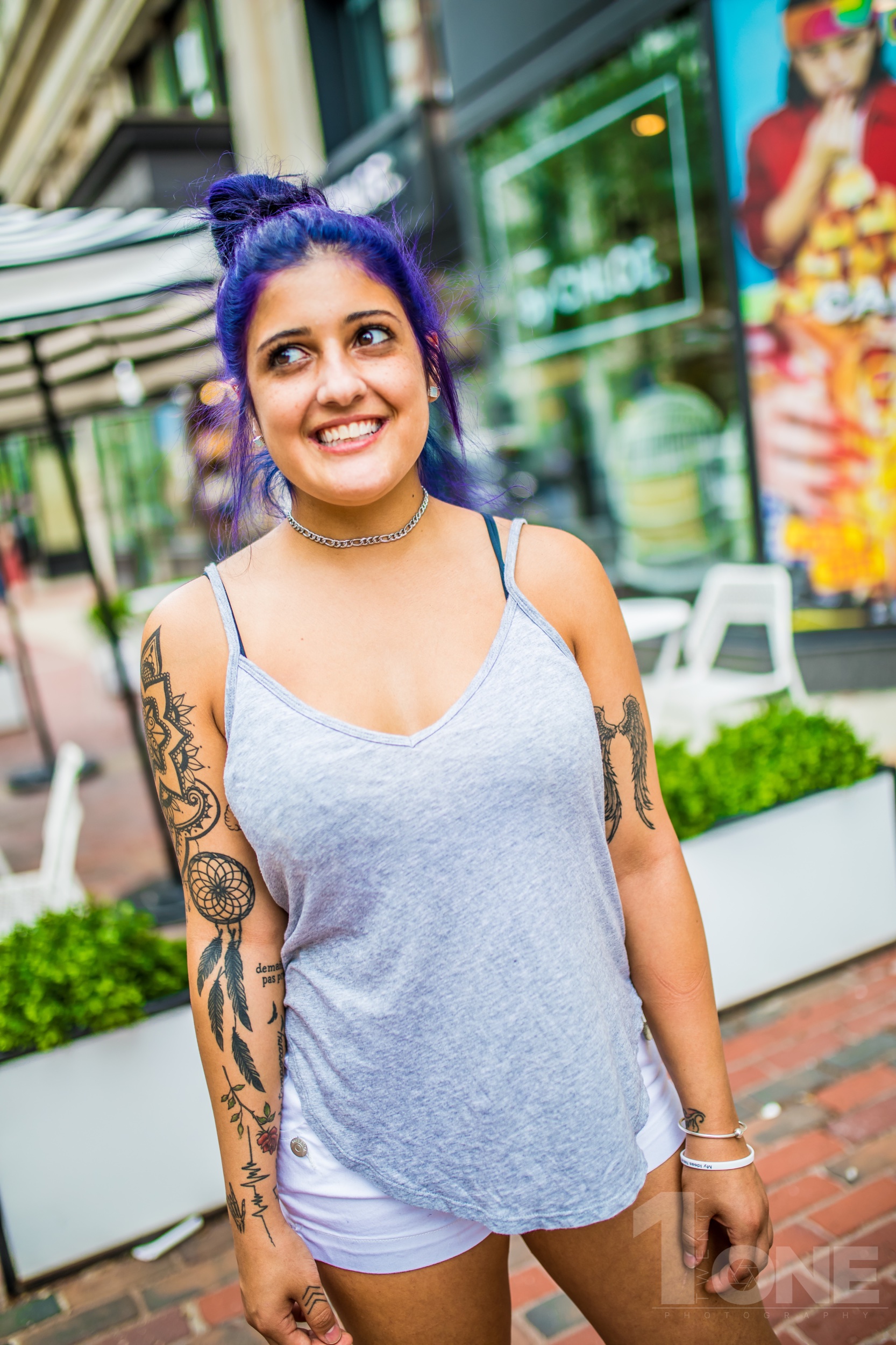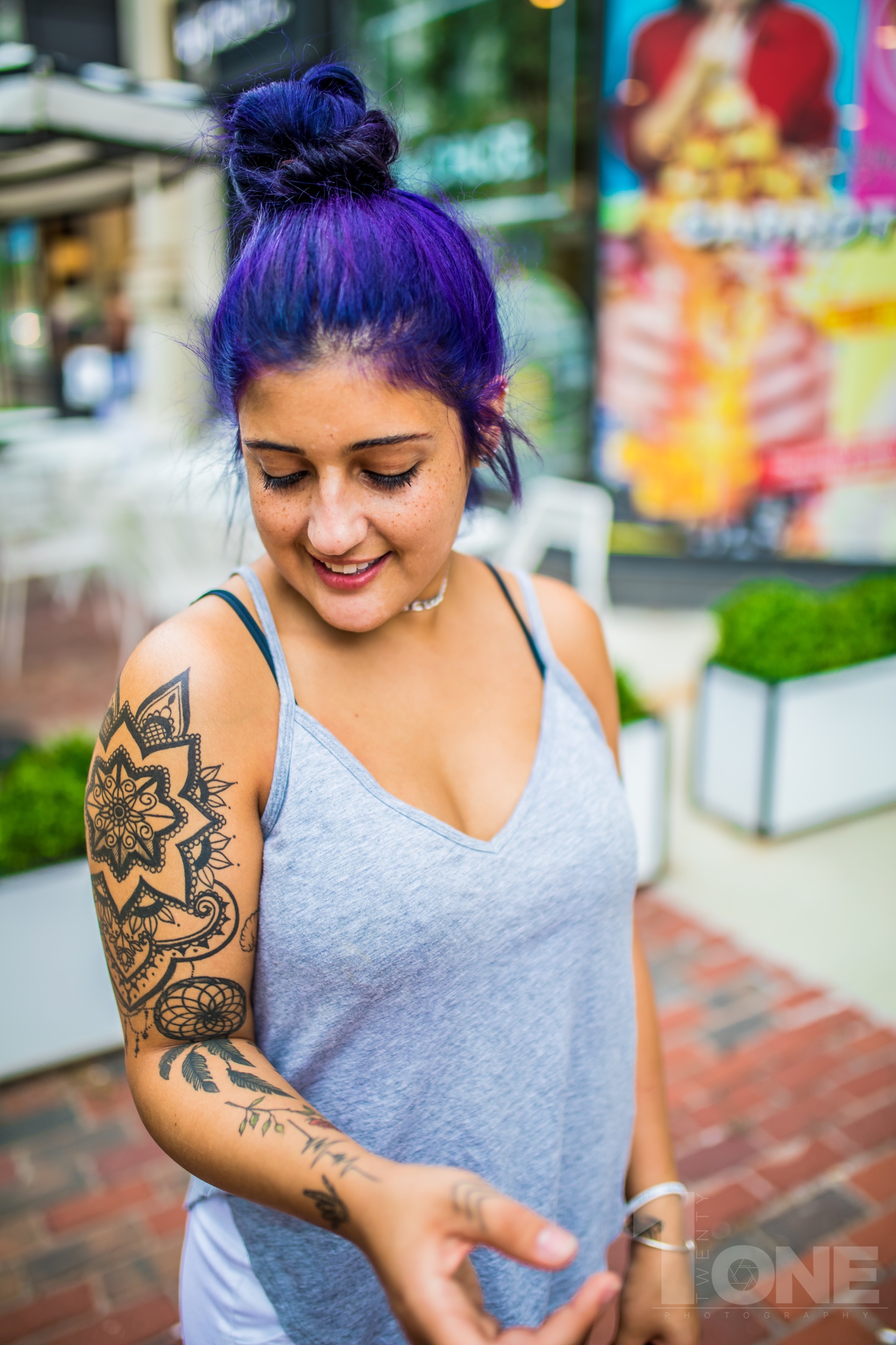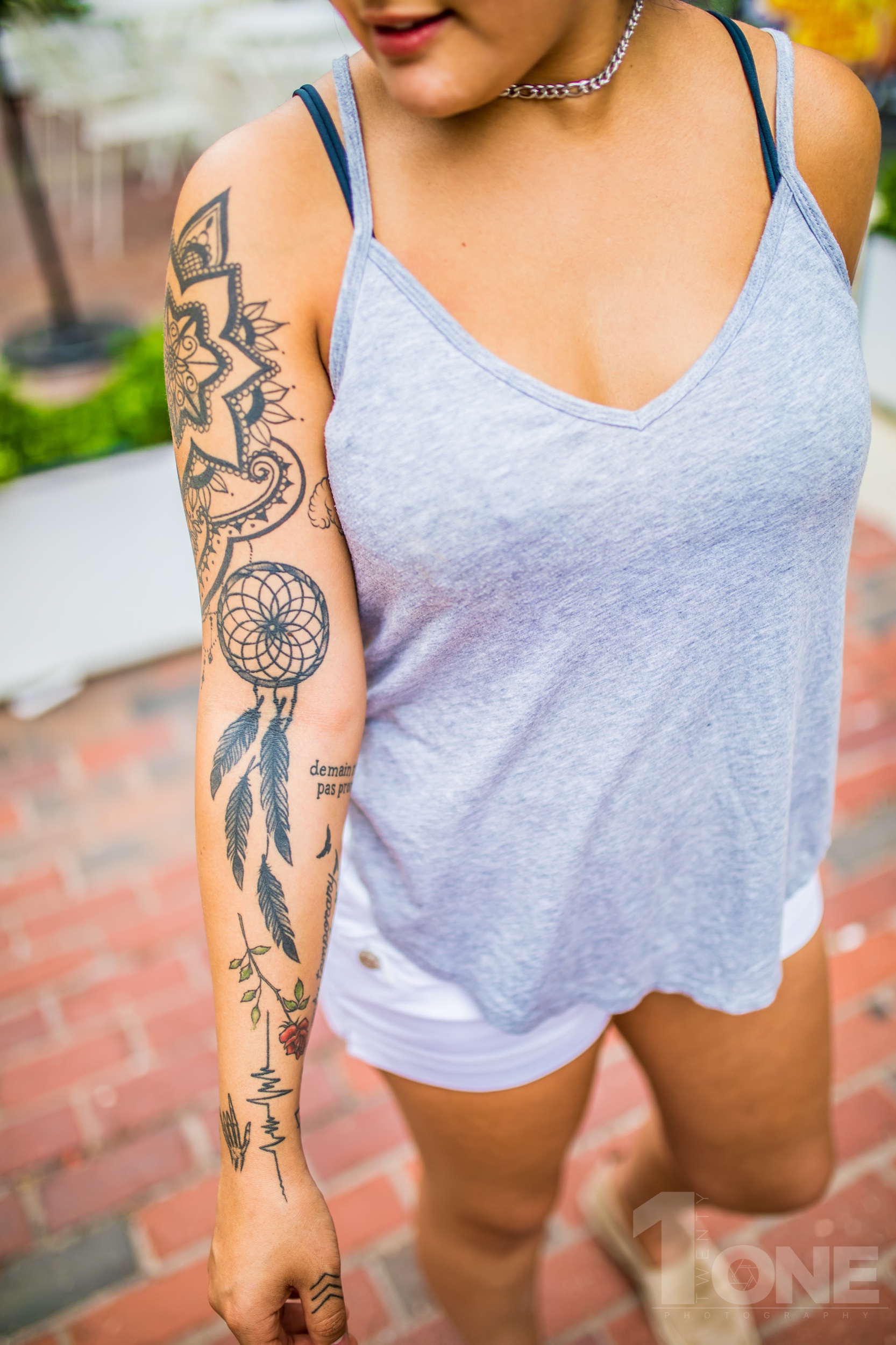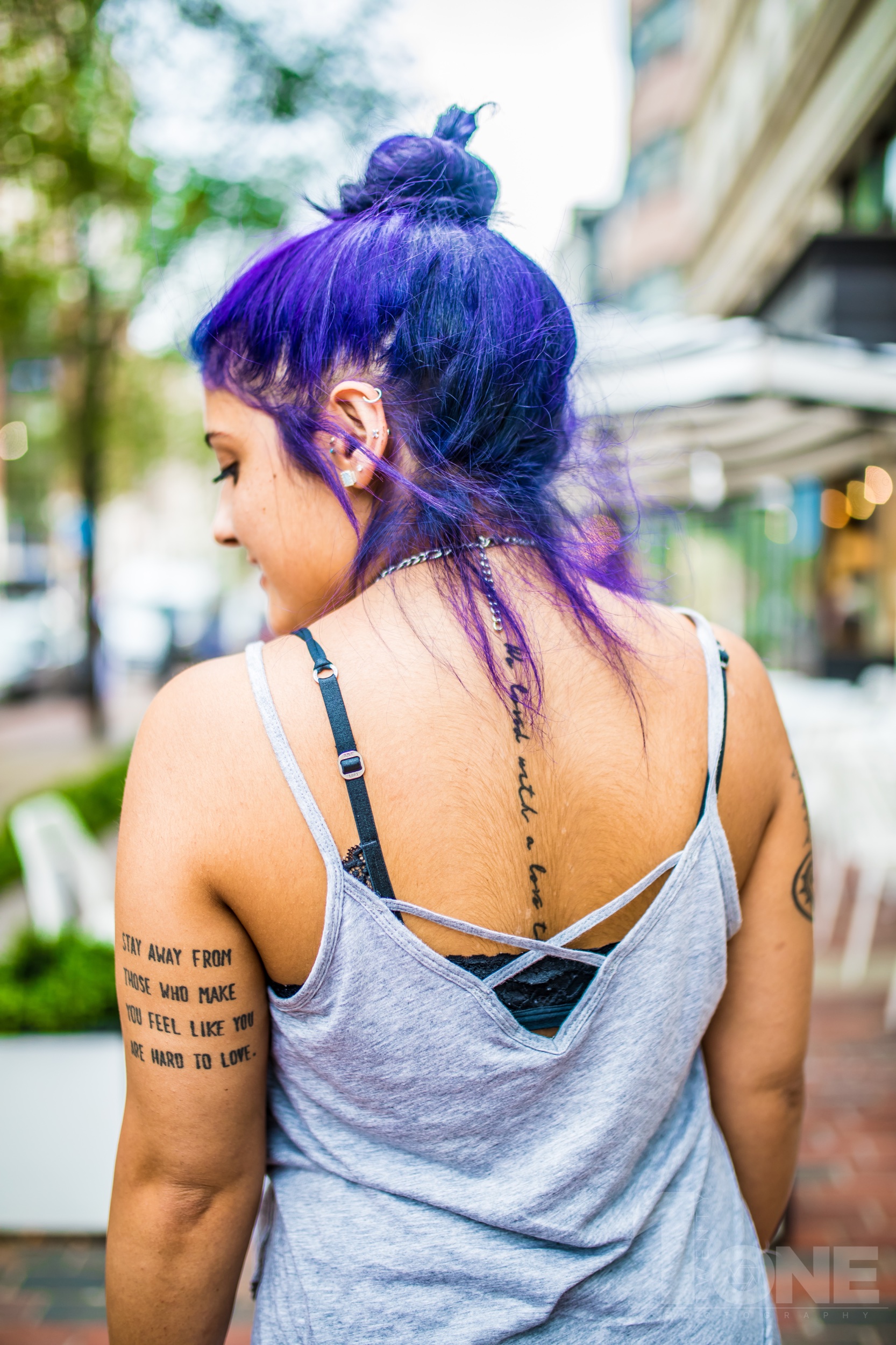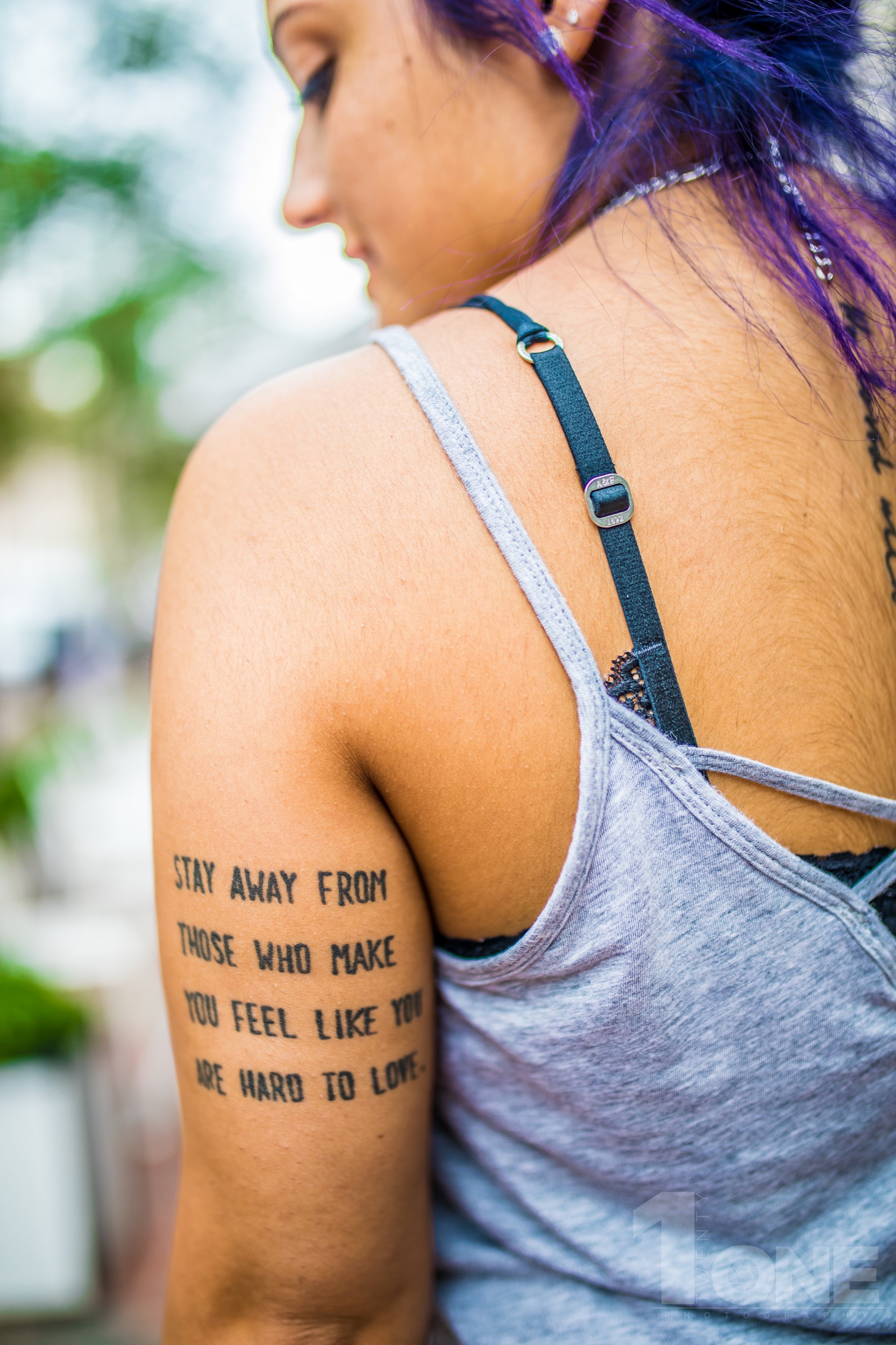 roya
Dream catcher tattoo: i never had one growing up, i thought maybe life would be different with the perspective of imagination of what a dream catcher does. spontaneously, i decided to finally get one, permanently so i never had to worry about what my limitations are. Mandala (long arm piece): i wanted something different, creative, big, yet simplistic because that is my personal style. i was inspired by a photo that wasn't an actual tattoo and wanted to bring it to life. i did just that, and it's like my mantra. it's the biggest tattoo i have that expresses my appreciate for art, in many forms. the permanence makes it personal. Rose: i always wanted a rose, to me it's always been the most beautiful flower with a history of pure elegance and a beautiful smell. it's rich, classy, and reminds me of what i aspire to be: someone who is looked at as a rose in the wild. The cherry blossom: this is just pure beauty. it also includes my favorite color. i appreciate the vibes wrapping around my wrist, it brings the flower to life. The ekg: i once was in an extreme sensitive space at too young of an age and wanted to end every feeling within my bones and this is something to remind me how far i have come and how far i am able to come while growing and inspires me to never stop just that. The bones love sign (top right wrist): this is the love sign in sign language. i throw it up when i feel good, positive vibes, which is what i'm all about. the style shows off the edgy part of me, there are multiple sides to discover. "it's only temporary": what i had to remind myself the moment i first experienced what anxiety felt like, always triggered by a person, a negative feeling i, to this day, cannot describe. it's a constant reminder of how strong of a woman i can be in any situation and to always take a breath and remind myself, i've only got myself, and i've got this. i am my best protector.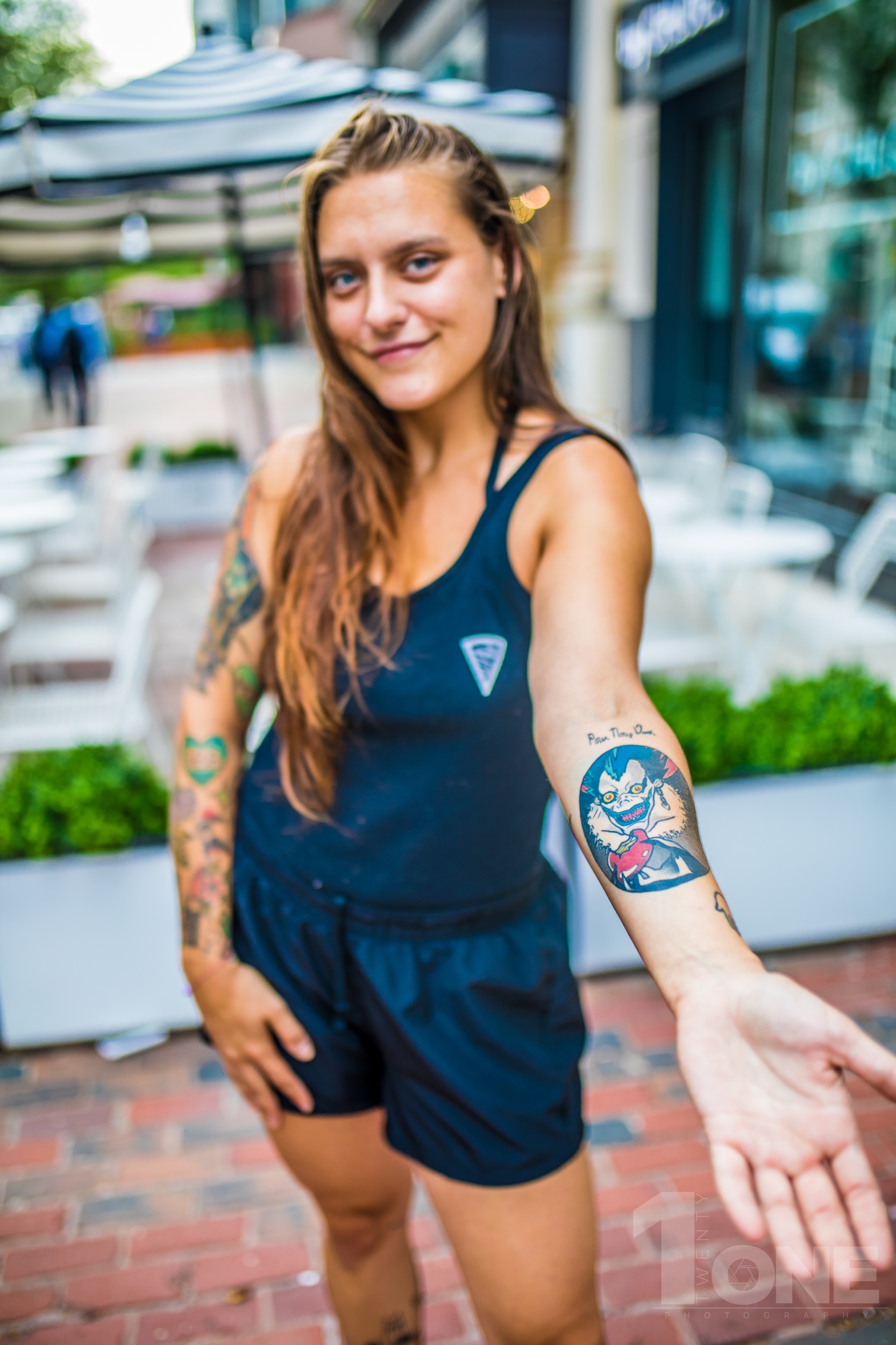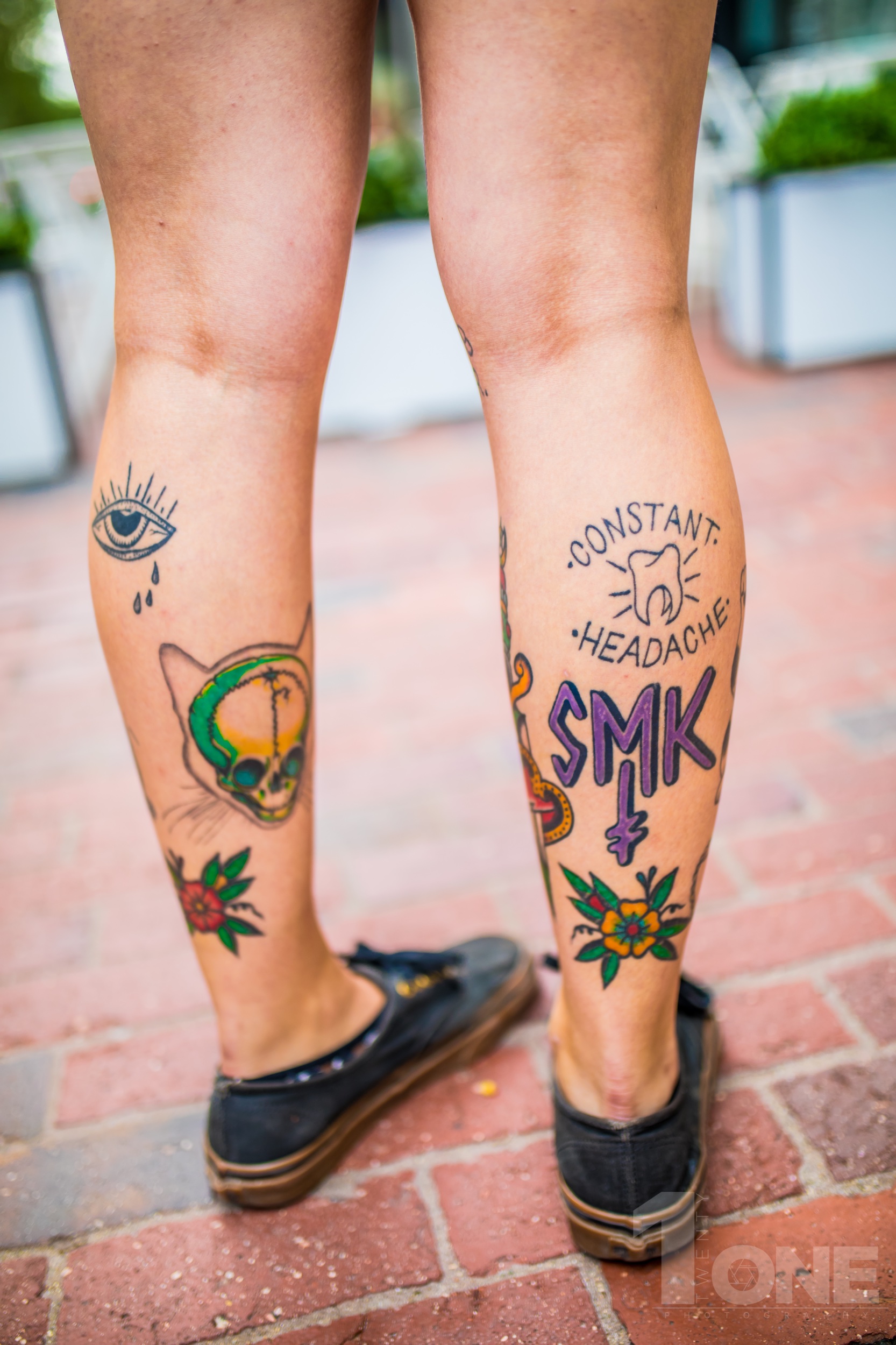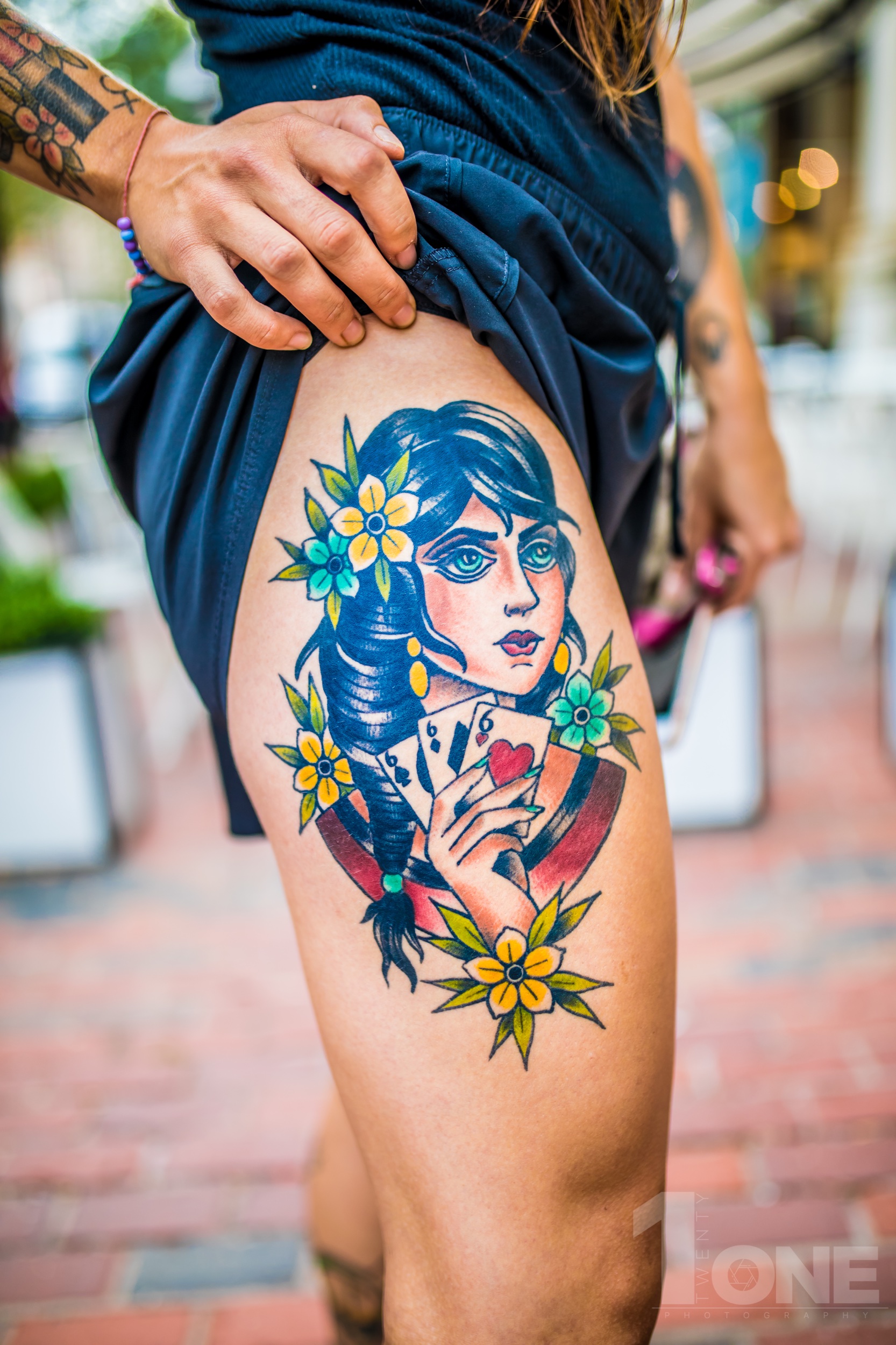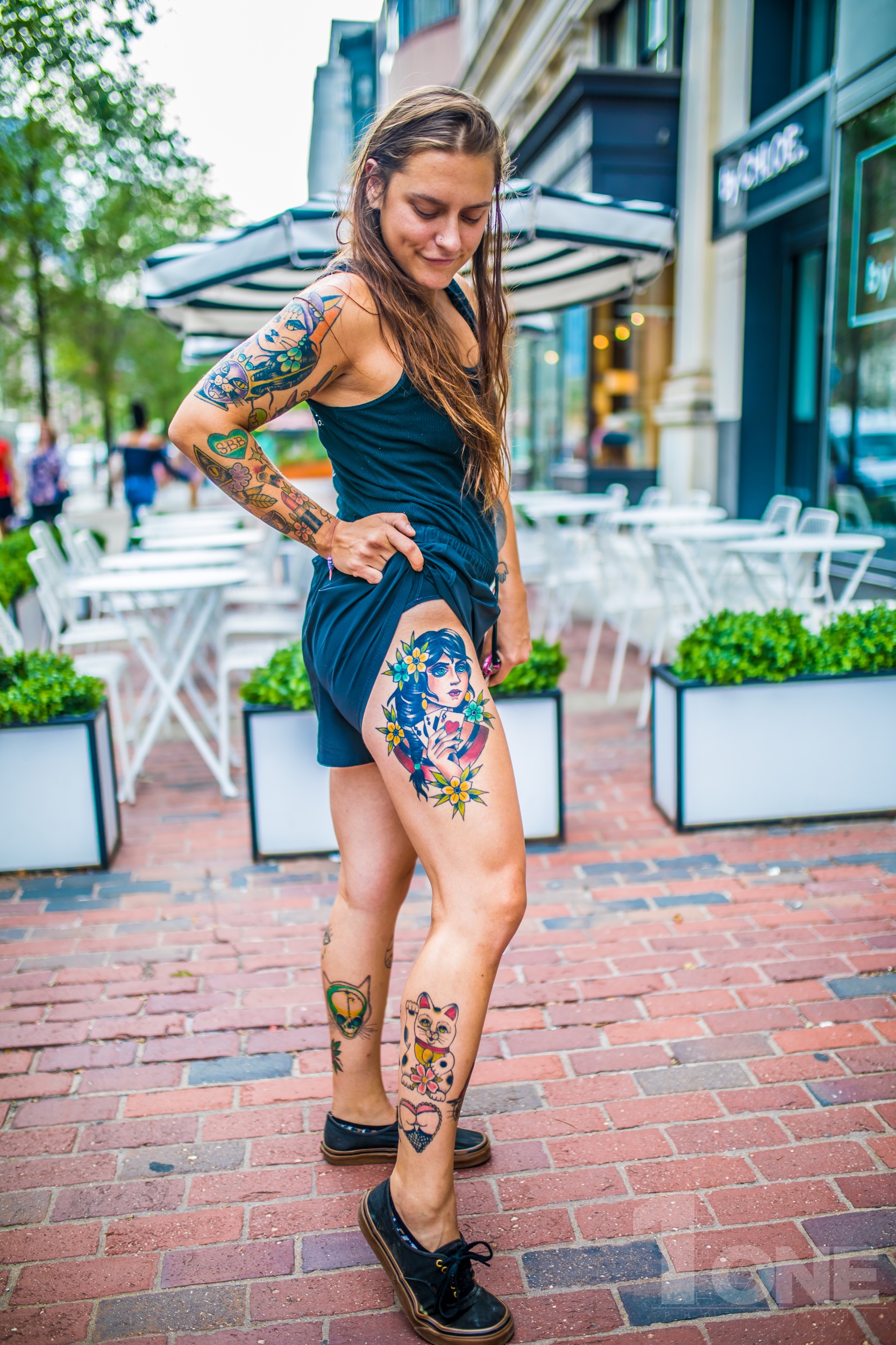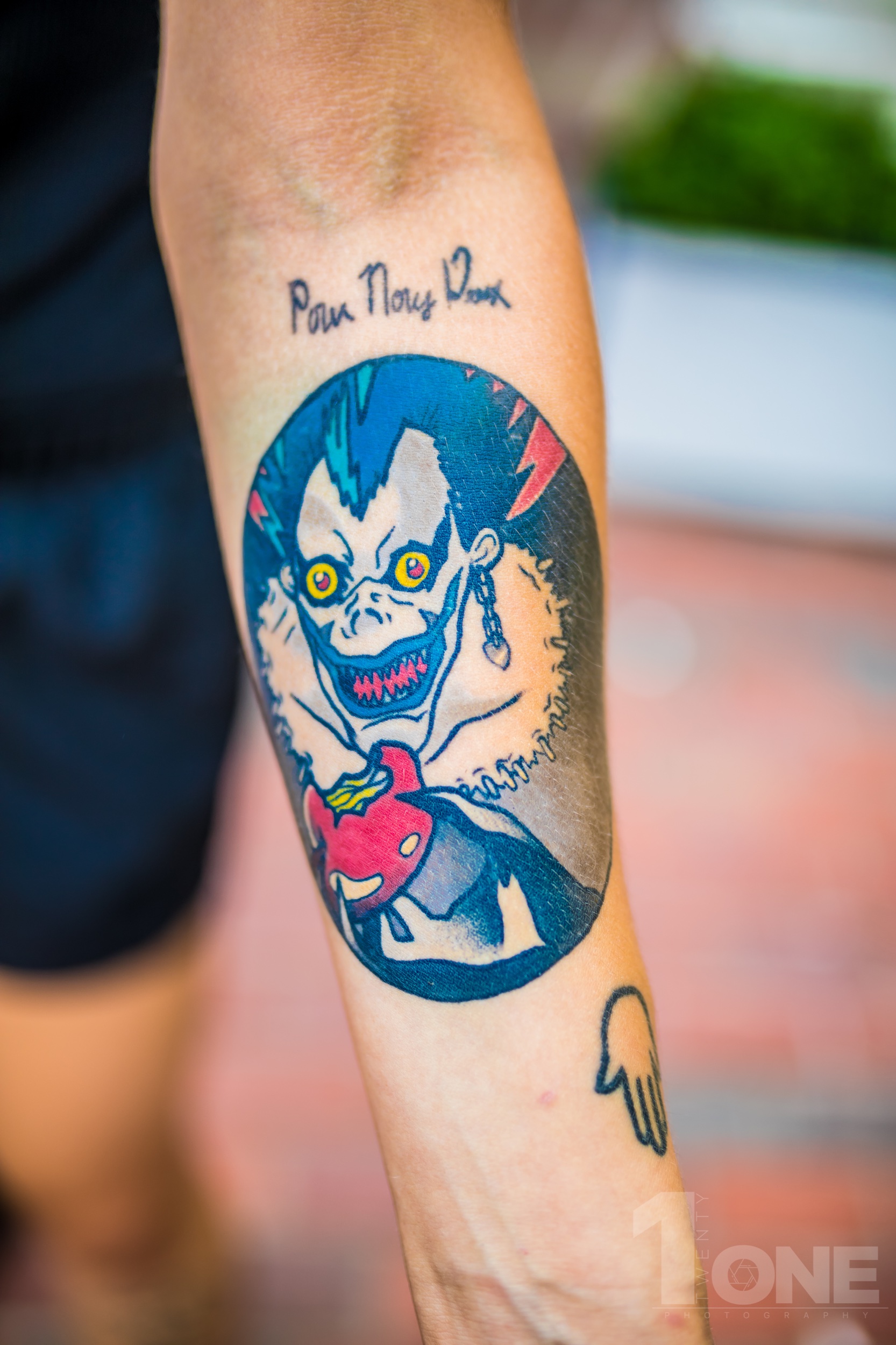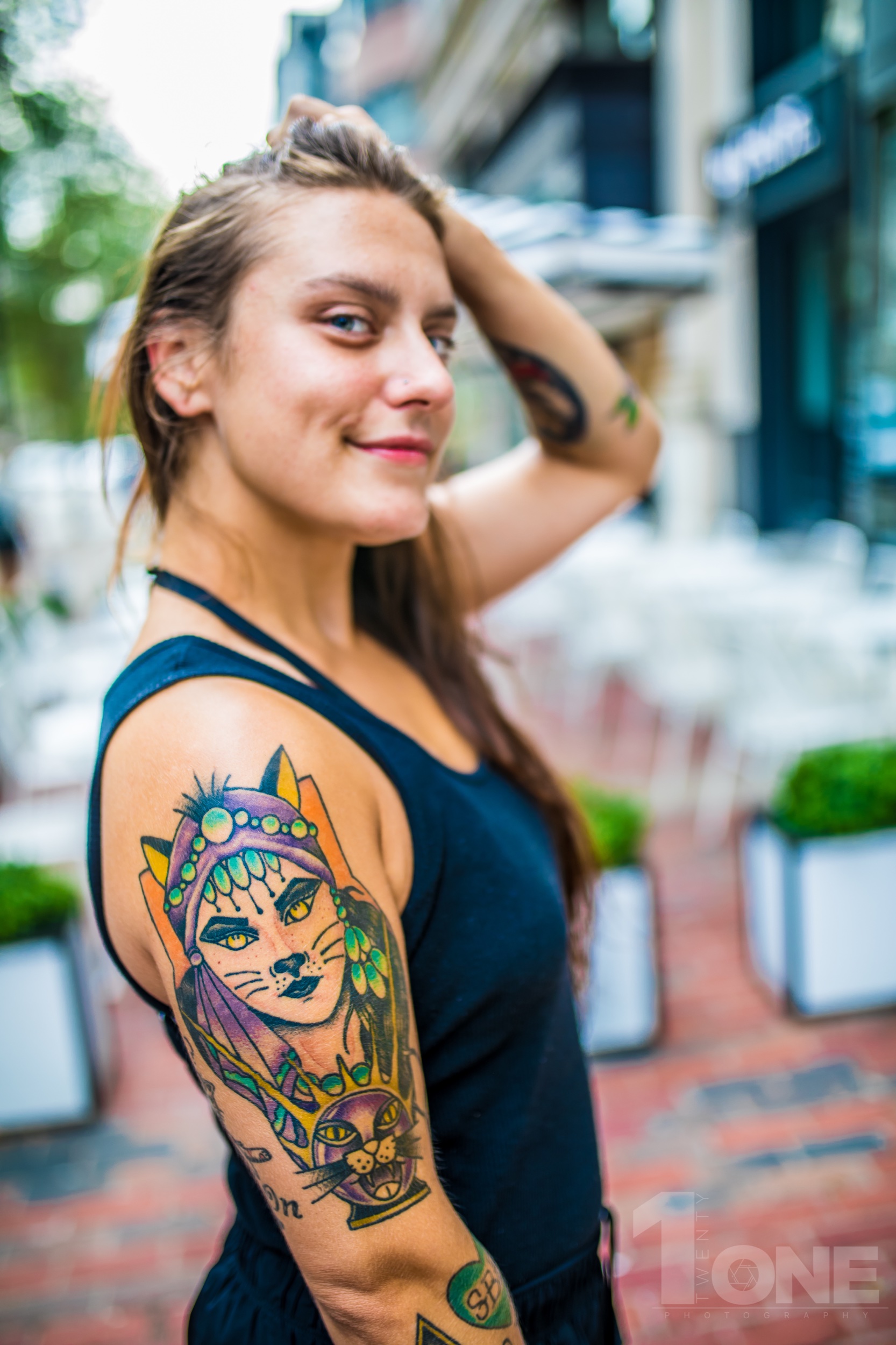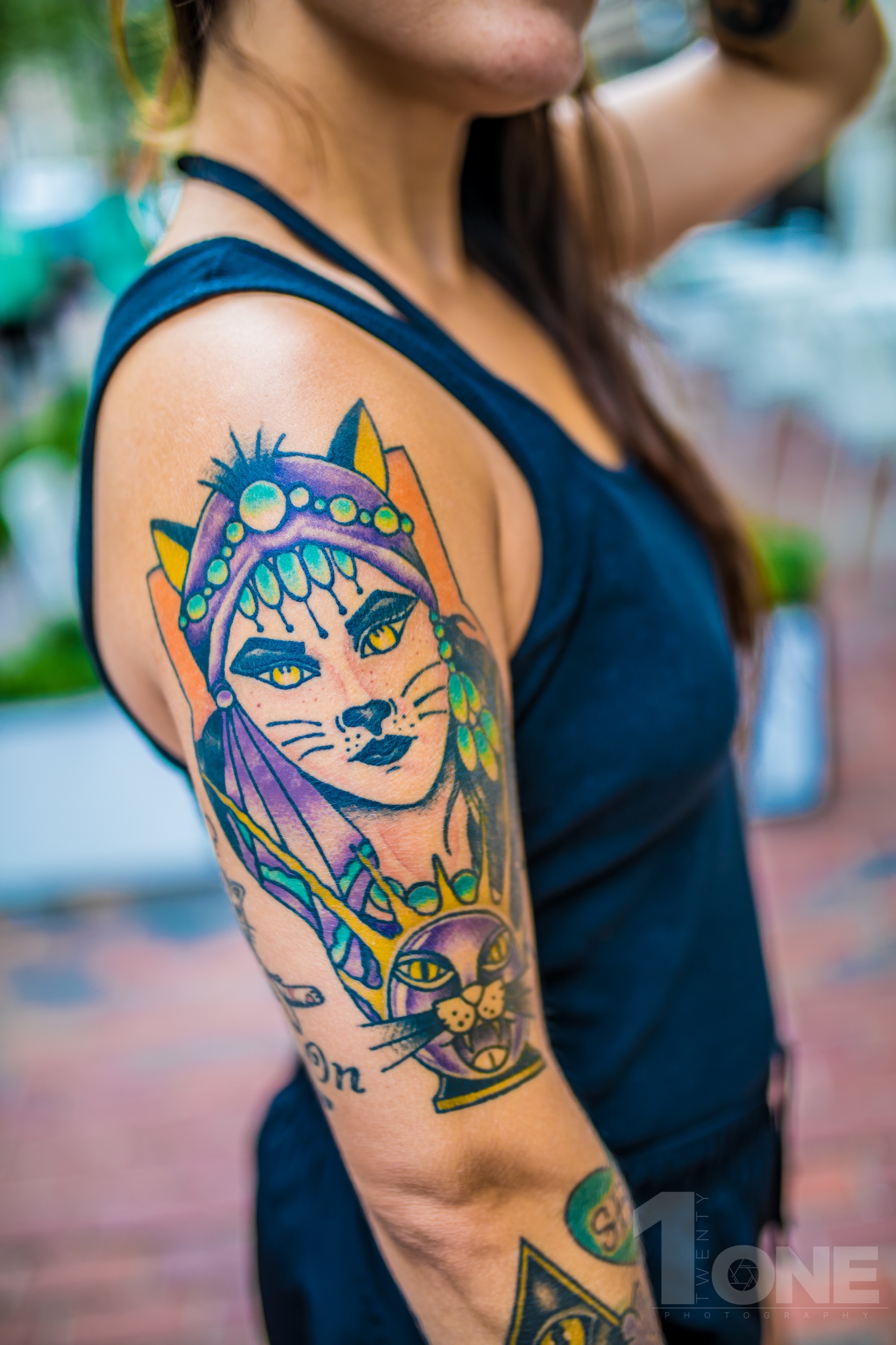 Danaé
My tattoos have so many meanings. Mine are all traditional so they have bold colors and lines. These are parallel to my bold, colorful personality. A lot of my tattoos are cats, because I like cats. I have always enjoyed the fact that I am able to be a walking canvas for an artist. I like that I am able to connect with an artist and they pick my brain and take what I have as a vision and put it on me. I love the fact that my tattoos are unique to me, again, like my personality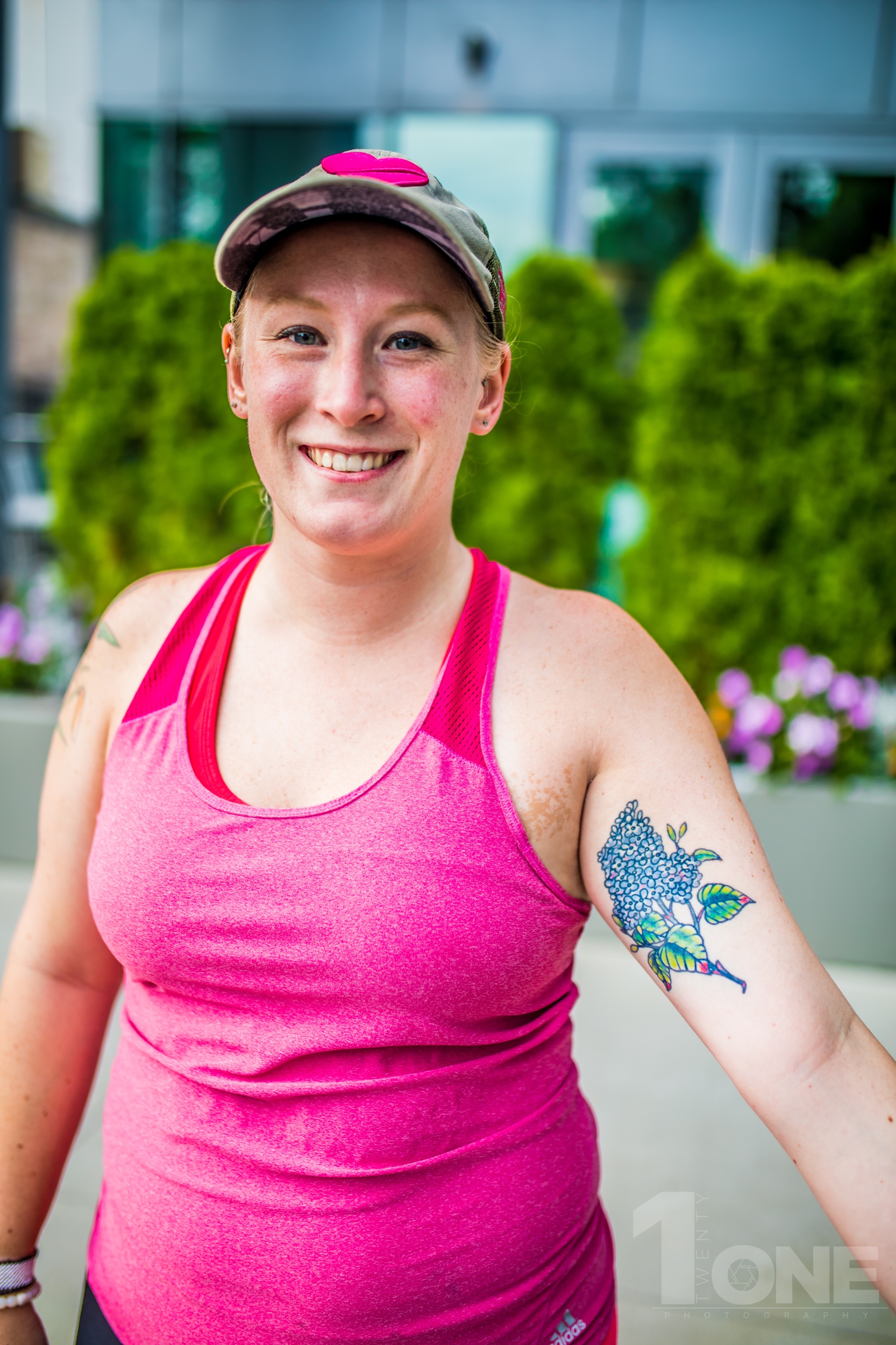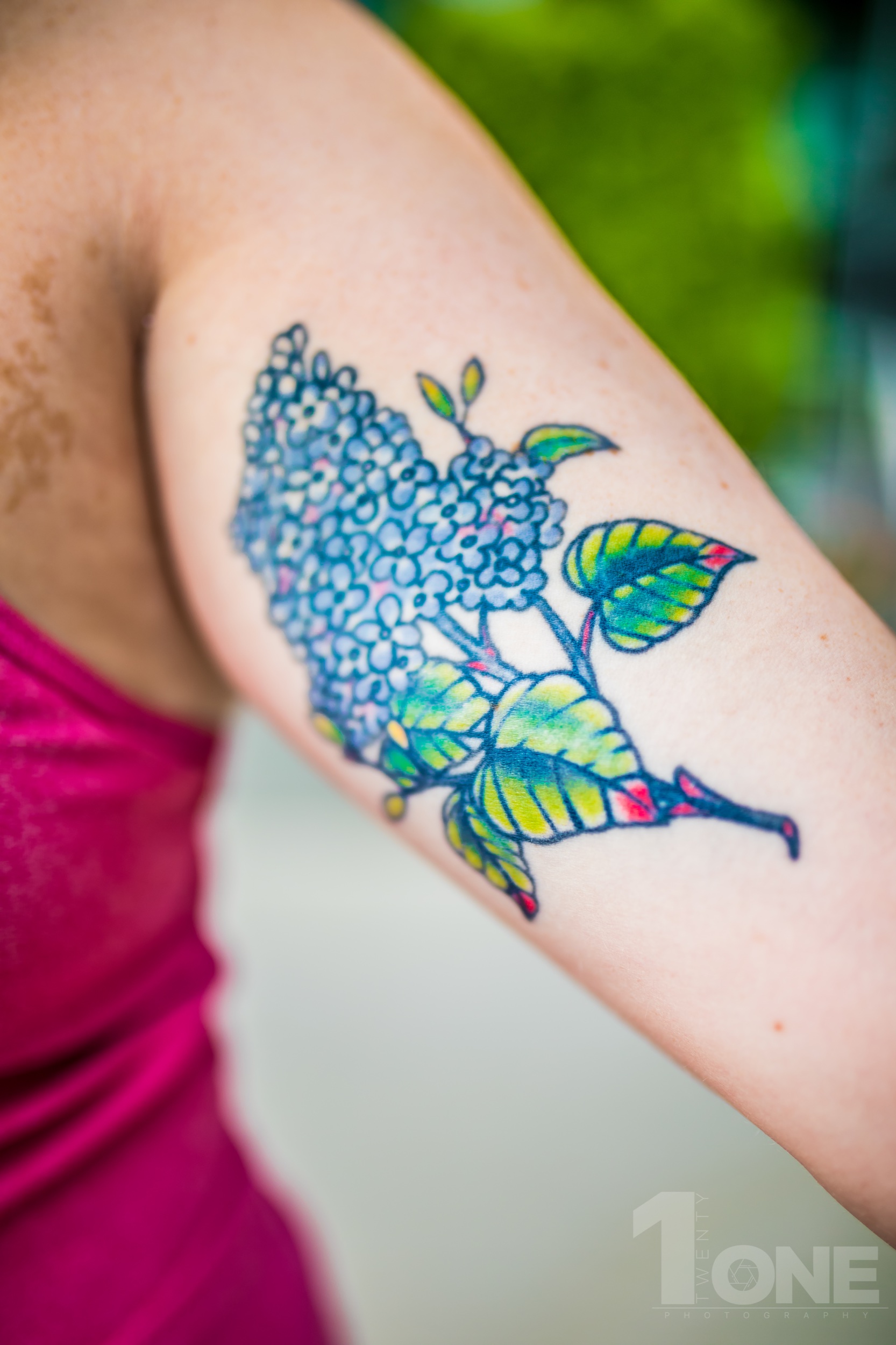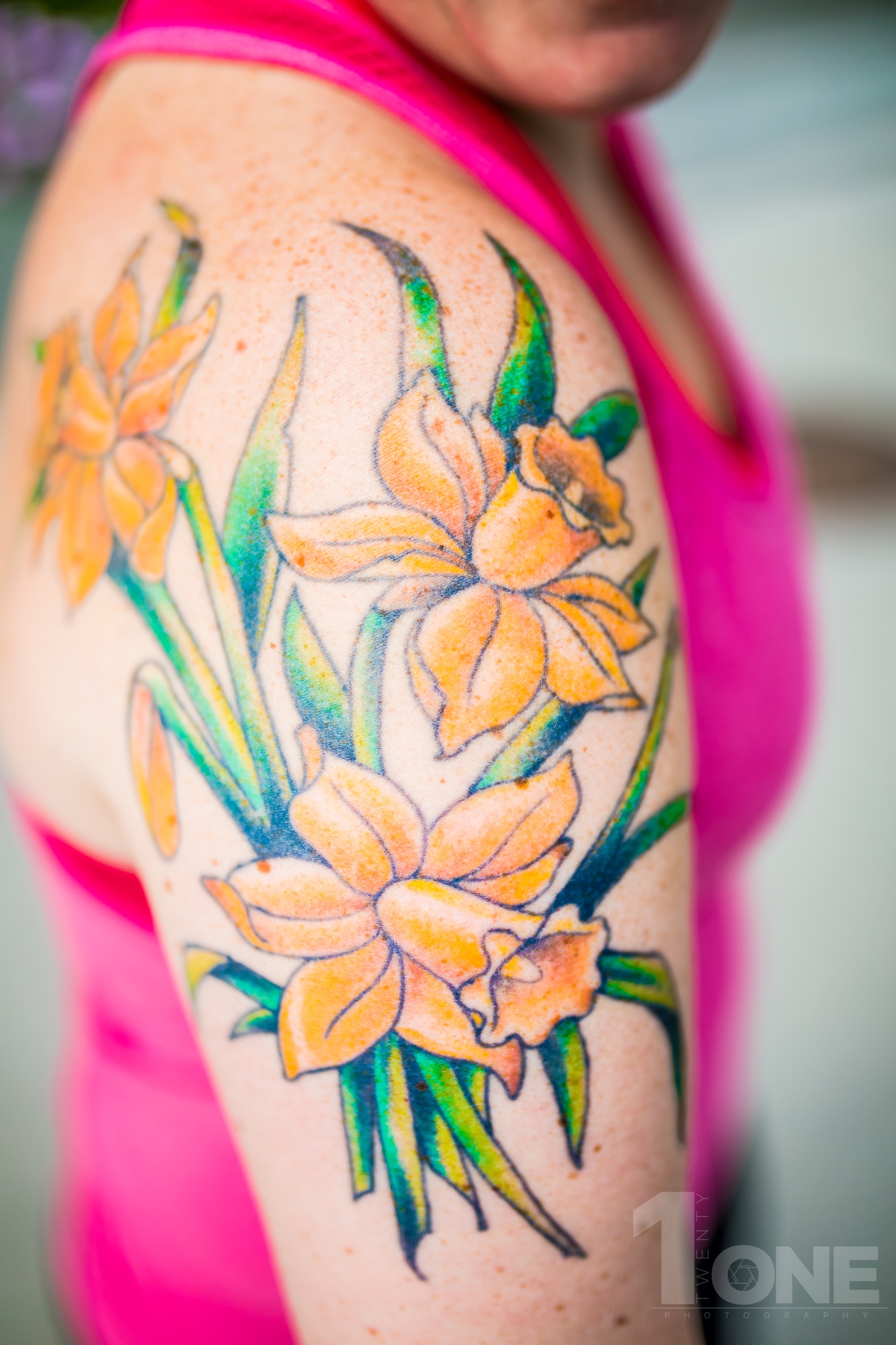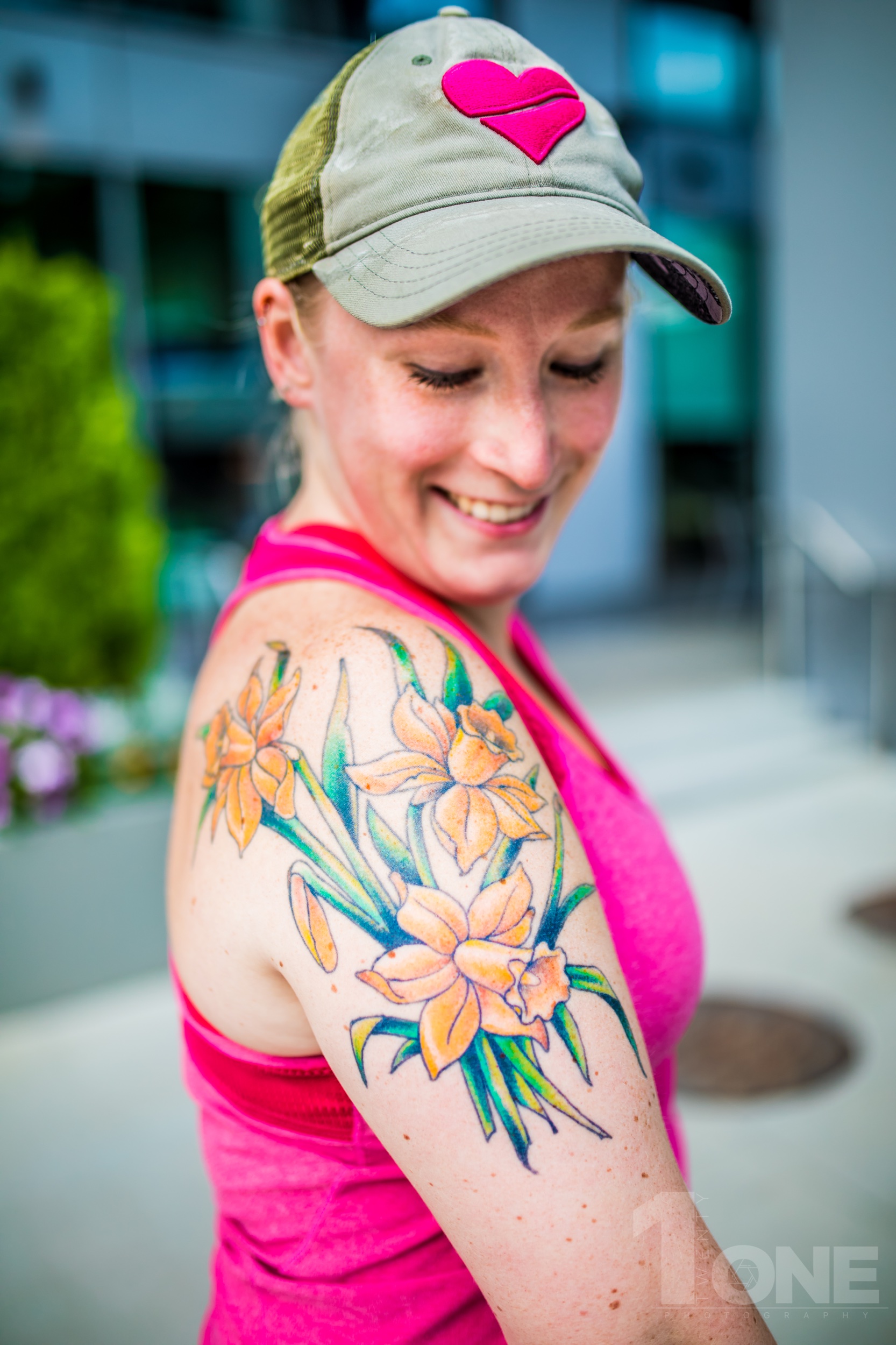 Brittany
My birth month is March, a month when daffodils typically begin blooming. They are synonyms with rebirth & new beginnings. Lilacs are the state flower of NH, my home state. When I was 11 years old I went through a traumatic experience that my mother was also a part of. As a symbol of overcoming, healing & moving on, we planted 2 lilac bushes at my childhood home, 1 for me & 1 for her. We've since moved to 2 different houses, taking them with us & replanting them each time. I got the lilac tattoo to remind myself just what my mom & I have overcome & to remind myself that the experience has made me a stronger person. It also reminds me that my mom is a badass woman that I'm very fortunate to have in my life.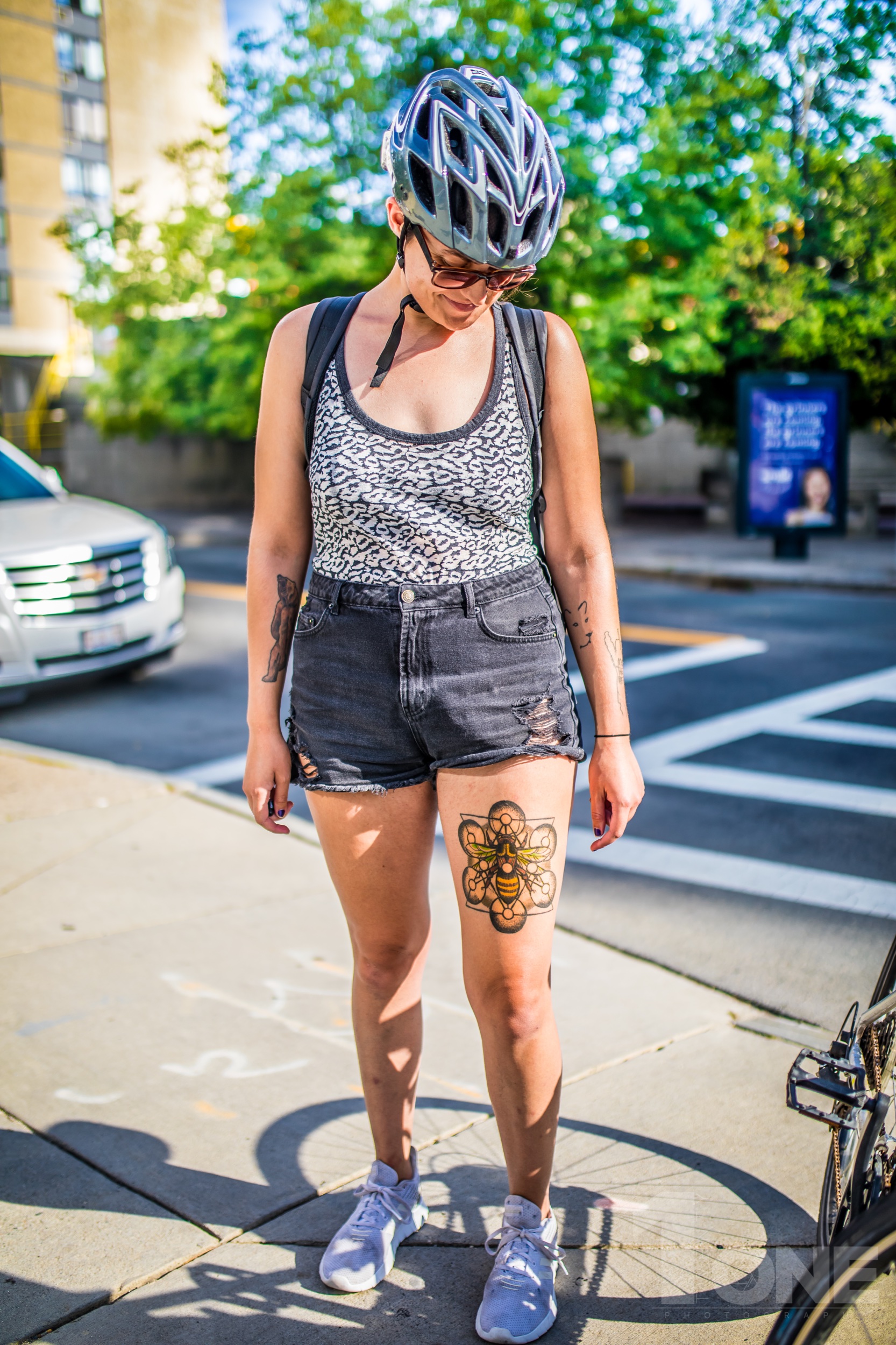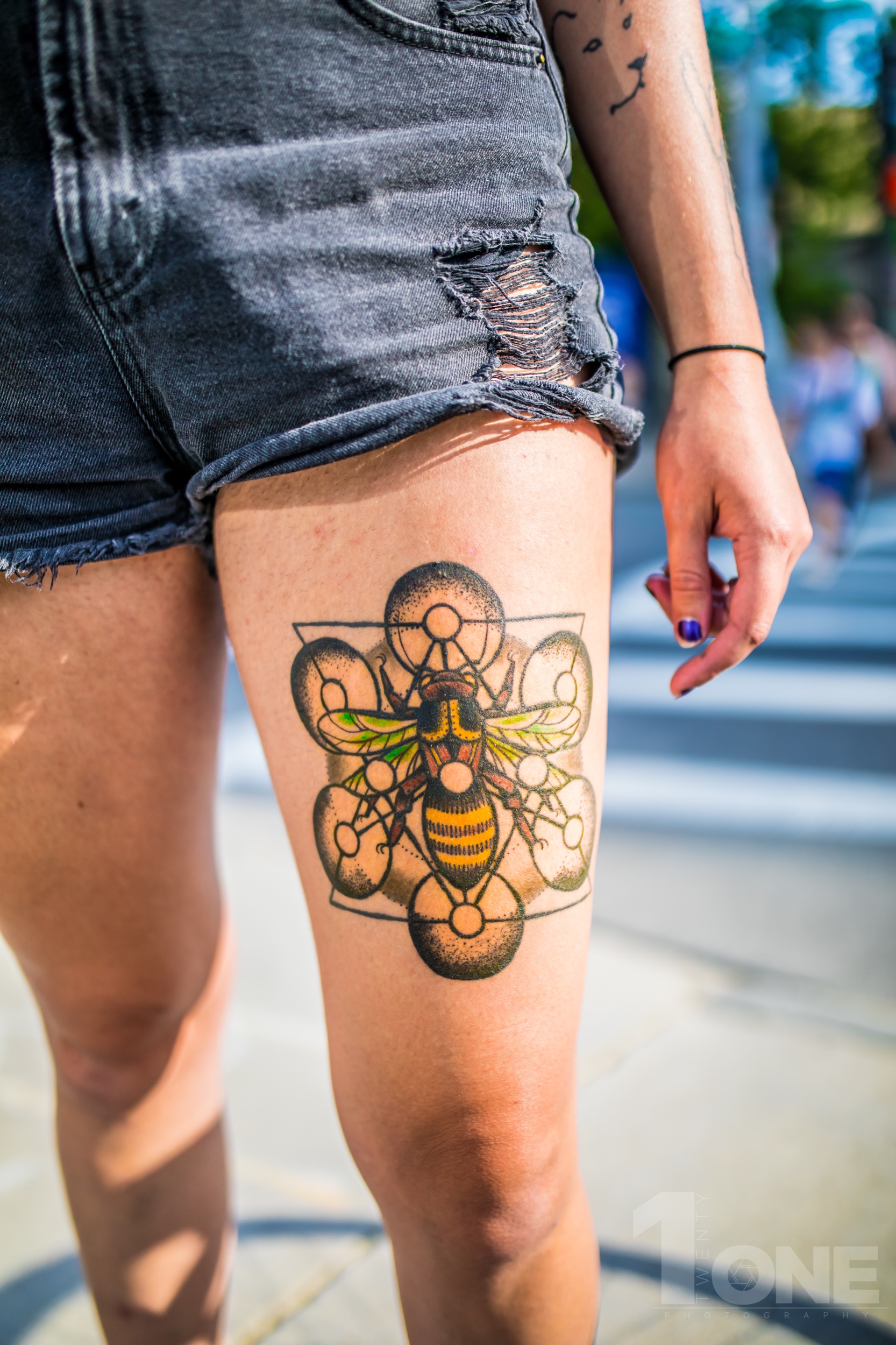 Nicole
My tattoo represents a huge musical influence of mine Biffy Clyro. The artwork is from the first tour I saw them live in Boston. For me, it represents strength, persistence, resilience, determination, and self-reliance. Their music got me through the darkest time I've ever experienced, when I felt stuck and lacking all control in my life. It inspired and motivated me to rely solely on myself to make a change, leave my hometown, and build a life for myself from the ground up. It reminds me how far I've come, how strong I truly am, and how I'll always possess the fire and capability to overcome.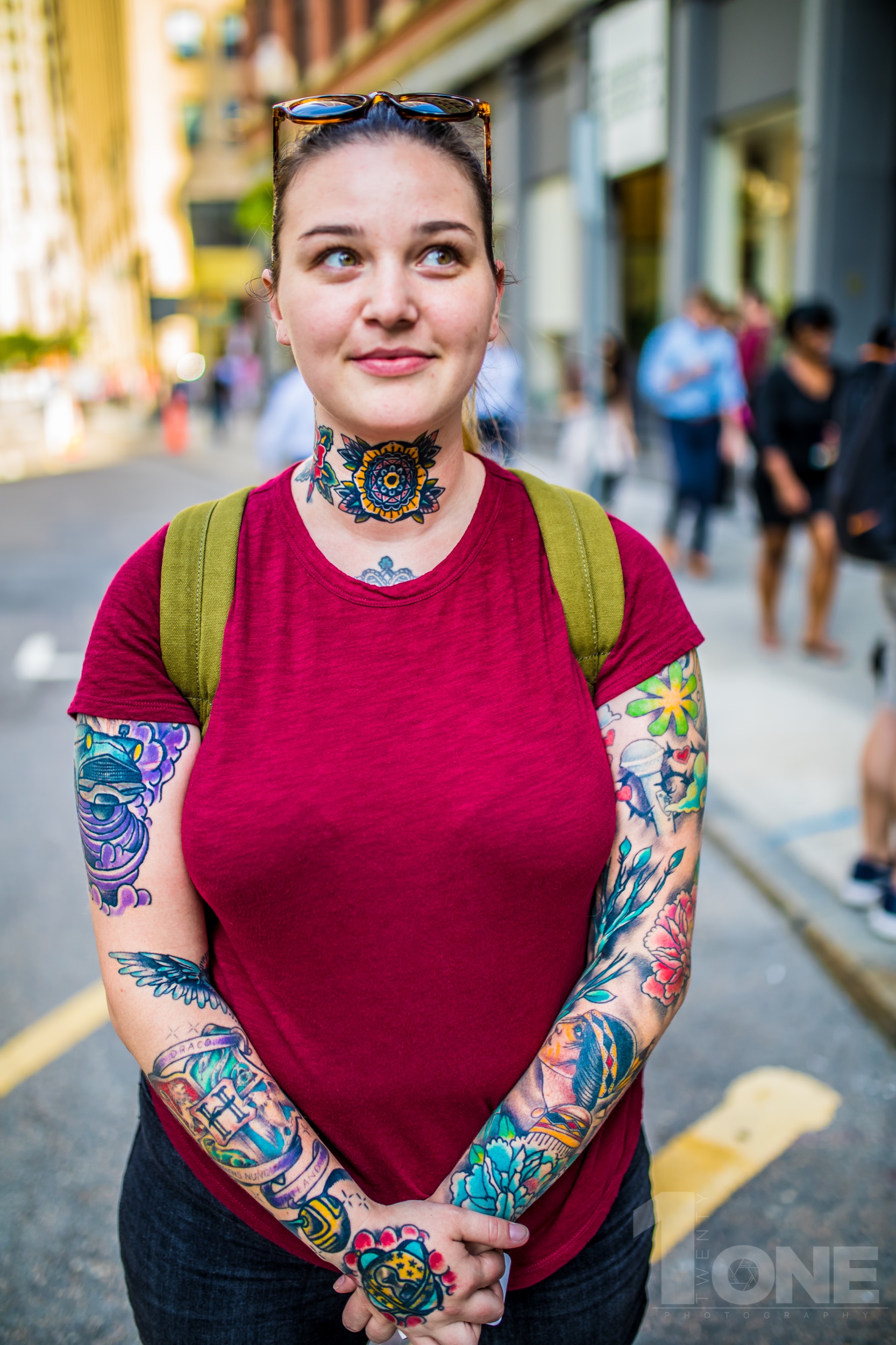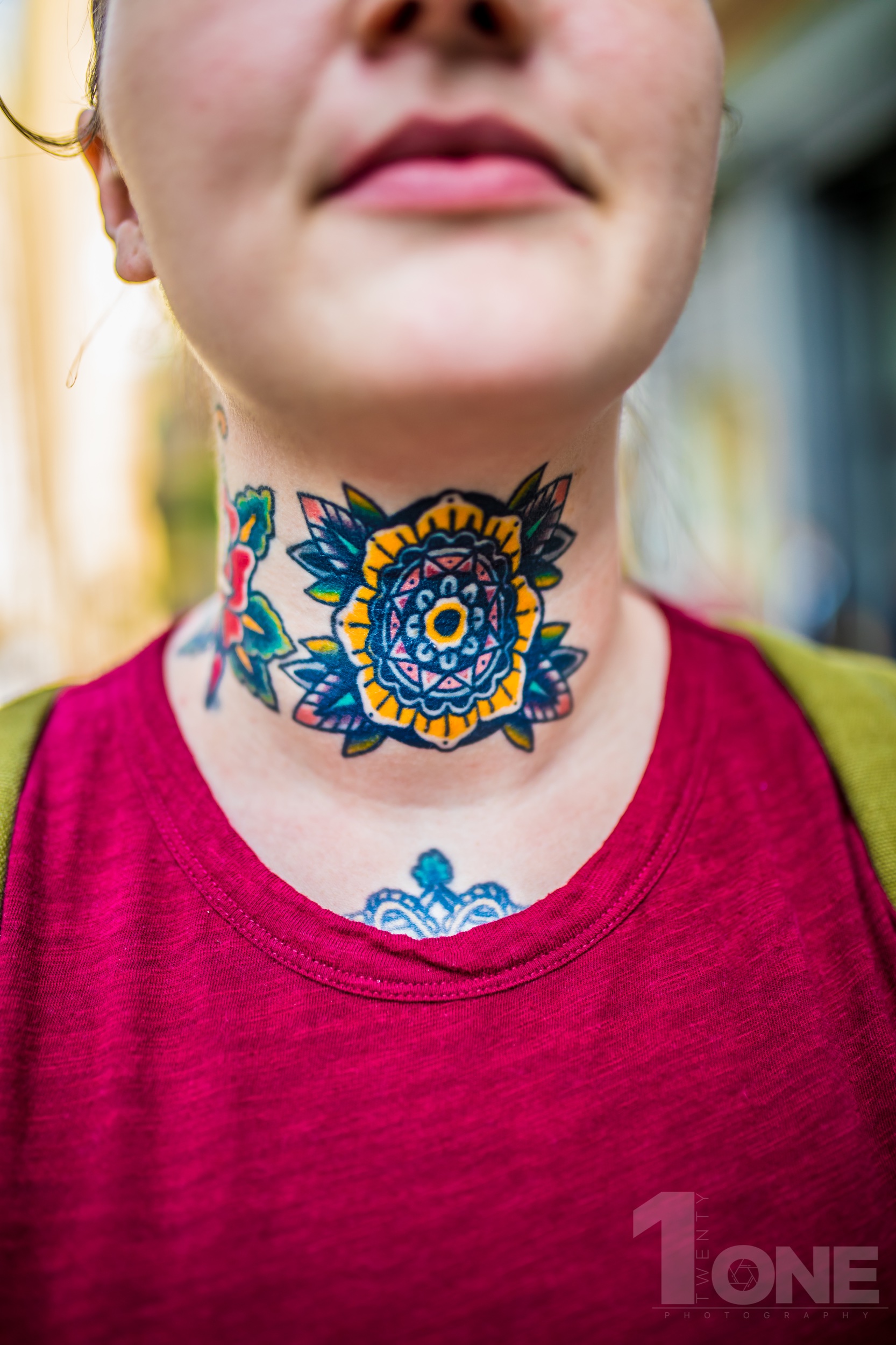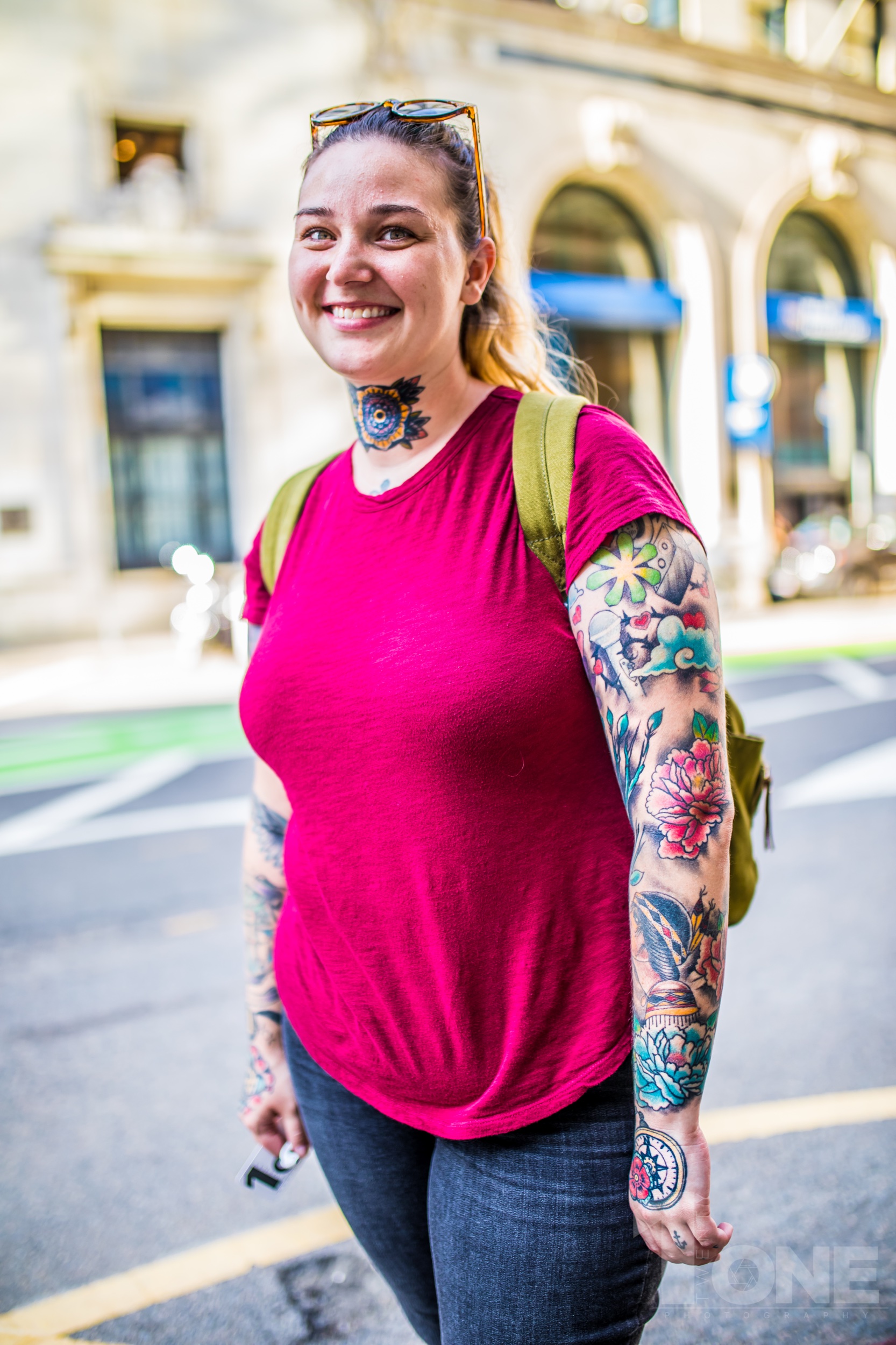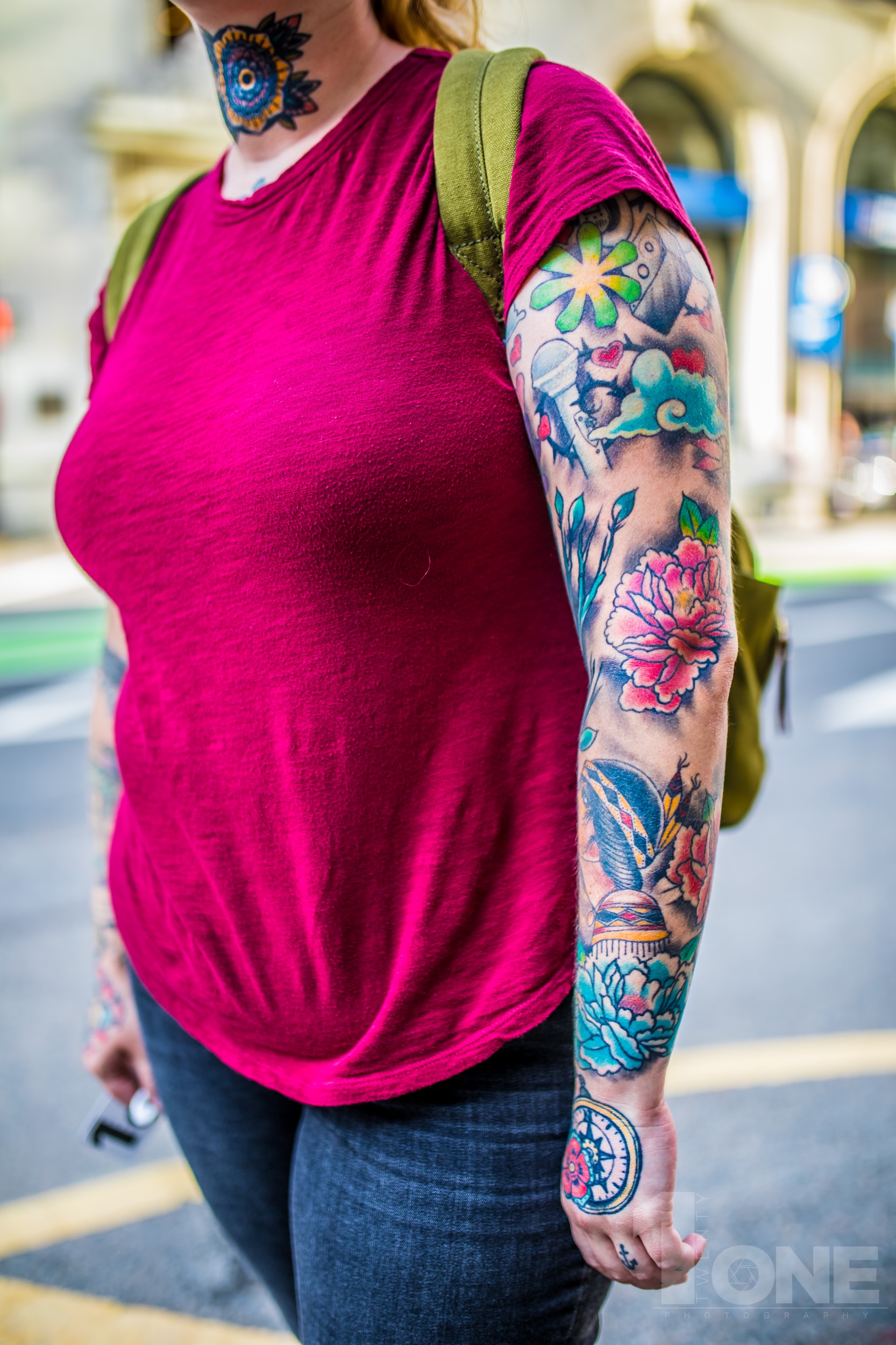 Betsy
I get tattoos to remind me of people and things I love. Even if I grow out of something, I have a visual reminder of how I got to be who I am today.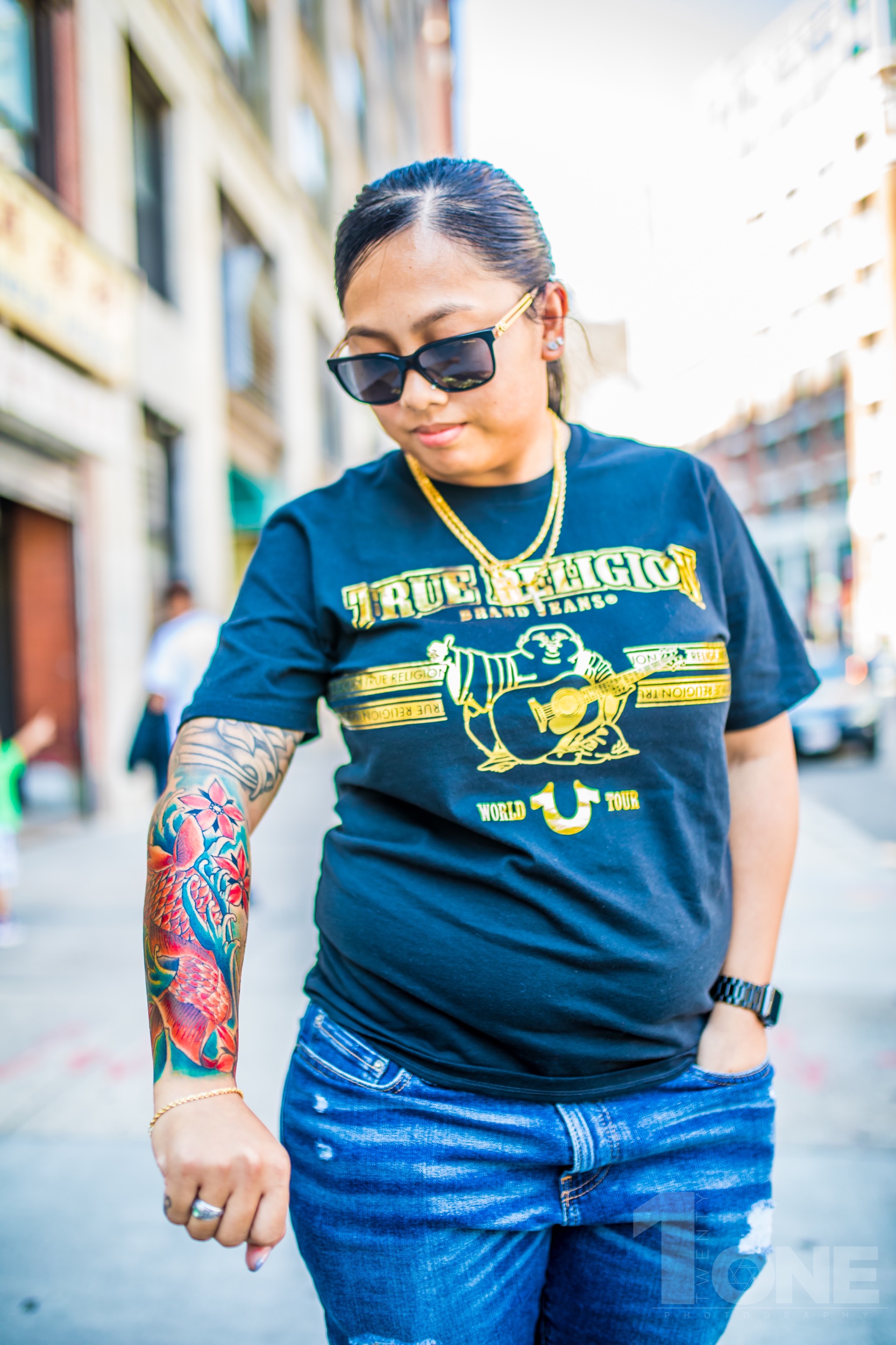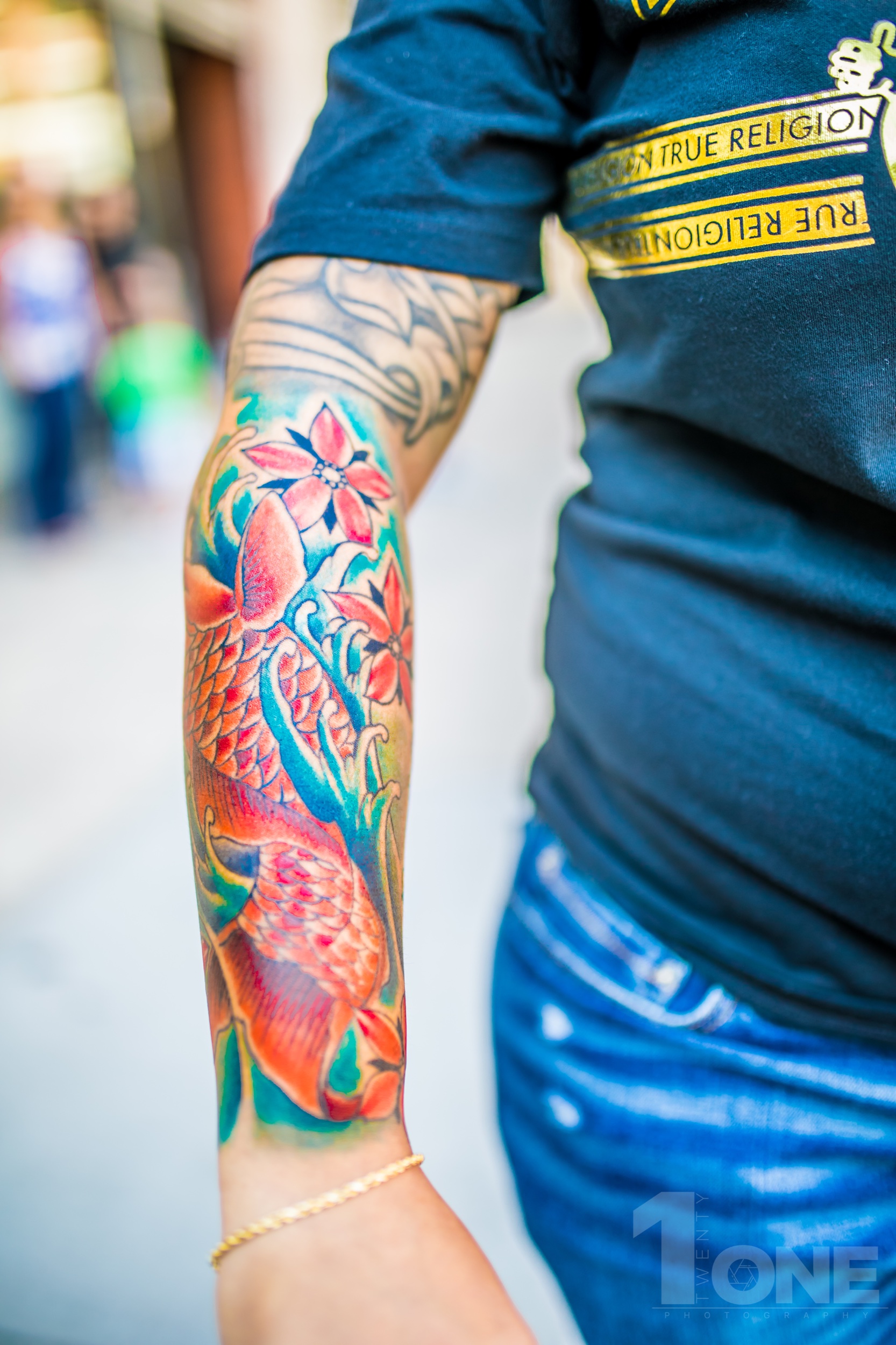 melody
My tattoo I've had for about 3 years now. It represents strength, prosperity, determination, independence, perseverance and most importantly good luck.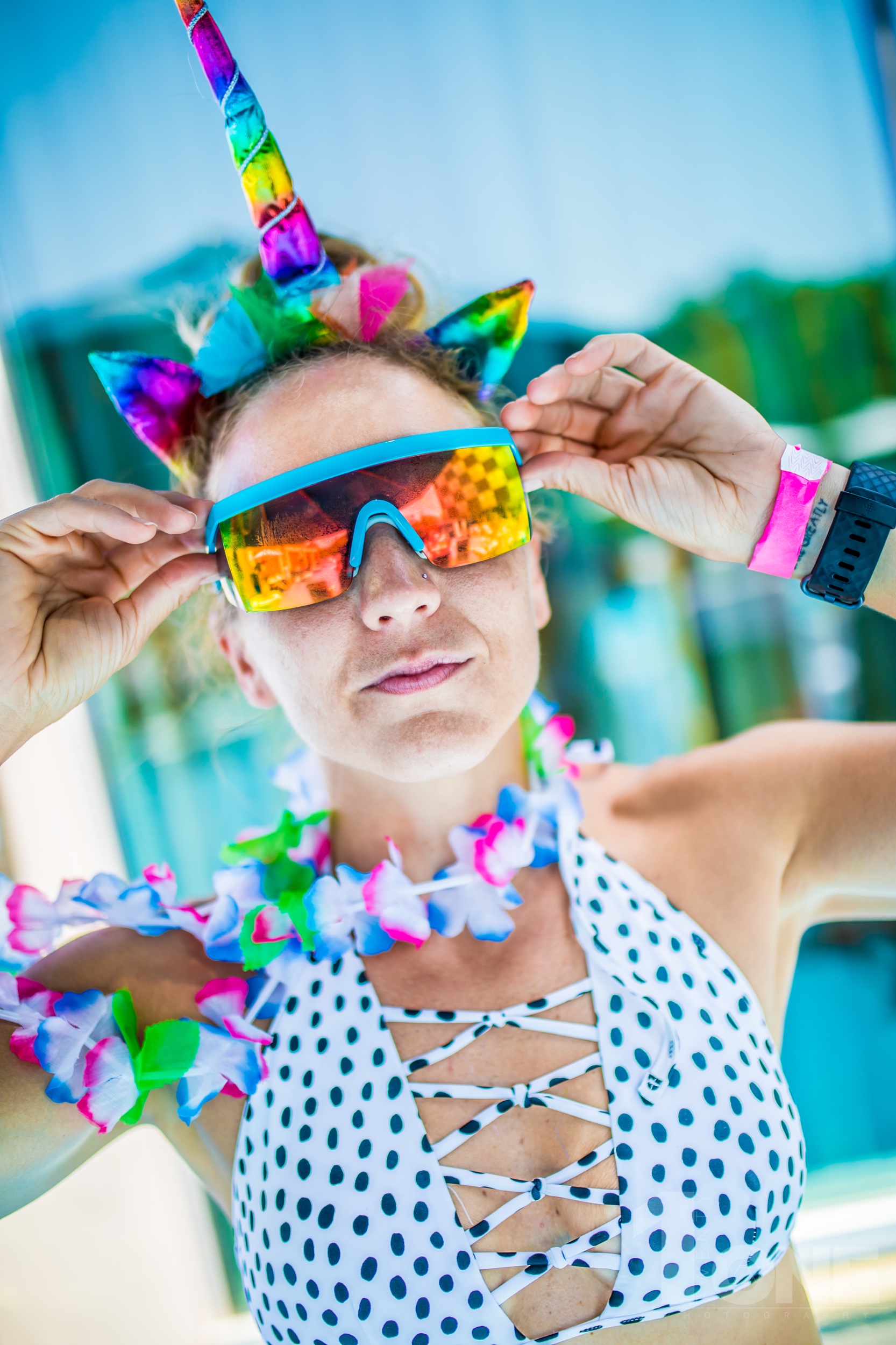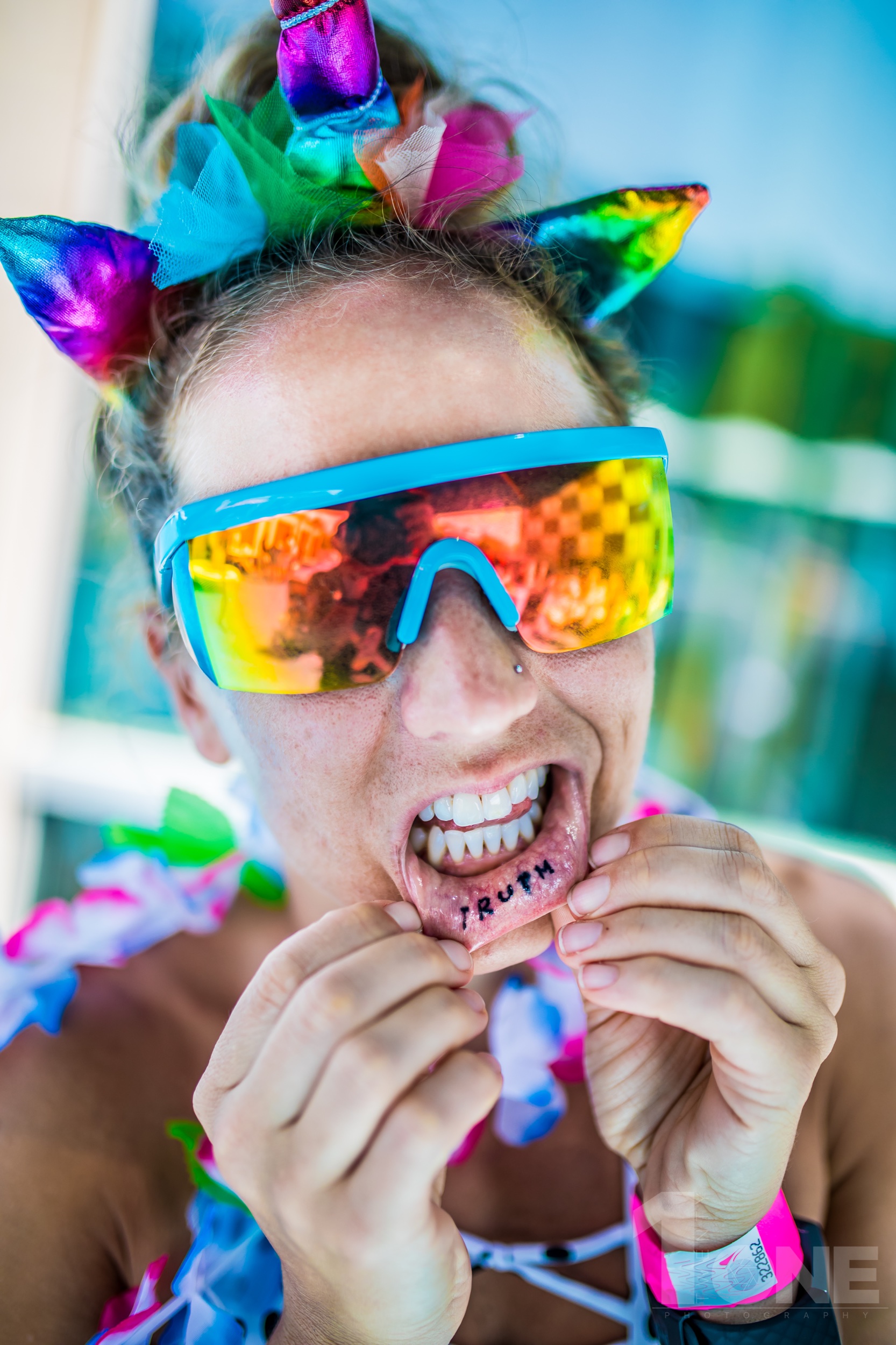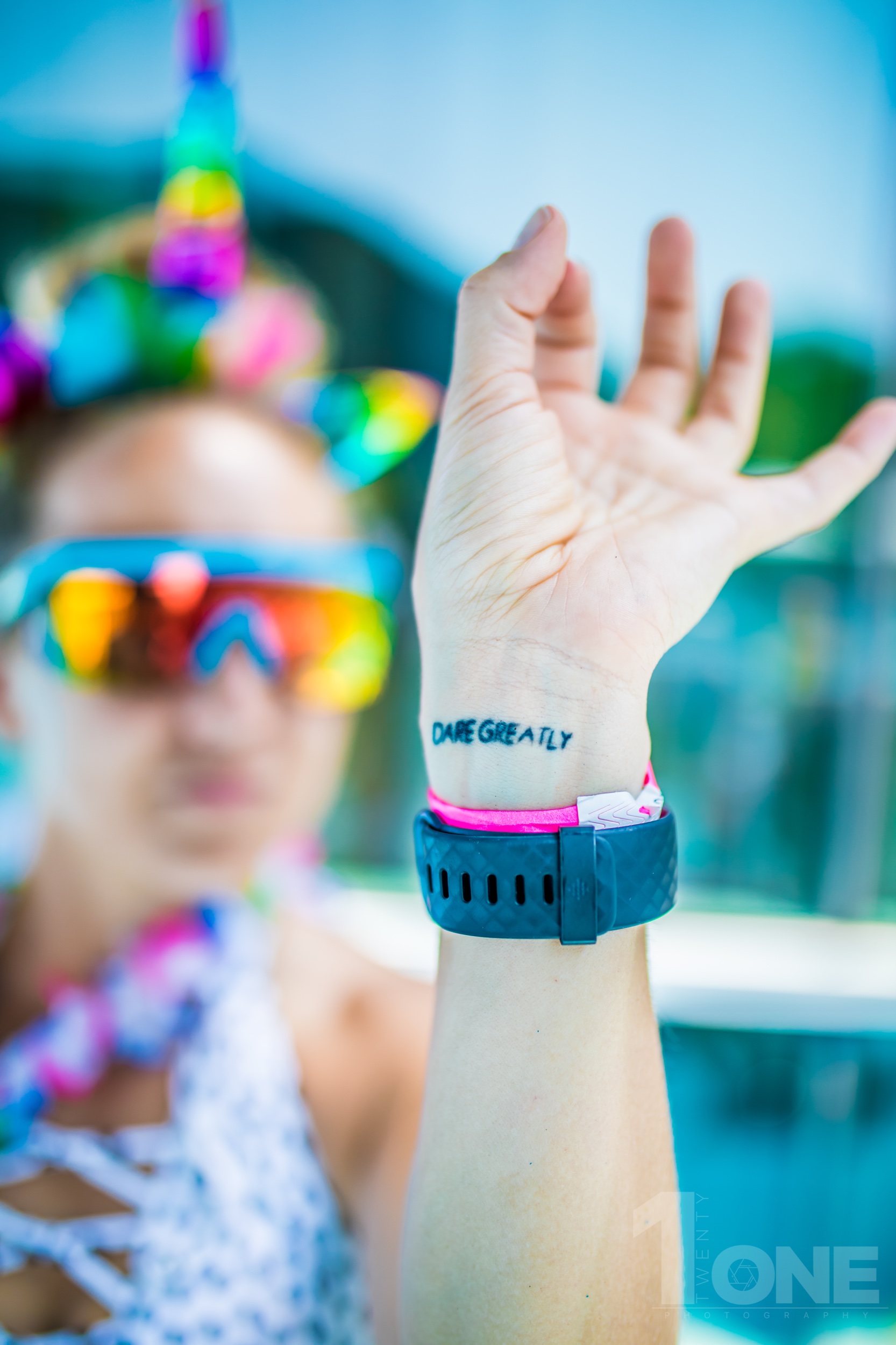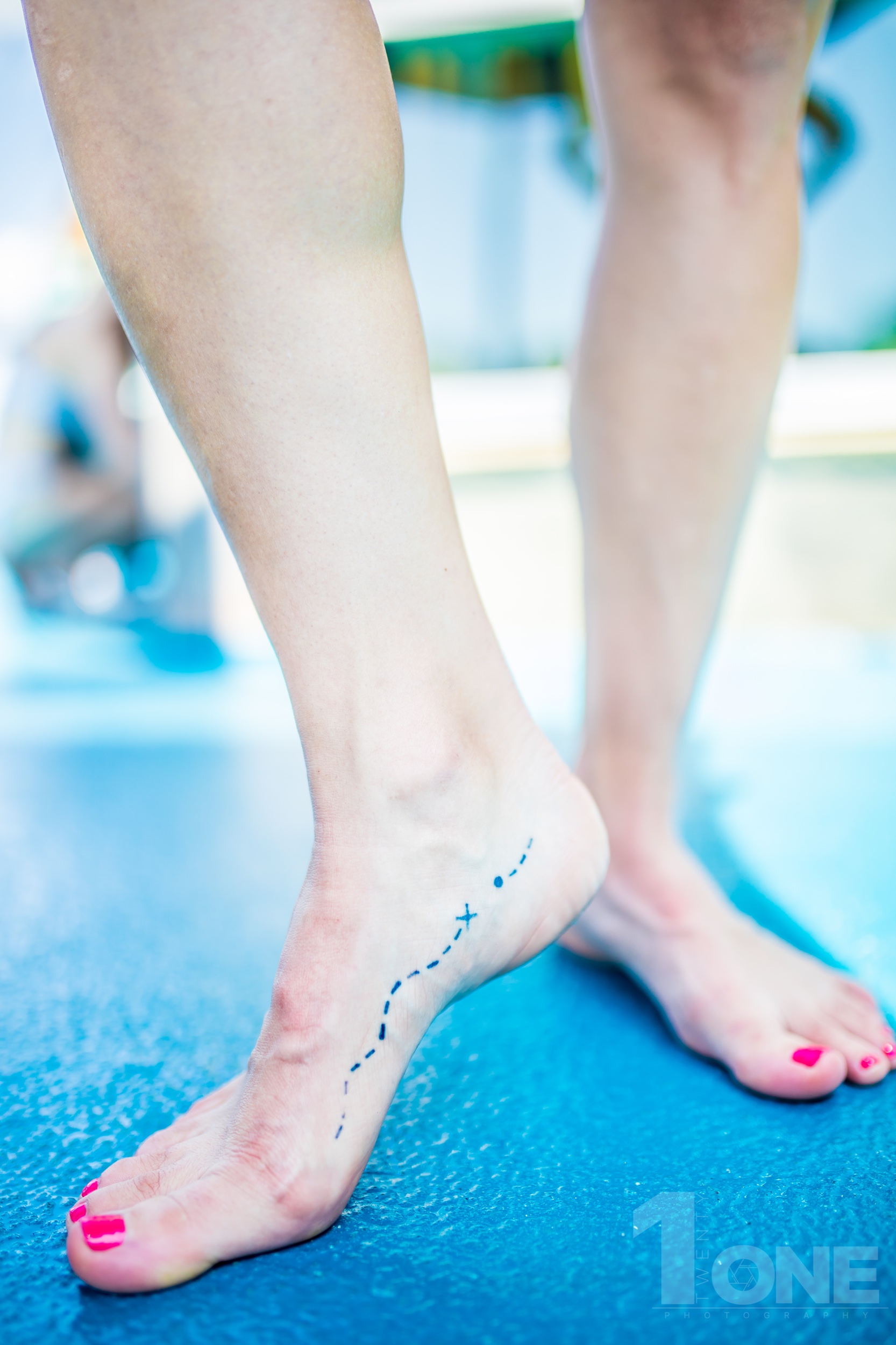 Angela
What I consider to be the divisive life events that have shown up to challenge me, to break me open and to learn, have been very powerful to me. I've learned to Take the Long way around (my foot). I've learned to jump, even when it scares me and Dare Greatly (my wrist). Each relationship and evolution of loves, friends, etc, I've gotten stronger in myself, my values and what I stand for, what boundaries I have and what I won't stand for, so I always speak my truth (lip).